Wool trousers
keep consumers warm and they look great when paired with other appropriate garments. Wool trousers work for women of all sizes and body shapes and they are versatile, suited to everyday wear, casual wear, work wear, or formal wear. The plethora of wool trousers for women make the choice a daunting one, but choosing from among the most popular makes the decision much simpler, ensuring consumers buy high quality, durable trousers that look fabulous and stand up to the rigours of everyday use. Shoppers can choose from popular brands such as Ralph Lauren,
Marks and Spencer
, or Jaeger.
| | |
| --- | --- |
| 1 | Autograph Pinstriped Trousers with Wool |
Fresh from the Marks & Spencer Autograph range, these pinstriped trousers are ideal for staying warm at work. They feature a classic centre crease, which is a timeless element of office attire. As they hang on the waist, they are comfortable to wear and work well with shirts. Both side and rear pockets are available, making it easy for women to carry their phones, car keys, and tissues, without using a handbag. By including a hook and zip fastening, M&S ensure that these trousers stay secure throughout the day. As trousers that reach just above the ankle, they should look smart with either heels or flats. For those days when women need a little more wiggle room, the stretch fabric comes in handy.
---
| | |
| --- | --- |
| 2 | Ralph Lauren Straight Leg Wool Trousers |
Made by one of the world's best designers, these straight leg wool trousers act as a great addition to any casual wardrobe. As these Ralph Lauren trousers feature 100 per cent wool, they are extra cosy during the winter. Like all straight leg trousers, they look fantastic with a pair of boots. Alternatively, women can team them with heels during a night out for a party look. Available in black only, these are versatile in terms of what women can wear them with. As black is a colour that does not clash with anything but navy or tan, this leaves plenty of scope for varied outfits. These trousers are dry clean only.
---
| | |
| --- | --- |
| 3 | Jaegar Classic Flannel Trousers |
These classic flannel trousers from Jaegar come in camel. Thanks to their light yet smart design, they are ideal for women who want workplace trousers that step away from the usual blacks and greys. Using a blend of fine wool and Lycra, these Jaegar trousers not only look great, they are comfortable to wear. The Lycra allows them to stretch, while the fine knit wool keeps them looking classy. To achieve a smart look, women can wear a classic white shirt with their Jaegar trousers. It is possible to complement this by adding in a pair of black heels. Featuring a classic central crease, these trousers make the most of a smart look that is universally called for in workplaces.
---
| | |
| --- | --- |
| 4 | Boden Wide Leg Wool Trousers |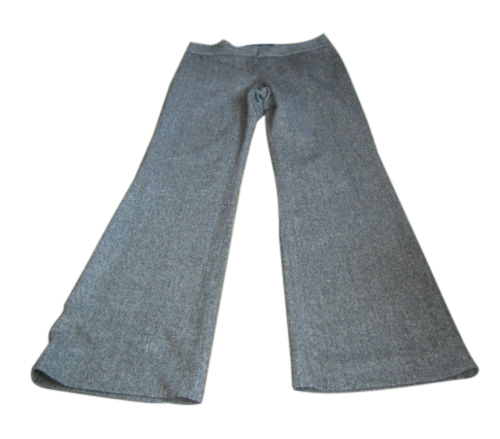 Made by one of Britain's favourite country casual designers, these Boden wide leg trousers in wool are great as work wear or casual wear. Using Italian milled wool, Boden ensure that these trousers look stylish instantly. The material features 98 per cent wool and 2 per cent elastane, giving a little wiggle room for those who wear them. As they sit naturally on the waist, they are versatile in terms of what women can wear with them. Available in petite, regular, and long, there is a pair of these Boden trousers to suit everybody's size and shape. With front and back pockets available, there is plenty of spare room to keep small and essential items, such as mobile phones.
---
| | |
| --- | --- |
| 5 | Banana Republic Martin-Fit Cobalt Wool Trouser |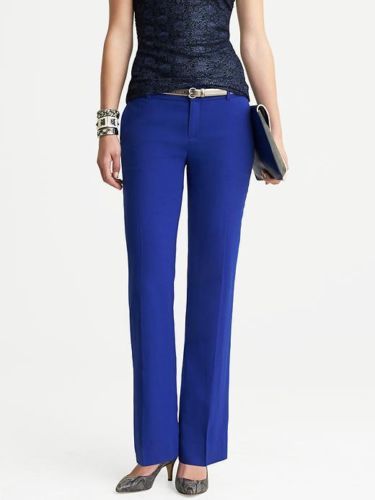 Featuring a mid-rise that is flattering on most figures these Banana Republic Martin-Fit Cobalt Wool Trousers take a step away from the plain coloured norm. By using cobalt, Banana Republic make it possible for those with a daring fashion sense to wear wool proudly. These bright trousers feature a blend of wool and elastane, making them easy to wear. There is a belt loop, zip, and button closure, making it easy to keep these trousers up while accessorising them at the same time. Deep front off-seam pockets are present, acting as a great place to store bits and bobs on the go. For items like train and bus tickets, flat panel pockets are available at the back. Women wearing these trousers can make them stand out even more with brightly coloured high heels. Alternatively, they can look great with animal print flats.
---
How to Buy Wool Trousers for Women
Enter your search query for women's wool trousers into any search bar on the
eBay
website and gain access to a huge range of available listings from reputable eBay sellers affording style and competitive prices. Refine your search using the eBay search filters or by entering more specific information such as brand, colour, or size. Choose from some of the most popular wool trousers on the market, ranging from classic black formal trousers, timeless pin stripes for office wear, or bright cobalt for those with a bold sense of style. Flatter your shape and keep yourself comfortably warm, whatever the occasion with a pair of well chosen women's wool trousers.