Choosing where to spend your New Year's Eve can be a difficult decision, but with this handy guide, hopefully your choice will be made slightly easier!

Whether you like a quiet night in, a night to remember or whether you're not even sure you'll stay awake for midnight, all 5 of these destinations will give you variety.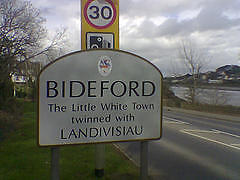 1. Bideford, North Devon
Slightly bias as this is where I'm from. In the past it has been listed as one of the top places in the UK for a NY party, but recently the title has been lost. But not to be outdone, the town events committee is planning a record breaking NY for the town this year!
2. London
The obvious choice - with multiple locations to celebrate you will have the best of all worlds. With fireworks, parties as well as more tourist attractions than anywhere else in the country if you're more interested in January 1st you won't be disappointed!
3. Edinburgh
It might be quite a trek for most people in the UK, but with so many festivities planned it would definitely be worth the trip. With thousands of people heading up to Scotland each year, the music, fireworks and a number of events and entertainment must be worth something!
4. Looe, Cornwall
Another South West destination and a small town at that, the Cornish are well known for planning a party to remember. With everyone donning their best fancy dress to see in the New Year and fireworks on the beach at midnight, a NY night out will be one to remember.
5. Manchester
With tonnes of venues to celebrate the night away with a number of big DJs to dance and choose from Manchester could be your perfect NY party. For those that prefer a quiet night in - book a luxury hotel or cottage break and make the most of the time off of work!