eBook readers and tablet computers have overtaken the technology market. Following the consumer move from desktop computers to laptops, buyers now show a preference for tablet computers and
eReaders
. To meet this need, a number of eReader models have entered the market, including the Nook, Kindle Fire, and Kobo. Naturally, users want to protect their investments; thus,
eBook covers
enter the picture. With the dual aims of protection and functionality, eBook covers such as the MoKo Slim Fit Folio, Case-Mate Olo Tuxedo, OtterBox Commuter Series, AmazonBasics, and Speck FitFolio are popular choices amongst eBook aficionados. The one-stop-shop convenience of eBay makes shopping for eBook covers a hassle-free and rewarding experience.
| | |
| --- | --- |
| 1 | MoKo Slim Fit Folio Cover for Nook HD |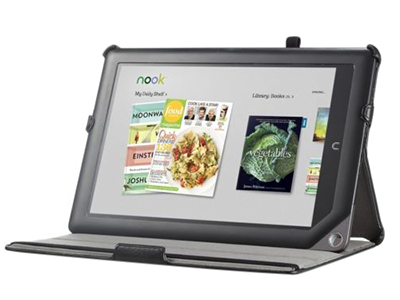 This quality MoKo Slim-Fit Folio Cover Case is specially made for the Nook eReader; it also works well with a 23-cm tablet. The built-in stand allows for three angled positions, ensuring a favourable view for typing, reading, or streaming videos. Opening and closing the case wakes up or puts the device to sleep. The case's padded leather front cover and sturdy plastic back cover lend style, comfort, and protection from all angles; inside, a no-scratch microfibre interior keeps the screen safe and smudge-free. Additionally, a stylus look keeps the reader or tablet's stylus in a convenient place to ensure it does not get lost or misplaced.
---
| | |
| --- | --- |
| 2 | Case-Mate Olo Tuxedo Kindle Fire Case |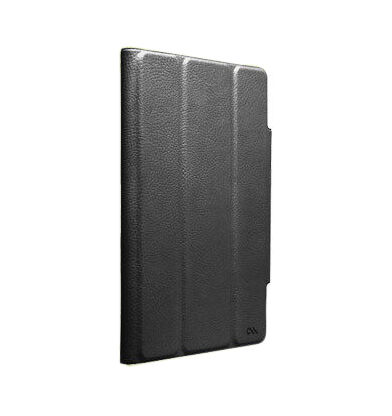 Case-Mate has built a strong reputation for quality tablet, eReader, and mobile phone covers, and with good reason. Case-Mate covers are attractive, sturdy, and long-lasting, and the Olo Tuxedo Kindle Fire Case is no exception. The high-quality, Italian, leather-like exterior is both durable and attractive; inside, brushed microfibre protects the screen. Built-in, reusable adhesive provides a solid connection to the eReader, one that does not mar the device or leave a sticky residue. Beyond style and protection, the Case-Mate Olo Tuxedo also adjusts to many angles, ensuring a proper sightline no matter the activity.
---
| | |
| --- | --- |
| 3 | OtterBox Commuter Series Nook Case |
As with its wide range of iPhone cases, the OtterBox Commuter Series Nook Case is durable and rugged, lending peace of mind. The cover's double-layer construction protects devices against drops and bumps. A self-adhesive screen protector sets the OtterBox above many of its competitors. Dust and dirt are no measure for the eReader's ports, as port plugs keep out unwanted grime. In addition to sturdy reliability, the Commuter Series Nook Case is thin enough to slip easily into a purse or bag.
---
| | |
| --- | --- |
| 4 | AmazonBasics Leather Folio for Kindle Fire |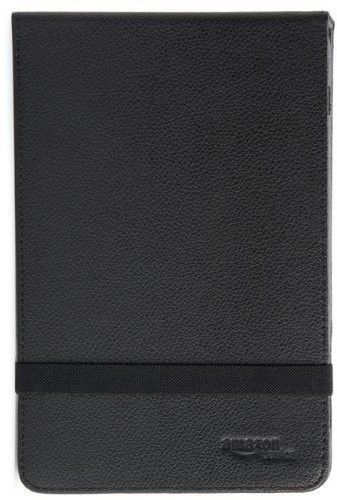 Although Amazon designed the AmazonBasics Leather Folio Cover specifically for the Kindle Fire, the cover also fits the Samsung Galaxy Tab 7.0 tablet. Made of soft, supple black leather with subtle stitching, the cover adds quiet elegance to a user's reading experience. A four-corner elastic interior secures the Kindle in place, while three angled positions facilitate hands-free reading, playing, and viewing. When the Kindle is not in use, an elastic strap secures the AmazonBasics Leather Folio and keeps the unit safe. From appearance to functionality, protection to price, this cover has earned rave reviews worldwide.
---
| | |
| --- | --- |
| 5 | Speck FitFolio Protective Cover for Nook and Kobo |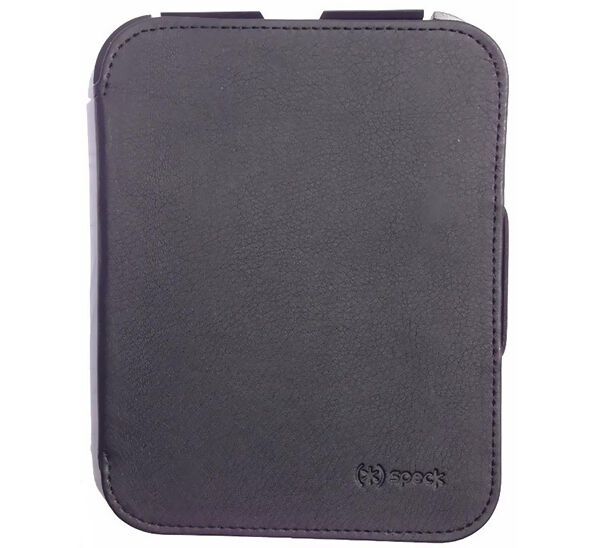 Those wanting a more playful look for their eReader need look no further than the Speck FitFolio,, which is available in multiple colours. Prior to its eReader line, Speck made a name for itself with its popular iPad covers. The FitFolio combines the protection of a book-style folio with the durability of a moulded, hard shell case. The interior form fits to an eReader, cradling the unit securely in place. The FitFolio's leatherette, book-style cover delivers a stylish look outside, while inside, padded microsuede caresses the eReader. A small bungee cord holds the FitFolio cover closed, making the eReader ready for travel.
---
Additional eBook Accessories
People who gravitate towards eReaders love the convenience of taking their books and entertainment on the go; as such, they select eReader covers and accessories with care. Of the range of eBook accessories on the market, some stand out as the most in demand, including power adapters, USB chargers, and styluses. Power adapters can either supplement or replace the ones included in an original purchase. Similarly, USB adapters not only allow for quick charging on the road, but also facilitate copying files from one unit to another. Finally, for eReaders with touchscreen functionality, styluses allow users to pinpoint their selections and keep screens smudge-free.
Buying eBook Covers on eBay
Many people turn to eBay for their technology needs, including eReaders, tablets, eBook covers, and more. The easiest way to review the site's inventory is to search for eBook accessories by using a search term such as, "ebook covers." Of course, if you know the product you wish to purchase, you can always specify the make and model in your query. All searches return an easy-to-scroll page with large photographs and descriptive overviews, ready for review. While on the site, you may wish to explore not just eBook covers, but also accessories such as USB chargers and styluses.