Lingerie,
bras
, and individual dressing pieces can make a woman feel sexy, confident, and secure all while serving a purpose. Bra sets consist of a brazier and panty of some sort, but the variations of combinations are endless. Some designers create full sets of matching items that include teddies, robes, garters, and slips, as well as bras and panties. Whatever the intended purpose, whether it is seduction or function, there are dozens of designers that cater to women who seek a
matching bra set
. Buying bra sets on eBay, or high street shops such as
La Senza
or
Agent Provocateur
, lets consumers see what is available and what suits their purpose.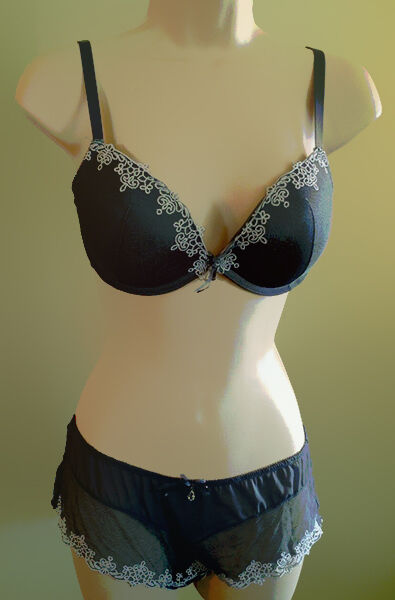 Women can easily mix and match bra sets by Adore. The company offers boy-shorts, thongs, and traditional briefs. To add to the whimsy of the sets, women can find panties with lace in black or red. A matching corset, bra, or bralette completes the set. To elevate the bra set, women can purchase a matching black garter to keep up black stockings under their daily garments.
---
Known for satin bra sets and complete lingerie ensembles, Rosie for Autograph is another top brand. French design rose lace, padded plunge bras, and even memory foam bras all make this designer stand out. Matching panties complete the set. However, the designer offers a variety of cuts, from a French cut, to boy-cut, and even a high-waisted option depending on the set chosen. Many of the designs are suitable for wearing under a blouse, dress, or evening gown.
---
Translucent fabrics, lace, and multiple colours are indicative of Gorgeous bra sets. They are ideal for most any body type, and women can purchase these bra sets and mix or match to their hearts' content. Purple satins, black floral embroidery, and deceptively transparent black lace are fashionable and arguably timeless. The interior bra cups keep the form of the breast, and the near seamless panty keeps the woman comfortable. For those feeling a bit more daring, ribbon-tied panties complement the matching bra in an unexpected way. These sets are ideal for wearing under jumpers and suits.
---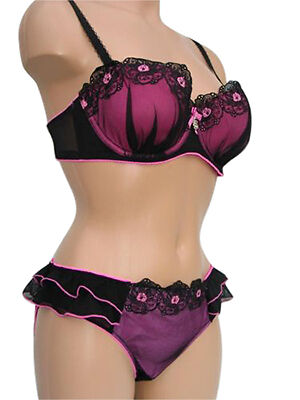 Floozie by Frost French provides intricate lingerie sets as well as everyday bra sets. With deep-v necks, reinforced cups, and a variety of longline bras, Floozie offers a bra to fit most shapes and sizes while still remaining a top choice. To complete the look, Floozie panties come in sheer fabrics with embroidery and material patchwork. A proper Floozie garter matches the bra and panty set and works to keep the woman's stockings up and in place. Whether the woman prefers white, black, or a variety of colours, many of these pieces can be mixed and matched so long as the patterns remain constant.
---
Made for the daring woman, Adore Moi bra sets are more than your average bra sets. They are sexier than most others on the market. Red and black sets, blue and white sets, and cream sets all stand out in their own right. Each set chosen has a variety of add-ons to mix and match. A full-coverage satin panty pairs well with a cream bra. Alternatively, purchasing one panty with two or three matching bras enables women to create more sets and add variety to the daily ensemble. While these sets may not be ideal for sports and activities, they are well designed and comfortable for the short term.
---
Per Una offers bra sets for women of all shapes and sizes. Bustier women can feel confident in their bra set knowing the product works with their true dimensions. Alternatively, those with smaller dimensions can also purchase Per Una bra sets and feel just as comfortable and secure. Available in vibrant blues, shades of white, embroidered overlays, and more, full-coverage bras and panties embody much of this designer's fashions. Per Una bra sets are ideal for women who prefer a layered look, as many of the embroidered options may show through a shirt.
---
How to Buy Bra Sets on eBay
Buying bra sets on
eBay
is perhaps easier than at any shop. On eBay, you can mix and match sizes and sets with a few clicks of a computer mouse. While shops may pre-bundle the bra set, forcing you to purchase two sets simply to obtain the proper fit, you get to choose your size from the thousands of sellers on eBay. When shopping for bras, remember that manufacturers may use sizes indicative of the UK, US, or Japan. Next, be sure the bra set you choose suits your purpose. Whether for an evening out, a formal event, or just everyday errands, choose a set that is right for you so you feel comfortable all day.