The standard
interior car lighting
is a clear, white light, perhaps with a little colour in the lights on the dash. However, altering the colour of the interior lighting in a car continues to gain in popularity. A consumer can install a variety of interior car lights, including the main lights normally located on the roof, centrally between the driver and passenger as well as dashboard lighting. A range of colours are available, however, consumers are advised to check whether their choice is legal while the vehicle is in motion. Choose from blue interior lighting to capture that ultra-cool manly ambience or a futuristic look or, go pink and create a super girly Barbie feeling. Consumers can give their car interior an otherworldly vibe with gruesome alien green, or travel back in time and create that 70s disco feel with purple interior lighting.
| | |
| --- | --- |
| 1 | Blue Interior Car Lights |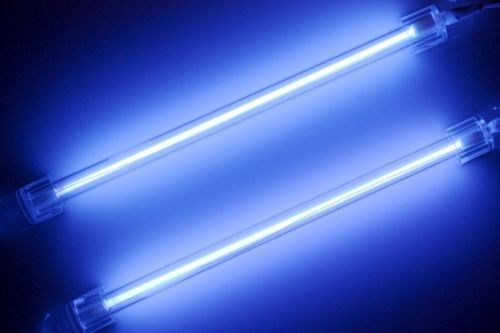 Ideal for setting 'The Fast and the Furious' look, blue interior car lights achieve instant cool. Whether these lights are under the dashboard or on the ceiling, they create the right look for off road competitions. Blue interior car lights around key dashboard components also make cars feel more futuristic, giving a Bond-like feel. For those who want a vibrant look, the Prism Neon Accent Interior Car Light in blue is a winner. It is versatile enough to fit in various areas of a car, which allows users to create a blue glow almost anywhere they choose.
---
| | |
| --- | --- |
| 2 | Red Interior Car Lights |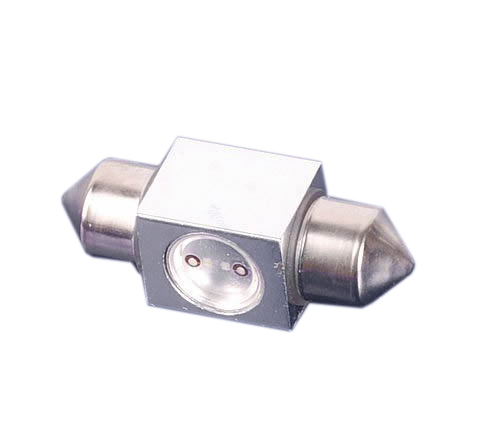 Red interior car lights set a slightly more sensual look. By bathing the interior of a car in red, any driver can transform its atmosphere in an instant. For versatility, drivers can opt for a flexible red interior car light. These lights are a series of LEDs, which drivers can bend and twist to fit into different areas. By doing this, they can gain greater control of their lighting and create the look they want. Such lights sometimes act as both interior and exterior devices, making them extra versatile.
---
| | |
| --- | --- |
| 3 | Green Interior Car Lights |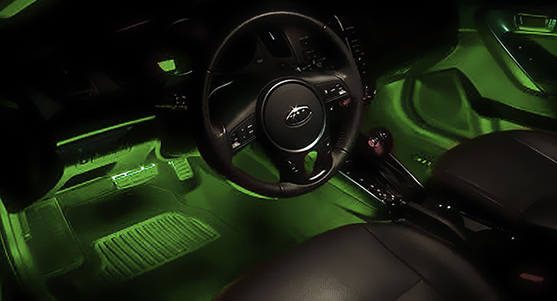 Green interior car lights are great for drivers who want to achieve an other-world-like look. By providing an eerie glow, these lights look fantastic on Halloween, especially at off-road competitions and shows. THG waterproof flexible lights in green are especially durable. They come with an adhesive backing, making them easy to install. As they are flexible, drivers can wind them in a variety of positions around their cars. In addition to this, it is possible to cut THG lighting, allowing drivers to achieve perfect positioning. It is also possible to control the brightness, allowing drivers to turn them up and down when necessary.
---
| | |
| --- | --- |
| 4 | Purple Interior Car Lights |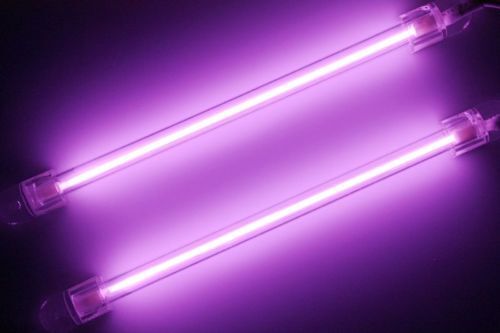 Purple interior car lights are great for those who want to create a disco-like look inside their cars. While these lights look fantastic anywhere, they are particularly fetching under or around the dashboard. By choosing non-neon lights, drivers can ensure they have a gentle glow that is not distracting during off-road experiences. Alternatively, those who want attention can buy something in neon. One particularly innovative piece is the interior lighting globe, which provides panoramic purple lighting. Such items are great for an overall glow, which looks dazzling when a car is on display. As well as being funky, purple is also slightly romantic and affective. Such lighting can make a big difference during dates, setting the right ambience inside any vehicle.
---
| | |
| --- | --- |
| 5 | Pink Interior Car Lights |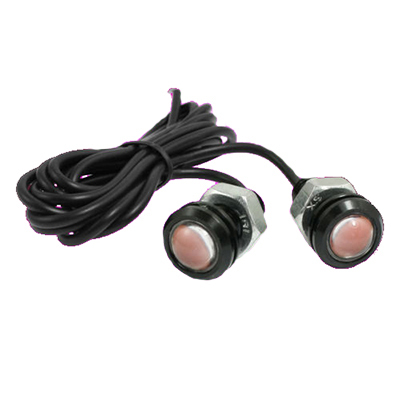 Pink interior car lights create a look that Barbie would be proud of. While often associated with female drivers, these lights look fantastic in male cars too. They provide a delicate glow, which can turn into a nightclub-esque glare with the right strength neon item. Choosing a Prism pink interior car light is a great way to explore pink lighting. Prism items usually take power from the cigarette lighter, making them easy to install. Providing the lights are not visible to other drivers, they are legal to use in non-off-road situations.
---
| | |
| --- | --- |
| 6 | Orange Interior Car Lights |

Using orange interior car lights is a great way to adapt a car's lighting without being too obvious about it. As a colour that is close to yellow, orange offers a subtle look. Like other forms of interior lighting, it is available in the form of strips, flexible strips, and discs. For those who want to change their usual in-car lighting, it is possible to purchase orange bulbs. This adapts the car's glow as users open and shut the doors, wowing other passengers and passers-by. Drivers who choose to use LED lighting can ensure their lighting is bright when they open the door. This is particularly useful for seeing in the dark when there is no street lighting about.
---
How to Buy Interior Car Lighting on eBay
Shop with reputable
eBay
sellers and get great prices on a wide range of
interior car lights
in a variety of colours, including strip lights, dashboard lights, flexible LED strip lights, and standard interior lights and bulbs. Enter the type of light or bulb and the colour you want into the search bars on any eBay page to get the most relevant listings. Select your item, check the seller feedback and complete your transaction, all from the comfort of your home, office, or mobile. Enhance the aesthetics of your car interior with colourful lighting options, from futuristic Bond-style ice blue lighting to Barbie pink.