It is important to find socks that not only fit properly, but keep the feet comfortable even after a long day. For those who dress up daily or for special occasions, pairing
dress socks
with a suit or slacks is not always simple. With socks made in different styles, colours, and from various materials, it is difficult to know which one is best for a dressed up look. Learning about some of the top dress socks available makes the selection process easier. Whether consumers are buying from upscale retail shops or browsing online at
eBay
, finding the right pair is important for both superior comfort and style.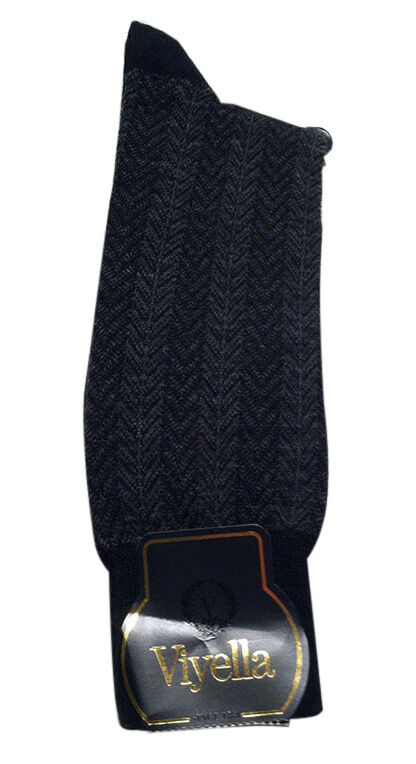 Viyella has been a leader in textile products since the early 1800s. Known for their high-quality products, the company also produces a vast selection of dress socks. The socks feature construction from different materials, such as luxurious wool and super-soft cotton. The socks come in a wide array of colours, such as blue, red, and green, along with patterns, such as striped and plaid. Available in small, medium, large, or extra-large, the socks all feature stag embroidery.
---
| | |
| --- | --- |
| 2 | Ralph Lauren Dress Socks |
Since 1967, Ralph Lauren has been a leader in designer clothes made for men, women, and children. The company first started out only producing ties, but quickly grew to include clothing, shoes, and accessories in their fashion line. Along with all of the other items, Ralph Lauren produces men's dress socks that provide not only quality, but comfort for men who dress up daily or on special occasions. Made from various materials, such as wool and cotton, the socks all feature the well-known Ralph Lauren logo. The socks come in crew-cut, no-show, trouser, and quarter styles, as well as various colours and patterns including stripes and plaids.
---
| | |
| --- | --- |
| 3 | Perry Ellis Dress Socks |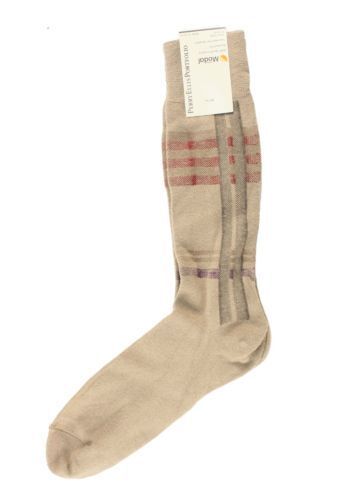 Perry Ellis has been producing quality men's clothing and accessories since the 1980s. For those looking for striped socks to add a touch of flair to a business suit or a pair of plain dress socks to wear during a luxurious evening on the town, Perry Ellis can help. Perry Ellis has many different types of dress socks available made from materials, such as nylon, silk, and cotton. The socks come in a variety of colours, such as black, green, and navy. Available in one size, the socks are ideal for pairing with many different outfits.
---
| | |
| --- | --- |
| 4 | Calvin Klein Dress Socks |
Since 1968, Calvin Klein has been producing upscale clothing and accessories for both men and women. Though headquartered in New York, the clothing line is available all over the world. The company's vast clothing line also includes dress socks for men. Calvin Klein produces socks made from different materials including wool and cotton in sizes 6.5 to 11. The socks come in different colours, such as white, black, and blue, as well as various cuts, such as knee length and crew cut. Sports socks and cushioned sole socks are also available.
---
| | |
| --- | --- |
| 5 | Tommy Hilfiger Dress Socks |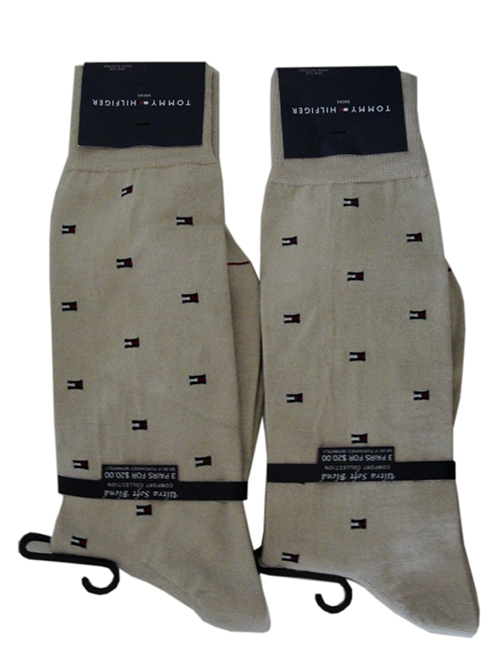 Known for its line of high-end clothing, Tommy Hilfiger has a fashion line that includes not only clothing, but also accessories, such as dress socks. Various styles of socks are offered ranging from cotton-elastane blend and cotton ribbed to crewcut sports and rib cuffed. Made for sizes 9 to 12, the socks come in different colours, such as black or grey. Patterns including stripes, polka dots, and plaid are also available for those looking for a bit of versatility in their outfit. Designed to provide not only lasting comfort, but an added touch of style, the socks are an excellent choice for pairing with both business and casual attire. The socks come in single pairs or in packs of two or three.
---
| | |
| --- | --- |
| 6 | Pantherella Dress Socks |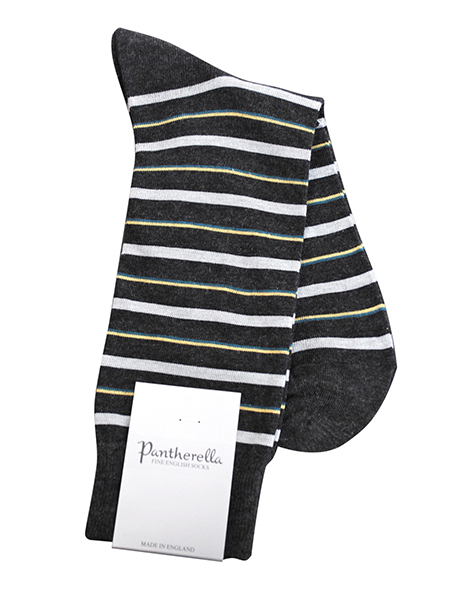 Pantherella carries a wide range of socks designed to put the finishing touch on business and casual attire. Made from a large range of materials, such as silk, wool, cotton, and cashmere, the socks provide comfort and style. Many colours including grey and black are found along with different patterns, such as argyle, striped, and holiday themes. The socks come in small, medium, and large sizes and some styles are seam-free for added comfort. The wide array of socks offered makes it possible to put the finishing touches on both casual and evening wear.
---
How to Buy Dress Socks for Men on eBay
When shopping for the perfect pair of
men's socks
, the process is sometimes overwhelming, but shopping is easier when you buy on
eBay
. With the ability to set specific filters to narrow down your search, you are able to find what you need without a lot of searching. You can narrow down the products by filtering by size, colour, brand, and condition. Dress socks are ideal for pairing with both casual and business attire, and finding the brand that fits best with your lifestyle is important. By learning about the top brands available, purchasing a pair that is stylish and comfortable is simple.