Men's steps get noticed when flip-flops are their shoe of choice. The shoe gets its name from the flipping and flopping sound made as a person walks. S strap that fits between the big and second toes acts as a sling to hold the sole to the bottom of the foot without covering the toes or ankles. The history of flip-flops dates back to around 4,000 B.C. with first specimens made from papyrus leaves. Men buy
flip-flops for everyday wear
and even wear them to participate in certain sports and walking events. Shoppers looking these shoes can start their search by consider the top flip-flops for men.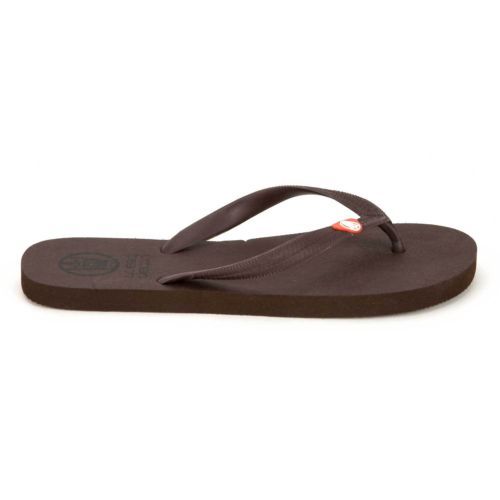 Urban Beach (UB)) offers the Badge flip-flop with a leather thong and a stitched canvas footbed, stamped with the UB emblem in a choice of three colours. Men may decide to go with the Pine Island Velcro flip-flops, noteworthy for a comfortable foam sole and open toe design safeguarded by an adjustable Velcro strap closure. People notice the Harlequin line in any season for its vibrant designs in four colours. Other product lines include favourites such as Cabrillo, Flapper, Ridge, Static, Slide, and Lorenzo, all in men's sizes from six to 11.
---
The Adidas men's flip-flop is easy on the toes with support straps made from Neoprene, a synthetic rubber, that dries quickly when wet. The underside of the footwear features a moulded design that provides traction when wearing this as a beach shoe.. To reduce the flip-flop sound, buyers can consider purchasing the Adidas slide that moulds to the foot. The product's Fitfoam technology adheres to the midsole foam and contours to the wearer's foot for maximum comfort. The classic 3-stripes bandage strap appeals to buyers, as does the ability to adjust the shoe with the Velcro closure. Adidas flip-flops and slides come in black, brown, yellow, blue, red, white, and two-tone colour combinations.
---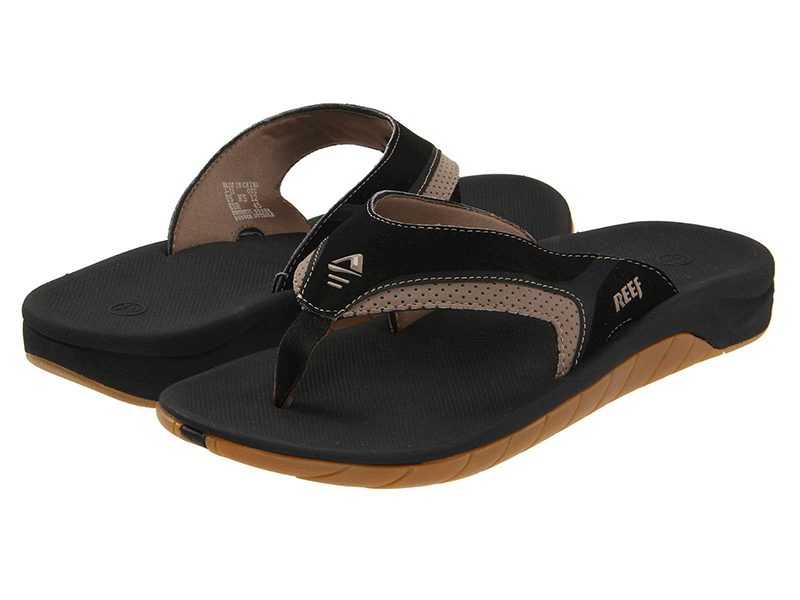 Reef flip-flops look good on the feet and the Slap II cradles each foot with a pigskin lining for added softness. The outside rubber sole features a heel measuring approximately 3 cm high with an attractive masculine profile. The Reef Slap II flip-flop includes a moulded arch support and bottom sole that performs like a shock absorber, taking a pounding instead of the feet. Flip-flop sizes range from size six to 13 in a medium width only, but people typically order one size larger for an exact fit.
---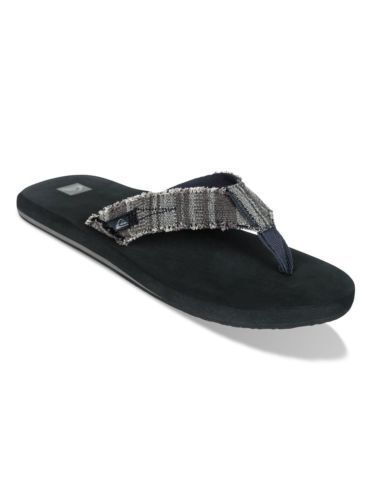 This flip-flop manufacturer refers to the footwear as sandals and makes over 60 products. Each pair of sandals provides non-slip protection on slippery surfaces and the sole and straps feature synthetic rubber. Buyers can choose from a wide selection of sandals in solid and multi-coloured designs that display the Quiksilver logo. Footwear construction in some of the products includes additional arch support. Quiksilver produces Traction flip-flops in a black and grey colour that welcomes water and is gentle on the feet.
---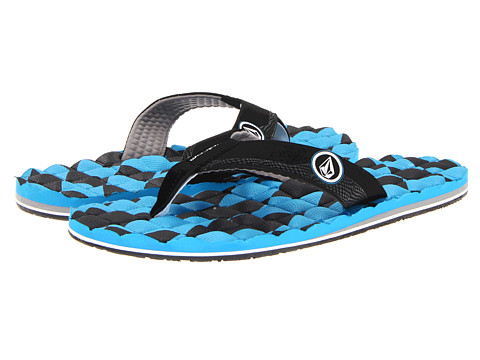 The wearer's feet rest on a covering that resembles a breakfast waffle that is soft in texture and helps drain water away from the bottom of the feet. This beach shoe's extra arch support and slip-free bottom surface make the Volcum Recliner a safe way to get about. The straps supporting the top of the foot feel soft, and the shoe features three layers of ethylene vinyl acetate (EVA) and a synthetic product called nubuck that is similar to suede with the look of leather.
---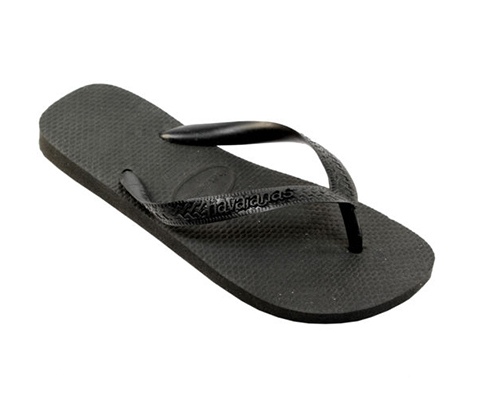 This line of flip-flops is a product originating from a Japanese shoe that originally featured a composition of rice-straw soles. Havaianas offer vivid-coloured footwear along with a palette of more subdued colours. The design of the Power flip-flops keeps pressure points of the foot supported to prevent fatigue and strain. The wearer's feet rest on a textured cushion sole with perforated strapping that allows air movement.
---
How to Buy Men's Flip-Flops on eBay
Shoppers can find many kinds of men's flip-flops on eBay. Each eBay page contains a Search box where shoppers can type keywords such as flip-flops, sandals, beach shoes, or men's shoes to find listings of available products. Once shoppers find the footwear they want, they can select further filters to refine the search results by colour, size, or brand name. Review each seller's information carefully, making sure to note specifics such as the expected delivery date, condition of the item, and shipping details. With some research into the top flip-flops for men, shoppers can find exactly what they need quickly and easily and get back to the beach in style.