For decades, HP has established a reputation for designing and manufacturing advanced desktop computers that provide users with myriad features. The vast HP desktop line can make it confusing for consumers to choose the right models. Consumers can find tremendous deals on new and
used HP desktops
on eBay, where some sellers may bundle HP desktop accessories with HP desktops to entice shoppers to make purchases. Before going online to eBay, consumers should first review the top six HP desktops, as well as learn about the most popular HP desktop accessories.
| | |
| --- | --- |
| 1 | HP Pavilion Elite h9-1130 Phoenix Desktop |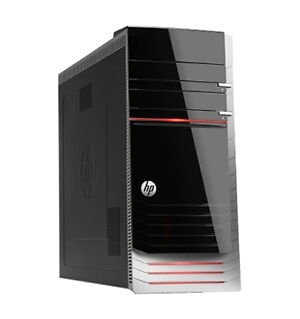 With Windows 7 Home Premium 64-bit operating system installed, the HP Pavilion elite provides users with high-end performance that includes the capability to present the latest interactive gaming technology. The AMD eight-core processor powers pristine Radeon HD 7670 graphics, as well as supports multiple monitors that operate simultaneously. External hard drives add more storage space to the 2 TB 7200rpm solid-state hard drive. Users maximise data transfers by using the top-mounted USB ports that increase download speeds. The HP Pavilion Elite Phoenix desktop provides cinema quality sound, which users hear through the SuperMulti Blu-ray player.
---
| | |
| --- | --- |
| 2 | HP Pavilion p7-1410 Desktop |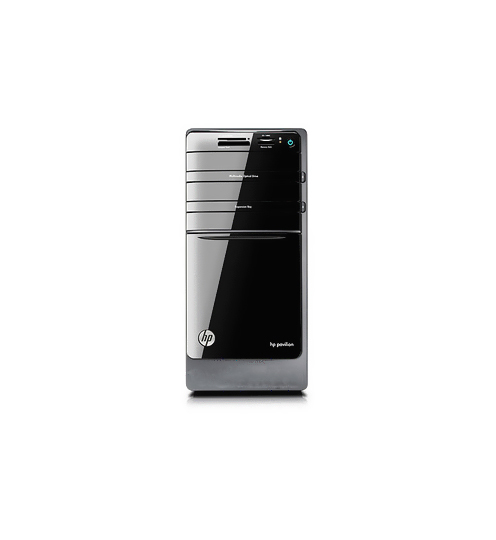 Considered one of HP's best desktop values, the Pavilion provides the power and features required for both work and personal use. The HP desktop supports three different wireless networking protocols, projects high-quality sound through Beats Audio, and possesses the capability to transfer music and image files from the desktop to other electronic devices, such as smartphones and tablets. HP includes a DVD burner and a front panel 15-in-1 media card that expands music and video options. The powerful 3.4 GHz Core i3-2130 processor powers the 1.5 TB SATA hard drive and 8 GB of Random Access Memory (RAM). Users can connect several electronic devices to the Pavilion desktop at one time through four USB 2.0 ports and two USB 3.0 ports.
---
| | |
| --- | --- |
| 3 | HP Envy 20-d010 TouchSmart All-In-One Desktop |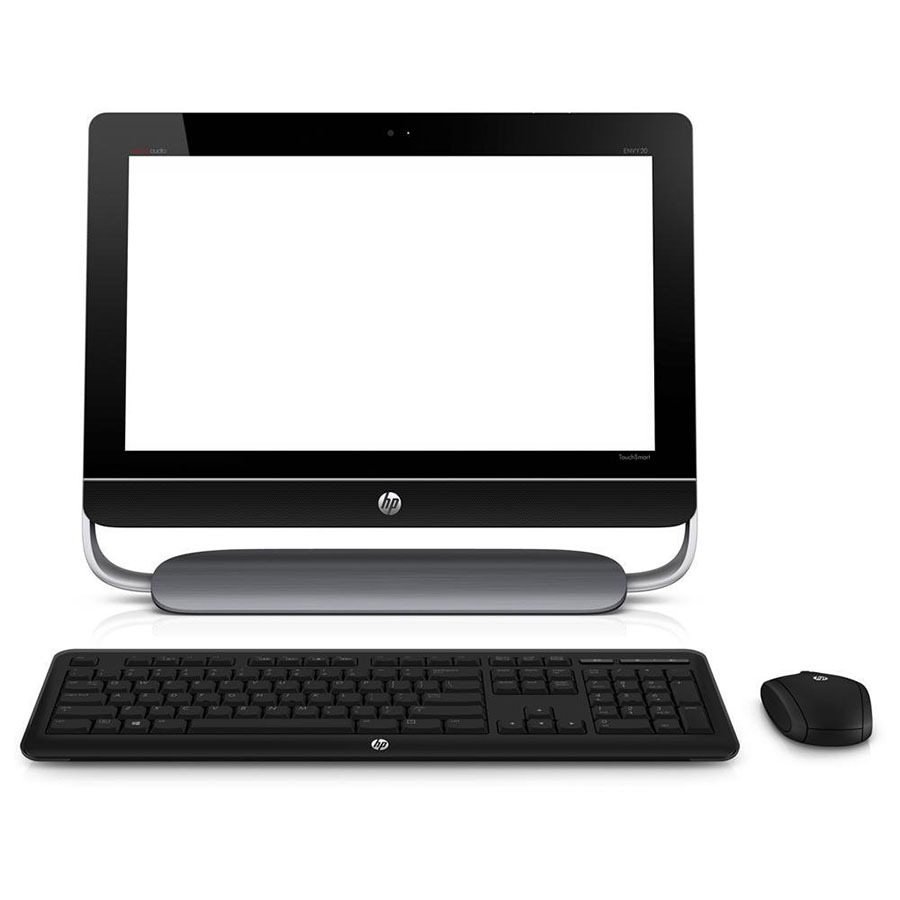 Manufactured to run Windows 8, the HP Envy TouchSmart presents high-resolution graphics through a 50 cm diagonal HD TouchSmart display. SmartTouch technology allows users to tap, rotate, arc, and flick through content. The HP Envy possesses a powerful processor that flawlessly runs the most complicated applications. Users can easily transfer music and video files from smartphones and tablets to the desktop's massive hard drive. This HP desktop also includes support for establishing a wireless network and Bluetooth connections. Users enjoy high-quality sound with Beats Audio and a front panel 6-in-1 media card reader that provides control for music and video synchronisation.
---
| | |
| --- | --- |
| 4 | HP Omni 120-1130 20-Inch Desktop |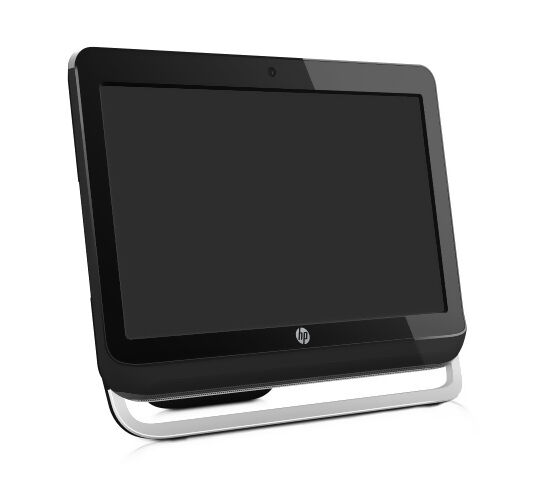 For users who want to purchase a compact desktop, the slim HP Omni 120-1130 desktop eliminates cables that clutter up limited space. A 50 cm widescreen features a high-definition LED backlit display that presents clear images in well-lit rooms. Users can video chat by engaging the built-in webcam and microphone, which makes the Omni the perfect desktop solution for home and work purposes. The 6-in-1 media reader easily transfers cumbersome photograph and music files in conjunction with the AMD 1.7 GHz processor. Users can store copious amounts of data within the 500 GB hard drive, including the highly efficient Windows 7 64-bit operating system.
---
| | |
| --- | --- |
| 5 | HP Pavilion HPE h8-1360t Desktop |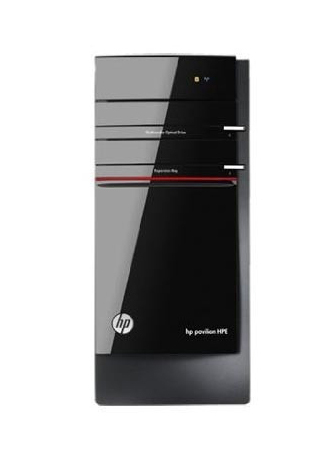 Consumers save money by purchasing the HP Pavilion HPE desktop. HP includes a keyboard and mouse with every purchase, as well as free Adobe Premiere Elements and Photoshop software. A vast majority of online reviewers praise the Pavilion HPE for super-fast downloading speeds and the pristine quality video projected by the AMD Radeon 7560 graphics card. The 1 TB hard drive supports the storage requirements of most users, although users have the option of expanding storage space by connecting two more internal hard drives to the computer system. HP has developed a desktop that does not make much noise, even during the play of video games or the operation of multiple electronic devices simultaneously.
---
| | |
| --- | --- |
| 6 | HP TouchSmart 520-1050 PC |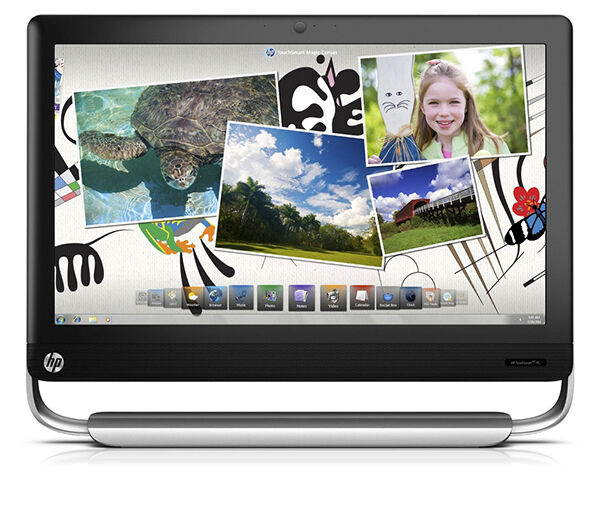 A 57 cm diagonal widescreen that utilises the HP TouchSmart technology highlights the 520-1050. Users enjoy an in-built suite of touch-accessed applications that support screen movements by pinching, tapping, or flicking the widescreen. The HP TouchSmart 520-1050 allows users to watch, pause, rewind, and record live television programming with the advanced HDTV tuner and HP Media Centre. HP's popular all-in-one desktop conceal antennas, cables, and peripheral devices that can clutter up a workstation. The in-built webcam and microphone provide users with the tools to communicate live online through one of two wireless networking protocols.
---
HP Desktop Accessories
To enhance user experiences, HP offers a wide variety of desktop accessories. Consumers choose ergonomically constructed mice and keyboards that match the specifications of their HP desktops. HP also manufactures stylish high-resolution monitors of varied sizes and shapes. Consumers who want to create home networks should consider buying cables to connect multiple desktop computers. From flash to pocket media drives, HP offers users portable ways to transfer data from a work computer network to a home computer network. Consumers can also find compatible webcams and operating systems for their HP desktops.
How to Buy HP Desktops on eBay
HP has a strong presence on eBay, as sellers offer a wide variety of HP desktops and accessories. Type targeted keywords into eBay's search engine to reduce the number of candidates that match your buying criteria. You can search for HP desktops that include processing speeds of at least 3.0 GHz or hard drive capacities of at least 1 TB. Regardless of the criteria, be sure to examine all of the information that eBay presents on each seller's product page. Review each potential seller's accepted payment methods and delivery terms. To ensure quicker delivery times, only consider HP desktop sellers who live in the United Kingdom.