Casual workplaces have become more common. Even at more formal offices, "casual Friday", or the like, is often a norm. Knowing how to keep casual wear appropriate in the office is now a workplace necessity. Jeans can be worn to the office while maintaining the polished and the professional appropriate for the office. To make jeans a part of casual office attire, consider the different styles of jeans, how the jeans fit a person's body type, and what kind of image or style a person wants to convey with each style of jean.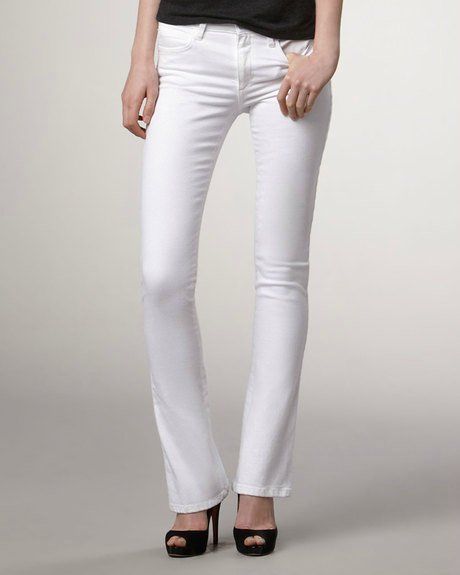 Bootcut jeans are the most forgiving cut of jeans. They accommodate curves for those that have them, and the help accentuate curves for those who don't. They are, universally, the easiest cut of jean to wear. An exception to this rule is for those have an extremely boyish figure. Those who do can still wear a bootcut jean, but may find that other styles fit their body better. Style wise, the bootcut can accommodate many different styles within this category. Some have stretch in them, and the fit is tighter; others fit slightly looser. Some bootcut jeans have a wider or narrower bell that falls from the knee.
---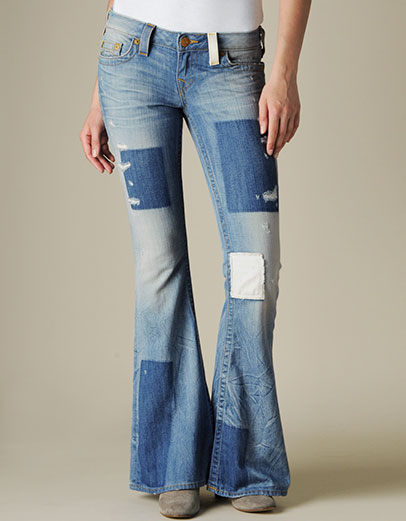 The flare cut jean can sometimes closely resemble the bootcut, but the style begins to flare higher than the bootcut, ending in a wider or narrower bell. They are sometimes referred to as "kick flares". While some curves work with the flare, it's not quite as forgiving a cut as the bootcut is, and extreme curves can be too much of a good thing. Again, like the bootcut, if you have a boyish figure this cut is harder to wear. The flare cut most closely resembles a trouser-like shape. This ups your denim's executive power, especially when paired with pantsuit accessories. The hem of the flare jean should fall close to the floor, but not drag. Generally this cut is out for those with longer legs, but higher heels and some creative tailoring could make for those with shorter legs.
---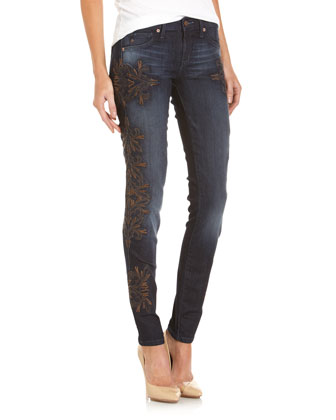 Skinny jeans aare an extremely slim cut of jeans that taper down to a fitted ankle. For those with a boyish figure these are great jeans. For someone who has extreme curves, this style is harder to wear. Skinny jeans are easy to dress up or dress down. Show off a great pair of heels with a hem at the ankle, or roll the cuff for a more casual heel. Keeping a pair of skinny jeans that are a little bit slouchy at the hem can be a great option when wearing flats or dressing down heels. This works best for those with longer legs. Keep the slouch minimal to avoid looking hasty or messy.
---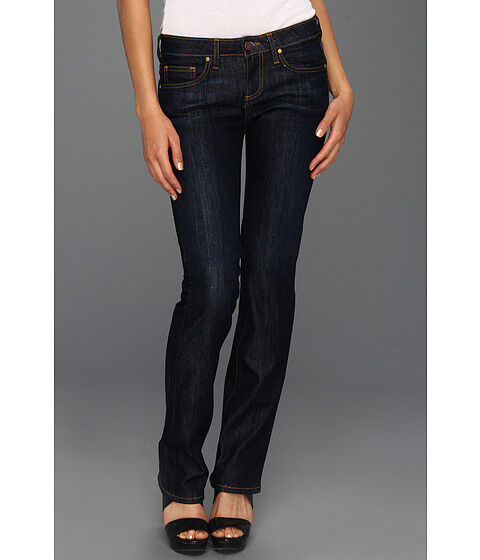 Straight leg jeans are a wardrobe staple. While other types of jeans go in and out of fashion, or are indicative of their era, the straight leg has endured. Straight leg jeans are cut the same way all the way down. This gives them slightly tighter fit at the thighs, then loosens down the rest of the leg. These are the classic jean. They are a comfortable fit without being slouchy, and all sizes can wear them. These are our multi-purpose jeans. They are fashion friendly, while just as home working in the garden. Fashion wise they come up a little bit higher in the waist, hiding a multitude of sins. A dark wash dresses them up and makes them more work appropriate.
---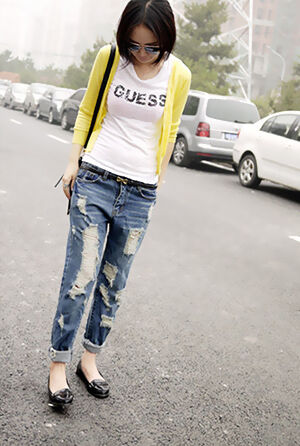 Boyfriend jeans are designed to be more on the comfy side. Because of this, it makes them a little harder to keep them professional at work. These jeans fit tighter in the derriere but are relaxed in the legs. In order to wear them to work at the office, a good fit is essential. They must fit well in the rear; no saggy bottom. Make sure the waist and hem-length fit well also.
---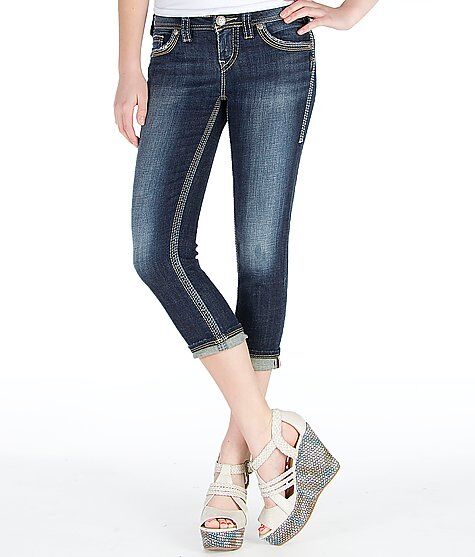 The cropped fit jean is a great warm weather pant. Cropped jeans fall below the knee, but above the ankle. The hem of the cropped pant ccan fall anywhere in between. It is easy for this look to become too casual. Be sure to make your whole outfit look pulled together.
---
How to Buy Jeans for the Office on eBay
eBay has a large selection of women's clothing, including jeans. Begin your search for any style of jeans on eBay by using one of the search boxes located on each page. Type in keywords of your choice, such as "skinny jeans". From these results you can narrow your search by using categories, subcategories and other criteria. eBay can help you find your perfect jean. As the workplace gets more casual, a larger selection of jeans go into our wardrobes. Knowing which jeans make you look and feel good allows you to bring your own style to the casual office.