Women enjoy lace sleepwear for two completely different reasons. It looks and often feels beautiful, combining soft fabrics with delicate laces that complement every woman's appearance. And the right nightwear for women can let her fling a spark, or set a fire, in the bedroom. Nearly every kind of women's lingerie is available in cosy, complementary varieties and flirty, fire-starter versions. The difference has to do with lace location, fabric, design, and perhaps even the woman's own intention as the evening has progressed. For the right circumstances, here are the six lace sleepwear items every woman wants.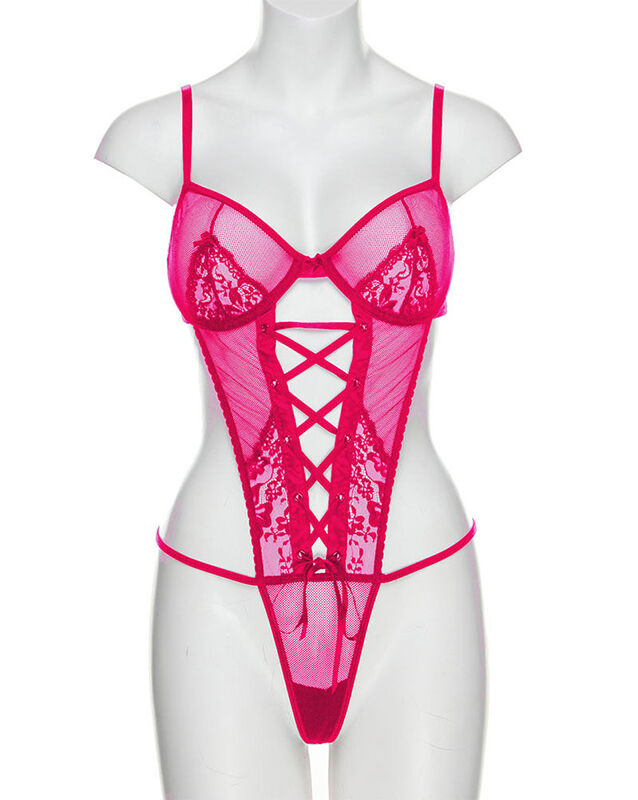 Traditional lace teddies are loosely fitted tops made of sheer lace fabrics that fasten between the legs. Teddies are often anything but traditional. Occasionally a sleep teddy pops up that is as simple and practical as the traditional style. But as a rule, lace teddies are part of a woman's lingerie wardrobe selected with a partner's enjoyment in mind. Tight fits, stretchy synthetic lace, bright colours, full support, and lots of skin are the norm. Pick for fun: the practical intentions are very limited.
---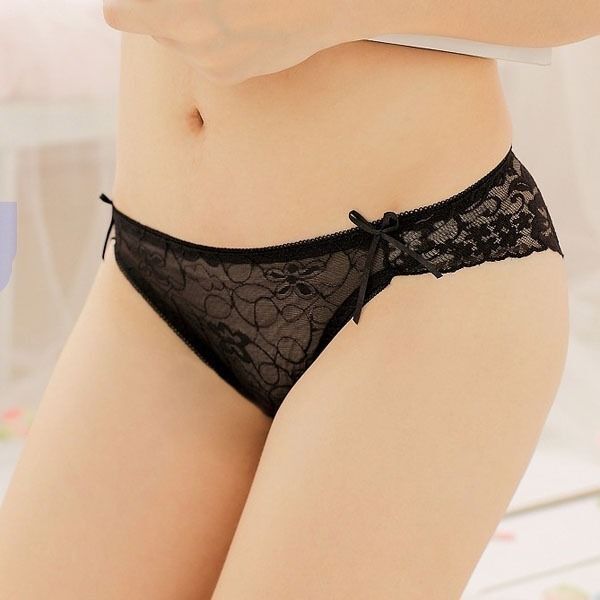 Lace knickers are a pretty way to have a treat that no one else needs to know about, day or night. Lace knickers designed for all-day wear include comfy briefs and bikinis with lace panels and a cotton comfort panel where it matters. "French knickers" fit under skirts with some fullness while closer cut styles fit slacks and pencil skirts. Of course these work as nightwear also. The "skirtini" and some other designs are primarily nightwear. The finest lace knickers include a large proportion of breathable natural fibres, with enough synthetic to hold their shape. Some are made mostly from lace and others are lace trimmed. As always, when choosing for the all-day wardrobe, select knickers whose colour is similar to the skin tone when show-through could be of concern. Women with fair skin should be cautious in these cases about dark or bright knickers as should women with darker skin about whites and pastels.
---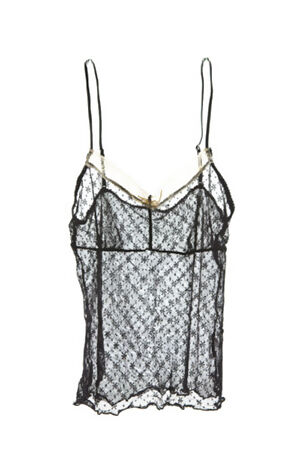 A lace camisole is a simple sleeveless cover-up top. Some camisoles show their relationship to the traditional slip with adjustable, ribbon-like shoulder straps holding up a silk or satin top. Others look more like a sporty tank top with sweet lacy cutouts. These camisoles may be made of cotton or various blends. Many women like to purchase lace camisoles in sets with matching boyshorts, bikini briefs, or a thong. Doing so creates a complete sleep set. Traditional babydoll lingerie combines a kind of lace camisole top with bikini briefs.
---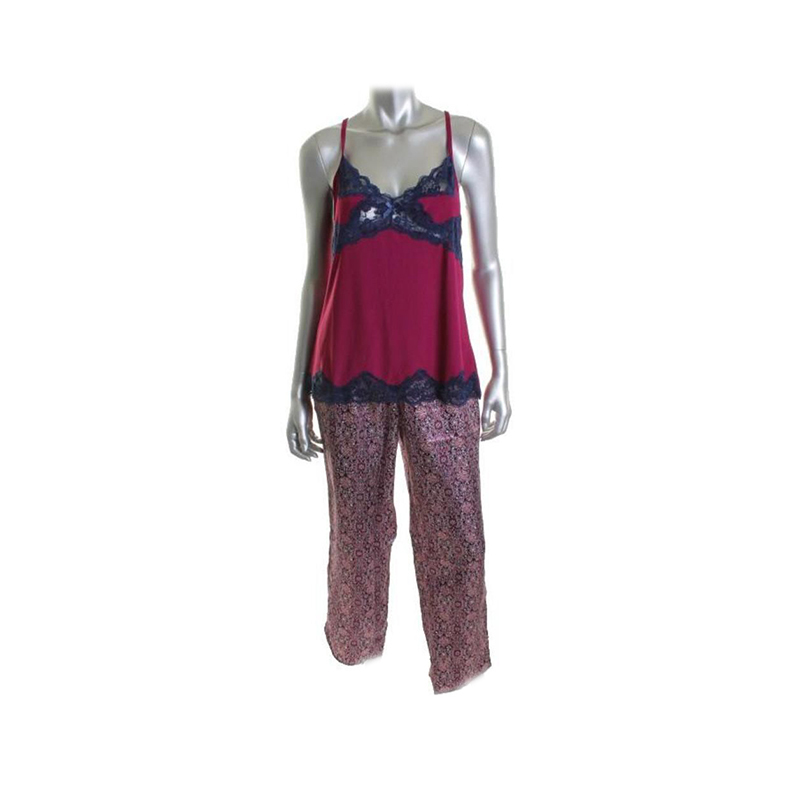 Lace pyjama sets can say "come here" or "just let me curl up with my hot cocoa". Shimmery satin ladies pyjama sets come in every colour, with matching or contrasting lace trims. So do the "look at me" sheer lace jammies that could almost be mistaken for missing. At the other end of the spectrum are comfy cotton ladies pyjamas with crocheted trim that call out for a fireside, and stretchy T-shirt type tops with knit bottoms that could easily be mistaken for athletic wear. In traditional styles, look for well-made buttonholes and buttons that are properly attached.

---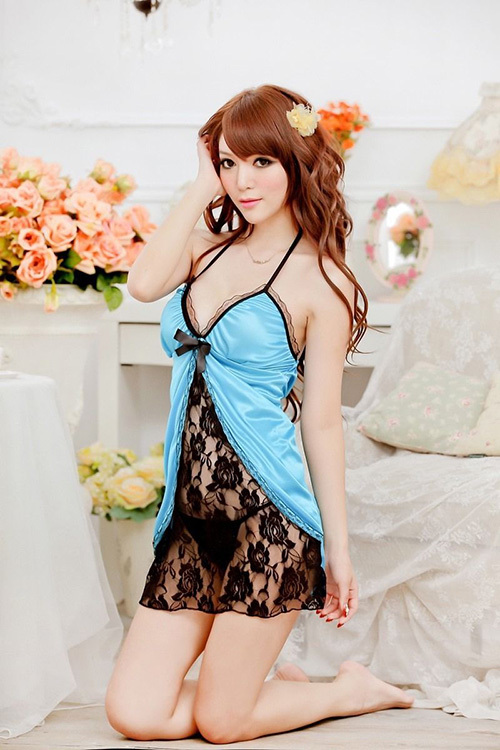 The sleep shirt is what remains of the old-fashioned nightshirt. It's usually shorter than knee-length and sometimes has a full button-front. The sleeves may be short or long. Fabrics include wovens and some knits that look like oversized T-shirts with lady-like lace insets. Lace sleep shirts usually are lace-decorated, not made entirely from lace. Many are designed in sweet floral prints and pastels that swing comfortably around a woman who just wants to be comfy. The women looking for an all-lace sleepshirt can find stretchy versions that highlight her assets, sometimes with matching briefs or thong.
---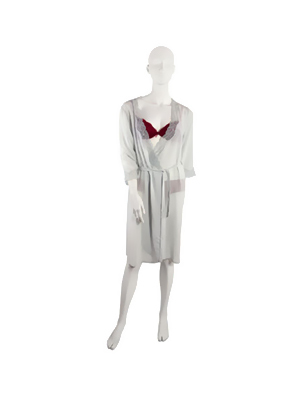 Some lace-accented robes are cuddly and cosy. Others seem to ask for assistance in keeping the assets warm. The big difference is in the amount of lace and its placement. A flannel or fleece robe with lace trimming the cuffs sends one message. A silk kimono "accented" with a front made entirely of lace sends another. Robe fabrics include summery cottons and silks, and heavier fabrics for cooler seasons. Shorter or longer sleeves and length make robes good for different times of year.
---
How to Buy Lace Sleepwear
Women looking for nightwear can find many choices on eBay. From babydoll lingerie to ladies pyjamas, there's something there for everyone. It's always a good idea to cruise through the Daily Deals on Women's Lingerie and Nightwear to see what great items pop up. Then a Search for " lace nightwear" brings up many options. Sort by price or refine the selection by brand, colour, style, and other criteria. Sellers on eBay offer quality products from top vendors in the UK, on the continent, and beyond. Assure your satisfaction by choosing Sellers with high Feedback ratings from prior customers. You can buy every kind of lace-accented women's lingerie from quality sellers on eBay.