Oneida Ltd. has been a recognisable brand name in the kitchen and dining products industry for many years, and it has a long history of producing flatware sets. Some sets are for formal use, while others work great for daily use, and some work well in both situations. When purchasing
Oneida flatware
, shoppers have the option of buying antique patterns in either parts or complete sets, or simply purchasing a more recent pattern so they can add to it in the future. Buyers can find vintage patterns at a number of antique stores, but the easiest place to look at a wide choice of vintage flatware patterns is on
eBay
.
| | |
| --- | --- |
| 1 | Oneida Community Silver-Plate Coronation |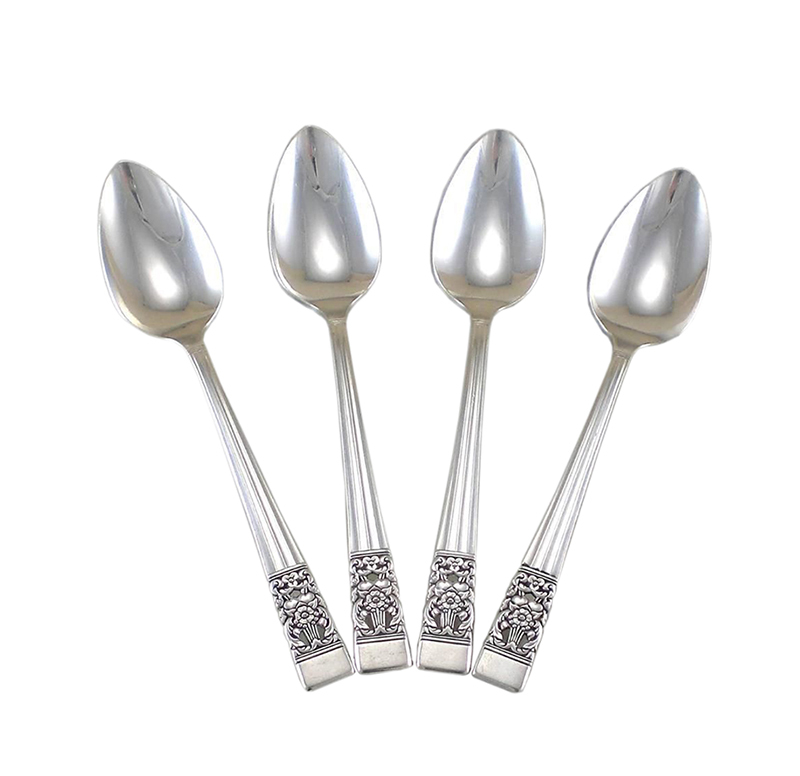 Oneida produced a Coronation set of flatware to celebrate Edward VIII's coronation. Although he abdicated before taking the throne, many sets of this antique flatware were already on the market. Also known as the Hampton Court set, the Community Coronation flatware features a silver-plated Art Deco-inspired design of fluted handles ending in flower patterns with cut-out sections and a squared end. The set featured 12 five-piece table settings, along with nine serving utensils for formal use.
---
| | |
| --- | --- |
| 2 | Oneida Prestige Bordeaux |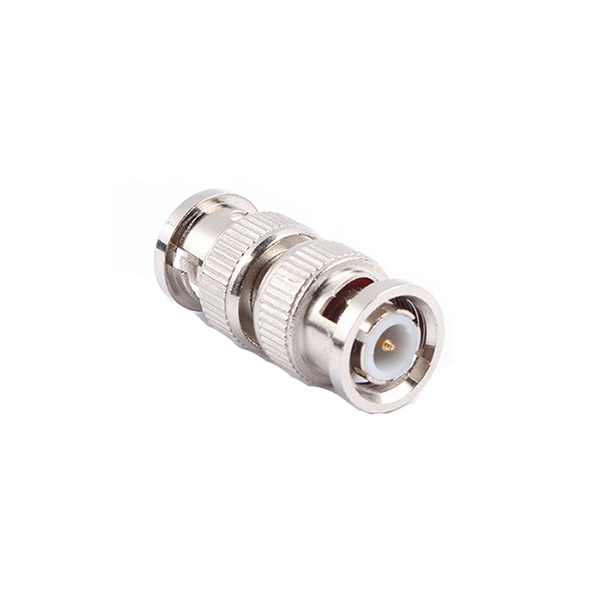 Oneida issued the Prestige Bordeaux flatware in 1945. This pattern features a mirrored upper area with a handle edged with a fine detail of leaves leading down to a final scroll design across the oval rounded end. A grapes and fruit emblem adorns the bottom. Because of its lovely yet simple pattern, this set is great for either everyday or formal use. This silver-plated set comes in six-piece sets and eight serving utensils.
---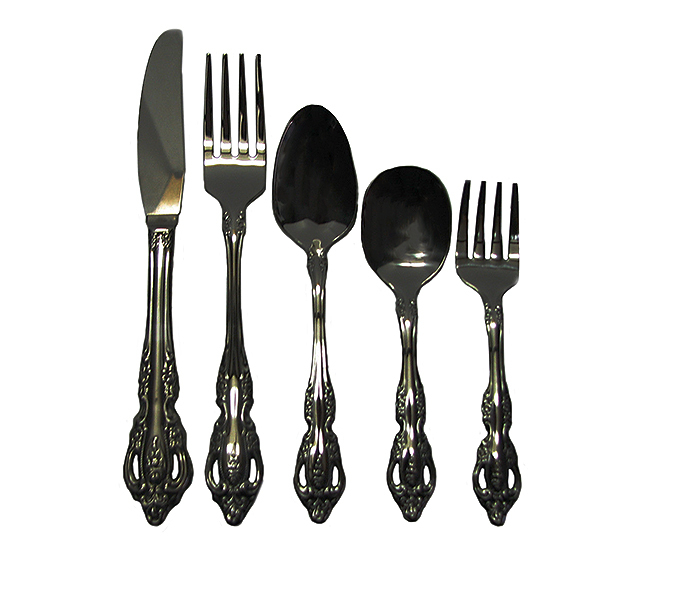 Another vintage pattern is the silver-plated Brahms by Community, which was Oneida's original company name. This ornate pattern features a fiddle design at the bottom of the handle with scroll details and a few flowers. The knife handles are solid, but the spoons and forks feature two cut-out sections at the pointed bottom. This pattern comes in a six-piece setting that is excellent for formal dining.
---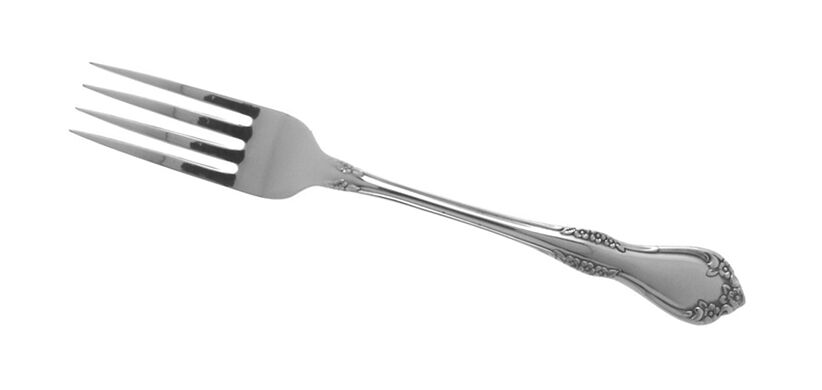 The Oneida Mansfield is also known as a Wm A Rogers pattern in reference to the famous silversmith. The handle starts thin from the bowl, with tiny flowers at the top. The framed edges swell into more flowers as it goes into a gentle fiddle pattern. Scrolls, flowers, and leaves adorn the rounded triangular end. Although seemingly ornate, this pattern keeps the designs in small, subtle amounts, making this flatware great to dress up everyday tableware. It comes in six-piece settings, along with eight serving utensils.
---
| | |
| --- | --- |
| 5 | Oneida Prestige Spring Song |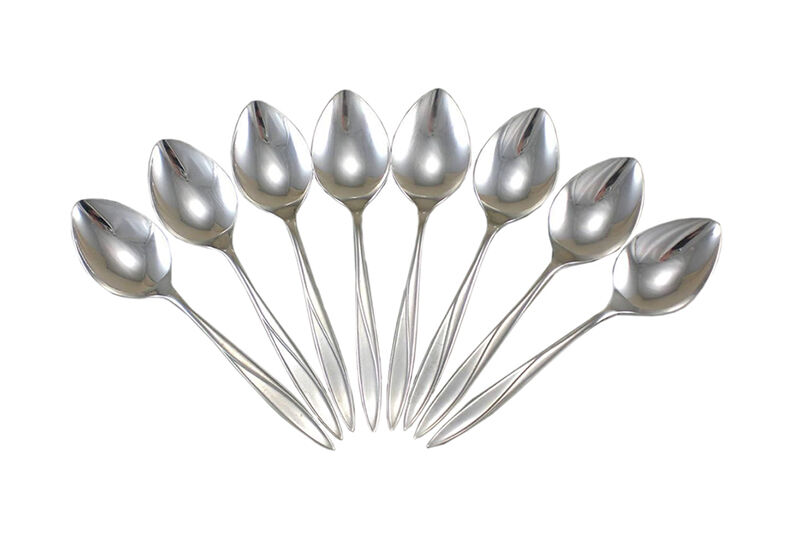 The Prestige Spring Song pattern has a much more modern look to it. Featuring a mirror finish, the handle is thinner than many other patterns with a teardrop bowl and slender handle flowing down to a pointed tip. It features one line that starts partway down the handle and then moves across the width and down the length. Oneida introduced it in 1964 as a four-piece setting along with five serving utensils.
---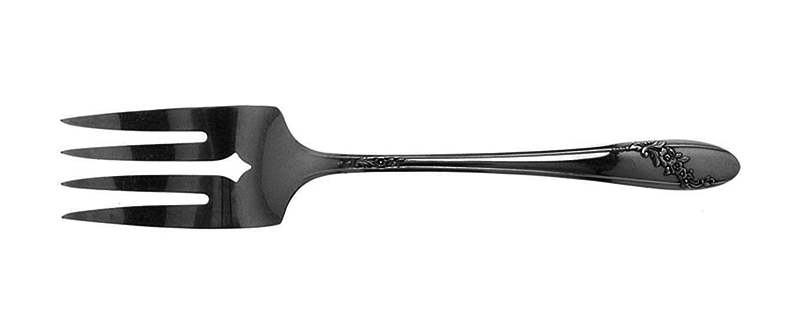 The Queen Bess pattern debuted in 1946 and offers a simple elegance to the table setting. Starting at the bowl with a small flower and leaf design, the silver-plated handles feature a gentle curving shape outward to the bottom where it rounds to a point. Close to the bottom, a diagonal design of three flowers and leaves runs downward from right to left. This set features five serving utensils and five-piece settings that are great for everyday or formal use.
---
Characteristics of Sets
Most sets feature the same basic setting of a
dinner knife
,
fork
, and
teaspoon
. Larger settings may include a salad fork, soup spoon, and other utensils, which typically come in formal table settings rather than everyday settings. Most sets come with serving utensils, but the contents of a serving set vary quite a bit. A
hostess set
may include a serving fork, serving spoon, slotted spoon, pastry server, and gravy ladle. Sugar spoons and butter knives sometimes come with the set as well.
How to Buy Oneida Flatware on eBay
eBay
is an excellent site for acquiring replacement flatware, additional settings, or whole sets of many designs, including the modern, elegant Spring Song all the way to the historic Community Coronation pattern. To search for parts of flatware sets, simply go to eBay and type the pattern name, such as "
Oneida Bordeaux
", into the search bar. If you do not find the part you need, consider visiting the eBay Stores for more options in vintage flatware. Whether you are looking for modern or vintage, Oneida offers high-quality flatware in a wide range of designs that look great on any table.