Perfect for a party or a casual afternoon in the garden or by the pool,
outdoor speakers
bring musical enjoyment to all corners of the outdoor living area. Top manufacturers such as Pyle, Bass Face, Vibe Audio, and Bose construct these speakers with lightweight and waterproof materials designed to withstand the sun's rays, rain, and extreme hot and cold temperatures as well as precipitation build-up with little to no damage to the external housing. Whether these durable accessories come from a local electronics shop or online at eBay, a brief look into the major features and benefits of the top outdoor speakers allows consumers to pick the best speakers for their needs and buy them with confidence.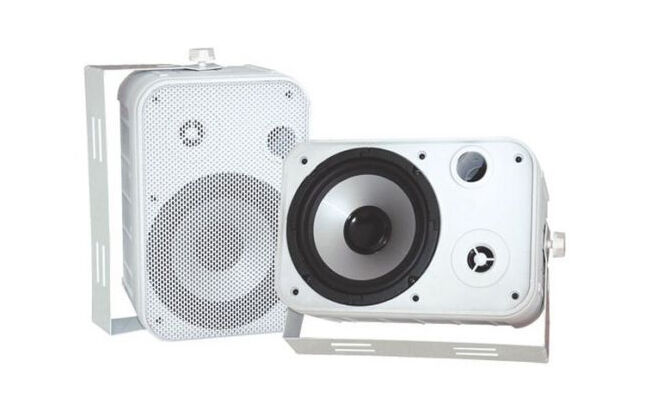 With their heavy duty ABS construction and rust-proof grilles, the Pyle Home PDWR50W outdoor speaker set lends itself well to patio, boat, poolside, and general outdoor use. The spring-loaded mounting system and proprietary quick connect terminals allow for quick mounting and dismounting and the bass reflex vent ensures powerful support for the highs, mids, and lows across genres. The pair measures 182 mm long, 294 mm wide, and 162 mm deep, a size conducive to strategic placement.
---
| | |
| --- | --- |
| 2 | Bass Face SPLBOX.2 400W Waterproof Speakers |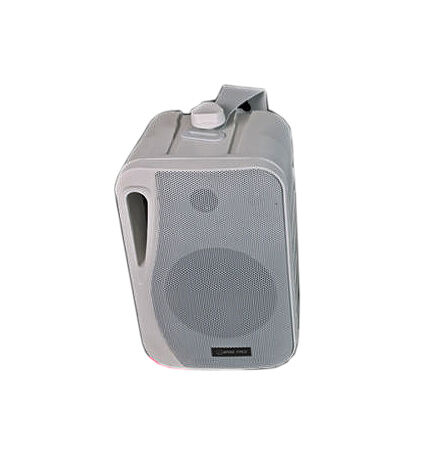 Lightweight and versatile, the Bass Face SPLBOX.2 waterproof speakers include a heavy duty 101-mm sound driver and tweeter and bass support inside a weather-ready ABS enclosure. The multi-layer aluminium voice coil, high-density ceramic magnet, and silk dome speaker components ensure satisfying sound, and a rustproof basket adds an extra layer of protection against the elements. This pair weighs in at 535 grams each and the overall dimensions are 209 mm long by 139 mm wide by 120 mm deep.
---
| | |
| --- | --- |
| 3 | AQ Wireless Outdoor Speakers |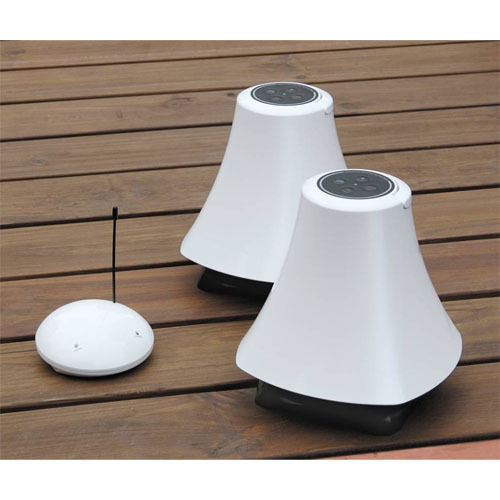 Waterproof and outfitted with a conical case, the AQ wireless outdoor speakers offer full support for all genres with the added benefit of wireless technology. These speakers connect quickly to any Bluetooth-enabled sound source, including the iPhone and other Apple devices as well as PCs, televisions, some CD and DVD players, and MP3 players. A 100-metre range, weather-resistant exterior, and carrying handles make this a good choice for any outdoor area and placement is simple thanks to a height of 200 mm.
---
| | |
| --- | --- |
| 4 | Adastra 100V Weatherproof Speakers |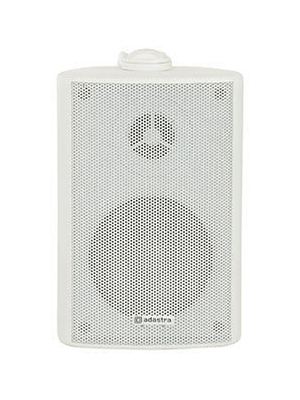 The Adastra 100V weatherproof speaker comes as a singleton, but accepts a mate for further sound throw and performance. Gold-plated binding posts and a completely housed tweeter and woofer combination reside inside a ATSM cream or black case that features UV protection for easy use in virtually any weather conditions. In terms of size, this speaker measures 252 mm long, 177 mm wide, and 142 mm deep and weighs in at 3 kg.
---
| | |
| --- | --- |
| 5 | Bass Face SPL6.2 Waterproof Ceiling/Wall Speakers |
Sold as a pair for maximum sound enjoyment, Bass Face SPL6.2 waterproof speakers feature versatile mounting options that allow for placement in the ceiling or wall of a boat or outside structure such as a patio covering or outdoor bar area. The weatherproof twin cone design with slim integrated grille transmits clear voice or instrumental tracks with minimal distortion, even in high moisture areas with precipitation and humidity. In addition, the slim design pleases the eye and measures a manageable 180 mm in diameter.
---
UV-resistant and designed for both outdoor and marine applications, the Vibe Audio BA6M-V1 comes as a pair for full coverage sound and mounting versatility. The extended low frequency response and powerful bass support impart pleasing high-, mid-, and low-range notes and the solid alloy case protects the silk-encased tweeter and Kevlar woofer components from precipitation of all types as well as the rays of the sun. Each speaker has a diameter of 165 mm, a size that allows for easy concealment or prominent placement according to the characteristics of the installation area.
---
How to Buy Outdoor Speakers on eBay
When deciding on a pair of outdoor
speakers
or a complete speaker set, begin by analysing your needs to find a brand and model that meets those needs. Once decided, quickly locate listings for these speakers by using specific search phrases instead of general terms when querying the eBay Search bar found on any page of the site. For example, instead of using a broad term such as "speakers", a choice that returns many potentially unrelated listings, try "Bass Face outdoor speakers", "
Adastra waterproof speakers
", or "Vibe Audio outdoor speaker set" for the best and most targeted results. After completing the purchase with a few clicks of the mouse, the seller readies your speakers for shipment and they ship straight to your post.