Scrubs are a common type of clothing in the medical profession due to their comfort, utility, and hygienic uses. Surgeons in particular wear scrubs frequently, as they are an inexpensive option for maintaining a clean working environment in the operating room. Doctors preparing for surgery usually put on scrubs when they are "scrubbing in." Typical scrubs consist of a short-sleeved, loose-fitting top and a pair of pants with an elastic waistline. Often surgeons select disposable scrubs that they can then throw away at the end of a procedure if there is too much contamination. A good place to find deals on scrubs for medical professionals is on eBay.
| | |
| --- | --- |
| 1 | Urbane Classic Crossover Top |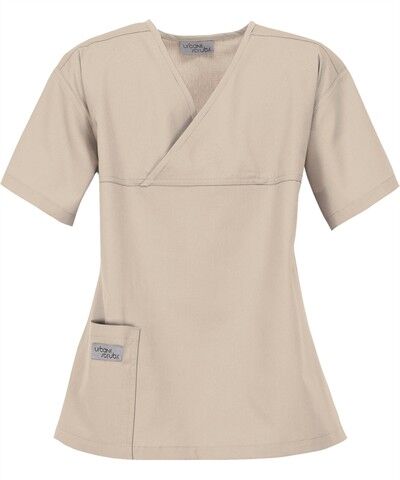 Plastic surgeons often opt to wear wrap-style scrubs that have short sleeves in order to ensure their hands and arms remain free and unhindered while they work. The Urbane Classic Crossover Top matches that criteria and also comes in a number of different colour combinations for those who like some variety in their lives. Both single colour and contrast colour trim options are available. This crossover top is a partial wrap-style, with a neckline that wraps and a standard shirt style at the bottom. It is loose-fitting and comfortable and has a lower pocket for easy storage of a few necessities.
---
| | |
| --- | --- |
| 2 | Dickies Everyday Unisex V-neck Top |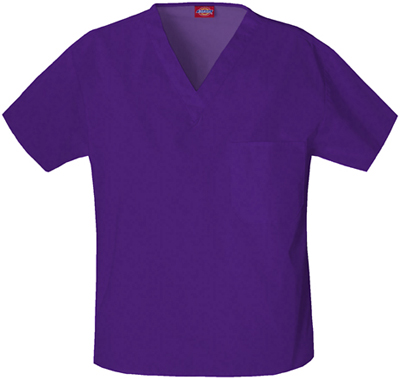 One of the more popular brands of scrubs on the market is Dickies. The Dickies Everyday Unisex V-neck Top has a spacious upper pocket suitable for pens and a medium-sized notepad. Plastic surgeons can find this top in solid colours ranging from white to black and virtually every shade in between. The V-neck top also comes in sizes ranging from extra small to 5X-large, making it a good choice for anyone who needs a broad range of sizes to choose from.
---
| | |
| --- | --- |
| 3 | Cherokee Workwear Snap Front Top |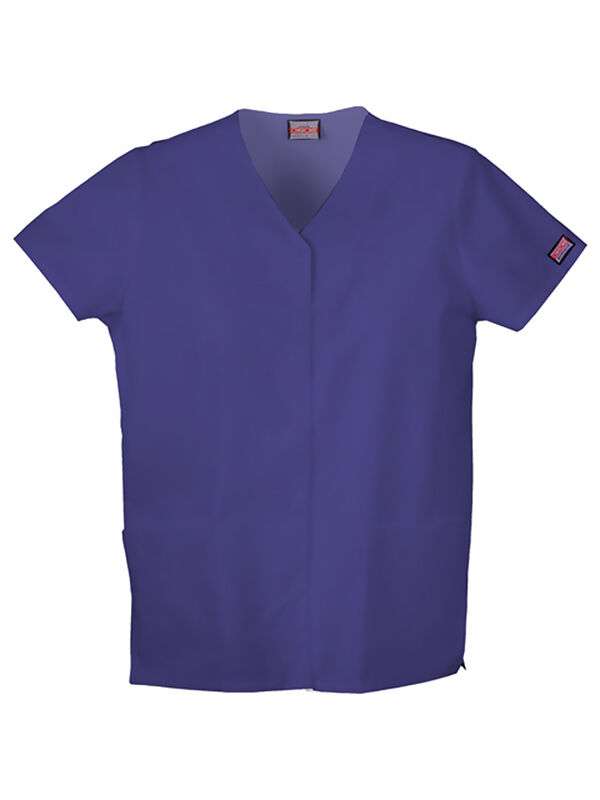 The Cherokee Workwear Snap Front Top has five snap closures down the front, making it easy to put on and take off without having to slip it over the head. It is a tunic-style top that has two pockets at the waistline, as well as a separate cell phone pocket for added convenience. The Cherokee Workwear line has a number of different matching pieces available besides standard scrub tops and pants, including Cherokee Workwear Cardigans and Cherokee Workwear Cargo Pants.
---
| | |
| --- | --- |
| 4 | Dickies EveryDay Mock Wrap Top |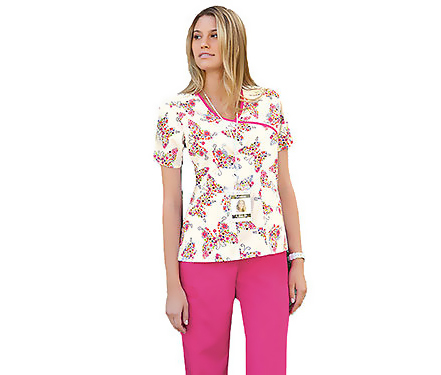 Another wrap-style scrub top suitable for plastic surgeons is the Wrap Top. Among the advantages of wearing Dickies is the brand's use of soft fabric composed of a blend of cotton, polyester, and poplin. This fabric then receives special treatment with a soil release finish that causes it to resist stains. The mock wrap top receives this treatment as well, and comes in different colours with contrasting trim for added personalisation. It has front pockets for storage and a pocket suitable for an MP3 player or cell phone.
---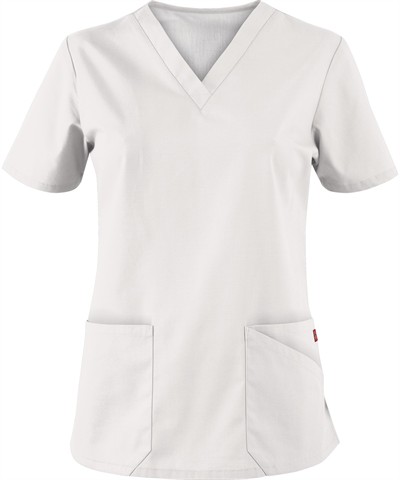 The Dickies EDS Fit <Scrubs consist of a durable top that has two waistline pockets and reinforced seams to ensure durability in all circumstances. The matching pants are cargo-style, with two scoop pockets in the front and a side pocket. The pants have a slight flare at the hem, giving them a fitted look. They also possess elastic along the back to ensure a good fit and stretchability. The Dickies EDS Fit Scrubs are easy to care for, requiring only washing in warm water and drying on a low heat setting. They come in sizes ranging from extra small to 5XL.
---
| | |
| --- | --- |
| 6 | Dickies Genflex Youtility Top |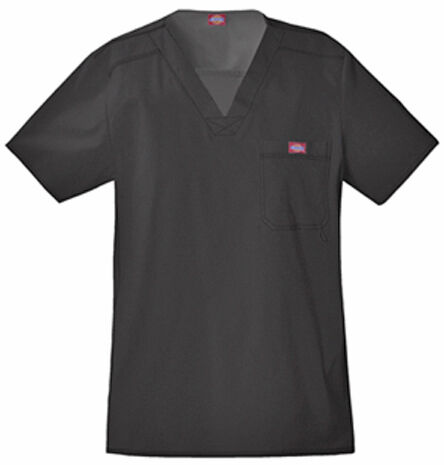 Geared towards younger medical professionals, the Dickies Generation Flex line is among the trendier styles available, with fitted looks that still remain comfortable during a long day at work. The Dickies Genflex Utility Top ffalls into this category in men's scrubs tops. It has a chest pocket with a built-in bungee loop to ensure items do not slip out while on the move, and a left sleeve pocket that has pen loops. The top consists of stretch twill, making it durable and comfortable.
---
How to Buy Scrubs for Plastic Surgeons
It is often a good idea to comparison shop for the best scrubs for plastic surgeons before making a purchase. eBay is a good choice, as users can utilise the search function on every page of the website to browse the wide selection available. Users can simply type in a general phrase such as " medical scrubs" to see a number of options. Then, shoppers can select the scrubs they like from the vendor of their choice. It is also easy to find a quality vendor by looking at the customer feedback section to verify that past customers received good service from a particular seller.