No matter how powerful a personal computer or gaming system is, its usefulness decreases the more difficult it is to control. By adding a keyboard with an integrated touchpad to a media system, that hurdle can be easily overcome. While using an external mouse can mean hunting for a smooth surface, a touchpad works in any position at any time. With a compatible touchpad available, every device can become a bit more user-friendly. The touchpads on this list do not only offer a seamless way to control any device with a USB port, they are largely portable, durable, and affordable.
---
| | |
| --- | --- |
| 2 | UKB 500-RF 92-Key Mini Portable Keyboard With Touchpad |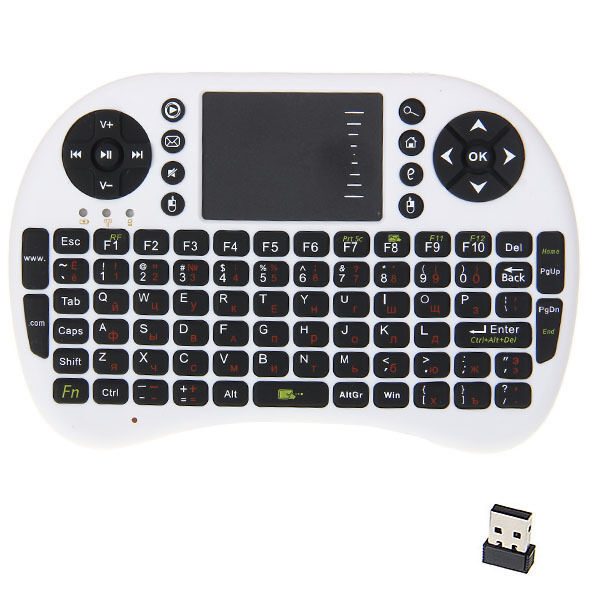 The UKB 500-RF Mini Portable Keyboard is quite similar to the 2.4 GHz Handheld Mini Wireless Keyboard. It features a full QWERTY keyboard with a backlight for use in dark conditions, in addition to multimedia and gaming controls and an integrated touchpad. An included USB cord acts as the charging mechanism for the rechargeable lithium-ion battery. The touchpad on this keyboard, however, has a few more options. A user can set his or her own options as to how the scroll function on the touchpad operates, as well as swap the left and right click functionality. This makes this particular keyboard touchpad a good choice for those who are left-handed and may have trouble with standard mouse functionality setup.
---
| | |
| --- | --- |
| 3 | iPazzPort 2.4 GHz Mini Wireless Keyboard Touchpad |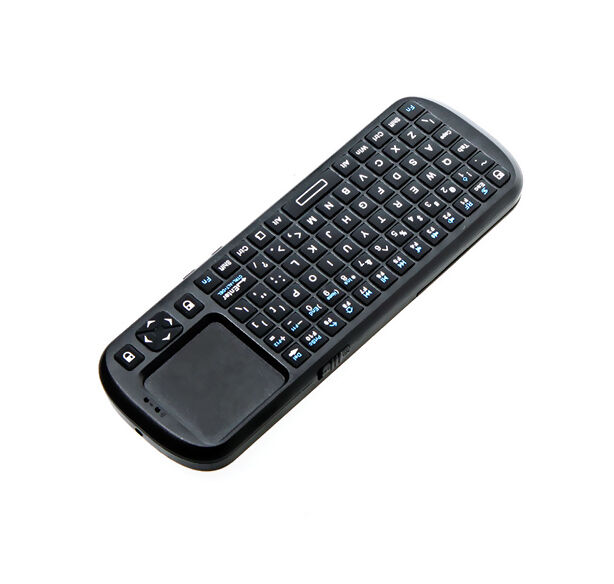 The iPazzPort Mini Wireless Keyboard Touchpad also offers wireless typing and device control, at a distance of up to 30 m. The keyboard does not have gaming controls, but does have an integrated touchpad located to the right of the keys for seamless navigation. A nook on the back of the keyboard provides safe storage for the USB dongle,, making it easy to take this keyboard and touchpad to presentations, meetings, or on trips and quickly connect it to any device.
---
| | |
| --- | --- |
| 4 | iPazzPort Wired USB Mini Handheld Touchpad |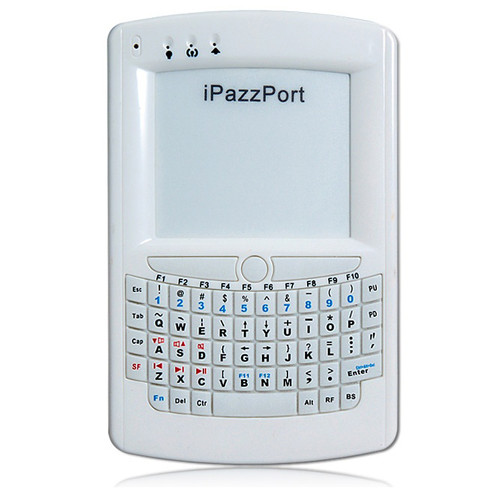 The iPazzPort Wired USB Mini Handheld Touchpad is the first entry on the list that does not have wireless capabilities. Still, the device can be quite useful in situations that require a touchpad, as functionality is certainly the focus of the design. A touchpad and left and right buttons allow this device to function as a replacement mouse for a computer with any operating system, or for a television or gaming console. There is also an integrated keyboard, but at only 85 mm across, it is less useful for large typing jobs than some of the other touchpads on this list.
---
| | |
| --- | --- |
| 5 | Keydex UG-ID1114 HTPC Keyboard With Touchpad |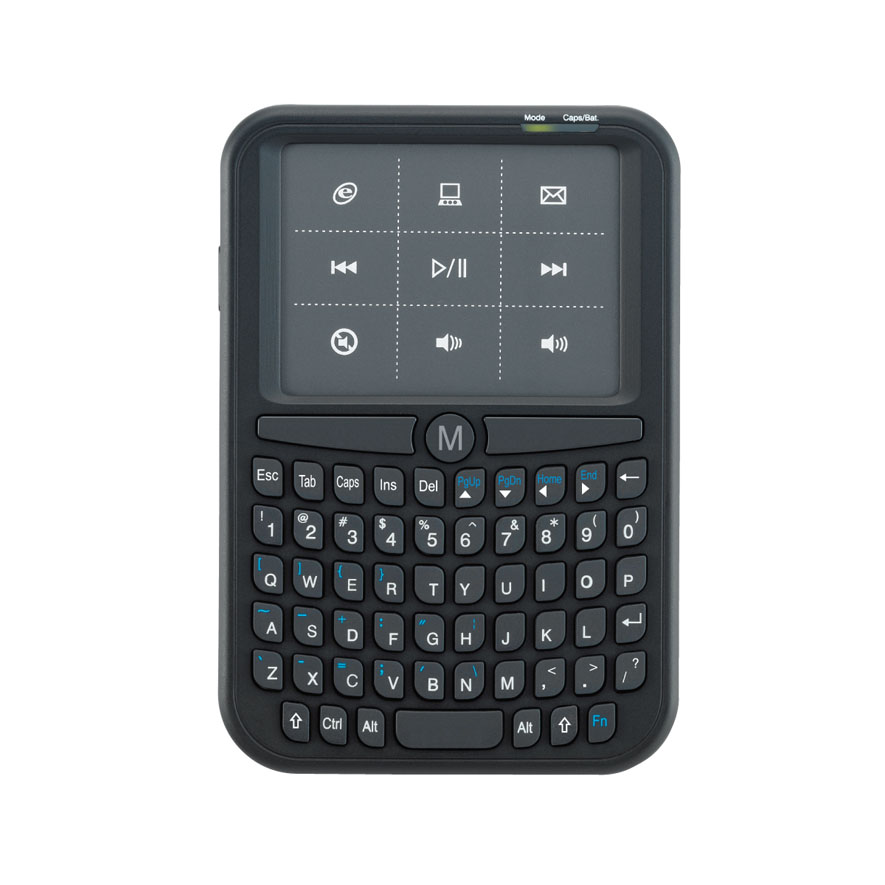 For a touchpad with functions that surpass a typical mouse, the Keydex UG-ID1114 HTPC keyboard is a great choice. This touchpad allows for not only standard mouse functions, including left and right buttons, but also features gesture technology. This means that a user can swipe his or fingers to flip between pages, scroll, rotate images, and more. A mode button is also useful for turning on hotkeys for email, volume controls, and multimedia options, like play and pause.
---
| | |
| --- | --- |
| 6 | Ortek Wireless Multimedia HTPC Keyboard With Smart Touchpad |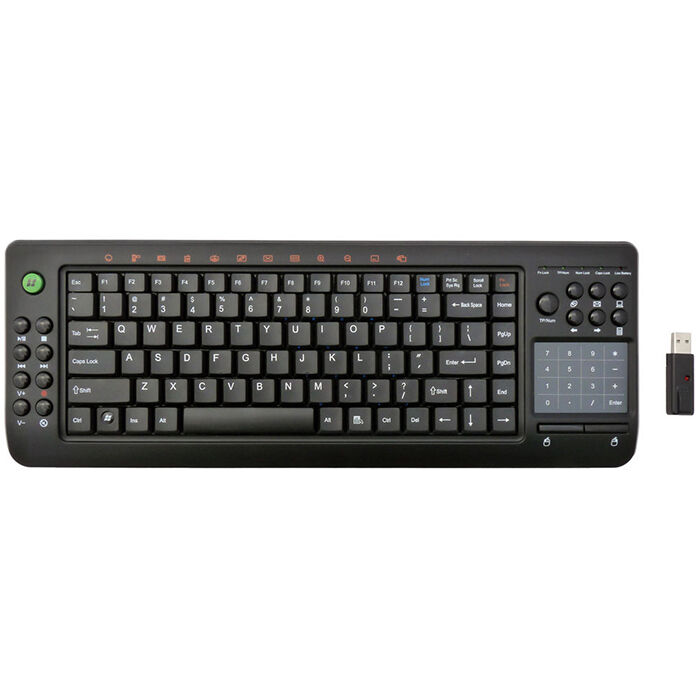 For those who want the convenience of gesture technology but also need a full sized-keyboard, the Ortek Wireless Multimedia HTPC Keyboard with Smart Touchpad is certainly the right choice. The touchpad on this wireless keyboard has hotkey functionality that a user can programme to his or her own specifications, which also works with gestures and for simple mouse movements. The wireless feature means that the keyboard and touchpad can be up to 10 m away from the device and still work properly. The keyboard requires two AA batteries, which can provide power for up to three months of regular use.
---
How to Buy Touchpads on eBay
In order to purchase a touchpad on eBay, whether integrated with a keyboard or not, it is best to start with the eBay search box. You can find the search box on any page of the site. Simply search for "touchpad" or " wireless keyboard" and use the filters to determine the exact product you want to review. When it comes to technology, the available peripherals are seemingly endless. However, the right touchpad, such as those on this list, can be a truly useful addition to any home that needs a seamless way to type and control any multimedia device or personal computer.