A
tuxedo
never goes out of style; it is only a matter of having the occasions for which to wear it. Because a tuxedo is often a lifetime piece, a great deal of thought needs to go into which one to buy. The man who does his homework might never have to buy another one again. The top six tuxedos for men are a good place to start. These are all classic in style, though some of the models are better suited for more elegant events and others for formal gatherings with looser demands for traditional attire. After learning more about what makes these six models stand out, men can proceed to
eBay
to find their own smart tuxedos.
| | |
| --- | --- |
| 1 | Steel Grey Twilight Tuxedo by Jean Yves |
Warmer temperatures do not preclude wearing a tuxedo. The steel grey Twilight from Jean Yves blends polyester with wool to keep the wearer cool and comfortable on warm summer days. This tuxedo also includes side vents to increase air flow around the body. The Twilight is fitted, providing a modern look without inhibiting movement or causing discomfort. Some consumers might hesitate to wear grey to a formal event, but this colour has become perfectly acceptable in this setting. The steel grey is also well-suited for the less formal end of the tuxedo spectrum, making this particular model a versatile choice.
---
| | |
| --- | --- |
| 2 | Grey Legend Tuxedo by Calvin Klein |
The grey Legend tuxedo by Calvin Klein provides a classic look, and, thanks to its 110 threadcount, a comfortable fit. The wool fabric is luxuriously soft and durable, though it makes the Legend more appropriate for cooler weather. The non-vented jacket also makes the tuxedo better suited for spring, fall, and winter than for summer. The front is single-breasted and has two buttons. The step collar has a satin lining, as do the double-piped besom hip pockets. The Calvin Klein jacket features barrel sleeves.
---
| | |
| --- | --- |
| 3 | Chaplin II Tuxedo by After Six |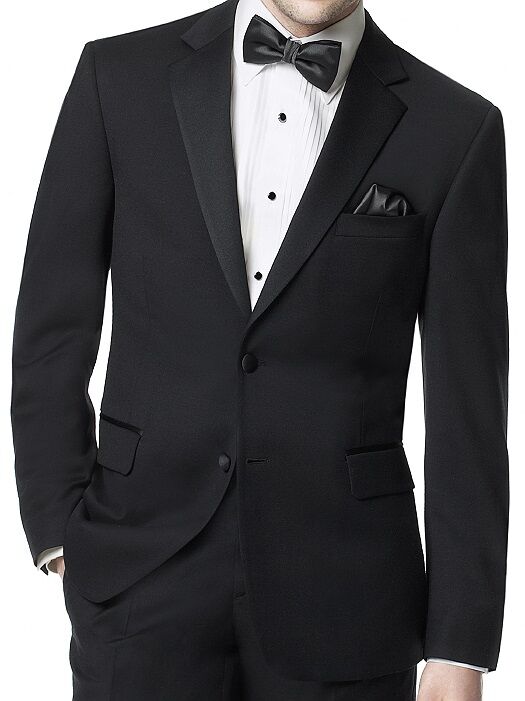 The Chaplin II by After Six is a great choice for black-tie events. This classic tuxedo features a single-breasted jacket with a satin-lined step collar. The jacket has two buttons and satin besom pockets. The After Six features tropical worsted wool in the construction of the Chaplin II. The tight spin of the wool makes this tuxedo durable, while the looser weave allows air to flow more freely inside, keeping men more comfortable in warmer weather even without vents on the back of the jacket.
---
| | |
| --- | --- |
| 4 | Heather Grey Savoy Tuxedo by Jean Yves |
Men who want to catch a few eyes at a wedding in cooler climes should don the heather grey Savoy tuxedo by Jean Yves. This soft shade of grey goes perfectly with a number of colours, and the Super 100s wool provides durability and comfort. The single-breasted jacket has two buttons, a satin-lined step collar, and satin-accented flap pockets. Men can opt for pleated trousers in the same heather grey or go for a contrast with black. The Savoy tuxedo looks especially striking paired with the Savoy Fullback vest.
---
| | |
| --- | --- |
| 5 | Black Icon Tuxedo by Paul Morrell |
The pointed lapel on the Black Icon by Paul Morrell makes this tuxedo an appropriate choice for the most elegant events. The Black Icon features a number of other classic details, such as a single button on a single-breasted jacket and a mid-width, satin-lined lapel. The fit, however, tends toward slim, giving this tuxedo a modern look. Tropical worsted wool makes it comfortable in warmer weather and durable around the year. Men looking for the most formal tuxedo that is likely to say in style should consider a Black Icon.
---
| | |
| --- | --- |
| 6 | Heather Grey Twilight Tuxedo by Jean Yves |
Although it bears the same name as its steel grey counterpart, the heather grey Twilight by Jean Yves bears a couple of notable differences. The most obvious one is the colour. The lighter shade of grey makes this tuxedo less traditional, and it pairs well with a broader range of colours. A polyester-wool blend makes the steel grey version more comfortable to wear in warmer weather, while the Super 100s wool of the heather grey edition is better for cooler temperatures. This high-thread count wool is also extraordinarily soft and comfortable. Other details between the two Twilight tuxedos are the same: two buttons, a satin-lined step collar, double-piped satin besom hip pockets, barrel jacket sleeves, side vents, and a welt breast pocket. The heather grey Jean Yves Twilight tuxedo is the perfect choice for that formal, but less traditional, wedding.
---
How to Buy Men's Tuxedos on eBay
eBay
is a great source for buying men's tuxedos, no matter what your budget. You can use the search bar found on most pages within the site to locate tuxedos with the features you want. View sellers' feedback to see what past buyers have said about purchasing from them, and use this information to decide which seller you should buy your tuxedo from. Filtering for local sellers by specifying the distance from your postcode within which they should be located can help you save time and money on shipping. You should also check
eBay Deals
to see if there are any discounts on smart tuxedos. Using eBay, you can pay a pittance and still look regal in your new tuxedo.