Many curvy brides-to-be wonder which of the many
wedding gown
styles best accentuates their shapely silhouette. With terminology all its own, wedding gown shopping can be a bit overwhelming, especially when paired with all of the other decisions. Curvaceous women should remember to accentuate their strengths, rather than broadcasting their weaknesses. While a dress nipped in at the waist may emphasise a small waist, a tight-fitting skirt may bring attention to overly large hips. The top wedding gowns for curvy bodies can ensure the chosen gown fits like a glove.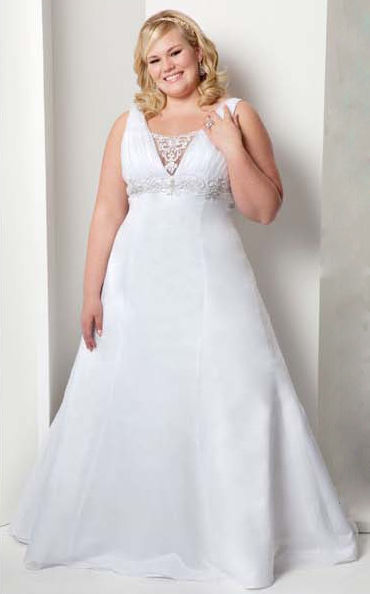 An A-line dress has a fitted waist, gradually widening toward the hem, giving the overall impression of the shape of a capital letter A. While an A-line wedding gown looks great on nearly any figure, it works especially well for women with a pear-shaped, hourglass, or inverted-triangle figure. Adding a bit of crosswise draping to the skirt creates an illusion of added length, while flowing hair or pretty detailed sleeves add volume to a narrow top. By contrast, the gently broadening skirt draws attention away from a top-heavy body. The A-line style is also known as the Princess style dress.
---
| | |
| --- | --- |
| 2 | Strapless Sweetheart Dress |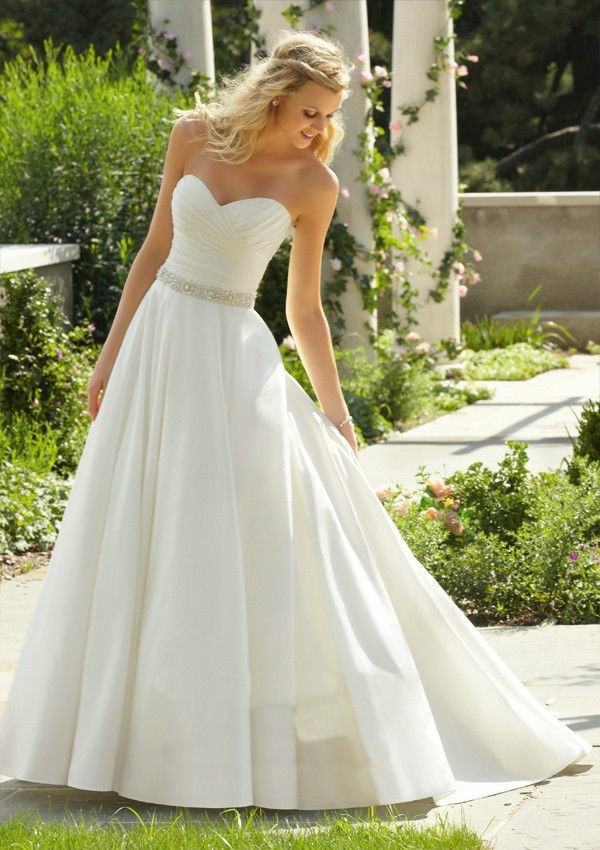 Studies show that about 75 per cent of wedding gowns are strapless, and the trend seems to be maintaining its momentum. While a Sweetheart neckline is attractive on many women, not all of them look their best in strapless styles. Strapless gowns tend to spotlight broad shoulders, point out small breasts, and make less-than-stellar arms look like shapeless blobs. However, women with shapely necks, pretty collarbones, and toned arms make this dress look even better. Some brides with generous bustlines worry their strapless dress may not stay put during post-vow dancing and celebration. Well-endowed women can certainly wear a strapless sweetheart dress, as long as it features a structured bodice to hold her firmly in place.
---
Nothing slims a well-rounded woman like an asymmetric dress.. Whether the asymmetrical look comes from a single strap coming across the front, or asymmetrical ruching that wraps diagonally around the bodice to the waist, this look keeps the eye moving down, from shoulder to hem, creating the illusion of a narrower waist. Putting the focus on shapely shoulders, and minimising wider hips, the asymmetrical wedding gown can hide a variety of figure flaws.
---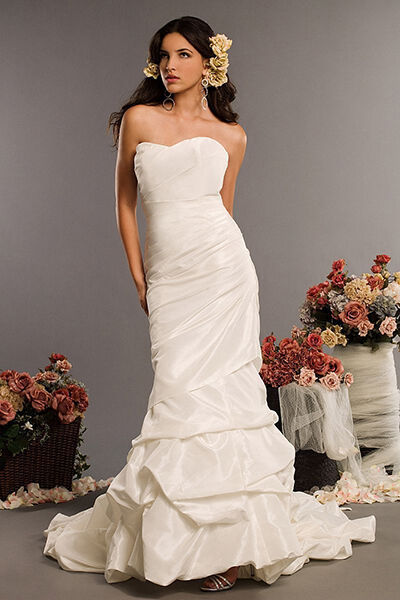 Brides with an apple-shape figure, meaning slender arms and legs with a round middle, want to showcase their lean limbs. For this sumptuous shape, a dropped waist gown de-emphasises a round middle, skimming the hips and flaring mid-thigh to draw the eye down to lovely legs. To complete the look, brides should consider a tea-length gown. However, if the bride prefers a floor-length gown, a slit exposes a subtle glimpse of leg.
---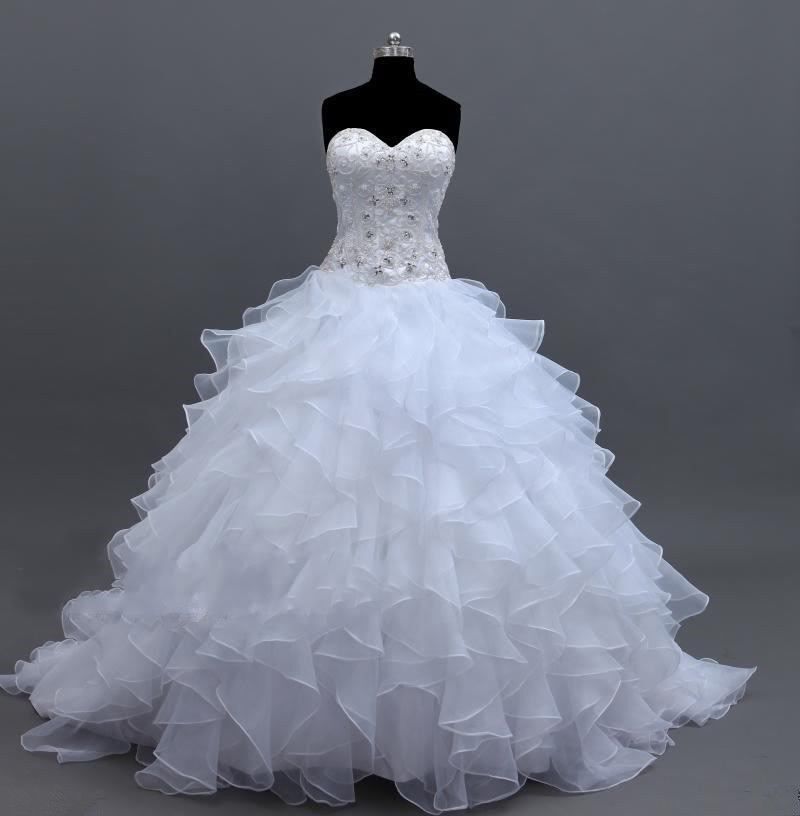 Most people consider a ball gown the most formal wedding dress, featuring a fitted bodice and floor-length, bell-shaped skirt. This is a stunning choice for tall brides-to-be, or those who are heavier in the hips and thighs. Ball gowns are traditionally made of sumptuous fabrics, and are opulently, though delicately, trimmed. Short brides who have their hearts set on wearing a ball gown style should be sure to alter it to fit well, so the extravagantly full skirt does not overwhelm them.
---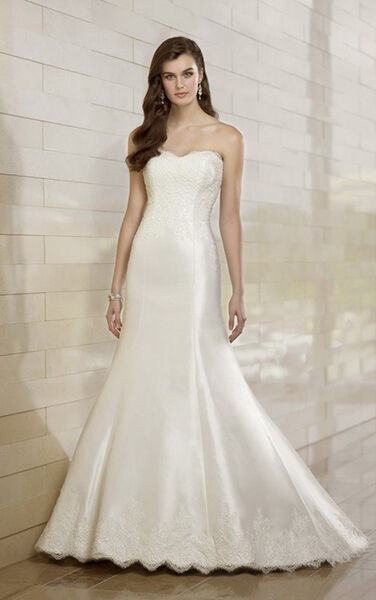 A fit-and-flare dress closely embraces a slim or curvy figure from the bodice past the hip, where the long skirt dramatically flares out from the body. This dramatic look can lend a taller appearance to petite brides. While this style draws the eye quickly down the body to the floor, it is not as forgiving as an A-line dress. In contrast to the A-line style, a fit-and-flare dress may emphasise a full waistline or wide hips, but it definitely adds curves to a straight upper body.
---
How to Buy the Top 6 Wedding Gowns for Curvy Bodies
Shopping for wedding gowns is easy on eBay. Take into consideration your curvy body type, and then choose a dress you love, rather than one the tabloids tell you is right. You can find and compare a large selection of wedding gown styles on eBay at great prices. Be sure to read the detailed product description, and take advantage of eBay's Ask a Question feature to find out more about the dress you have your eye on. Have confidence in your purchase with eBay's seller feedback feature, and look for eBay's Top-Rated Sellers, who have earned a reputation for providing excellent customer service. In the end, it is your special day, and you should have the dress of your dreams.