A
wired surveillance security system
is a one-in-all package with everything the buyer needs to monitor an area. With hundreds of security systems available, it can be difficult to choose a model. To help with the decision, buyers can consider the type of surveillance, such as home or businesses, and the number of cameras they need to monitor the space. Some security systems offer more features and options than others do, such as more channels for additional cameras, or mobile compatibility for checking up on a site with a mobile phone. Any of these are available
eBay
where sellers offer deals on security systems, second-hand options, and many different brands to choose from.
| | |
| --- | --- |
| 1 | Swann DVR8-4000 TruBlue 8-CH D1 1TB Hard Drive Surveillance System with Four PRO-640 600 TVL Cameras |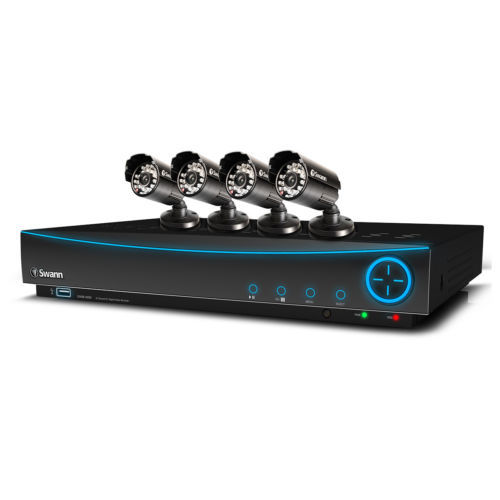 The Swann DVR8 4000 TruBlu with 1 TB of hard drive space and four cameras is the perfect small-business or home surveillance system. TruBlu offers backlit, high-quality recording at up to 20 metres and 60 days of continuous storage. Mobile compatibility, cameras to watch up to four locations, as well as the ability to expand to eight cameras make the Swann a choice model for beginners in search of an easy-to-use option.
---
| | |
| --- | --- |
| 2 | Swann TruBlue D1 3000 4-CH 500GB Hard Drive Surveillance System with Four 600 TVL Indoor/Outdoor Cameras |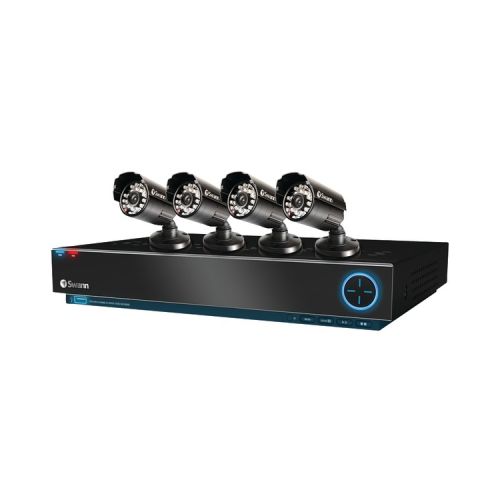 The Swann TruBlue D1 3000 four-channel surveillance system with 500 GB of hard drive comes with four 600 TVL indoor/outdoor cameras. With less storage room and fewer channels, the D1 3000 is not as versatile as the eight-channel model, but is more affordable. The Swann security system holds up to 30 days of HD video but transfers incidents to an external disk or computer as necessary.
---
| | |
| --- | --- |
| 3 | Sony Securicam 8 Channel DVR CCTV Kit |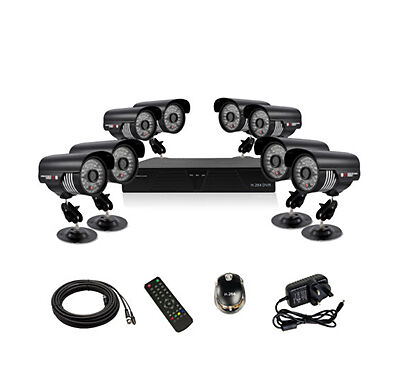 This Sony Securicam eight-channel security system comes with one to eight CCTV cameras, allowing it to work for a number of different security functions. The DVR includes network monitoring for up to four simultaneous cameras, incident-to-external-drive transfer, and mobile compatibility and access. The cameras are indoor/outdoor with day/night recording and motion detection for added security. The removable IR Cut filter allows the Sony cameras to record high-resolution video under most lighting conditions.
---
| | |
| --- | --- |
| 4 | Zmodo KDB8-BARBZ8ZN-500GB 8-CH H.264 DVR with 500 GB HDD and Eight CMOS 480TVL 65-Ft. IR Outdoor Security Cameras |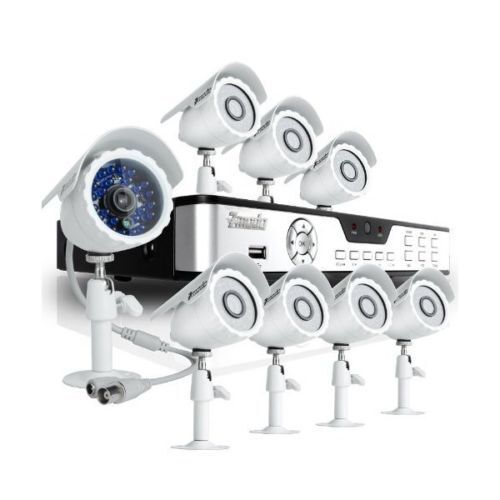 Zmodo's KDB8-BARBZ8ZN is a professional security system perfect for buildings and remote locations. Network security and mobile compatibility allow for remote view on most devices, while motion detection, night vision, and weatherproofing make the camera suitable for use on roads and outside of businesses. At 20 meters, the Zmodo system offers more range than almost any other competitor does, making it a must for locations with large areas of vulnerability.
---
| | |
| --- | --- |
| 5 | Night Owl Security STA-44 4-CH STA DVR with Four Night Vision Cameras, 500GB HD and Smartphone Viewing |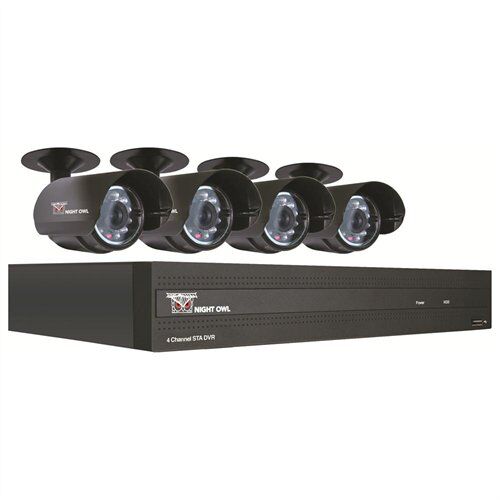 Night Owl's STA-44 four-channel DVR is perfect for small businesses looking for a mid-range security system. The DVR offers full remote viewing and control via most smartphones and computers, giving owners control from anywhere. Motion activation, full night vision in complete darkness, email alerts, and the ability to stream the DVR to a television all make this security system a great choice for consumers who need a system that can operate nearly autonomously. Night Owl's security management program also allows owners to access and view up to four DVRs on the same screen for monitoring multiple locations.
---
| | |
| --- | --- |
| 6 | Foscam FI8910W 2-Pack Bundle with 9dbi Antennas and 7-Piece Adjustable Bracket |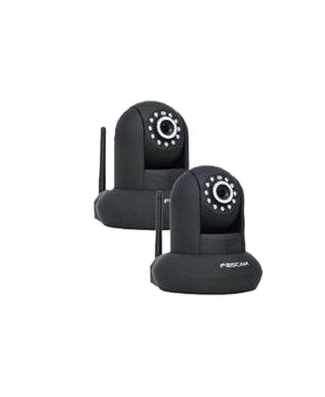 For those in search of a small wired security system, the Foscam FI8910W two-pack bundle of wireless cameras with 9 dbi antenna and seven-piece adjustable bracket is a great option. The bundle includes everything a small business or homeowner needs to quickly set up a security system over a wireless network for mobile monitoring from PC, iOS, Android, and Blackberry. The 300/120 pan-tilt cameras offer night vision up to 8 meters, IR Cut filter for automatic colour correction, and 9 dbi cameras for better signal and streaming.
---
How to Buy Wired Surveillance Security Systems
Buyers can choose a
wired surveillance system
based on personal needs and preferences. The first thing to consider is budget as security systems come at a range of different prices. From there, buyers should think about how many cameras the location requires and if buyers need extras such as wireless access. After settling on a model, buyers can go on
eBay
to look for specific security systems, brands, or deals on security systems. Because there are many different variations of the same camera system available, buyers should pay attention to the number of cameras, the type of cameras, and any additional features that the system includes.