For many people, their first foray into the guitar world is through an
acoustic guitar
. The purchase of an acoustic guitar is a challenge between finding a good quality instrument that produces a sound that is deep, rich, crisp, clear, and is still within an affordable price range. Nearly all of the
guitars
listed below come with high recommendations for novices and often these praises come from experienced and professional guitarists who have kept these guitars in their collections and used them for many years, loving the tonal quality, playability, and appearance of these fine instruments.
| | |
| --- | --- |
| 1 | Martin HD-28 Dreadnought |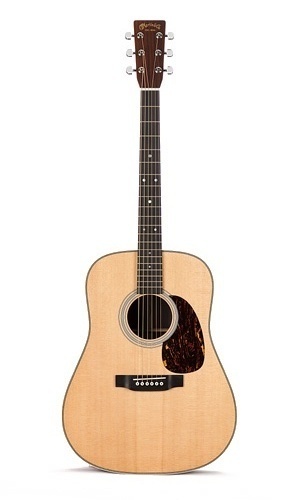 Many guitar players consider the Martin HD-28 Dreadnought acoustic guitar to be the best sounding of all Martin guitars and is praised as one of the most comfortable and easy-playing guitars. It features a beautiful Sitka spruce top, with solid East Indian rosewood back and sides, and a mahogany neck with ebony fingerboard and herringbone trim. The scalloped X-bracing, a Martin trademark, allows the top to vibrate more freely giving an open, more powerful tone.
---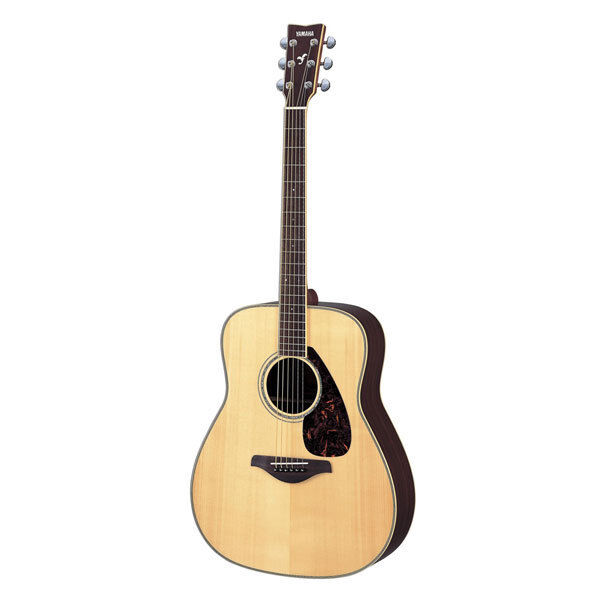 This Yamaha Folk Acoustic smaller guitar has the same features as many larger guitars but in a smaller size. It is an excellent entry-grade guitar with solid wood spruce construction rather than laminate with a narrower waist. This guitar is a great buy for the money. The tone is mellow but bright and clear.
---
| | |
| --- | --- |
| 3 | Taylor Big Baby Left-Handed |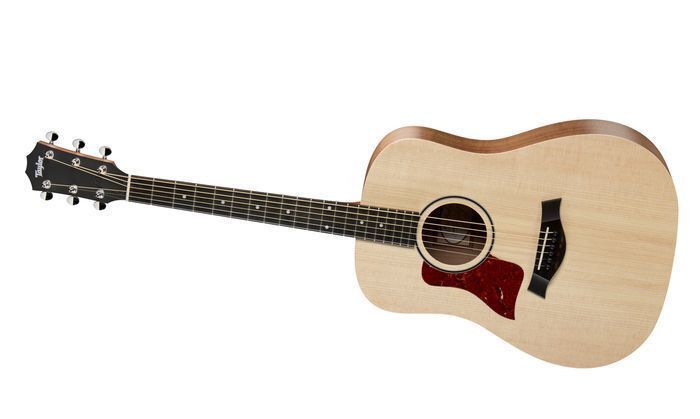 In the same vein as the Yamaha Folk guitar, the Taylor Big Baby Left-Handed acoustic guitar is a slightly smaller-than-standard size, but it does not lack quality. Designed for left-handed playing, this guitar has a solid Sitka spruce top and Sapele laminate sides and back. The fretboard is ebony-on-mahogany to lend a bit of extravagance to this attractive instrument. The voice is smooth and full. This petite guitar is great for travelling or for guitarists with smaller hands.
---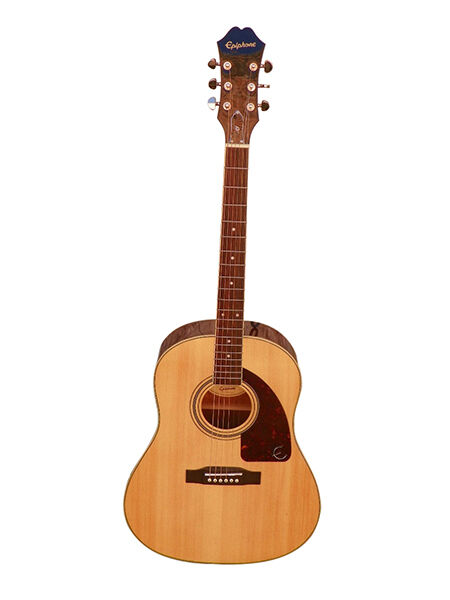 The Epiphone AJ-220S is a large, unique bell-shaped instrument that can both produce rich mellow tones on its own and can anchor and blend in a band. Known for its easy setup and for staying in tune even with extended playing time, this guitar is an excellent choice for beginners as well as accomplished guitarists. The AJ-220S features a solid Sitka spruce top and mahogany body. The rosewood fingerboard features a pearloid dot inlay behind its six strings.
---
| | |
| --- | --- |
| 5 | Fender FA-100 Dreadnought |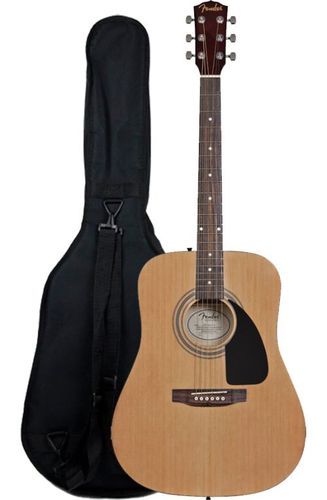 The renowned Fender name weighs in with this affordable acoustic offering that creates a rich, mellow sound that an experienced guitarist can appreciate, even at an entry level price. The spruce top features Xbracing for a rich, reverberant sound and boasts the unique Fender headstock shape with a rosewood fingerboard and bridge.
---
| | |
| --- | --- |
| 6 | Gibson SJ-200 Western Classic |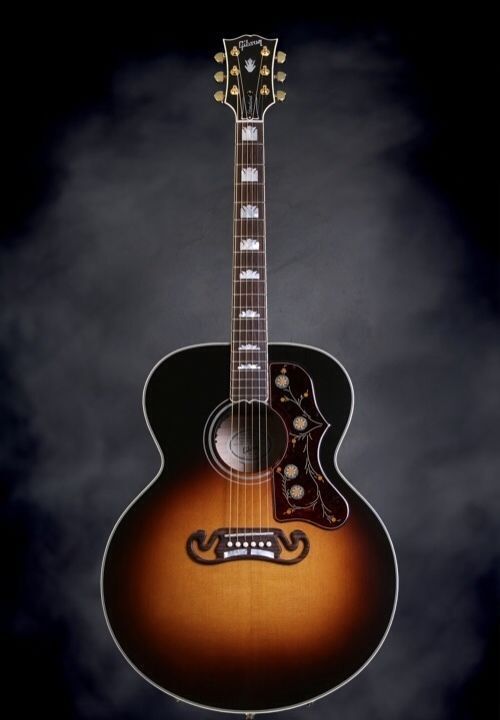 A Gibson guitar is a certainly a classic and this SJ-200 Western Classic is a beautiful vintage guitar. The construction consists of a three-piece Indian rosewood back and sides, and a maple neck with a unique tri-burst finish on the premium AAA Sitka spruce top, a little something extra above the average vintage sunburst finish. The Mother-of-Pearl crown inlays on the fretboard and matching ebony moustache bridge are yet further details on this elegant instrument. But the SJ-200 is not just all looks. The classic sound of Gene Autry, Ray Whitley, and Roy Rogers rings true and clear with a little bit of vintage twang.
---
The goal of the Zager EZ-Play designers was to create the same deep, rich sound of the highest quality guitars with an easier-to-play system and consumers feel they met their mark. The Western red cedar top with Indian rosewood back and sides give a sweet, deep tone that comes from many high-end acoustic guitars. Its playability is one of its most highly praised features.
---
Acoustic Guitar Accessorie
Many guitar accessories available enhance playing and performance of the guitar. Considered by many guitarists as an essential, picks help the player to pick individual notes as well as strum. To protect and transport the guitar, a case is a necessity. Most musicians prefer a hard case with a padded lining and good neck support. A tuner is helpful to tune the guitar strings to the perfect pitch. Spare guitarstrings are a valuable item to have in a case, just in case strings break. The thicker the string, the harder to play but the better sound. A strap helps to keep the guitar stable against the body and is especially helpful for a heavier instrument. A capo sits across the guitar's neck and changes the pitch of the strings below, allowing for a key change. A
metronome
is every musician's friend in order to maintain a consistent beat.
How to Buy Acoustic Guitars
Many guitarists, both novices and professionals alike, recommend the
acoustic guitars
listed above with their stellar sound and easy-of-playing. These guitars and others like them are available from eBay's large selection of musical instruments. Begin a search for an acoustic guitar by typing keywords into the search box. Narrow the search by selecting from a variety of category options listed such as brand, model, condition, type, price, and more. Many of eBay's Daily Deals feature some of the most popular products at great prices. Check seller's listing carefully for full product details and shipping information.