One elegant clothing accessory that can enhance a man's appearance is the
ascot
. The ascot, or ascot tie, is similar to a cravat. It suits almost all occasions from casual to formal, as long as a man knows what to wear the ascot with, and how to tie it. Compared with a long tie, both ends of an ascot are wide, giving it a versatile profile. Men with a sense of adventure can tie an ascot a number of different ways to obtain various kinds of looks, from classic Edwardian to modern chic. With so many types of ascots available on the market, buyers can have a few in their wardrobe to diversify their daily attire.
| | |
| --- | --- |
| 1 | Paisley Pattern Printed Ascot |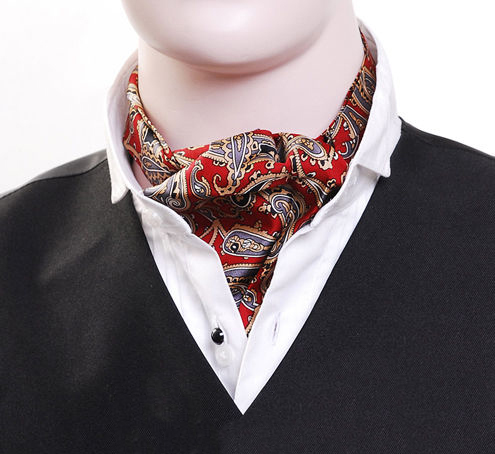 Paisley prints and men's attire may look like an odd combination. However, a paisley pattern printed ascot can enhance the look of an otherwise plain outfit. It adds diversity to the look and makes it look fun. Since paisley printed ascots look playful and young, consumers should wear them in bright and colourful clothing combinations for casual occasions.
---
| | |
| --- | --- |
| 2 | Geometric Sunflower Printed Silk Ascot |
Geometric prints say order and boldness, and the colour yellow says vitality. By wearing a geometric sunflower printed silk ascot, buyers not only give their attire a touch of colour, but also keep it professional thanks to the geometric pattern. A silk ascot with geometric sunflower prints goes well with any dark grey, navy, or black business suit or dress suit.
---
| | |
| --- | --- |
| 3 | Forzieri Polkadot Printed Twill Silk Ascot |
Forzieri produces clothing of exceptional quality, and one example is the Forzieri Polkadot printed twill silk ascot. This Italian masterpiece exudes class and looks good on any man who loves fashion. Available in dark blue, burgundy, and black, the subtle polka dots give the ascot a pleasant and subtle contrast. Buyers can also choose to use a pleated neckband on their ascot to give it extra character and texture.
---
| | |
| --- | --- |
| 4 | Paul Malone Wedding Vest Set Silver and Black |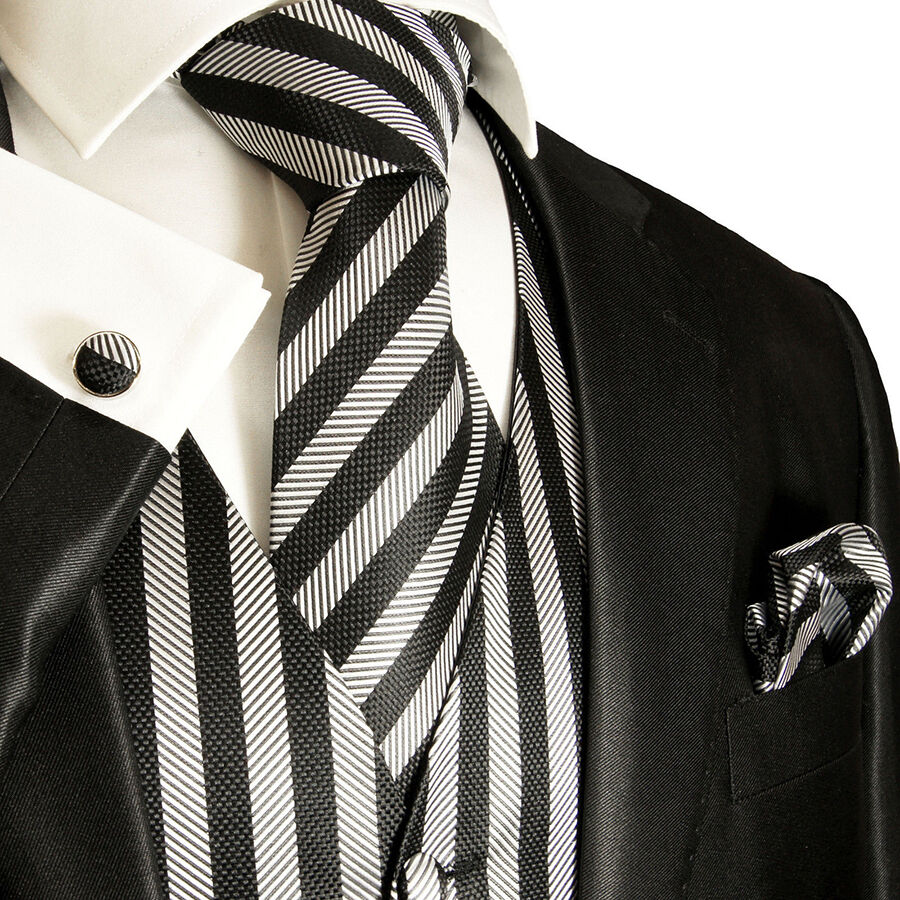 When buyers put on a Paul Malonewedding vest set, they notice the high-quality details of the vest and the ascot. By choosing a silver and black wedding vest set, wearers can expect to look sophisticated and dashing on their special day. For further personalisation, buyers can choose to have their polyester vests and ascots in a number of different silver tones as well as patterns. Usually, the wedding vest set comes with a handkerchief and cufflinks for a matching look.
---
| | |
| --- | --- |
| 5 | Wave Circle Dot Silk Printed Ascot |
A wave circle dot silk printed ascot is a versatile accessory. The circular dots in various patterns lend character to the ascot, and make it look retro. However, the regular pattern makes this ascot appropriate to wear for professional events. Buyers can get their wave circle dot ascots in green, blue, black, and even red.
---
| | |
| --- | --- |
| 6 | Paul Malone Formal Vest Set Cream |
Paul Malone sells a number of cream coloured formal vest sets. Whether buyers choose to get a set with or without an ascot, they can look regal in their outfit. This set comes in full polyester, keeping it affordable. Buyers can choose the hue of their set, be it standard cream or cream gold. Wearers can take advantage of the versatile cream ascot to customise their look using different tying styles.
---
| | |
| --- | --- |
| 7 | Black and White Paisley Ascot Tie Set |
Some men consider paisley printed ascots in colours like burgundy or gold too bold. In this case, they can choose a black and white paisley ascot tie set. While black and white are contrasting colours, they work very well with each other to create a conservative look. This ascot is sure to capture the attention, but in a good way. Besides choosing the size and material of their ascot tie set, buyers can also consider the combination and volume of the black and white patterns.
---
How to Buy an Ascot
Buying the right ascot is similar to buying the right tie. You just need to look at its material and pattern, and then choose the one you like. On
eBay
, you can find numerous
ascots
in fine silk, satin, and even cotton. If you are searching for a particular type of ascot, use eBay's search function and specify the colour, pattern, material, or even brand of the item you want. With paisley prints, polka dots, or geometric patterns, ascots are a great accessory for formal and casual outfits. By wearing the right ascot, you are sure to stand out from the crowd.