For people interested in competitive ballroom dancing, an appropriate gown is a must. A gown that fits a dancer well and moves smoothly across the dance floor can enhance a performance. A
ballroom gown
designed for competition needs to look elegant while remaining functional and comfortable. Competitive ballroom dancing can be very strenuous, so it is also important to have a gown that can hold up to the strain. Learning more about different types of ballroom gowns helps consumers make informed purchasing decisions. When searching for a ballroom gown for competition it is important to consider the type of dance it is for, and the material it is made of.
| | |
| --- | --- |
| 1 | Chrisanne Ballroom Gowns |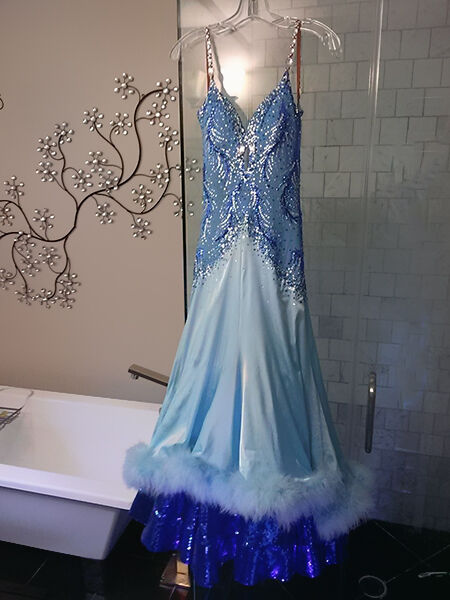 Chrisanne designs a wide variety of dresswear. Chrisanne gown are crafted with the dancer's comfort in mind. They use flexible yet elegant fabrics such as lycra, satin, and luxury crepe. Gowns by Chrisanne are designed to be elegant, sophisticated and modern. The gowns move gracefully with the dancer and accommodate a complete range of eye-catching movement. Gowns by Chrisanne have been worn in professional ballroom competitions all over Europe and the United States.
---
| | |
| --- | --- |
| 2 | DanceSport International Ballroom Gowns |
Dancesport International is a company that creates a wide variety of dancewear for both men and women, including graceful and comfortable DanceSport ballroom gowns.Their gowns tend to feature flowing decorative sleeves and decorative rippling frills near the bottom. Ideal for amature or professional ballroom dance competitions, these gowns are made of lightweight, flexible material ranging from polyester spandex blends to polyester cotton blends. DanceSport International also designs its gowns to be durable so that they can be worn for many performances without ripping or stretching.
---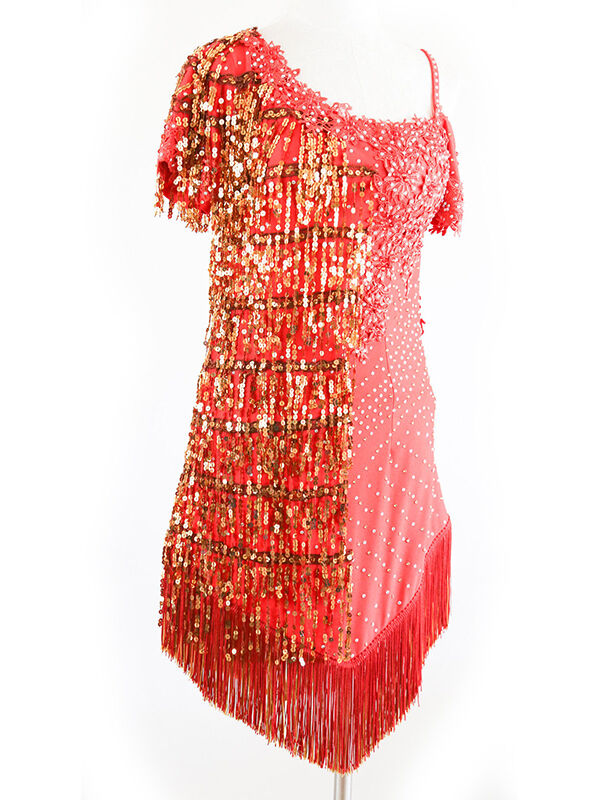 Latin ballroom gowns are very popular for dancers interested in performing a number of Latin-inspired ballroom dances including the Rumba, the Mambo, and the Cha Cha. These Latin gowns are perfect for accentuating the sensual movements of Latin ballroom dances. They often feature intricate ruffles and lace that are designed to swish and flow, following the movements of the dancer. Though some Latin ballroom gowns are black, many of them come in vivid colours. Bright reds and deep purple or blue colours are common. Some latin ballroom gowns have short lengths where the majority of the leg is exposed, but full length latin gowns are also available.
---
| | |
| --- | --- |
| 4 | Children's Ballroom Gowns |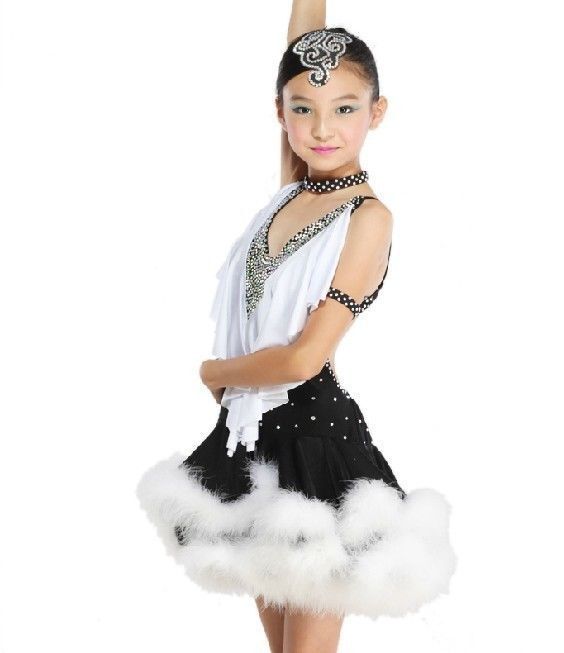 There are many ballroom dancing competitions specifically for children. They require dresses to fit their smaller statures. Children's ballroom gowns come in a wide variety of different styles, colours, and patterns. The sizes are often measured by the approximate age of the child, though some dresses offer more specific measurements. These dresses are durable and comfortable enough for a child to wear. Some petite women even choose to wear large-sized children's gowns..
---
| | |
| --- | --- |
| 5 | Custom-made Ballroom Gowns |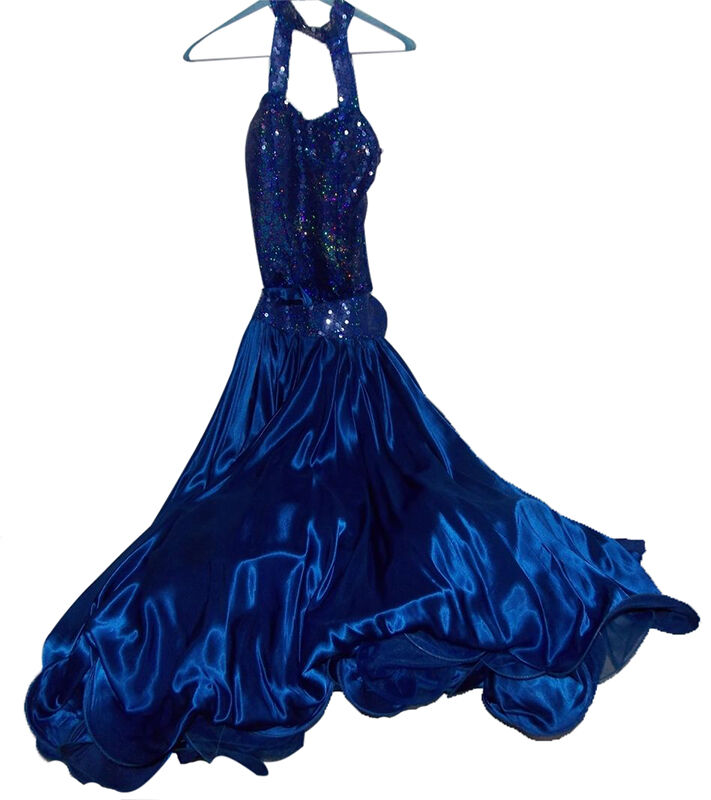 One way to get a unique gown that fits just right is to buy a custom made ballroom gown. These gowns are made to order, which means they are designed for a dancer's individual needs. In some cases customers can choose the size, colour and pattern of the dress. In other cases the customer has even more choices, and can choose very specific measurements for the chest, waist, and dress length. Custom-made ballroom gowns can be made to look very unique, to help a dancer stand out against the competition.
---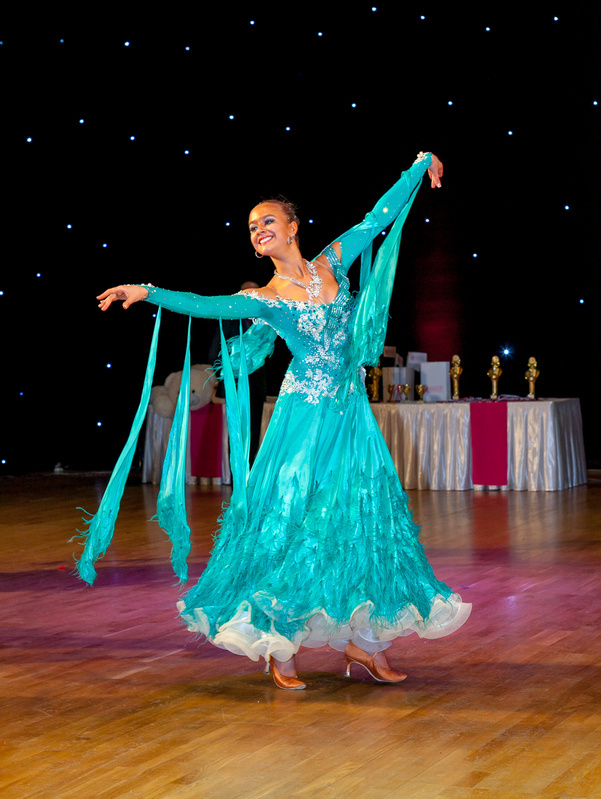 Vintage ballroom gowns are gowns made between the 1920s and the 1960s. However, some people apply the term to gowns that are slightly older or newer. Vintage gowns can be a great way to stand out among other ballroom dancers at a competition. Many of them feature colours and hem lines that are not typically used in modern ballroom dresses. They are excellent for someone interested in incorporating ballroom dance styles from the 1920s to the 1960s into their performance. A vintage gown can really enhance the classic feel of these dances.
---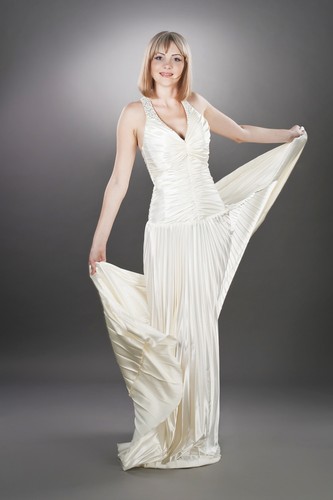 Many people interested in competitive ballroom dancing prefer to buy used ballroom gowns.. Used ballroom gowns tend to be less expensive than new ones. Most used gowns that are sold are in excellent or like new condition as some have only been worn once or twice. This means an excellent product at a fair price. It is also possible to find used gowns that are no longer manufactured, which makes them more rare and unique than new ballroom dresses.
---
How to Buy Competition Ballroom Gowns on eBay
eBay
is a great place to find these gowns and more. You can find your ideal
ballroom gown
by typing your requirements into the search bar that on any eBay web page. For example, you could start by typing "ballroom gown" and then narrow your search down by selecting categories such as dancewear and women's clothes. If you are looking for a specific brand of gown you can add the brand name as a keyword. Ballroom dancing can be a thrilling experience, and the exercise involved is also great for your physical health. Gowns are an essential part of ballroom dancing competitions. They are an excellent way to add color and flare to a performance. If a dancer has a gown that fits well and looks great it can even improve their confidence.