Whether it is for relaxation, a little hydrotherapy, or just fun with friends, a
circular hot tub
makes a wonderful investment. Circular hot tubs are quite portable and fit in many different rooms. Installation is often one of the reasons many consumers refrain from acquiring quality hot tubs; however, many circular hot tubs require little assembly and only take a couple of hours until they are fully ready to use. By learning about some of the top circular hot tubs on the market, consumers can decide on the features and styles that make hot tubs for their homes both fun and practical.
| | |
| --- | --- |
| 1 | Spa2Go Portable Hot Tub |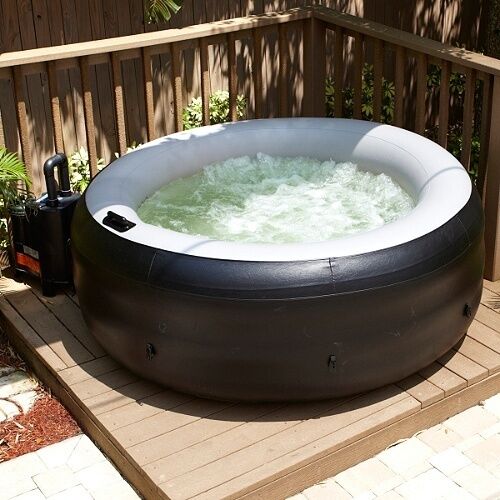 In the backyard to enjoy a little peace and quiet, at the campgrounds to really enhance the experience, or in many other locations, the Spa2Go Portable Hot Tub allows consumers to take the fun and relaxation of a hot tub wherever they want to go. The Spa2Go easily fits up to four adults, and as long as there is a sturdy place to put it, a power socket, and a garden hose, users can set up this hot tub anywhere. With 127 micro jets that provide a 1.3-horsepower turbo wave massage system, this portable hot tub also allows for optimal muscle tension relief.
---
With its range of features and controls, the RotoSpa QuatroSpa offers space, therapy, and fun that are also economical. With its contoured design that fits up to six people, the RotoSpa high-efficiency hot tub provides full depth seating and generous foot space for natural resting positions. This spa also features a reclining therapy seat, a Captain's seat with a 15-point ultrablast master massage jet, and 26 spa jets.
---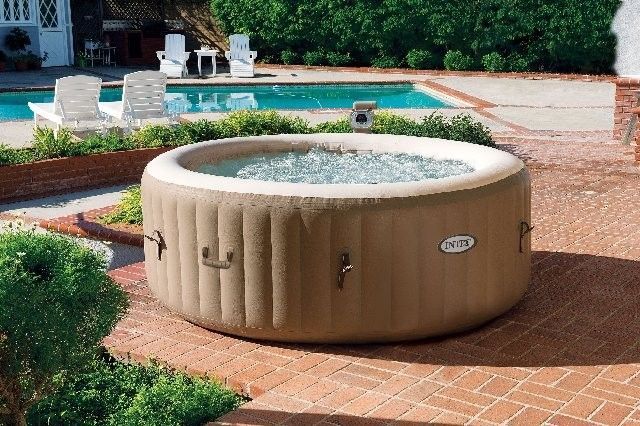 The Intex PureSpa is an inflatable hot tub that consumers can easily place in any room they wish, and although it holds up to 750 litres of water in its triple layer PVC lining, consumers can inflate these hot tubs and get them running in about an hour. The Intex PureSpa also features two filters inside a replaceable filter cartridge, polyester fibres that do not stretch out over time, a 650-watt air blower to create relaxing bubbles, and a LED digital control panel that provides controls for heat, bubbles, and filtration.
---
| | |
| --- | --- |
| 4 | Siberian Larch Wood Fired Hot Tub |
With a Siberian Larch Wood Fired Hot Tub, consumers can definitely make their hot tub experience much more rustic and enjoyable. These stylish hot tubs feature real larch wood from Siberia that is naturally resistant to decay from foreign specimens, weather, and hot water temperatures. Additionally, the heat transfer copper coils fully heat up the hot tub within a couple of hours.
---
| | |
| --- | --- |
| 5 | Muskoka Portable Spa Hot Tub |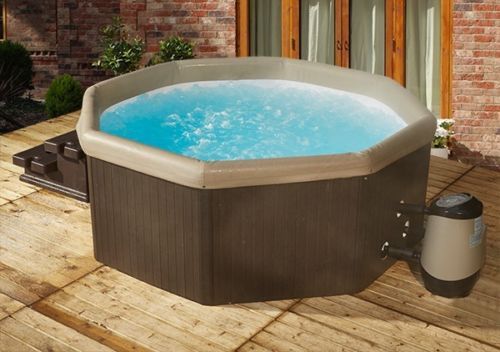 Consumers can transport and place a Muskoka Portable Spa Hot Tub almost anywhere they want. Seating around five or six people, this hot tub takes about 15 minutes to set up without any tools and holds 1,500 litres of water. Additionally, with 150 air jets that create bubbles using a 1.5-horsepower blower, the Muskoka spa allows for optimal relaxation.
---
| | |
| --- | --- |
| 6 | MSPA Luxury Exotic J-211 |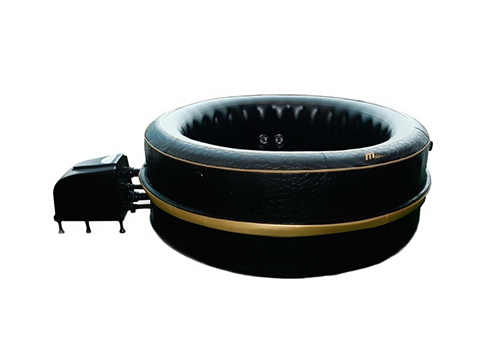 For the ultimate experience in hydrotherapy, the MSPA Luxury Exotic J-211 hot tub seats four adults and includes five relaxing hydro jets that provide a full body massage. In terms of style, this model features a comfortable crocodile print leather material with a satin gold trim. Additionally, with its PVC fabric and PTC ceramic heating technology, this hot tub heats up to 42-degrees Celsius and then retains the heat by utilising foil insulation.
---
Featuring inflatable walls that are easy to set up and quite comfortable to rest against, the Lay-Z Spa Monaco combines elegance, luxury, and innovation. With the Lay-Z massage jet system, this spa allows for maximum relaxation while the jets pinpoint the main pressure points of the body. Additionally, this portable spa only takes about 10 minutes to set up and requires no professional installation or tools.
---
Accessories for Circular Hot Tubs
It is important to remember that every circular hot tub needs a range of accessories to keep it clean and functional. First, if it is not included, every consumer should invest in a floating chlorine pack that holds chlorine tablets and a chlorine kit to help neutralise waterborne pathogens. Other useful accessories include steps, spa scents for aromatherapy, extra filters, and spa cover lifters.
How to Buy Circular Hot Tubs on eBay
For stress, sore muscles, or just hours of simple fun, a
circular hot tub
is a great way to enjoy a little relaxation and unwind after a long day; however, it can often be difficult to find a quality circular hot tub near you. Fortunately, you can head to the
eBay
site to discover a wide assortment of circular hot tubs and accessories at competitive prices. To begin, simply locate the eBay search bar and enter keywords specifically related to the type of hot tub you want. Additionally, you can filter the listings based on price, condition, and location of the seller with eBay's filters and advanced search features.