Decorative pillows
provide aesthetically pleasing accents in a guest room. There are countless designs and styles available from an array of manufacturers, making the choice a daunting one. Consumers should consider some of the more popular offerings on the market to ensure they purchase a high quality decorative pillow that looks great, is well-made, and is long lasting, as well as one that works with the existing aesthetics of the guest room. eBay sellers offer a substantial range of attractive, decorative pillows suitable for guest rooms. Consider offerings from popular UK textile producers, including Laura Ashley, Habitat, and Marks and Spencer.
The Errol pillow from Habitat measures 30 x 60 cm and features a flecked grey fabric covered in brightly coloured owls, from yellow to blue to red. The pillow cover is removable to allow consumers to wash it. Inside the decorative outer cover is a quality feather cushion pad, offering softness and durability. This decorative pillow works well in neutral guest bedrooms as a focal point, with the bold, embroidered owls.
---
Habitat Edric is a moderately sized decorative pillow, measuring 50 x 50 cm. This decorative cushion offers exquisite and luxurious style, boasting a hand-loomed wool and silk blend fabric. It features bold stripes and colour blocks in a earthy palette, working well in rooms of almost any colour, including neutral rooms and earth-hued rooms. The feather-filled interior boasts long lasting comfort and quality. Consumers can even pair the Edric cushion with the Edric throw for a cohesive design theme in the guest bedroom.
---
| | |
| --- | --- |
| 3 | Marks and Spencer Large Huskies Print Cushion |
The Marks and Spencer large huskies print cushion measures an impressive 58 x 58 cm, so is large enough for the attractive husky print to be clearly seen. The front of the cushion features a large husky with her head cocked to the side, flanked by two gorgeous puppies, all sitting in the snow in front of a wooden panel. The black and white print is very attractive and makes a great addition to the room of a dog lover. The back of the cushion is plain white for a clean, minimal look. Made from recycled materials, this is great choice for eco-conscious consumers.
---
| | |
| --- | --- |
| 4 | Marks and Spencer Chenille House Cushion |
This rectangular decorative pillow measures 30 x 50 cm and boasts a plain white background, emblazoned with embroidered red houses, attractive border patterns, and repetitions of the word "Home" in an attractive font. Made from synthetic chenille the Marks and Spencer Chenille House Cushion is dry clean only. This contemporary cushion works well in any guest room, including neutral rooms and those with a splash of red.
---
| | |
| --- | --- |
| 5 | Laura Ashley Summer Palace Duck Egg Pillow |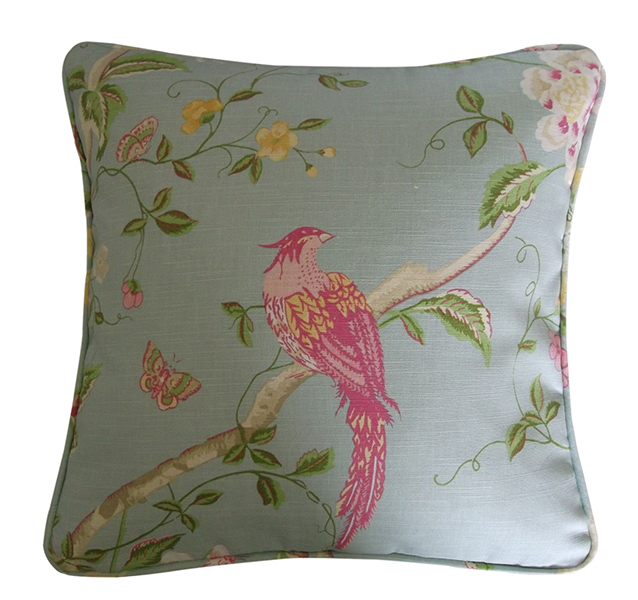 The Summer Palace Duck Egg Pillow by Laura Ashley measures 40 x 50 cm and boasts a durable polyester construction. On a soft duck egg background, the pillow has a delicate floral print complemented by a bright pink bird and butterfly, and is reminiscent of a traditional Oriental style. It has a durable feather interior for superior quality and comfort. This decorative pillow works well as a focal point in a guest room, either positioned centrally at the head of the bed, or on a chair.
---
| | |
| --- | --- |
| 6 | Laura Ashley Chesterly Red Tapestry Cushion |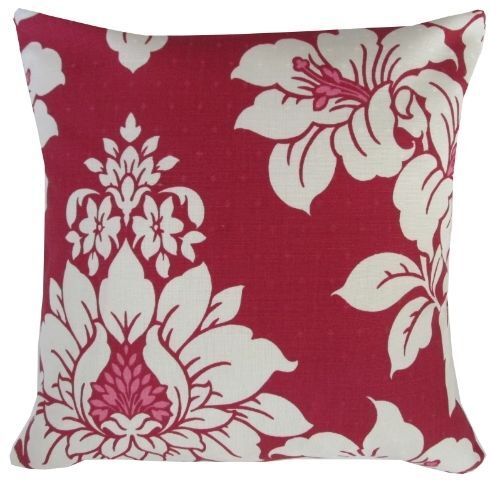 The Chesterly Red Tapestry Cushion by Laura Ashley measures 42 x 42 cm and is bold raspberry and beige. This patchwork cushion boasts a range of stunning woven fabrics in different raspberry tones, all stitched together to create a busy but aesthetically pleasing decorative pillow. At each corner, a bold red tassel hangs, adding to the overall decoration. The bright, busy nature of this decorative pillow means that it works best in a neutral or reasonably plain guest room, as it creates a startling and pleasing focal point.
---
| | |
| --- | --- |
| 7 | Laura Ashley Peony Blossom Round Pillow |
For a bold, contemporary accent in a guest room, opt for the Laura Ashley Peony Blossom Round Pillow. This decorative pillow measures 45 cm in diameter and is styled to look like a peony blossom, with rich amethyst tones. The embroidered peony blossom detailing on the front of the cushion providing classic charm. The polyester pad inside the pillow makes it a great choice for a guest room in case of guests with allergies.
---
How to Buy Decorative Pillows on eBay
Buying decorative pillows on eBay could not be easier. Search from any page on the user-friendly site to browse through the many relevant listings and locate your ideal decorative pillows. To expedite the process, enter specific search criteria, such as colour or size, or use the filters to narrow your search by price and condition. Decorative pillows add beautiful room accents that can complete the appearance of a room. They provide visually appealing and engaging focal points when set in the right spot. From contemporary pieces such as Errol from Habitat to a traditional oriental feel with Laura Ashley's Summer Palace Duck Egg pillow, revitalise your guest room by displaying attractive decorative pillows.