A popular choice for those who wish to learn a new musical or rhythmic talent, a
beginner drum set
assembles easily and provides a creative outlet for music enthusiasts of all ages. Drums sets for beginners typically come in a three- or five-drum kit and choices between standard and electric drums with optional
headphones
increase this instrument's versatility. Whether the set comes from a local music store or online at eBay, a bit of research into the benefits and features of the top drum sets for beginners allows shoppers to make an informed purchasing decision, and gives them the ability to learn the fun art of drumming with the aid of a comprehensive kit.
| | |
| --- | --- |
| 1 | Tiger Full Size Beginner Drum Kit |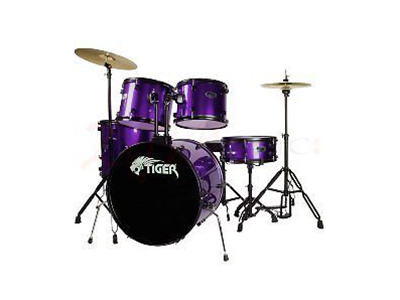 Ready to assemble and play straight out of the box, the Tiger full size beginner drum kit includes a 30.4 by 40.6-cm bass drum, a 30.4 by 25.4-cm tom, and a 33 by 27.9-cm tom. It also includes a 35.5 by 13.9-cm snare drum and 40.6 by 40.6-cm floor drum, along with a crash and hi-hat cymbal for extra effect. In addition, all hardware such as lugs and non-skid floor protectors come included and available colours such as red, purple, blue, and black attract drummers of all ages and genders.
---
| | |
| --- | --- |
| 2 | Spur RSJD1 Junior Starter Drum Kit |
Providing the same drums as a professional set in a smaller size, the Spur RSJD1 Junior starter drum kit sets up in minutes. In addition to drumsticks and all necessary hardware needed to complete setup, this set contains a 40.6 by 25.4-cm bass drum, a 25.4 by 15.2-cm tom, a 20.3 by 12.7-cm tom, a 30.4 by 12.7-cm snare drum, and a 33 by 27.9-cm floor drum for a wide range of sound.
---
| | |
| --- | --- |
| 3 | ION Discover Drums Tabletop Electric Drum Kit |
The ION Discover Drums tabletop electric drum kit sits securely on a table, counter, or desk and allows users to practise their drum and rhythm skills by following lights. This device features 22 sounds and patterns across four electronic drum heads, a benefit that builds hand-eye coordination and teaches proper striking speed, as well as a headphone port that keeps sound contained in the player's ears.
---
| | |
| --- | --- |
| 4 | Performance Percussion Electronic Drum Set |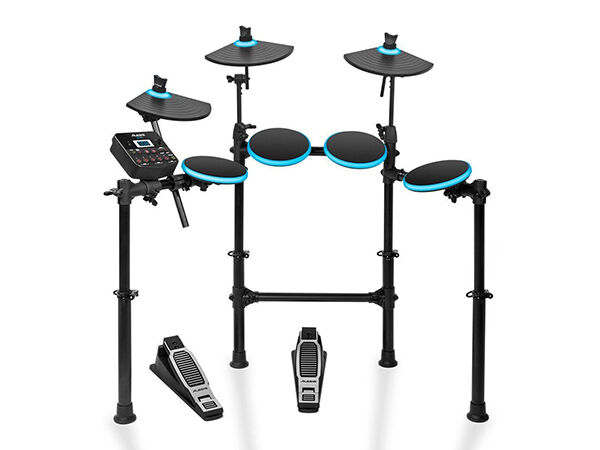 The Performance Percussion electronic drum set takes the shape of a traditional 5-piece drum setup, but the fully electric drum heads and pedals keep the noise to a minimum whilst others in the house spend their time studying or relaxing. The drums represented include the bass drum, two tom drums, a snare, and a floor drum, as well as two mock cymbals for extra accents.
---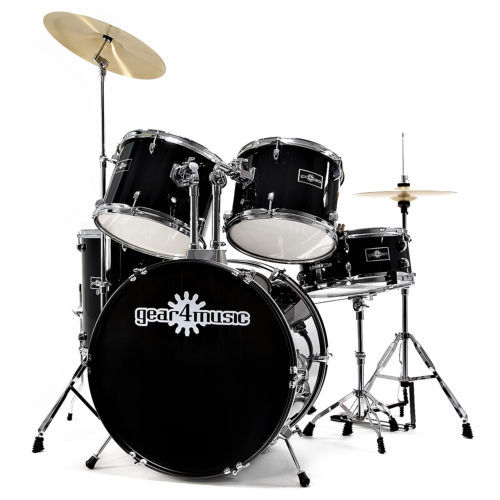 With its glossy black finish and inviting arrangement, the GD-1 drum kit features five drums. This full set includes the standard snare, toms, bass, and floor drums as well as two cymbals mounted on adjustable brackets. In addition, a set of wooden drumsticks and an adjustable stool make this a complete package.
---
| | |
| --- | --- |
| 6 | Session Pro 3 Piece Junior Drum Kit |
A starter set that coordinates with virtually any budget, the Session Pro 3-piece junior drum kit features a floor drum, a snare, and a tom as well as an adjustable cymbal to fit players of any height. A pair of drumsticks, a stool, all assembly hardware, and non-skid floor protectors round out this small but mighty drum set..
---
| | |
| --- | --- |
| 7 | Korg HXM HD006 Digital Drum Set |
Lightweight and easily portable, the Korg HXM HD006 digital drum set includes everything a beginning player needs to start practising straight out of the box. Instead of traditional drums, this set features pads that function the same way as their counterparts, but with a smaller space requirement and less sound thanks to the included headphones. In addition to the adjustable frame, this kit comes with drumsticks, foot pedals, and an adjustable stool to accommodate players of every size.
---
How to Buy Drum Sets for Beginners on eBay
When shopping for a beginner drum set on eBay, use targeted and precise keywords to locate the set of your dreams quickly and easily. Try specific keyword phrases such as " Tiger Junior beginner drum set", " XDrum Rookie set", or " Korg HXM HD006 digital drum kit" for the best results. If you have any questions whilst browsing, connect with other eBay users around the globe at the eBay Talk section of the site to receive answers to your questions and solidify your purchasing decision. After locating the ideal set, you can complete the purchase with a few mouse clicks and the drum set travels straight to your door in the span of a few days.