Petrol powered
leaf blowers
have the ability to generate high wind speeds, which is a key ingredient to the blower's leaf clearing ability. Commercial lawn care companies often use
Backpack blowers
, but homeowners can also take advantage of the features of this backpack design. Handheld blowers work well for clearing driveways, footpaths, and patios. They are also generally less expensive than the large backpack blowers. Buyers can purchase petrol powered leaf blowers at most retailers that sell lawn care equipment. Sellers on
eBay
offer buyers the ability to compare all of the top models without having to search multiple retailers, so buyers can find competitively priced blowers, and have items ship directly to their doorstep.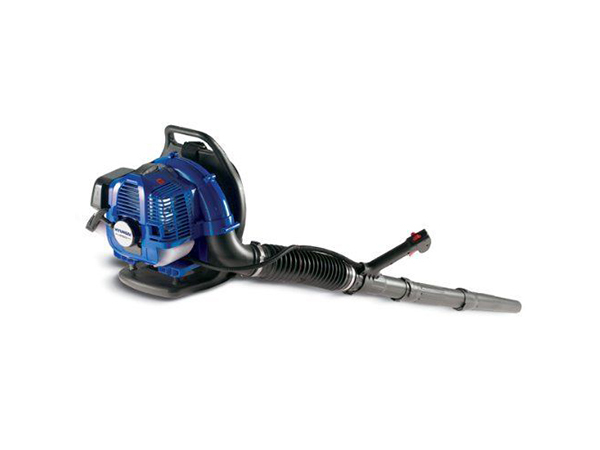 Hyundai manufactures two petrol powered backpack style leaf blowers. The Hyundai HYB33 is the smaller of the two units and weighs a comfortable 6.8 kg. With the blower's padded shoulder straps, users can carry it comfortably for extended periods, which makes it ideal for commercial or home use. The HYB33 motor delivers a top airspeed of 188 km/h, which is powerful enough to move small twigs and branches. The flexible blower tube allows the user optimum control with a joystick style hand grip.
---
Commercial users or large landowners wanting a high powered blower should consider the Stihl BR600. Equipped with a 64.8 cc petrol engine, the BR600 backpack blower produces wind speeds of 323 km/h. The 9.8-kg weight is compensated for by Stihl's nicely padded adjustable support harness with their anti-vibration system for less operator fatigue. The blower's translucent fuel tank makes checking petrol levels easy and the 1400 cc capacity provides extended run times.
---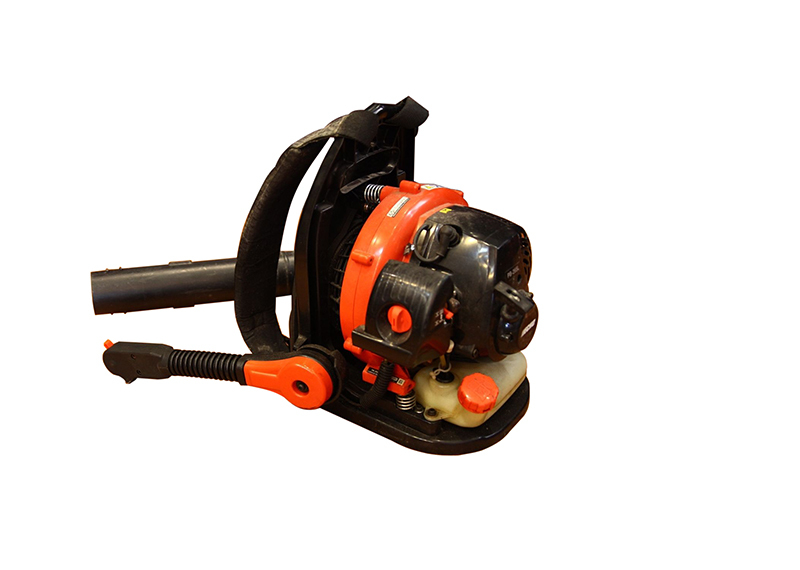 Echo petrol leaf blowers come in both handheld and backpack styles; the Echo PB-265 is the lightest of the backpack models weighing only 6 kg. Equipped with a 25.4 cc engine that generates a maximum airspeed of 217 km/h, the blower is a good home unit for medium yards. The unique two handle design with speed controls on the left frees the right hand to work only on blower tube direction control.
---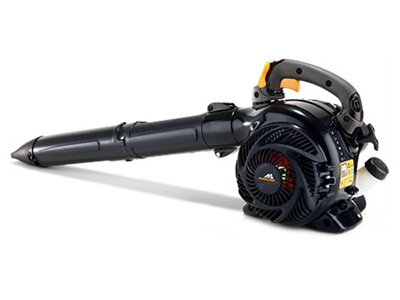 The McCulloch GBV345 is a handheld blower that combines easy portability with powerful wind capacity. The engine can run at 8000 rpm to produce 345 km/h wind speeds in a unit that only weighs 4.4 kg. McCulloch's Soft Start system reduces pull cord starter resistance by 40 per cent, allowing for easier starts. The GBV345 can also act as a vacuum and mulcher with interchangeable accessories.
---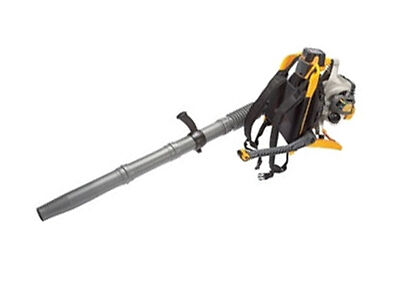 The Ryobi RBL30BPT backpack blower has an electric start motor powered by an onboard 12-volt battery, and it still only weighs 8.4 kg. The engine pumps out air at a wind speed of 466 km/h, making the blower one of the more powerful on the market. The ergonomic frame along with a comfortably padded backpack harness allows the RBL30BPT to reduce user fatigue more so than similar backpack models.
---
A step down from the larger commercial BR600, the Stihl BR380 is a powerful backpack unit that can handle any homeowner's lawn blowing needs. The 56.5 petrol engine pumps out air speeds of 291 km/h. At 9 kg the blower is heavier than most non-commercial blowers; however, the Stihl anti-vibration system and the backpack's comfortable padded straps work together to reduce user fatigue.
---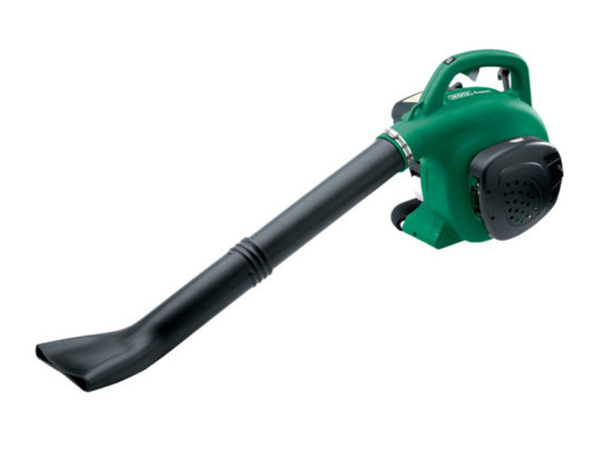 The Draper 08371 is a compact lightweight handheld blower for easy home use. The petrol engine operates at 3400-8500 rpm and delivers wind speeds of up to 180 km/h. Weighing only 5.5 kg and equipped with a 390-mm extension tube, the blower is easy to manoeuvre even in tight locations such as under trees and between bushes. The pull trigger blower control built into the carry handle makes adjusting blower speed a simple operation.
---
How to Buy Petrol-Powered Leaf Blowers
Buyers can shop eBay for petrol-powered leaf blowers by entering leaf blower as the
keywords
into any eBay search bar and clicking on search. All matching items appear, and users can filter results to limit search selection. If you are looking for a specific brand, enter the manufacturer name as part of your keyword search. Be sure to check the
eBay Deals
page for special offers on home and garden equipment to see if you can find a deal on a leaf blower. After selecting the leaf blower you want to purchase, complete the sale on eBay using
PayPal
to finalise the transaction and securely transfer funds to the seller. Leaf blowers are time saving devices for homeowners and essential tools for lawn maintenance contractors.