Pool
owners prefer to keep their backyard swimming facilities neat and clean, not only for aesthetic reasons, but also because dirt and debris can otherwise clog a pool system and make it completely impossible and unsafe to use. Filters make it possible to keep the water inside the pool all the time instead of draining and refilling it on a daily basis. An in-ground pool filter is for an in-ground pool, the main part of which is below ground level, as opposed to the pool being outside the ground and completely external. Popular in-ground pool filters include products from Hayward, Sta-Rite, Waterway, Jandy, and Pentair. They are available on many online sites, such as eBay.
| | |
| --- | --- |
| 1 | Hayward Pro Series Sand Filter |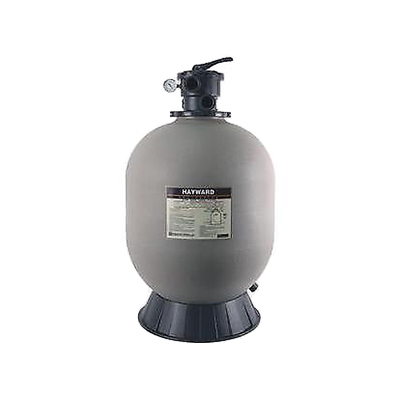 The main task of a sand filter is to remove impurities from the water by using sand, which is able to collect even the tiniest types of debris, up to twenty microns in size. Cleaning the sand filter is done by backwashing it, running the filter in reverse. Hayward Pro Series sand filters come in three models. The Pro Series Plus is a side-mount filter suitable for even the most demanding environments, such as solar heating systems, spas, fountains, and in-floor cleaning systems. The Pro Series Top Mount is a top-mount filter, while the Pro Series Side Mount is another type of side-mount filter.
---
| | |
| --- | --- |
| 2 | Hayward SwimClear Cartridge Pool Filter |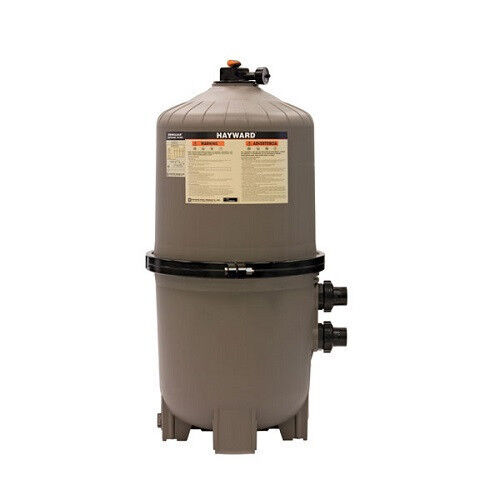 The Hayward SwimClear cartridge pool filter has a large capacity and saves lots of water, as it requires no backwashing. Instead, a garden hose will do to rinse the filter elements. Thanks to the large capacity, the cleaning cycles are very long and can even extend through an entire season. Since it does not use a multi-port valve, the Hayward SwimClear also requires less electricity than other similar filters.
---
| | |
| --- | --- |
| 3 | Sta-Rite Posi-Clear Cartridge Filter |
The Sta-Rite Posi-Clear cartridge filter comes with a manifold cartridge that can remove even body oils and suntan lotions, thus leaving the water perfectly clean. The cartridge filter lasts for years, thanks to its high-density thermoplastic casing, while the Posi-Ring closure provides quick and easy access for maintenance. This material does not corrode. The pool filter requires no backwashing, thus helping to save on water. Instead, rinsing with a spray garden hose is enough for cleaning.
---
| | |
| --- | --- |
| 4 | Waterway Crystal Water Cartridge and DE Filter |
The Waterway Crystal Water cartridge and DE filters include a strong and rigid polypropylene tank, reinforced with fibreglass to resist chemicals. The Crystal Water DE filter uses diatomaceous earth, a special porous substance that filters the water, to provide sparkling clear water. The system produces only a little noise and provides good flow. The Crystal Water cartridge filter is easy to service and comes with high-tech features. The filter consists of four cartridge elements.
---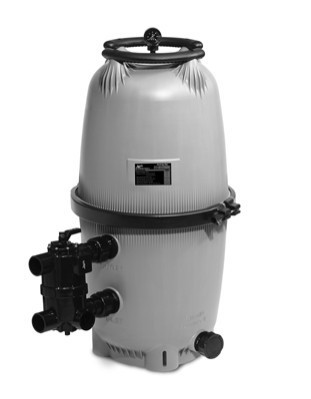 The Jandy DEV DE filter uses diatomaceous earth, tiny fossil exoskeletons, to filter out any impurities from the water. The filter's curved grid design provides a balanced water flow through the filter tank. The Jandy filter features a special indicator that shows when it is time to clean the filter, thus allowing for savings on water. Filter maintenance is comfortable, thanks to easy-grip handles, and the filter's body is extremely durable and does not corrode. The cleaning is done with backwashing.
---
| | |
| --- | --- |
| 6 | Pentair EasyClean DE Filter |
The Pentaur EasyClean DE filter combines a fibreglass reinforced chemical-resistant polypropylene tank with a coreless cartridge that is easy to clean. Servicing the EasyClean requires no tools. The filter also features a lock ring with safety latches, a high-flow manual air relief valve, unionised connections, and a single-piece base.
---
| | |
| --- | --- |
| 7 | Hayward Pro-Grid DE Pool Filter |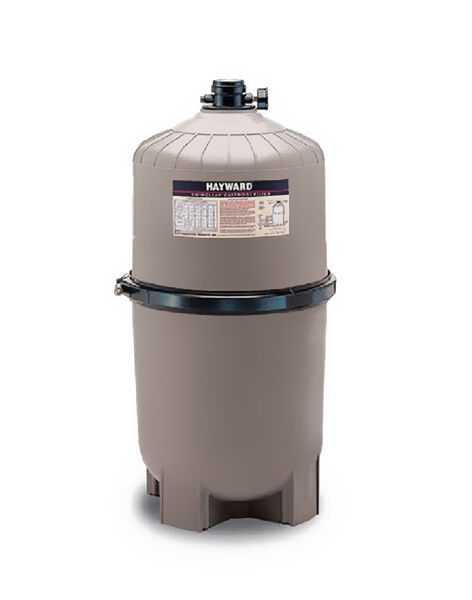 The Hayward Pro-Grid DE pool filter contains diatomaceous earth, a porous powder that has microscopic openings through which clear water can pass. However, particles even as small as two to five microns do not go through the filter. Backwashing is the cleaning method for this filter and it restores its capabilities when provided with a new supply of diatomaceous earth.
---
How to Buy In-Ground Pool Filters on eBay
You can find in-ground pool filters on eBay by using general keywords, such as "pool filter", in the search box, or by refining your search to include a specific product name. Clicking on related searches can also help you to find suitable items. Always read through the detailed item listing to check the filter's specifications and determine whether it is the right type for your pool and can meet your needs. Look for products from top-rated sellers, who have received high service ratings and positive feedback from other community members. Top-rated sellers are also likely to be able to answer your questions, should any arise.