Every cook knows that working with a good
knife
has major benefits. It keeps the food in better condition, it makes food processing easier, and best of all, it saves valuable time in the
kitchen
. This is important for home cooks as well as professional chefs. Busy people want to save time whenever possible. Working with a good set of knives during food preparation creates more time to share food with family and friends, and less time preparing it. Of course, not every knife can perform every task. A small collection of specialist knives is an excellent investment for every home.
| | |
| --- | --- |
| 1 | Miyabi Kaizen 9 1/2-inch Slicer |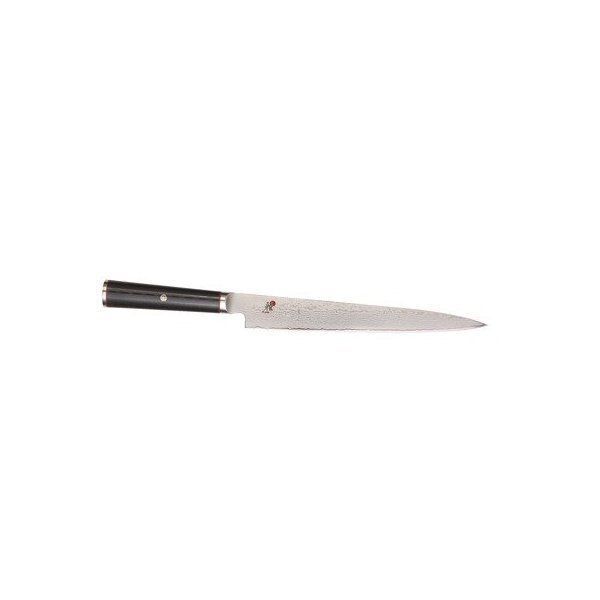 The Miyabi Kaizen 9 1/2-inch slicer is a premium knife suitable for everyday kitchen use. Made and designed in Japan, and manufactured from VG10 steel, the Kaizen knife works well for slicing, dicing, and chopping. In addition, the ice-hardened steel has a traditional Japanese blade angle of 9.5 to 12 degrees and works best on fruit, vegetables, and meat.
---
| | |
| --- | --- |
| 2 | Messermeister Meridian Elite 10-inch Chef's Knife |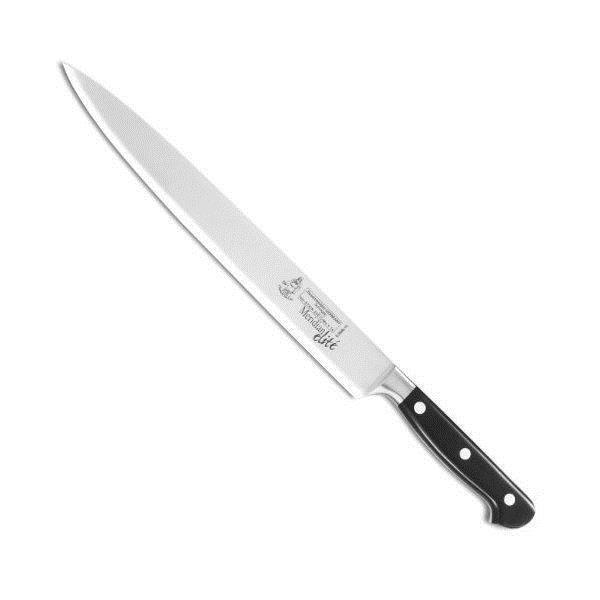 The classic Messermeister Meridian Elite Chef Knife is popular around the world. It has a versatile blade suited to cutting, slicing, peeling, trimming, dicing, and chopping of fruit, vegetables, meat, and fish. Because of its versatility, the Meridian Elite serves as an excellent all-round kitchen utensil, and its ergonomically designed handle makes it comfortable to use and easy to clean.
---
| | |
| --- | --- |
| 3 | Kyocera Kyo Top Sandgarden - Chef Knife 15.5 cm |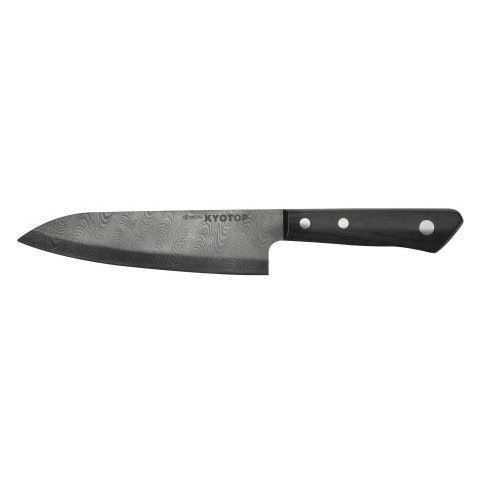 According to Kyocera, it is the world's largest producer of ceramic knives. Many people are not aware of the differences between steel and ceramic knives. The most notable difference is that 15.5-cm Kyocera Kyo Top Sandgarden ceramic knives weigh significantly less than similar size steel knives. The second noticeable difference is that ceramic knives keep a very sharp edge due to the material from which they are made, which is most often zirconium dioxide. Lastly, the comfortable black wood handle and black blade make this knife a stylish product for everyday use.
---
| | |
| --- | --- |
| 4 | Henckels Twin Pro S 10-Inch High Carbon Stainless-Steel Granton Slicer Edge |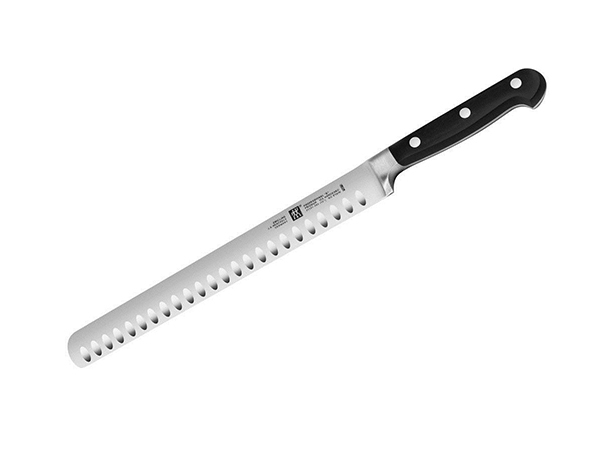 Manufactured by German knife legend Henckels, the Granton Slicer Edge is the perfect knife for thin slicing and carving. Made from ice-hardened stainless steel, the knife resists corrosion and pitting. Notably, the flexible blade possesses alternating hollows on each side of the blade, preventing meat from sticking as it is sliced.
---
| | |
| --- | --- |
| 5 | Tojiro-PRO SD Knife Yanagi Blade 240 mm |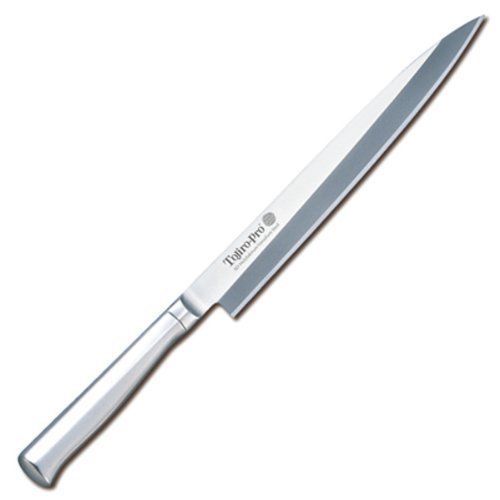 The Japanese-designed Tojiro Yanagi Knife Series was originally for use in sashimi and sushi slicing. Many people have now discovered the Tojiro brand and use the knives as all-round slicing tools. Made from white steel sandwiched between an outer iron layer, the knife edge of the Tojiro blade is extremely sharp and only requires infrequent sharpening. In addition, this knife suits all types of slicing.
---
| | |
| --- | --- |
| 6 | Forschner Victorinox 12 Inch Slicer Knife |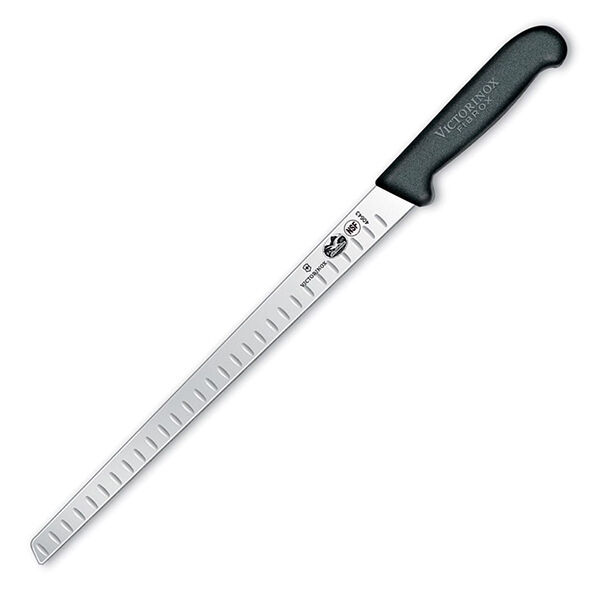 New to the series of Victorinox Kitchen Knives is the 12-inch Slicer Knife. Designed for delicate meat carving, the knife is also useful for bread, vegetable, and fruit slicing. Made in Switzerland from a single sheet of stamped steel, the knife is dishwasher safe. In addition, the Fibrox handle is slip-resistant and bacteria-resistant.
---
| | |
| --- | --- |
| 7 | Classic Scanpan 20cm Cooks Knife & Sharpener |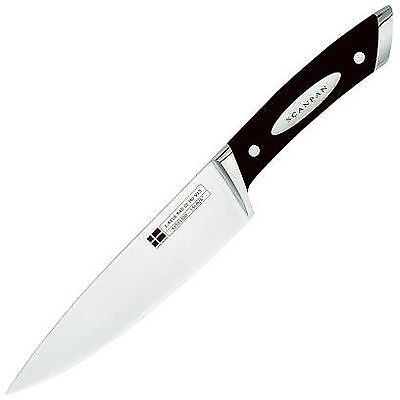 The Cooks Knife and Sharpener combination come from the Classic Scanpan fully forged range of kitchen products. Designed in Denmark and made from quality German stainless steel, the knife features a tapered cutting edge that balances weight and is comfortable and easy to control. This knife works well for all-around use, and the accompanying sharpener keeps the blade consistently sharp and ready for its next use.






While only 7 knives are listed in this guide, there are many professional knife kits out there from
Jamie Oliver
,
Morphy Richards
and other leading brands.
---
Accessories for Kitchen Knives
To keep kitchen knives neat and tidy, consumers should consider using a knife bag, knife block, or magnetic rack (for steel knives). Not only do these keep kitchen drawers orderly, they help keep knives sharper for longer. In addition, knife sharpeners, stones, and steels are handy when a knife becomes blunt, and finger guards are useful to keep fingers clear of sharp edges.
How to Find Kitchen Knives on eBay
Using eBay to find kitchen knives makes shopping simple. Rather than spending hours travelling to specialty knife stores, an online search quickly gives results. Using the search bar on any eBay page, enter the type of knife desired. If you know the price range, colour, or brand of knife you want, enter these terms as well, or use the refinement menu in the sidebar to get results that are even more specific. Owning just the right knives for your kitchen needs makes you prepared for any recipe.