A
laptop case
stores and protects a laptop from damage. A leather laptop case offers a stylish design option for doing that job. A buyer chooses from various leather grains, including bonded and waxed leathers. Popular colours include brown and black, and features like metal-finished hardware often complement the designs. Carrying handles and shoulder straps allow users to comfortably carry the cases. Pockets and organiser sleeves keep the laptop and accessories together in one convenient place. eBay offers quality, affordable leather laptop cases. Some of the top brands include Piquadro, Korchmar, Johnston and Murphy, Samsonite, Gucci, and McKlein. Buyers typically compare leather laptop cases according to their features, designs, comfort, and durability.
| | |
| --- | --- |
| 1 | Piquadro Laptop Case/Briefcase |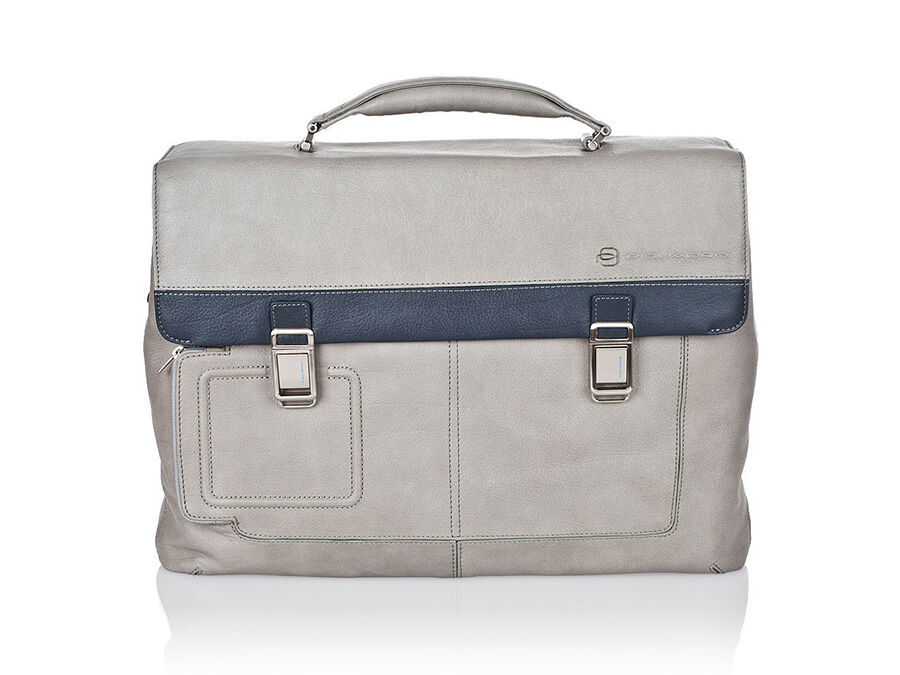 The Piquadro Laptop Case/Briefcase offers an expandable style in soft blue, brown, or black calfskin leather with two carrying handles, a padded shoulder strap, and a zippered closure. The laptop case measures 17 inches by 12 inches by 3 inches. The padded laptop sleeve holds a 17-inch laptop. Other features include a USB flash drive sleeve, cell phone pocket, credit card slots, fixed address tag, utility pocket, pen holder, key ring, and rear-zippered security pocket.
---
| | |
| --- | --- |
| 2 | Korchmar C100 Laptop Case |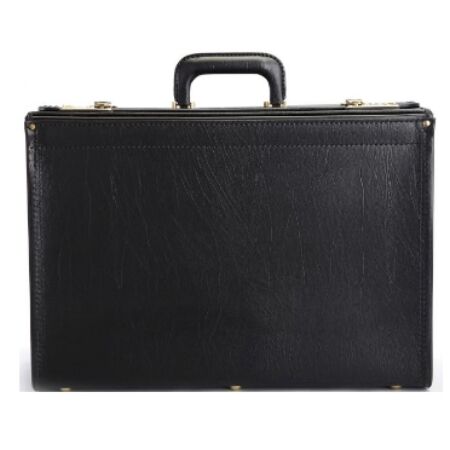 The Korchmar Laptop Case measures 12.5 inches in height, 17 inches in width, and 7 inches in depth. The expandable, black, soft cowhide leather case includes a zippered closure, key fob, padded and removable shoulder strap, and two carrying handles. The case offers a main compartment for large items, two interior pockets, two accessory pockets, and a zippered security pocket. A computer sleeve in the interior of the case houses the laptop.
---
| | |
| --- | --- |
| 3 | Johnston and Murphy Leather Case |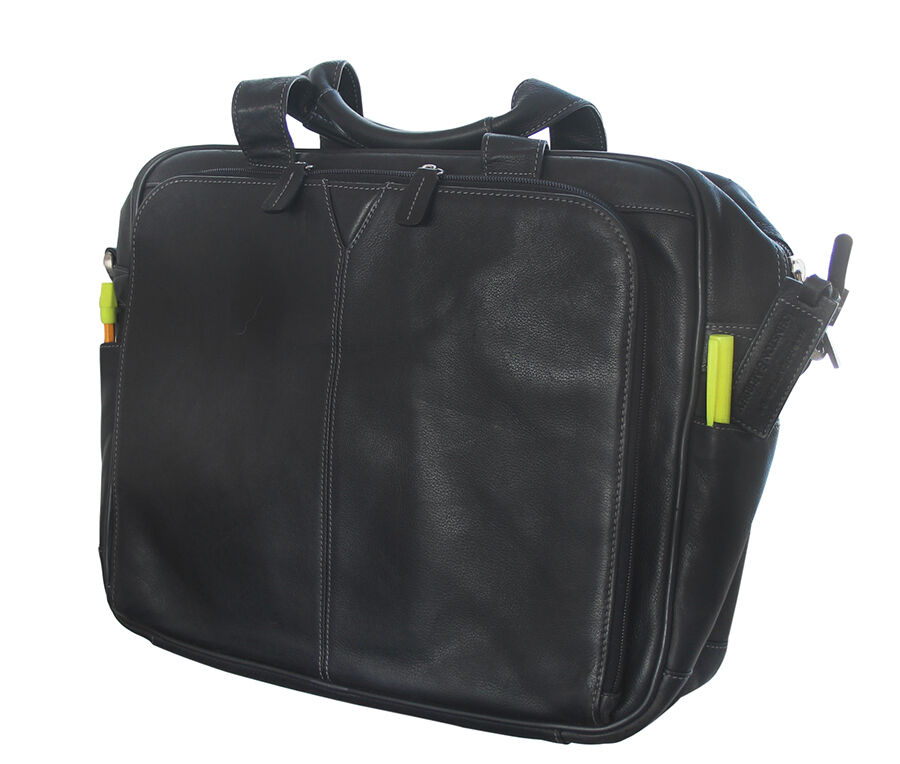 The Johnston and Murphy Double-Zippered Laptop Case comes in brown or black, water-resistant waxed leather. It measures 16 inches in length, 12.25 inches in height, and 3 inches in depth. The zippered main compartment includes a file compartment, zippered security compartment, and a laptop pocket that measures 14.5 inches in length, 11 inches in height, and 1.5 inches in depth. The laptop case offers nickel-finished hardware, a retractable luggage handle, and a removable, padded shoulder strap. A front compartment includes a key fob and organiser section. Johnston and Murphy also offers a zip-top version of the leather laptop case.
---
| | |
| --- | --- |
| 4 | Samsonite Bonded Leather Laptop Case |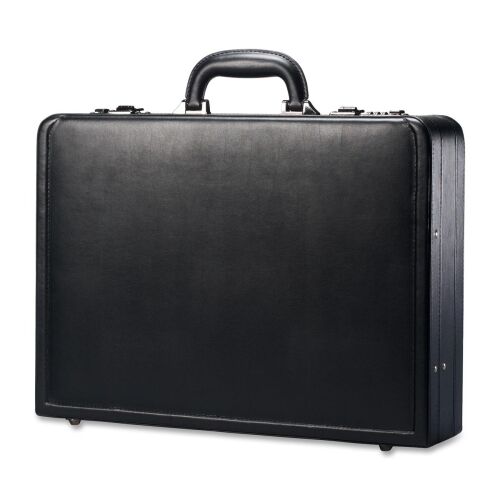 The Samsonite Bonded Leather Laptop Case measures 16 inches by 7 inches by 13 inches with a laptop compartment measuring 14 inches by 10 inches by 1 inch. The black laptop case offers a metal-finished carrying handle, removable shoulder strap, front zippered pocket for pens, and six pockets for business cards or credit cards. The inside main compartment contains a padded laptop sleeve with security strap, zippered security pocket, tablet compartment, and cell phone pocket.
---
| | |
| --- | --- |
| 5 | Gucci Rubberised Leather Case |
The Gucci Rubberised Leather Case offers a slim, black, rubberised leather case with black leather trim. Palladium hardware, two carrying handles, and a double-zippered closure provide additional features. The case also exhibits the Gucci signature detail on the leather. The case measures 15.4 inches in length, 1.6 inches in depth, and 9.8 inches in height. The inside compartment contains two elastic bands to securely hold a laptop.
---
| | |
| --- | --- |
| 6 | McKlein Double Compartment Laptop Case |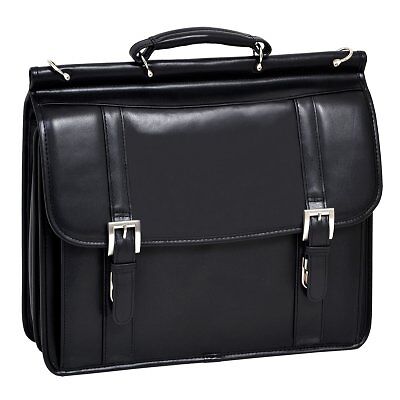 The McKlein Double Compartment Laptop Case comes in brown or black leather. The case measures 16.5 inches in width, 12 inches in height, and 5 inches in depth. The double compartments include a large front compartment for storing files and a large, padded back compartment for storing a 15-inch laptop. The back compartment also offers an organiser area for pens, cards, and phones. Two smaller front pockets store small items. An adjustable shoulder strap, flap-over design, and locking clasps securely house business and electronic items safely and securely.
---
| | |
| --- | --- |
| 7 | Vintage-Style Distressed Leather Laptop Case |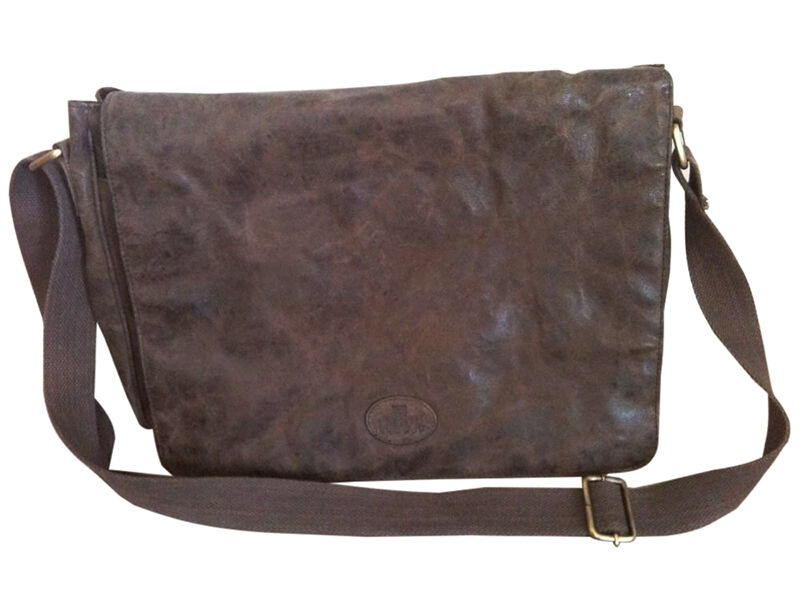 A vintage-style distressed leather laptop case varies in size, depending on the manufacturer and the style. These styles are popular for their vintage look, and they often feature padded laptop compartments, dual top handles, removable shoulder straps, additional zippered pockets on the inside or outside of the bags, and sleek designs.
---
| | |
| --- | --- |
| 8 | Other Laptop Accessories |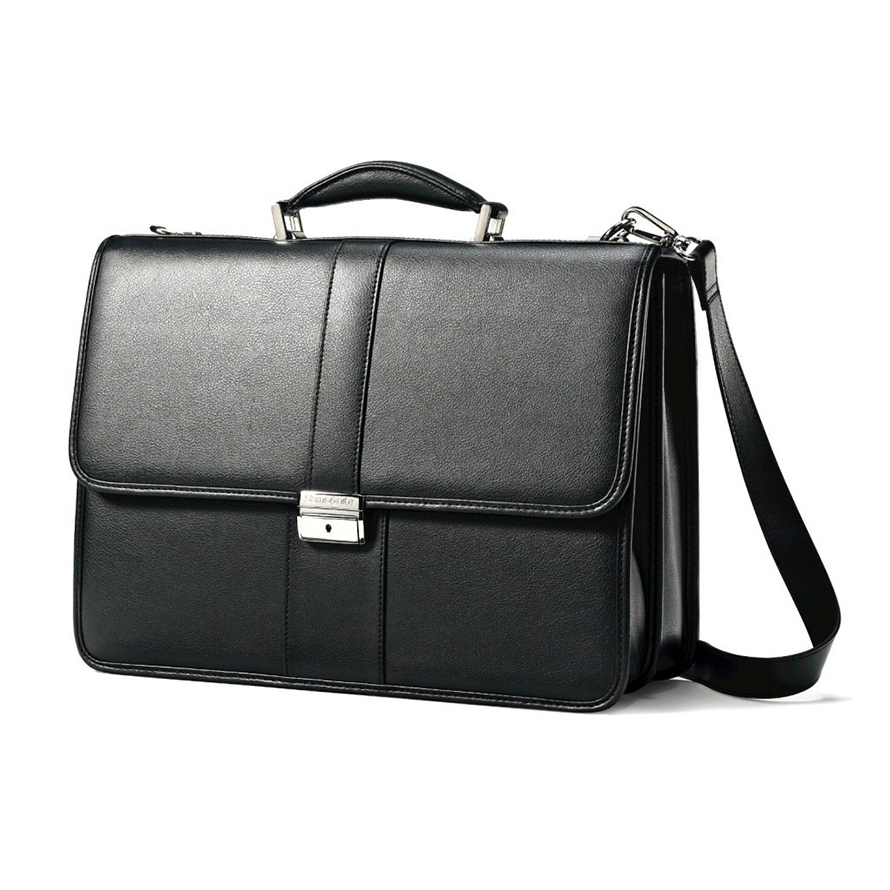 Additional laptop accessories include laptop sleeves and slipcovers for storing and protecting laptops. The sleeves also store USB cables, memory cards, and other laptop accessories. A lap desk provides an alternative location for using the laptop rather than on a computer desk or table. A laptop cooling pad prevents the laptop from overheating by cooling down the laptop's temperature. Some laptop cooling pads also include laptop stands, which raise laptops to eye level for comfort and ease of use.
---
How to Buy the Top 7 Leather Laptop Cases on eBay
Buyers can search for leather laptop cases on eBay by entering descriptive keywords such as leather laptop case into the search bar or searching by categories. Buyers then read descriptions of listings to determine features, designs, and durability. eBay offers various quality leather laptop cases, including vintage-style distressed leather cases, Gucci cases, Samsonite bonded leather cases, and McKlein double compartment cases. On some days, laptop cases appear in the special daily deals listings. Buyers who desire stylish, durable leather laptop cases with ample room for storing laptops, accessories, cell phones, and more often find what they need at affordable prices by shopping on eBay.