Pond kits
allow users to establish a small or large pond in their own backyard. Kits include the basic materials needed for a pond, such as a pond liner, pump, PVC pipe, and fountain heads. The high number of products on the market can make it difficult to choose a suitable kit for the needs of the buyer, so it is worth comparing some of the features of the top products on the market. Some of these kits act as supplements or alternatives to a basic pond kit, allowing buyers to establish a clean and attractive pond setting.
| | |
| --- | --- |
| 1 | Koolatron 84-Gallon Complete Pond Kit |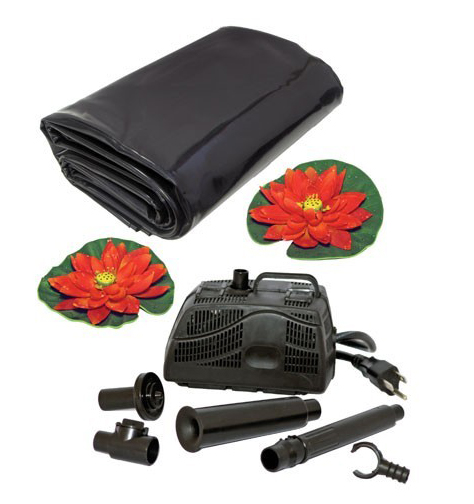 The Koolatron 84-gallon kit is a complete package that includes everything a buyer needs to establish a safe environment for plants and fish. The package features a 1.8-m by 1.8-m non-toxic pond liner and a 200-GPH filter-free pump protected by an external shell. A telescopic riser and two silk water lilies are included as well, making the Koolatron kit an excellent choice for medium-size ponds.
---
| | |
| --- | --- |
| 2 | Little Giant Do-It-Yourself Small Pond/Fountain Kit |
The Little Giant Do-It-Yourself kit provides an easy way to establish a small water pond in a barrel or planter. The package includes a 95-GPH pump, along with a 1.5-m by 1.5-m PVC liner. Users can adjust the kit to one of two different spray patterns and set the water flow to a level of their choosing. The fountain stem in the kit also has a telescoping function. Users can establish the Little Giant kit on a deck or patio area for a small and attractive backyard pond.
---
| | |
| --- | --- |
| 3 | Jungle Laboratories Pond Starter Kit |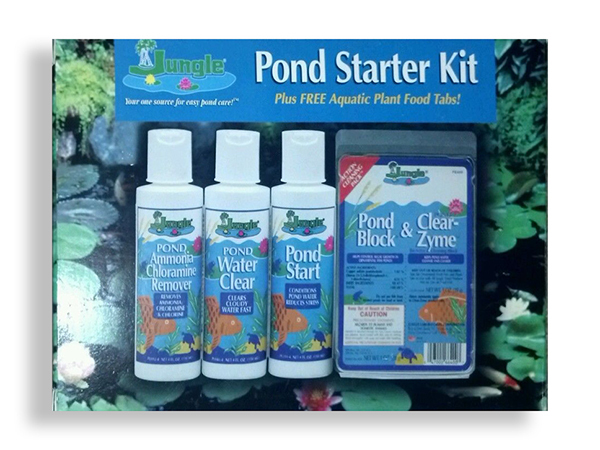 Unlike other items on the list, the pond starter kit from Jungle Laboratories does not include a liner and pump. Instead, the package contains all the essential items needed to keep a pond clean and running smoothly. The product includes Pond Water Clear, Pond Start, Pond Ammonia Chloramine Remover, and an Action Cleaning Pack. These handle as much as 908.5 l of pond water. Buyers can use this package to reduce maintenance times and keep fish and plants healthy.
---
| | |
| --- | --- |
| 4 | Koolscapes 270-Gallon Pond Kit with Light |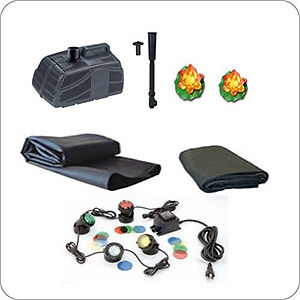 The Koolscapes Koolatron kit includes a large, 2.4-m by 3-m non-toxic liner and a pump capable of handling 270 GPH. A fountain head and two floating silk water lilies add to the pond's appearance, while the solar-powered light enables nighttime viewing. The Koolscapes 270-gallon kit is an excellent choice for larger ponds.
---
| | |
| --- | --- |
| 5 | Laguna Clear Flo 2500 Pond Kit |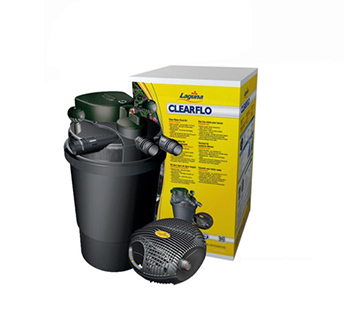 Laguna produces several pond products, including a 2500-litre kit. The package includes a pump and filter suitable for a small pond. Furthermore, a cleaning indicator informs owners when it needs maintenance, and a combination of mechanical, biological, and UV filters provide clear water. The motor is energy efficient and features a strainer cage to prevent clogging.
---
| | |
| --- | --- |
| 6 | Aquascape Water Garden Kit with Waterfall Feature |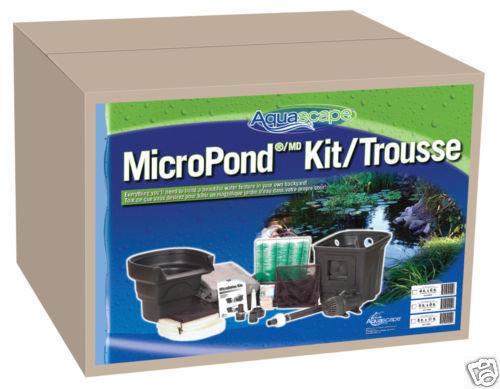 Buyers looking for an alternative to a pond should consider the Aquascape Waterfall kit. This unit creates a waterfall or stream that empties into a 1.2-m by 1.8-m gravel bed. The waterfall kit is also low maintenance. Owners only need to add new water every few weeks to replace liquid lost to evaporation. The package also includes two lights that illuminate the waterfall at night.
---
| | |
| --- | --- |
| 7 | Atlantic Pro Large Series Pond Kit |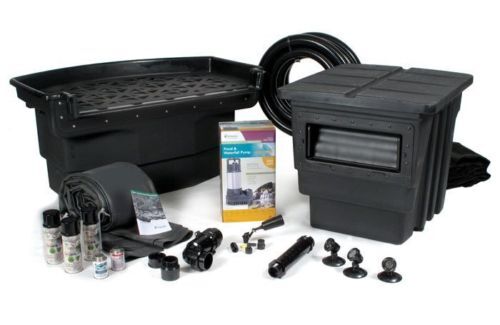 Pond kits from Atlantic provide all the basic tools needed to get a pond up and running. Several large kits are available, and though each contains the same items, the included liner and pump vary between them. Buyers can choose from four liner sizes, including 4.6 m by 6.1 m, 6.1 m by 6.1 m, 6.1 m by 7.6 m, and 7.6 m by 9.1 m.
---
Additional Items for Building a Pond
Pond kits include the essential items needed to set up a pond, though buyers should also pick up gravel for the base of the pond, as well as a skimmer if one is not included in the kit. Buyers can also improve the attractiveness of their pond by adding lights and decorative sculptures. Furthermore, a small bench placed alongside the pool provides an opportunity to relax and enjoy the pond.
How to Buy Pond Kits on eBay
Sellers post listings for
pond kits
of all sizes on
eBay
. Browse listings by entering the name of a pond kit or other item into the search field, or click on relevant category links. Review information from the seller about a product before buying, and be clear on details like delivery costs. Pond kits allow you to easily establish a backyard oasis. Determine the appropriate size for a pond and decide whether additions like fountains and lights are important to you. The high number of ponds available makes it easy to select the best choice for your needs.