A
blender
is an extremely useful multifunction device that every kitchen needs. In addition to making drinks like milkshakes and smoothies, blenders can crush ice, work in the place of a
food processor
and, in certain cases, even make soup. Because of the number of moving parts that a blender has, it usually has a limited lifespan, unless buyers choose to purchase one that is of professional-grade quality. These top 7 professional-grade blenders use higher-quality parts designed to take the abuse that workers in a commercial or professional kitchen create. Thus, when owners properly care for these blenders, they can last for many years in a regular kitchen.
| | |
| --- | --- |
| 1 | Vitamix Professional Series 500 |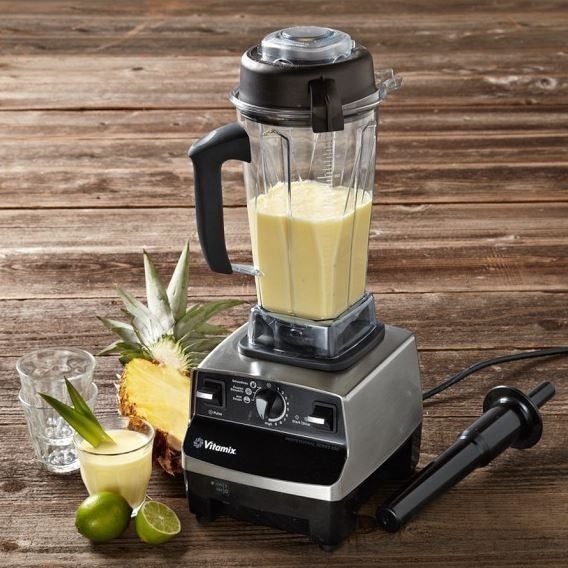 The Vitamix Professional Series 500 blender can make a gourmet chef out of anyone, thanks to its versatile abilities. This Vitamix blender features a 2-peak output horsepower motor that reaches speeds of 386 km/h and comes with a shatterproof 2-litre container and spill-proof lid with removable lid plug. It also has a long tamper, which can make the processing of thick ingredients simpler. In addition, the Vitamix Professional Series 500 blender features three pre-programmed settings, pulse function, variable speed control, and a stainless steel base.
---
| | |
| --- | --- |
| 2 | Ninja Professional Blender |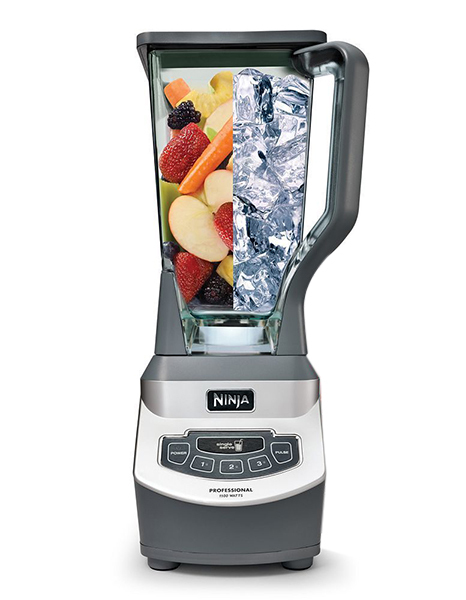 Providing 1,000 watts of power, the Ninja Professional Blender can power through some of the most difficult food items with ease, while making plenty of crushed ice for mixed drinks. It has a sleek design, features three different speed options, a pulse function, and has a capacity of 2.1 litres.
---
| | |
| --- | --- |
| 3 | Philips Avance Collection Blender |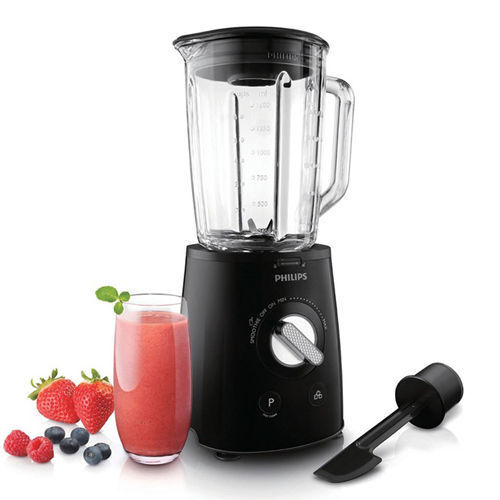 Featuring Philips' ProBlend technology that results in a much finer blend, the Avance Collection Blender is a workhorse in the home cook's kitchen, making ideal smoothies and crushing ice with ease. This Philips blender comes with a 2-litre glass jar, a 800-watt motor, and a tamper that doubles as a spatula. The ProBlend 6-star blade detaches easily, making the blender easy to clean.
---
| | |
| --- | --- |
| 4 | Cuisinart 1.75L Power Blender |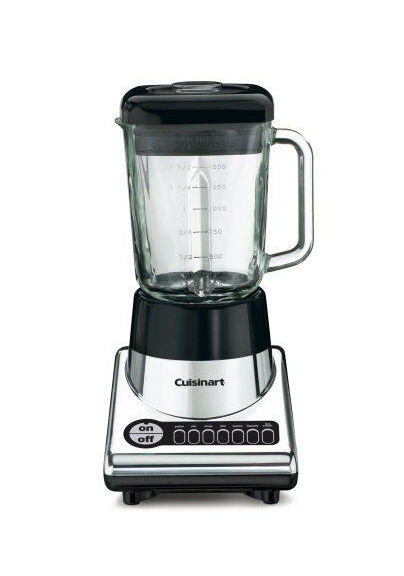 At 1.75 litres, the Cuisinart 1.75L Power Blender has a slightly smaller capacity than some professional-grade blenders do, but its ease-of-use features more than make up for it. This Cuisinart blender has a die-cast brushed metal base that has low, high, and pulse functionality, along with a glass jar and other removable parts that are dishwasher safe. It also features a six-edge blade that can chop, shred, and crush easily.
---
| | |
| --- | --- |
| 5 | Blendtec Professional Series Blender |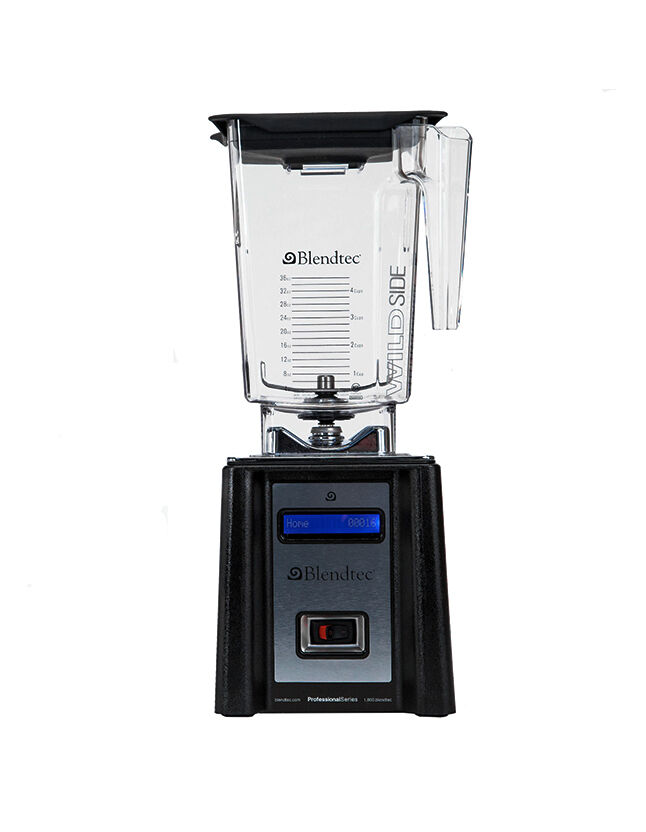 The Blendtec Professional Series Blender is unique in that it is installable into a countertop, greatly increasing its stability. This Blendtec blender has a stainless steel blender base and comes with two gripper lids and two separate blending jars: a 3.4-litre WildSide jar and a 2.3-litre FourSide jar. Additionally, it allows users the benefits of one-button control and has a 1,560-watt direct drive motor.
---
| | |
| --- | --- |
| 6 | Waring WSM1U Soup Maker |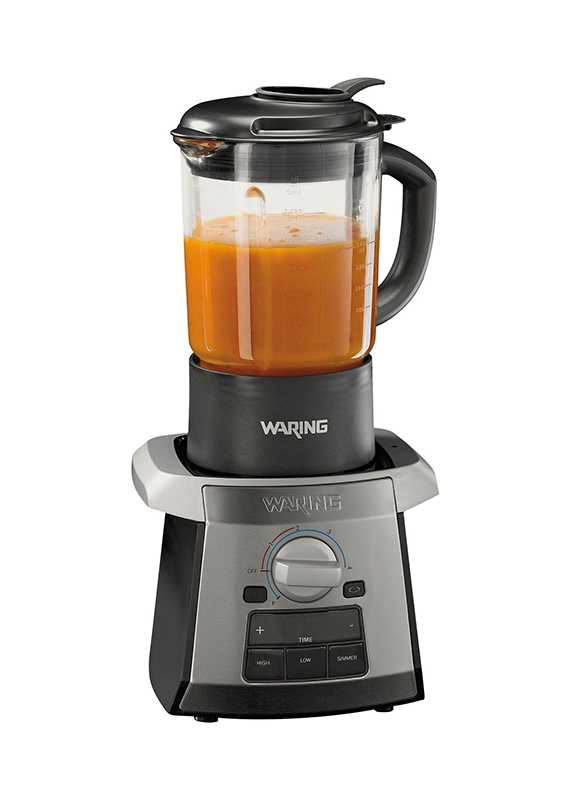 What makes the Waring WSM1U Soup Maker stand out is its ability to cook as well as blend food. It has a heating element built into its base, which allows users to saute chopped vegetables or small pieces of meat in the bottom before adding other components of soup, such as broth and seasonings. The blades of the blender also help to stir the sauteing items on the bottom of the unit. It has the ability to bring liquids to a boil quickly, and it can easily puree ingredients into a smooth soup. It takes power from a 1,000-watt heating element with three distinct heat settings and a 550-watt motor with four speed settings.
---
| | |
| --- | --- |
| 7 | Breville Pro Kitchen Jug Blender |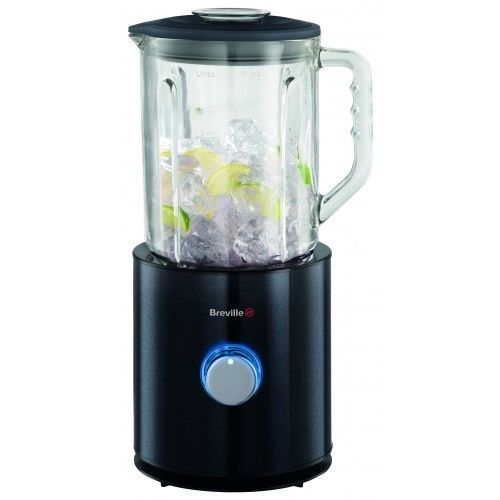 The Breville Pro Kitchen Jug Blender features an 800-watt motor with a gas two-speed setting and a pulse function. It also has a 1.5-litre glass blending jug with stainless steel blades, as well as a base with black pearlescent and an illuminated control dial. Additionally, it features a two-piece lid containing a measuring cap.
---
How to Buy the Top 7 Professional-Grade Blenders
Choosing a
professional-grade blender
comes down to choosing from a variety of options like brand, capacity, style, and options, but finding the right professional-grade blender is easy when using
eBay
. The website features a search box on every page, so users only need to enter their search term (such as "
pro blenders
") to return a plethora of choices. You can then select the options you want for your blender, while also deciding whether to purchase a new or used one. As you shop, be sure to review the seller's shipping options. Once your new or used blender arrives, it should serve as one of the most useful tools in your kitchen, thanks to its versatility and its ability to make difficult jobs like chopping and blending easy.