No one likes to go to the doctor, least of all children. To combat drab office colours, monotone scrubs, and unflattering unisex fashions, female paediatricians now have a veritable playground of options for fun and attractive scrub tops. A glance at the market reveals not only cartoon characters and other children's personalities, but animals, bold patterns, and graceful flowers, as well. Following a review of creative and child-friendly designs from some top manufacturers, the smart paediatrician finds multiple ways to make a visit to the doctor less dreaded. eBay's extensive inventory of
women's clothing
and medical/lab equipment ensures a happy customer, no matter her scrub style.
| | |
| --- | --- |
| 1 | Cherokee Flexibles Tooniforms |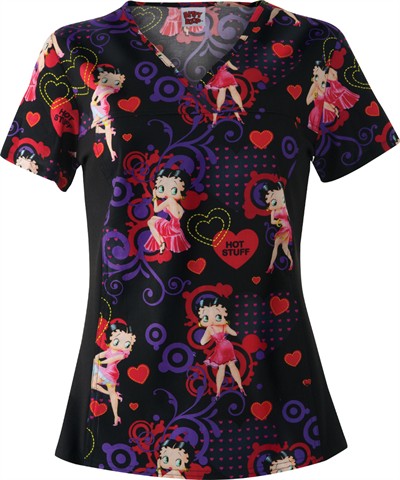 Children love cartoons, and Cherokee Flexibles Tooniforms deliver allowing kids who are under the weather to encounter their favorite friends, which helps take their minds off how they feel and where they are. Available girls' favourites include Hello Kitty, Alice in Wonderland, Disney Princesses, and Betty Boop, while boys gravitate toward Marvel Comics, Blues Clues, Looney Tunes, and other Walt Disney favourites. Cherokee Flexibles Tuniforms scrubs come in rounded and V-ecks, buttoned or string-tied, as well as with or without pockets. The company's vast product line ensures no two officemates dress exactly alike.
---
| | |
| --- | --- |
| 2 | Urbane Sweet Rock Tunic |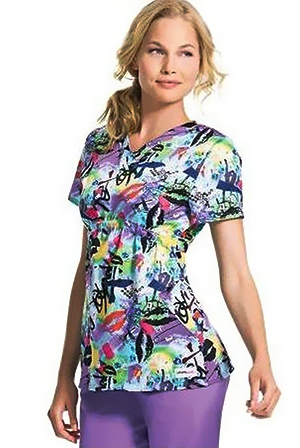 In the medical profession, scrubs are a way of life. People differentiate with colours and patterns, but the fit is largely the same from one person to another, male and female alike. Things are about to change, though, thanks to a new line of women's scrubs. The Urbane Sweet Rock Tunic puts the allure back into the profession, providing female paediatricians with a flattering, feminine look while maintaining the respect her calling deserves. The top's shirred bust and inset empire waistband lend a fit no unisex tunic can even approach.
---
| | |
| --- | --- |
| 3 | Dickies Round Neck Caring Bear |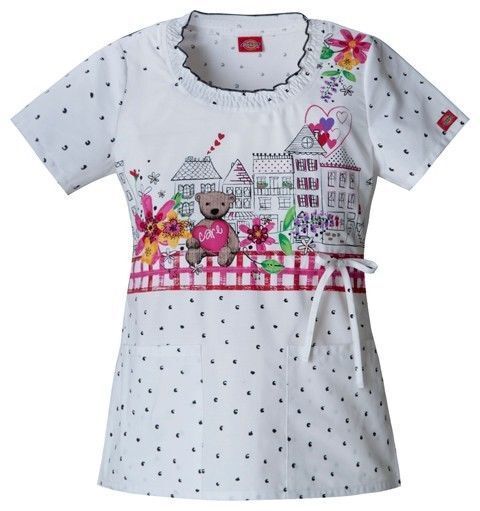 Bring the fairy tale alive with Dickies Round Neck Caring Bear. Smaller children are sure to appreciate the whimsical nature of this tunic, which features a loveable teddy bear atop a fence, surrounded by flowers and hearts and backed by a row of charming townhouses; a smattering of polka dots completes the illustration. The smocked rounded neckline adds soft gathers and a striking pinstripe. Sized for smaller female paediatricians, the Caring Bear tunic has a front tie, back elastic and side vents, and front patch pockets.
---
The sassy style of Baby Phat has crossed over to the medical profession, with the Baby Phat Animal tunic a perfect example. Kids cannot help but be mesmerised by the swirling animal prints that cover the top, while a solid blocked neck and hem are accented with bright colours to ground the print before it jumps off the fabric. The split neck provides a shot of quirkiness, while front and back darts deliver a bit of shape. Ladies appreciate the tunic's side inset pockets and side vents, which lend feminine functionality.
---
| | |
| --- | --- |
| 5 | Animal Kingdom Round Neck Top |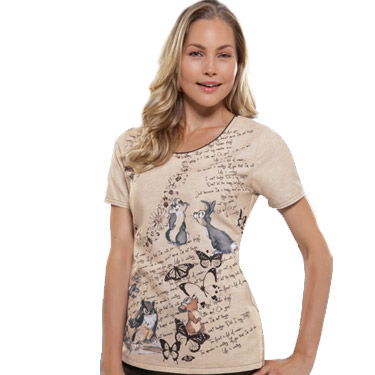 A child's temper tantrum is sure to stop when he gets a glimpse of his doctor's Animal Kingdom scrubs. The tops are vibrant, colourful, busy, and captivating, bearing everything from a rainbow of neon footprints to a colourful mob of clownfish, and collages of cats, dogs, horses, and more. The Animal Kingdom Round Neck Top is strictly ladylike, bringing out the paediatrician's playful personality while letting her maintain her personal style.
---
| | |
| --- | --- |
| 6 | Landau Pintucked Crossover |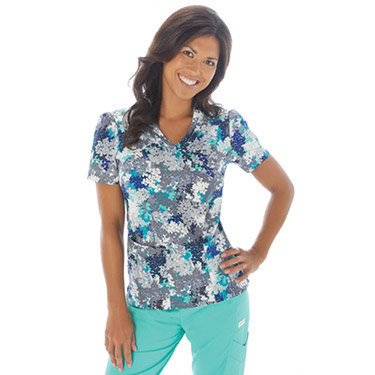 Yes, there is a way to maintain a professional appearance while showing one's playful side. The youthfulness of the Landau Pintucked Crossover top reminds the paediatrician that keeping children healthy is fun; the mock crossover neckline and empire waist create a flattering fit that is anything but unisex. Additional style comes from the hem's gathered sleeve, with stitched-down darts and a soft elastic band. Also worth noting are the top's palette of vibrant patterns and angled banded pockets.
---
| | |
| --- | --- |
| 7 | Koi Kathryn Love Song Ice |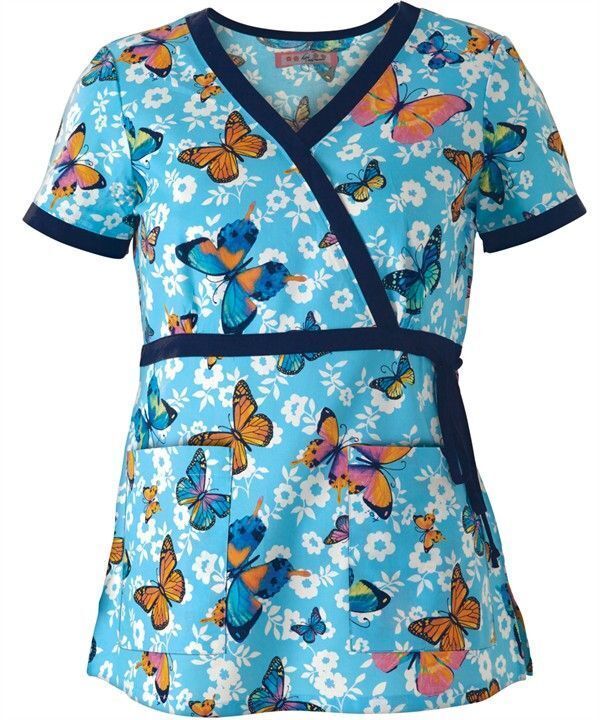 The Koi Kathryn Love Song Ice top truly is the best of all worlds. Not only does a child stay captivated by the brightly coloured butterflies and pale flowers splashed across the tunic, but a female paediatrician can embrace all the aspects of the top that make it purely feminine. The dark contrast along the mock wrap V-eck, waist, sleeves, and tie; the set in sleeves that prevent bulky, bunching fabric; the 63.5-cm length; and the flattering side slits. Two patch pockets provide ample room for prescription pad and pen.
---
How to Buy Scrubs for Paediatricians on eBay
You spent years studying and interning to be a paediatrician; kids are your passion. But being a medical professional does not mean you have to abandon style and hide the fact that you are a woman. These days, there is a multitude of manufacturers and styles at your service, ready to make medicine fun and comfortable, for you and your patients. On eBay, you can find your heart's desire, including your favorite cartoon character, cat, teddy bear, or butterfly. With styles from such names as Cherokee, Baby Phat, Animal Kingdom, Koi Kathryn, and more, the handy online shopping site eBay is always available to add a dash of spice to your life, and deliver a smile to a child's face.