Slippers
come in diverse styles, including sheepskin boots, moccasins, and flip flops. The types of slippers available differ in their design and function, so buyers need to consider the purpose of the footwear before making a purchase. Some manufacturers make slippers specifically for people to wear in the home, whereas other styles are also worn outdoors. Factors to consider are the overall design of the slippers, the materials they are made from, and whether they appropriate for indoor or outdoor wear. Buyers can find slippers in clothing shops, department stores, shoe shops, and online on eBay.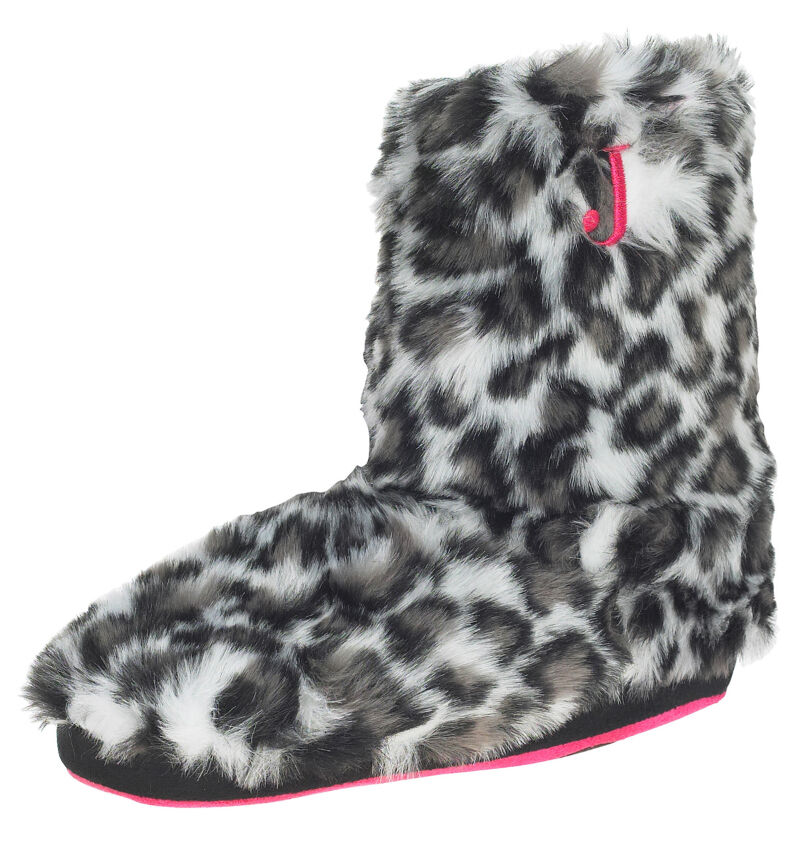 Slipper boots are designed to cover the ankles, and sometimes reach as high as the calves. They are made of a variety of materials, including wool and sheepskin. Their warm, furry exteriors are often paired with a padded lining made of faux fur or fleece. The sole is typically made of flexible rubber. Slipper boots are great for cold weather and are associated with indoor wear unless they have thick enough soles to withstand wet weather conditions.
---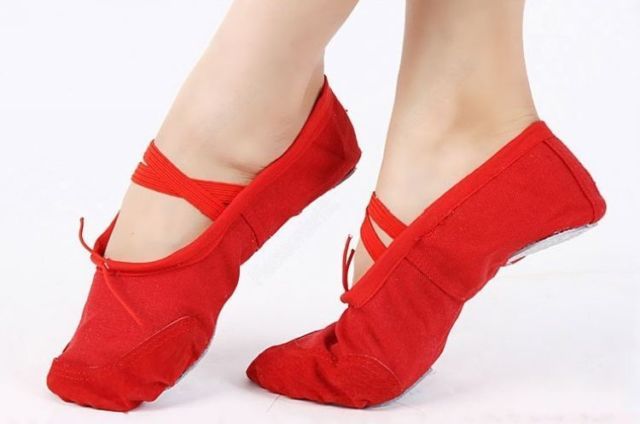 Traditional ballet slippers come in black and pink and are lightweight, flexible footwear designed for dancers. They are made of satin, canvas or soft leather, and the soles are thin, flexible rubber. Designers have adopted the ballet style for slippers that are worn both at home and outdoors. While they have a similar style, these casual slippers are not suitable for dancing. Ballet slippers come in a wide range of colours, many with elaborate patterns or embellishments.
---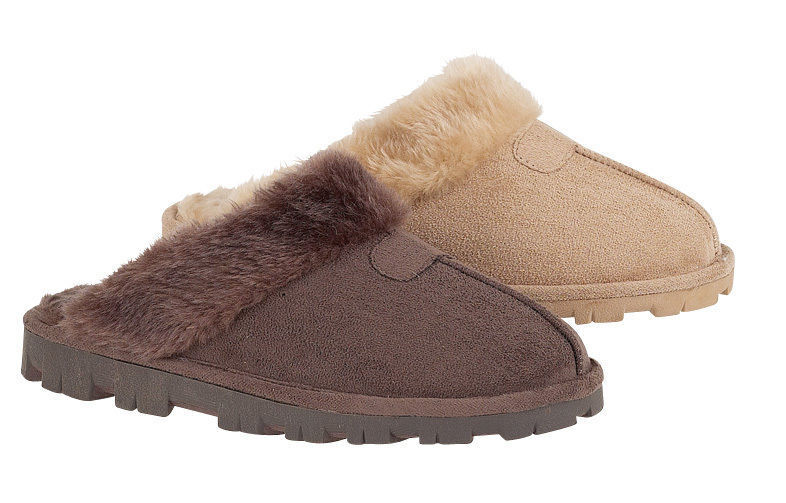 Mules slippers have a design similar to clogs and are easy to wear because they slip on and off with little effort. They have heels of varying heights that range from completely flat to a kitten heel. Mule slippers are backless and have closed toes or a peep-toe design. The style can be practical, elegant, or fun. Buyers can find them made of fluffy fur or suede, with inner linings made of faux fur or fleece. Mule slippers are suitable for indoor or outdoor wear depending on the thickness of the sole.
---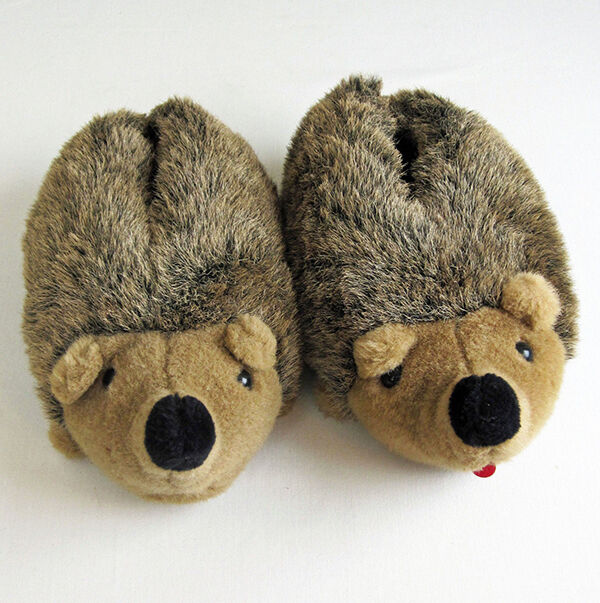 Novelty slippers are available for all ages and genders, and make good presents. They come in many designs, including popular cartoon characters, monster claws, animal heads, such as bears, penguins, and gorillas, and other fun styles. They are typically overly large, soft, and furry, and buyers can find them in a wide range of colours. Novelty slippers are generally for indoor wear as the materials that they are made from cannot be exposed to the elements and the soles are not thick enough to offer protection.
---

Moccasins that are worn as slippers closely resemble versions intended for outdoor wear. They are typically made of soft materials with a leather or hard rubber sole. They have a simple design and some have a tied bow to add a decorative effect. Before purchasing, buyers should check whether moccasins are only for indoor wear or if they have sufficient weatherproofing to survive outdoors.
---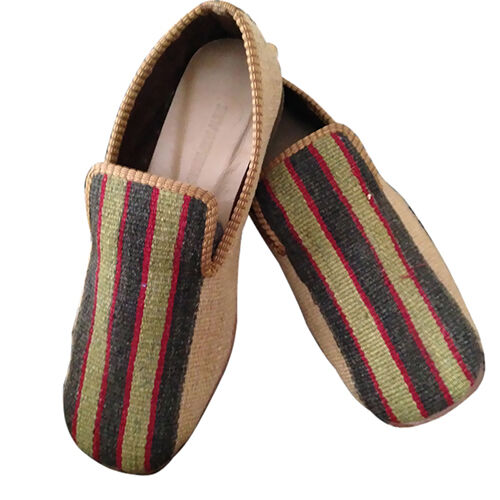 Carpet slippers are designed for wearing in the home. They are made of fabrics such as suede or corduroy, and come in a wide range of colours. They have thin rubber soles and many come with soft linings. Some carpet slippers may be worn briefly in the garden, but they are not robust enough for long walks or wet weather conditions.
---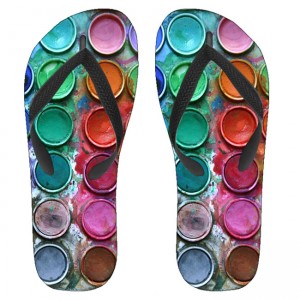 Flip flops are worn both indoors and outdoors, and are well suited for a summer holiday at the beach. They come in a range of stylish designs, colours, and materials, including rubber and leather. Rubber flip flops are worn in wet conditions, for example, in the bathroom or by a swimming pool. Leather flip flop are worn indoor and outdoors, and some have a heel that makes them similar to standard footwear.
---
How to Buy Slippers on eBay
There are many types of
slippers
available on eBay. Its handy search tool makes it easy to find the style of slipper that you want. Simply perform a search for products by entering keywords into the search field on any page. You can narrow down the selection by choosing the category filters or by adding more detailed keywords, such as gender, colour, size, or brand, for example, "women size 7 Dunlop moccasins". Slippers keep the feet warm and protected in the home, and many styles are often appropriate for outdoor wear.