Lovers of the outdoors should not have to sacrifice the ability to use cell phones, cameras, and more electronic goodies when out on the trail because of their limited battery life. With
solar-powered chargers
, it is now possible to carry one's iPhone, camera, and other electronic equipment for days at a time in the mountains, countryside, or wherever, where previously these devices had little to no use after the first few hours. They additionally work in the household and on-the-go, making use of clean energy rather than outlets which harm the environment. When searching for a solar-powered charger, be sure to consider its weight and size, efficiency, the adaptive ports that come with it, and price.
| | |
| --- | --- |
| 1 | Bushnell SolarWrap Mini |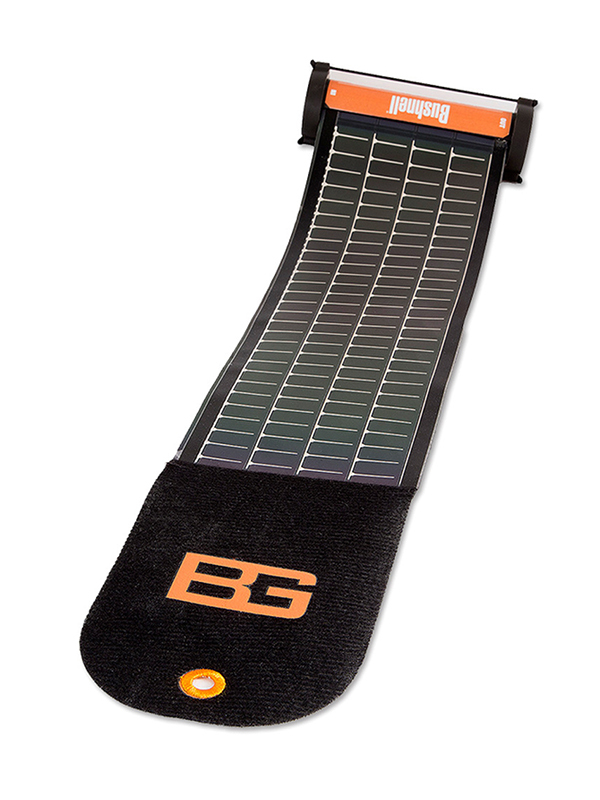 The Bushnell SolarWrap Mini is a light, compact and inexpensive solar powered charger. Critics rave for its miniature size and lightweight, which makes it extremely useful when out doing things like sailing, car camping, or hiking. With its internal battery one can charge a smartphone through the night, and still collect energy all day even when nothing is plugged into it. One shortcoming is its lack of a cigarette lighter: it can only charge USB devices. Putting out one amp of power, its relatively inexpensive price makes it great value.
---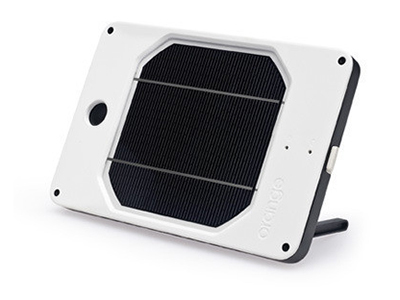 The JOOS Orange is one of the most expensive but capable solar-powered chargers. It supplies waterproof casing and self-supporting legs that make facing the sun easy and painless. Its internal battery makes charging easy during all times of the day. While its one amp output is not particularly impressive, it charges extremely fast with five watts of output. Users boast about its ability to work well in low light. While the JOOS orange is extremely capable and durable, it is not recommended for travelers unless the waterproof ability is high on their priorities list.
---
| | |
| --- | --- |
| 3 | Voltaic Converter Solar Charger Backpack |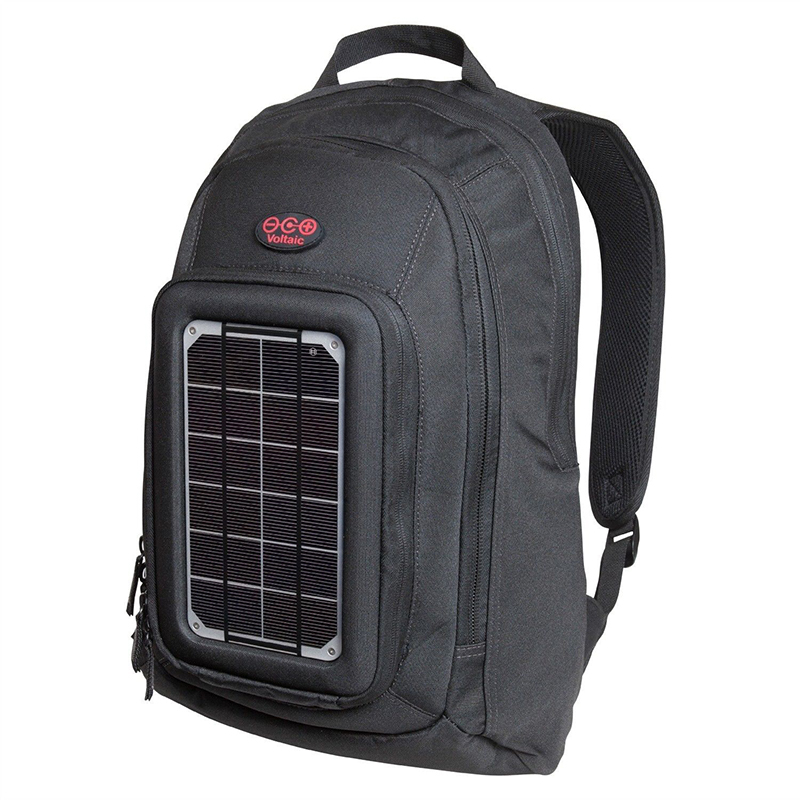 Using the common backpack as its base and then fitting multiple solar panels to it, the Voltaic Converter Solar Charger Backpack is incredibly innovative and desirable. It is a small lightweight bag, but big enough to carry larger electronics like laptops and even a water bladder. Its four-watt power output is enough to charge most electronics in under six hours. Additional bonuses for the Voltaic Solar Backpack are waterproof technology, 11 standard adapters for connections to numerous devices, and AC power outlet adaptors for the US, UK, and Europe. The backpack is relatively highly priced.
---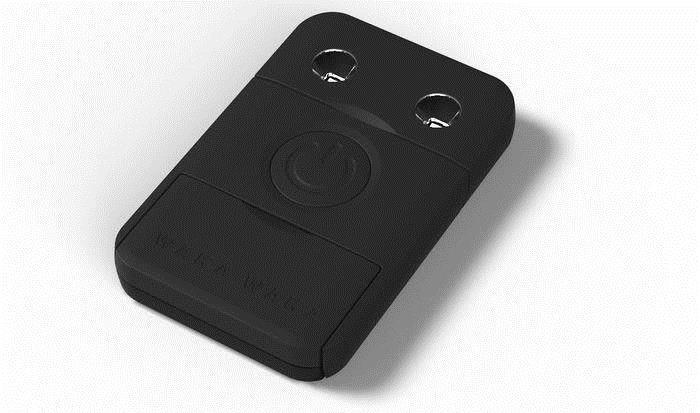 The WakaWaka Power is the smallest and simplest solar-powered charger. Its small size means it can be stored easily in one's pocket, and it only weighs approximately 200 grammes. The WakaWaka Power charges most cell phones in approximately two hours. Eight hours in the sun provides up to 40 hours of use in the LED light included. Reviewers were also impressed by its waterproof ability and foldout stands to position it at the proper angle towards the sun. One downside is its only port is a USB, which means some devices cannot be charged. The WakaWaka Power is relatively inexpensive.
---
| | |
| --- | --- |
| 5 | Powertraveller Powermonkey Extreme Solar Charger |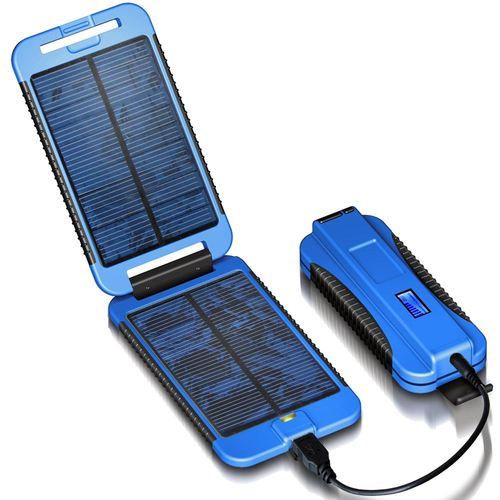 The Powertraveller Powermonkey Extreme Solar Charger provides durable and compact solar power. A large, folding solar panel charges a small battery pack. The battery can charge most smartphones and other small electronics. Its 9000mAh battery has enough power to recharge an iPad with enough juice to recharge a Samsung phone afterwards. Additionally, it comes with both USB and DC power outlets. The rugged and waterproof design makes it ideal for rainy and rough days. It is a, however, a fairly expensive purchase.
---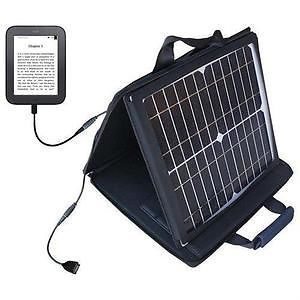 The Gomadic SunVolt is a large, capable solar-powered charger. Its hefty weight (2.1 kg) does not make it the most ideal travel partner, but its numerous charging tips included in purchase make it extremely capable. Reviewers were not that fond of its lack of a battery pack, which is available as a pricy add-on. This battery pack charges devices more effectively and efficiently, as it can charge many at one time, and quickly. The Gomadic SunVolt comes in a well-structured case, which also works as a stand to angle the panel towards the sun. The SunVolt is reasonably priced.
---
| | |
| --- | --- |
| 7 | Goal Zero Guide 10 Plus Adventure Kit |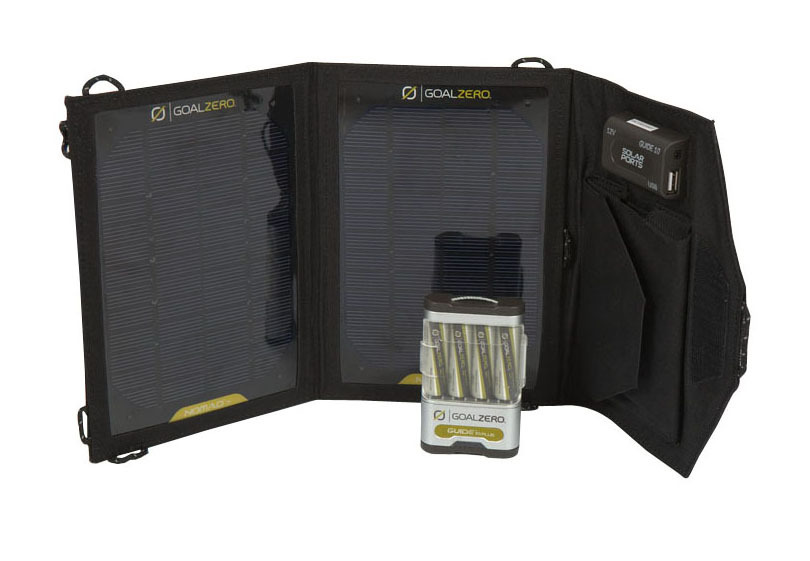 The Goal Zero Guide 10 Plus Adventure Kit combines portability and ruggedness. With a small battery pack sand a solar panel fitting perfectly into a backpack, it is ideal for long trips into the wilderness. One of its most notable features is its ability to directly charge a smartphone in one hour, due to its five volt solar output. Others are its LED light, which can run for 150 hours on one charge. It can also charge AA or AAA batteries and a standard and mini USB port. Reviewers loved its rugged design, which resists water and shock. The Goal Zero Guide 10 Plus Adventure Kit is reasonably priced.
---
How to Buy Solar-Powered Chargers
The search for a solar-powered charger begins on any
eBay
site. In the search bar, type in as many or as few keywords as possible for a dense or broad range of results. These keywords can include the brand, colour, and other things desired on your solar-powered charger. For example, typing in Powertraveller Powermonkey Extreme Solar Charger Blue gives you a fairly dense range of results. You can also narrow the search using the suggested categories provided. One important thing to remember is that most
solar-powered chargers
can not charge laptops. When browsing for solar-powered chargers, it is crucial to account for the adaptability of the ports, the durability, size, and the time it takes to charge typical electronics.