Forget about the dresses, the suits, the high-heeled shoes, and the
activewear
; a well-fitting t-shirt is where it is at. No other piece of clothing lets a woman feel both feminine and comfortable at the same time. Thanks to a range of styles and materials,
t-shirts
pair readily with blue jeans, khakis, and dress pants. The field of ladies' t-shirts is almost endless, which is why it pays to review the top offerings on the market. After taking a peek at the best that designers, including John Rocha, Red Herring, Mantaray, and Henry Holland have to offer, the savvy female shopper can head to eBay with a look or two in mind.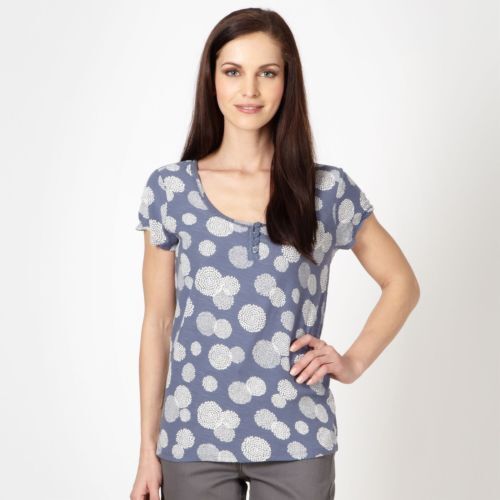 Soft, sassy, and sexy, a girl can feel every bit a woman in these t-shirts from revered Irish fashion designer John Rocha. The love of paisley comes alive in this line of organic t-shirts, with both dark grey and dark red options; each enjoys the enhancement of crocheted panelling below the neckline, which itself is adorned with sequins and gunmetal beads; a tie back waist ensures a flattering fit. A smattering of flowers splashes across a number of other styles, including a simple ivory artisan tee, a dark pink print, and long, flowing princess t-shirt with a lengthy handkerchief hem and a scoop neck.
---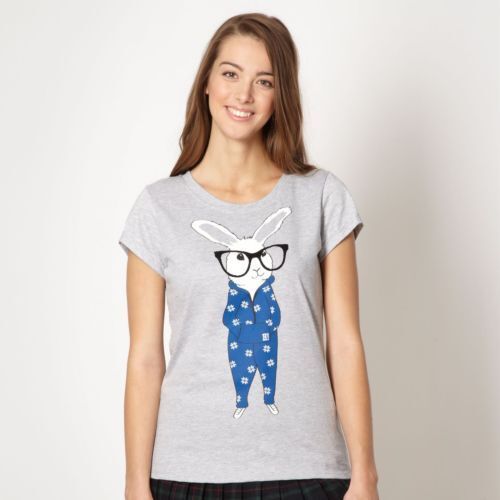 One of the top-selling women's t-shirt designers is the H! by Henry Holland line. These t-shirts are form fitting and flattering without being too snug, and come in either plain solid colours or solid adorned with one of a variety of whimsical images of animals, from cat burglars to bunnies in pyjamas to chilled out polar bears and penguins. With the holidays just around the corner, the line's designer red Grumpy Cat Christmas t-shirt is a must. The famously pouty cat is decked out in a jester's collar and Christmas tree hat, his mopey mug displaying his trademark dispirit.
---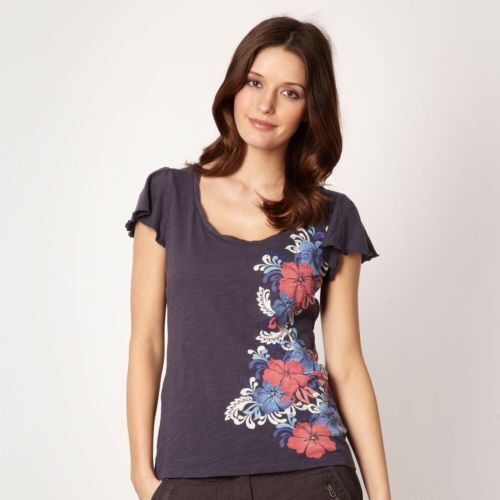 Gently scooped necks, herringbone patterns, peek-a-boo keyholes, and subtle feminine patterns comprise the ladies' t-shirt line from Mantaray. Cut with the female figure in mind, these soft cotton tees both comfort and cheer. Muted colours and flowery patterns define much of the line, from a white floral tee with frilly sleeves to two styles of grey jersey shirts that are either printed or embroidered. For a splash of colour, Mantaray offers a dark pink top with paisley-type circles; the subtle stripes of the brand's navy t-shirt are accented with crochet trim and five buttons below the scoop neck.
---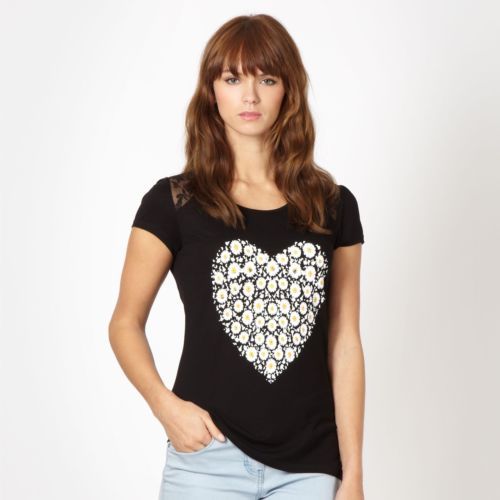 Red Herring tees are sassy and sensual. The line springs from modest beginnings, with trademark shirts in solid colours, besides classics black, white, and grey, Red Herring offers flashy red and classy navy. Soft, rounded necklines rise and fall, yet remain flattering and tasteful. Red Herring also offers t-shirts in eye-catching patterns and styles, including a pale pink floral, black blossom scene, dark red studded squirrel, and ivory burnout Aztec heart. The holidays earn representation, too, with a glittery red-capped snowman and robins decked out for Christmas, both on navy. For women in search of a subtle print to make them stand out, Red Herring has the goods, with small polka dots, narrow stripes, and textured fabrics.
---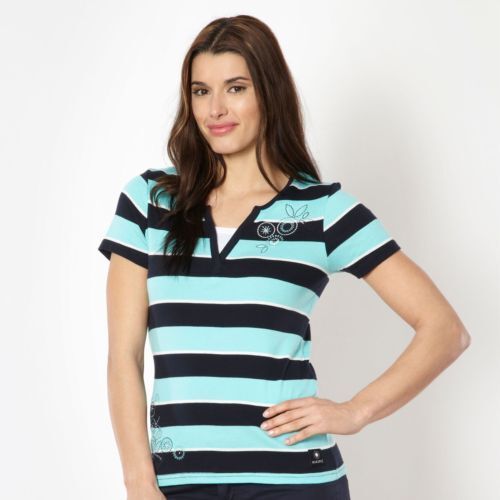 There is truly nothing more comfortable than a well-fitting cotton t-shirt; however, cooler weather often calls for warmer clothing. That is where Maine New England comes in. Designed with the chilly Northeastern weather in mind, Maine New England's long-sleeve tees are soft and soothing-to say nothing about stylish. With both subtle and brash stripes in the line, ladies can find the colour and pattern that best suits them. A more refined appearance comes with the grey-and-navy-striped top with three-quarter-length sleeves and understated purple details; also appropriate for work or dressier occasions is the brown-striped tee with bold dark orange stripes and a rope weave scoop neck.
---
Whether she is a solids or patterns girl, Oasis has short-, long-, and no-sleeve t-shirts to meet her needs. Brash, bold patterns ranging from autumn roses to oriental prints are full of personality, sure to get a girl noticed. The solid tees come in a rainbow of colours, including red, grey, purple, hot pink, black, and burgundy. No two shirts are the same, as Oasis embellishes the standard cotton t-shirt with chiffon, lace, faux leather, and sheer materials. With so many styles of shirts, a woman can have a wardrobe of Oasis tops for every season and every occasion.
---
For the classic preppy look, one needs to look no further than Lands' End. The 50-year-old American designer has built its reputation on clothing that never goes out of style. In addition to extensive lines of women's, men's, and children's clothing, Lands' End offers upscale casual t-shirts for refined ladies, with long, short, and half sleeves available. Whether she tends toward V, scoop, collared, or drape necks, a lady can feel well dressed in a range of casual occasions. Lands' End knows that solids are the basis of any well-put-together ensemble, and to that end, offers a paintbrush of feminine colours for every season.
---
How to Buy T-Shirts for Women on eBay
As a woman, you know there is a wide variety of clothing at your disposal, from business suits to formal dresses to sweaters and jeans. You also know there is nothing more comforting and flattering than the perfect t-shirt. Thanks to the top online marketplace, you can find everything you want in one place:
eBay
. All the top brands and styles are there, including casual soft cotton tees from John Rocha that gently hug your curves; mischievous animal and holiday images from H! by
Henry Holland
; the subtly sexy line from
Red Herring
; or the classic looks of
Lands' End
that are classically fresh. With eBay, your wardrobe gets an update without making your pocketbook suffer. Of course many other brands such as
Betty Barclay
,
DASH
,
Sonia Rykie
l and
Lands' En
d offer high quality t-shirts for women.