Little girls love to play dress up, whether that means putting on a Halloween costume, sneaking in their mother's closet, or wrapping themselves in
scarves
and pretending to be a belly dancer. They also love to sing and dance, which makes the theatre a hallowed place in their world. Thankfully, theatre-inspired costumes provide the best of all worlds, allowing young ladies to become princesses, fairies, orphans, dreamers, nannies, or even witches. Part of the fun with costumes is the creativity they inspire; depending on time, budget, or artistic inclination, one can buy official theatre merchandise, pick and choose from costume separates, or purchase just the essentials and make the rest. Whatever the objective, eBay has everything a girl needs to go from bedroom to stage in the blink of an eye.
| | |
| --- | --- |
| 1 | Tinkerbell from "Peter Pan" |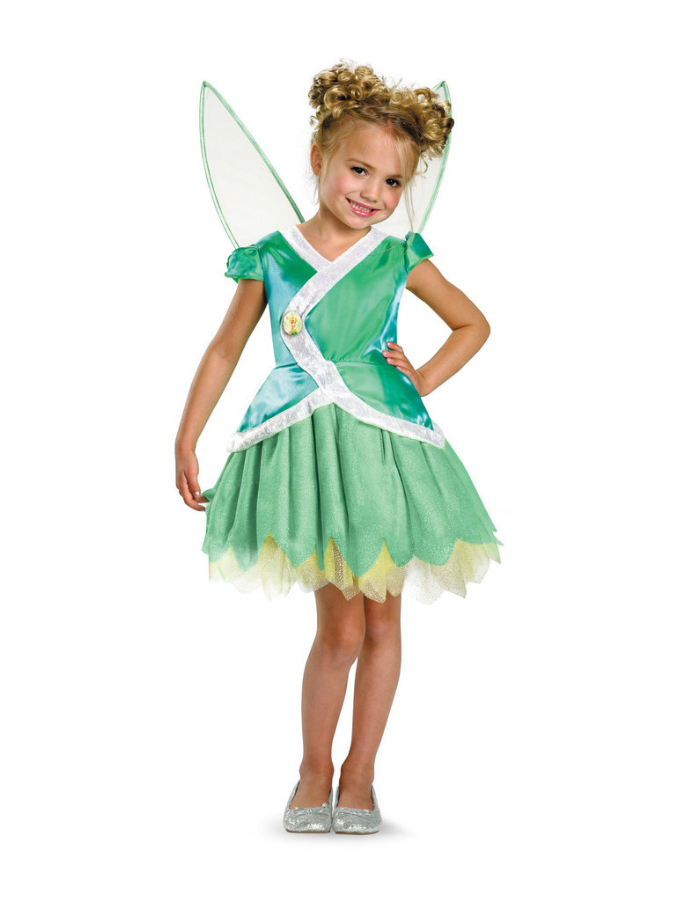 As young girls, we all wanted to be princesses or fairies, there is a reason it's called a fairy tale, after all. Dressed in the official Tinkerbell Disney Fairies Costume, little girls can live out their dreams, if only for a night. The bright green bodice is adorned with organza petal detailing, from the stretchy shoulder straps to the organza-and-satin-layered petal skirt. Glitter abounds, from the underskirt's clear tulle to the skirt's detailing. A Tinkerbell cameo rests just below the organza-edged neck, reminding the young fairy just how special she is.
---
| | |
| --- | --- |
| 2 | Wicked Witch from "Wicked" |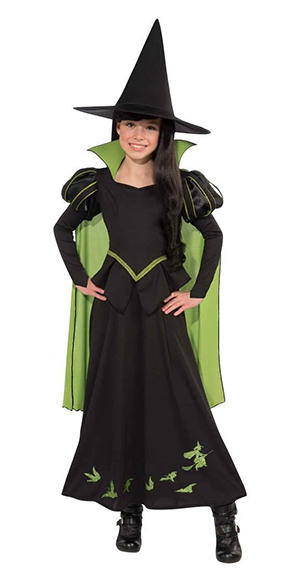 Even the most beatific angel can look a little bit sinister in this costume. With its floor-length, loose-fitting, flowing black dress, and long dark green or black cape, the Wicked Witch costume is easy to put together. Also essential, of course, is the pointy black witch's hat and some heeled black shoes. The look is most effective it pairs with frog-green tights and matching painted skin, the latter achieved by purchasing green witch makeup. Hand your daughter a broom, any broom, and remind her to look wicked.
---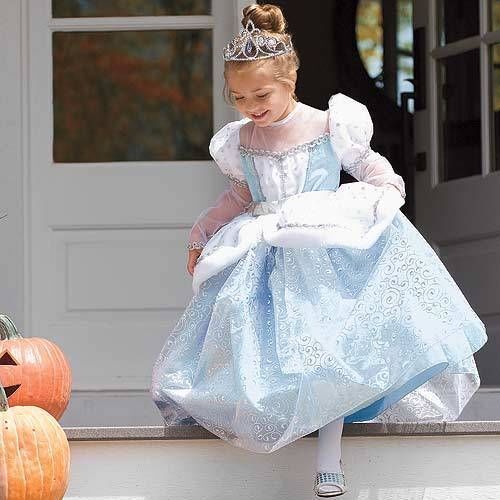 Another of Walt Disney's iconic creations, Cinderella sings the song of the have nots, teaching each and every one of us that dreams can come true. Good little girls can find their fairy godmother, and maybe even their Prince Charming, wrapped in billowing layers of blue organza and tulle, breathtaking princess attire for the royal ball. The blue fabric flows, tulle against patterned and printed organza, with graceful bows on either side; braided silver chains form a vee to accent the neck, dipping down to a belt that completes the fairytale look. Lighted shoes, a light-up wand, and a tiara complete the ensemble.
---
| | |
| --- | --- |
| 4 | Matilda from "Matilda the Musical" |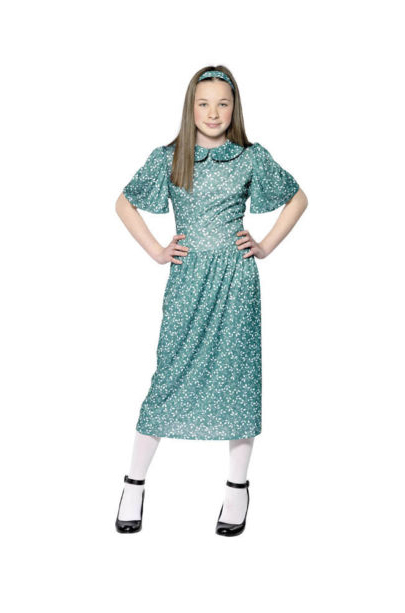 Ronald Dahl's Matilda is many a little girl's favourite book, with the spunky titular heroine representing the power of the underserved. Despite a treacherous upbringing, young Matilda is smart and brave enough to stand up to Ms. Trunchbull, and she does so without the benefit of a tiara or a magic wand. The Matilda costume is a down-to-earth one, defined by a simple blue gingham dress, bobby socks, and a red ribbon hair bow. While it is true that kids grow up too fast, this Matilda costume keeps her magically young.
---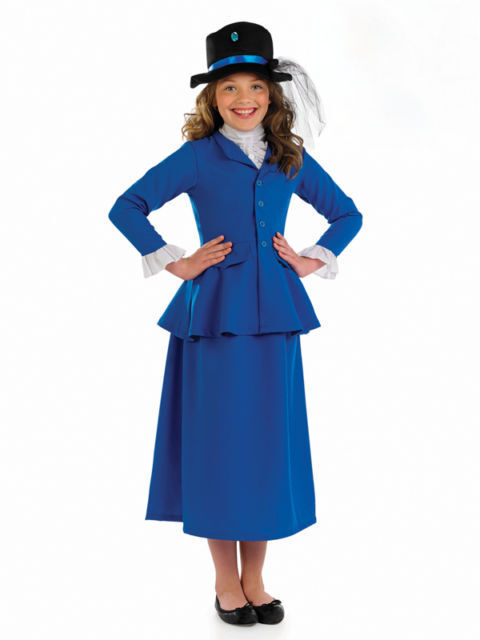 The Mary Poppins look is flexible, allowing space for more than one super nanny on the block. The Disney character's defining look includes a long blue coat, cinched around the waist; a white button-up collared shirt secured with a red bow tie; a bright red scarf; a broad-brimmed blue hat; white gloves; red Mary Jane shoes; and that oh, so unforgettable umbrella. The supercalifragilisticexpialidocious costume is open to reinterpretations, with the ability to mix-and-match components while still maintaining that classic Mary Poppins aura.
---
| | |
| --- | --- |
| 6 | Dorothy from "The Wizard of Oz" |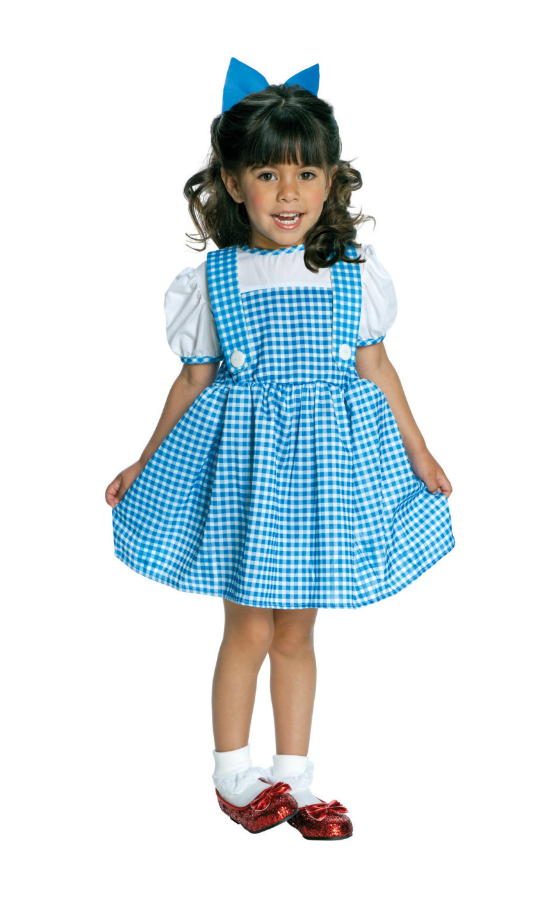 Either with or without sequins, a little girl radiates rustic Kansas charm when she dresses like the world's most famous dreamer. Dorothy's blue-checkered gingham dress features an apron top with wide, white-buttoned straps and a waist belt that ties in the back. The frilly white lace accenting the hem of the dress matches that of the folded bobby socks, themselves tucked into shiny red shoes ("There's no place like home! There's no place like home!") Blue gingham strips provide the finishing touch, as they tie off Dorothy's trademark braids.
---
| | |
| --- | --- |
| 7 | Little Orphan Annie from "Annie" |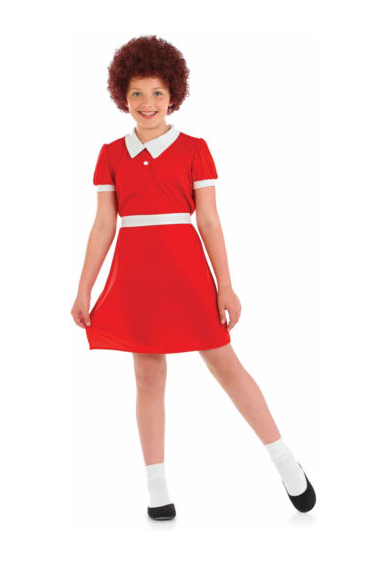 Thanks to the spunk of Little Orphan Annie, little girls know: It's not what you have, but what you do with it. With her trademark mop of ginger hair and her perky red-and-white dress, the always-cheerful young girl never stops singing her song. Little girls can adopt Annie's never-say-die attitude for their own in this simple red short-sleeved dress; white accents occupy the rounded collar, sleeve cuffs, and belt. White bobby socks and black patent leather shoes round out the attire, but don't forget the piece de resistance: the curly red wig.
---
How to Buy Theatre-Inspired Costumes for Girls on eBay
Quick: What was your favourite Halloween costume when you were a kid? You probably wore it more than once, that is, if your mother let you. Childhood is a time for dreaming, for making believe and pretending, for telling ourselves we can be anything we want to be. Whether her heart belongs to
Disney
or
Dahl
, you can find the perfect theatre-inspired costume for your little dreamer on eBay. The site makes costume shopping easy, with a simple keyword search returning a multitude of options. Simply view category options for dressing up, or click on a single listing for a more detailed description and additional photos. A few easy clicks and the next time you see your daughter, she may be wearing a tiara.