Many women who work in offices find it challenging to choose tops to wear to work. Most women want to wear something that looks professional but fashionable. This means avoiding tops that are too low cut or form fitting, as well as tops that are too predictable and boring. When looking for a top to wear to work, women should consider a number of things, including how comfortable the top is, how professional it looks, and what other clothes it goes well with. These top seven tops for women in the office each offers unique features that are great for professional women.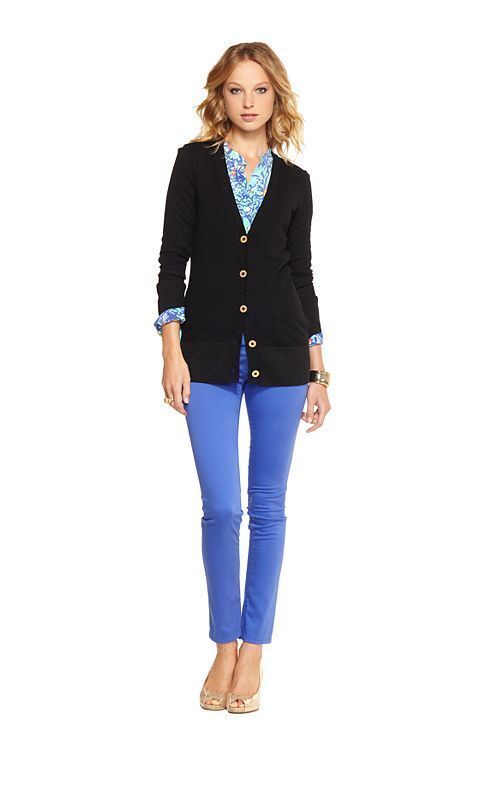 Boyfriend cardigans are great to wear into the office. They have long sleeves, but the material is usually very thin, so they are comfortable to wear during any season. Some feature buttons, while others simply hang open. They work great over short-sleeve or sleeveless shirts. Boyfriend cardigans come in a variety of colours, including solid colours and multi-colour patterns. They pair well with professional slacks.
---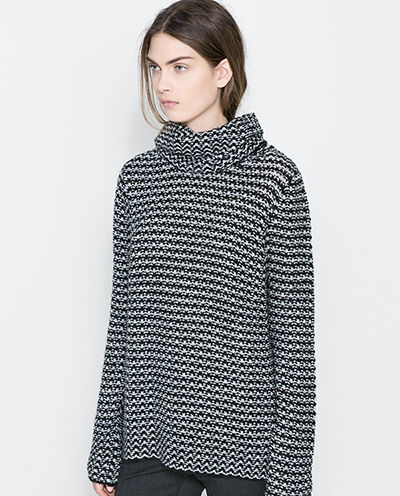 Loose turtleneck tops feature a turtleneck that gathers loosely around the base of the neck instead of fitting tightly against the neck. This creates a high neckline that is great for a professional environment. Many women find loose turtlenecks more comfortable than traditional turtlenecks, because they are less constricting. Furthermore, the loose-fitting fabric breathes easily, so the top remains comfortable through an entire workday. These turtlenecks come in a number of materials, including wool, cotton, and cotton blends. Some feature decorative patterns, while others have solid colours. These tops go well with slacks or skirts.
---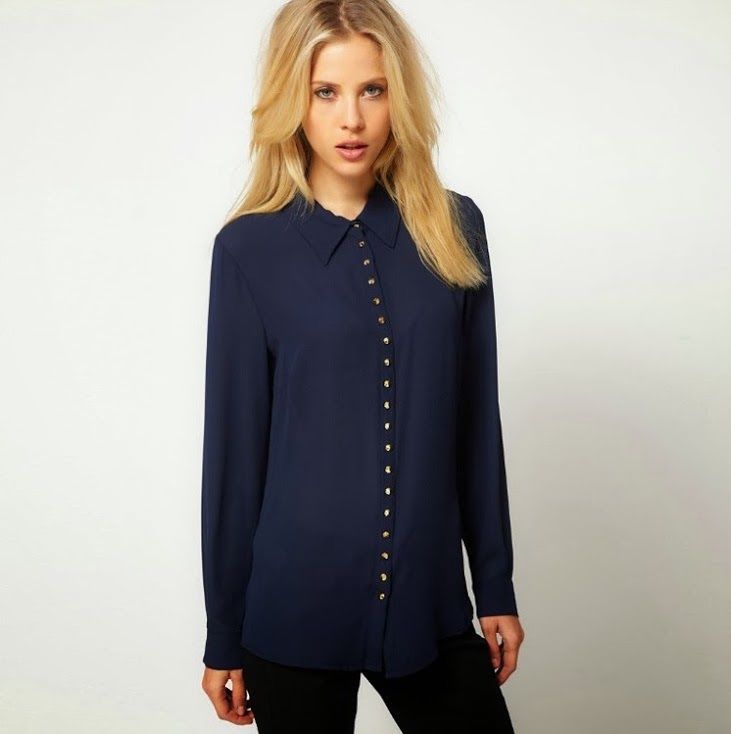 Collared blouses are a staple in many women's wardrobes. They look very professional and pair well with skirts or slacks. There is a wide variety of collared blouses available to suit anyone's individual taste. They are available in short, long, or three-quarter-length sleeves, which makes them a practical choice year round. Collared blouses come in nearly endless patterns and colour combinations, so women can purchase several and wear them often without repeating the same look.
---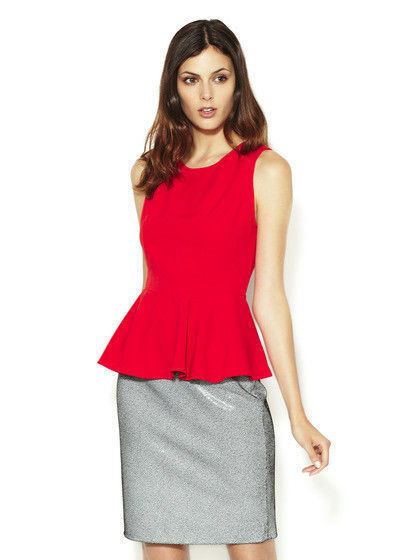 Peplum tops are elegant but professional. They flare out at the waist to create a hanging frill or flounce. Some have fairly short frills, while others go down nearly to the knees. Peplum tops come in short or long sleeves and often feature lace accents. The neckline of most of these tops is fairly high, which is deal for the office. Some feature asymmetrical frills, while others are symmetrical. It is easy to dress peplum tops down by wearing slacks and a simple belt, or dress them up with a skirt and a necklace.
---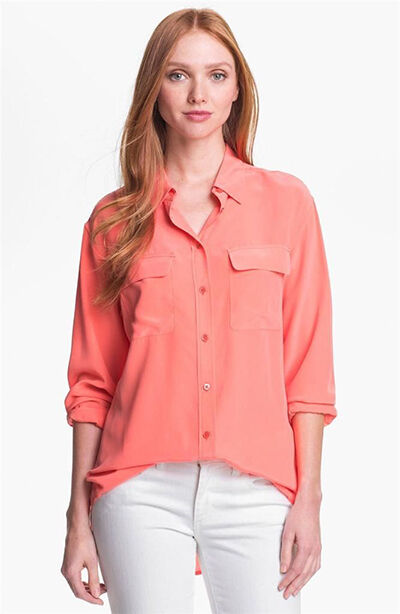 For women who are looking for something luxurious to wear in the office, silk blouses are an excellent choice. Silk is a comfortable, lightweight material that feels great against the skin. The material looks as luxurious as it feels, but it is somewhat difficult to care for. Silk does not typically fare well in washing machines, and many silk blouses are dry clean only. However, if properly cared for, silk lasts for years.
---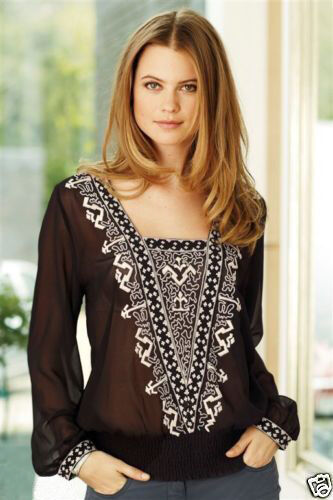 Square neck tops feature a square or rectangular-shaped neckline that is typically high enough to ensure a professional look. Square neck tops come in short, long, or three-quarter-length sleeves. Some have decoratively draped fabric near the neckline, while others are less dimensional. Many of these tops feature floral or abstract patterns, though some come in solid colours. They commonly comprise cotton, satin, or polyester.
---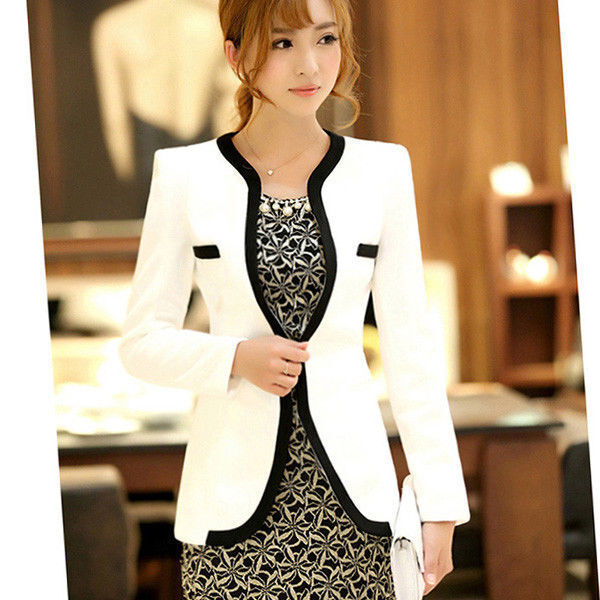 Many women choose to wear blazers to the office because they look very professional. Blazers typically feature buttons and lapels, and they are commonly worn over short-sleeve or sleeveless shirts. Though some blazers are very heavy and warm, others are thin and light enough for comfortable all-day wear. Most blazers come in solid colours, with dark colours like black, grey, and dark blue being the most common. Blazers create a polished, professional look when paired with slacks or skirts.
---
How to Buy Tops for Women in the Office
It is easy to find tops for women in the office on
eBay
. To find the top you are looking for, simply type keywords into the search bar located on any eBay page. You can start with broad keywords, such as "
women's tops
", and narrow down your search by adding more specific keywords. If you are looking for a specific brand of top, you can add the brand name as a keyword as well. Most women who work in offices want tops that look professional but stylish. These top seven tops for women in the office are all excellent choices. Wearing the right top to work can really increase a woman's comfort and confidence.