Hip scarves
are traditionally worn during belly dancing, helping draw focus towards the dancer's mid section while stimulating visual appeal. These exquisite accessories come in a variety of colours, materials, lengths, and designs; each one suited for a particular style of performance. The scarves themselves may be custom made or mass produced. Typically tied around the hips, they may also be worn on the dancer's wrist as to draw attention to hand movements and tease the audience through seduction. In some cultures, they may also function as an ornamental face covering, making the dancer appear more mysterious. When searching for belly dancing hip scarves at retailers such as
eBay
, buyers should consider the top eight types as determined by reputable source reviews.

Thin chain hip scarves originated in India and are most often made by skilled craftsmen and metalworkers. Constructed of silver or golden chains which are joined together by rings, these belly dancing accessories are typically on metre in length. Extenders are available for those who prefer a longer style or want to add hip attachments.
---

Medallion hip scarves provide full coverage to the wearer and often eliminate the need for a belly dancing skirt. Typically found in such colours as black, blue, pink, purple, orange, and yellow, these belly dance accessories are made up of single or several rows of round, reflective medallions. The medallions themselves are directly sewn onto the fabric of the hip scarf; however, they may also be attached with wire. Constructed of gold, metal, plastic, or wood, some have a smooth surface while others are stamped with a design. Medallion hip scarves are simply tied around the dancers hips.
---
| | |
| --- | --- |
| 3 | Pyramid Coin Hip Scarves |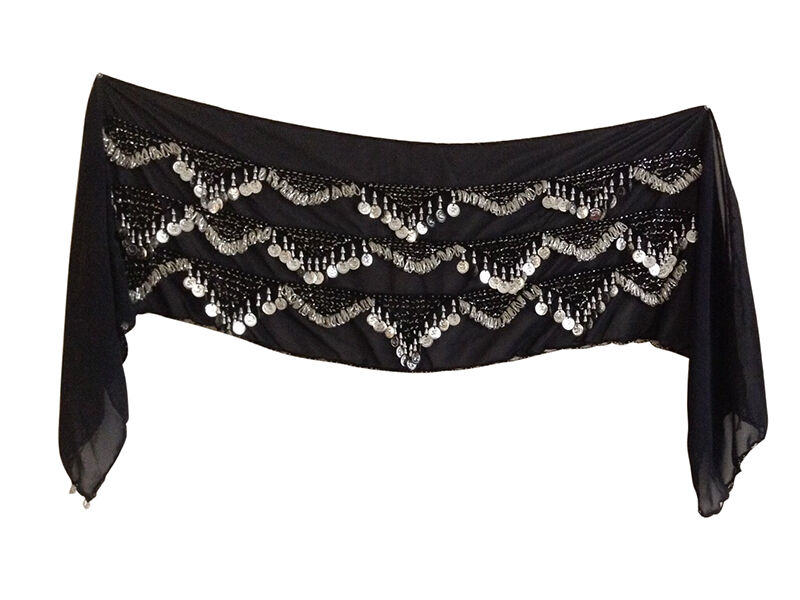 Unlike other hip scarves which are constructed of fabric, pyramid coin hip scarves consist of a single layer of metal, coin-shaped disks which are then arranged into inverted, pyramid shaped patterns to create a scarf. Due to simplicity of design, these scarves offer significantly less coverage than other types. As such, the belly dancing skirt is left fully visible. Pyramid coin hip scarves are fastened with a metal toggle or clasp around the dancers hips, generally on the back or side region.
---

As the name indicates, tassel hip scarves have tassel fringe along the bottom edges. While some scarves feature short, even tassels, others feature tassels of varying lengths. These belly dance accessories may close via snap or through simple tying around the dancers hips.
---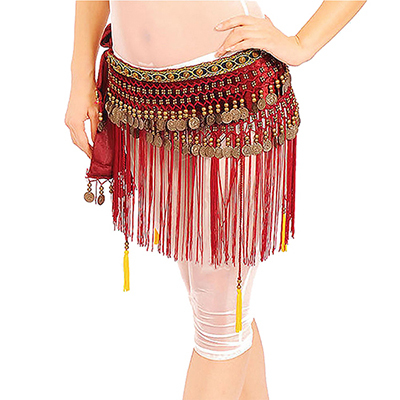 Tribal hip scarves are made from a thick fabric which is often painted or woven with animal print, fire, or other ethnic designs. These belly dance accessories tend to vary in length and may be cut shorter, longer, or at an angle depending on wearer preference. Although it offers full coverage, it is still worn over a longer, fuller belly dancing skirt of a like colour. Tribal hip scarves tie around the dancers hips.
---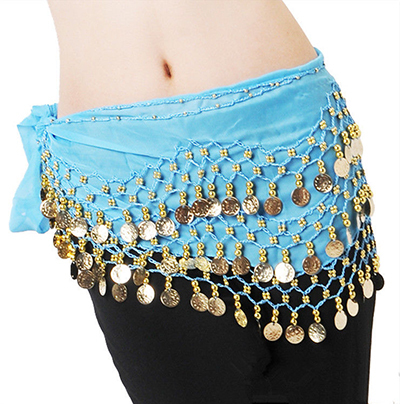 Constructed of thick fabric, wrap hip scarves are triangular in shape and designed to wrap completely around the wearers body one and a half times before being tied in the front. Unlike other hip scarves which contain exquisite embellishments, these scarves are relatively simple in style and are generally embroidered with designs such as flowers or daggers.
---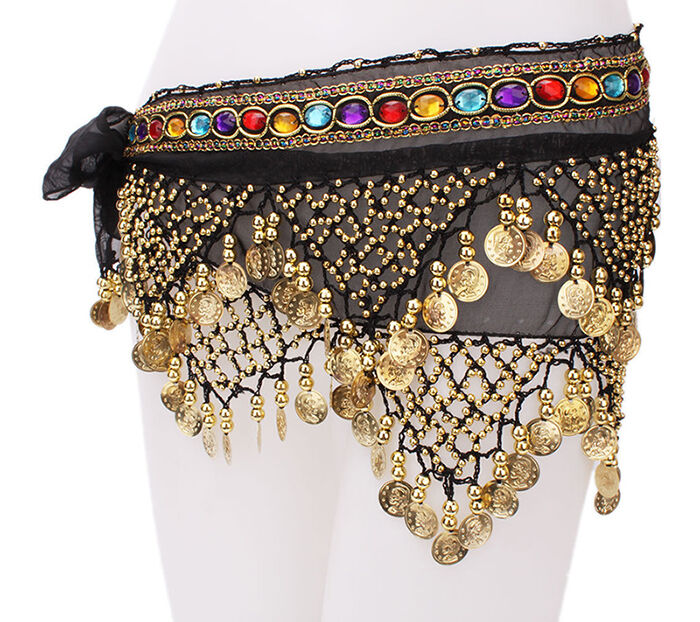 Beaded hip scarves are typically unicolour, with popular colours including bright shades of pink, green, purple, blue, yellow, and orange. Traditionally adorned with beads which are sewn on in vertical lines, these belly dancing accessories feature an elastic waistband for easy wear.
---

Similar to medallion hip scarves, longer hip scarves can be worn on their own, without the need for a separate skirt. These scarves, commonly referred to as skirt belts or saint skirts, feature a thick band of fabric around the bodies' midsection and sheer strips which fall to the belly dancers mid-calf area. Longer hip scarves may either have a snap, feature an elastic waistband, or tie onto the wearer's body.
---
How to Buy Belly Dancing Hip Scarves
eBay
has a wide range of belly dancing hip scarves available, which can be purchased either new or secondhand. Buyers should read the description of the item and look at all available photos. If the hip scarves are secondhand, consumers should look for signs of wear to the fabric, including discolouration and missing embellishment. If there is any doubt, buyers can ask the seller for more information, or more pictures.
Hip scarves
can add mystery and excitement to a belly dancers performance. Found in both long and short varieties, belly dancing hip scarves draw attention to the dancers midsection and help accentuate movement. Buyers should opt for a scarf that matches the style of dance.