As one of the oldest, most beautiful forms of dance in world history, belly dancing features a wide array of isolated movements that are performed by the abdomen. These movements, intended to express personal creativity, may be rolling, angular, circular, or vibrating. There are several types of belly dancing, each type utilising its own style of costume. Costumes, particularly the
skirt
, are typically elaborate and colourful as they are designed to add emphasis and life to the dancers performance while accentuating their bodily curves. Generally floor length in style, skirts widely vary in design and fabric. When purchasing belly dancing skirts at retailers such as
eBay
, buyers should familiarise themselves with the top eight types as determined by reputable source reviews.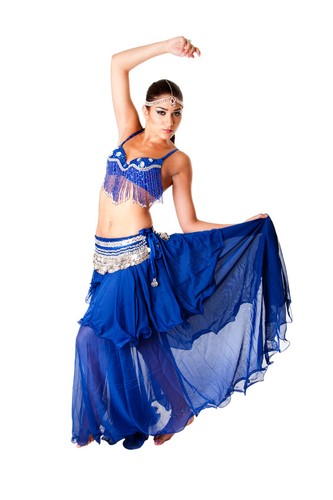 Because modesty is of utmost importance in the Middle East, Egyptian belly dancing skirts are typically more conservative in nature. The skirt, which generally reaches floor length, is often elaborately adorned with glass or plastic beads of varying sizes, shapes, and colours. Glass beads, although breakable, are more desirable as they catch and reflect light better. Sequins is also popular and may be plastic or metallic; plastic sequins come in solid colours and may be transparent or iridescent.
---

Unlike Egyptian societal values, Turkish law does not place restrictions on Turkish dancers movements and costuming. As such, Turkish dancers are more outwardly expressive, often wearing highly revealing split skirts which expose the entire leg. These circle skirts may also include an overskirt consisting of panels and a pair of harem pants underneath. Turkish belly dancing skirts generally contain some degree of beadwork and may also use coins.
---

American Tribal costumes focus on ease of movement and are folkloric in nature. Belly dancers typically wear large, loose-flowing tiered skirts accompanied by pantaloons or wide-legged pants gathered at the ankles. This layered look employs a bright use of colours and contrasting patterns. Although less adorned than other types, the skirt is typically paired with a hip scarf that contains yarn, tassels, or fringe, and a heavy layering of oxidised silver jewellery. Make-up is also popular with this dance style and usually eye focused with heavy use of kajal.
---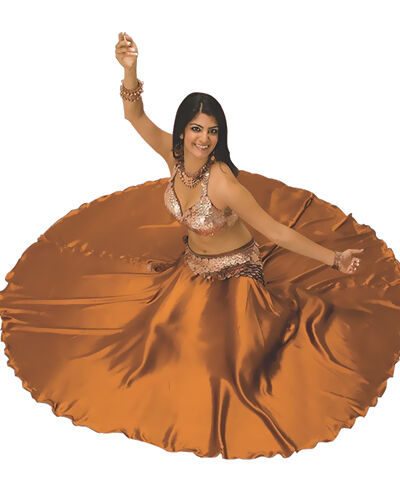 Bollywood belly dancing skirts are recognisable by their shine and elaborate embroidery in metallic threads. They typically fall between knee and ankle length and are constructed of crape, a type of silk fabric which is soft and has a wavy surface look. Relatively inexpensive in cost, crape is both easy to care for and airy. As such, it drapes the dancers body well. Bollywood belly dancing skirts are found in a wide array of colours.
---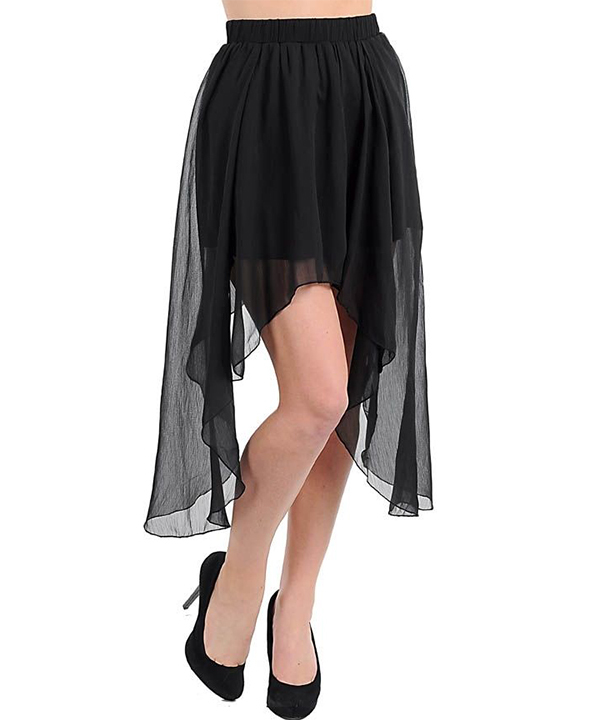 A more flashier style of dance, cabaret belly dancing skirts are typically more risque than the traditional Egyptian style. Often mimicking the Turkish design, which features an abundance of beadwork, sequins, and long fringe, Cabaret skirts are flamboyant in nature. As music choice is usually varied, they also incorporate ideas and pieces from other areas of the world and may include multiple layers or Spanish style ruffle skirts. Props may be added to the song, such as a veil or sword.
---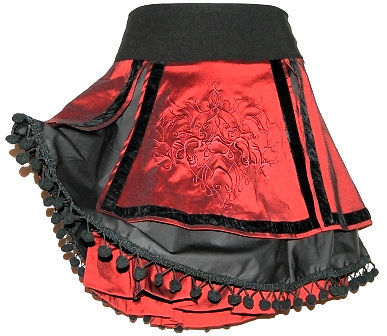 Gothic belly dance combines the gothic subculture with Middle Eastern dance to create a unique form of expression. Gothic belly dancing skirts are made from an abundance of fabrics, including lace, vinyl, latex, PVC, leather, velvets, gauze, sari, imported textiles, and heavy satins, often featuring some degree of fish netting and lace. As representative of the gothic culture, skirts are generally black, while common accent colours include reds, purples, and metallics. Metal chains, spikes, or link fringe may be added to further enhance the look.
---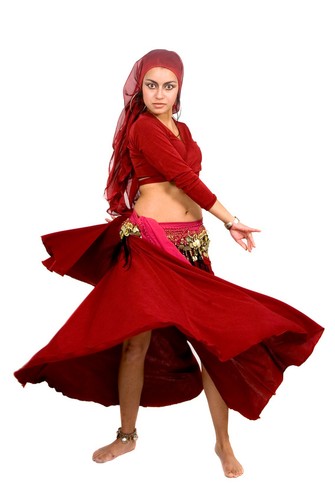 The traditional Gypsy belly dancing costume consists of a long, colourful skirt made from several yards of material. Gypsies tend to be conservative when it comes to revealing their lower bodies, especially their knees and thighs. Bright colours are typically preferred, often duoed with many layers of fabric; popular fabrics include chiffon, calico, and metallics. Because white is associated with mourning and death, this colour is generally not used in the creation of Gypsy belly dancing skirts. Skirts are often adorned with jewellery or gold coins, traditionally symbolising acquired wealth.
---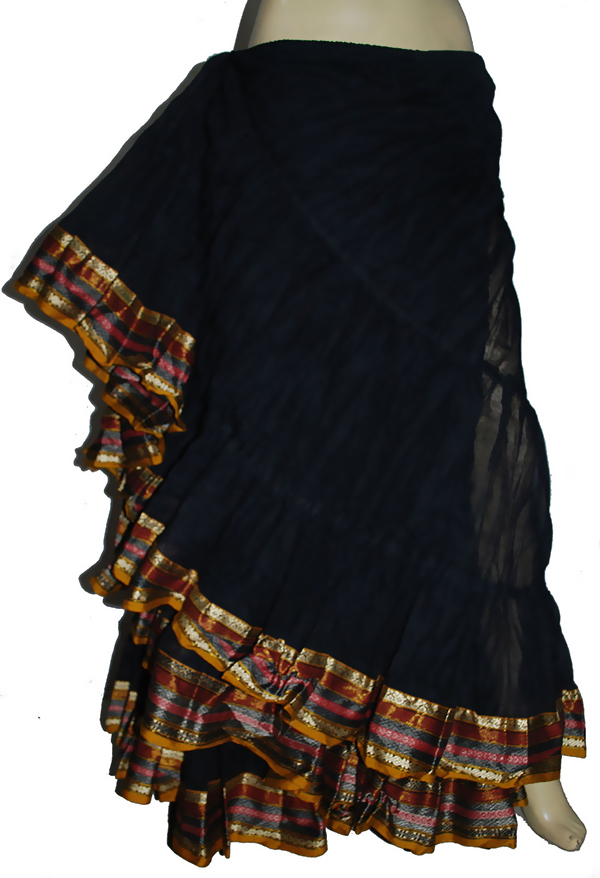 Tribal Fusion costumes are unique in nature, blending together many components of different belly dance styles. They also frequently incorporate elements from modern dance forms such as hip hop and breakdance, as well as traditional forms such as Flamenco, Kathak, and Bhangra. The skirt design depends on the style of dance being performed; while some skirts are multi-layered and elaborately decorated with fringing, others are pared down to a sleek minimalist style. Pants are also often worn in place of skirts, characterised by their large flare that is split up to the knee along the outside seam. Pants are often fabricated of cotton lycra or velvet and come in a wide array of colours.
---
How to Buy a Belly Dancing Skirt
Depending on the type of belly dance skirt you are looking for and the condition you want it to be in, buyers can find a huge selection on
eBay
. To shop for belly dance skirts on eBay, simply go to any eBay page, and enter any related key terms into the search window. Before finalising your purchase on eBay, make sure you are satisfied with the item description. Available in a wide range of styles, lengths, fabrics, and colours, belly dancers should opt for a skirt that models the style of dance they are performing. The skirt should not only enhance overall character but emphasise a dancer's role.