High-quality
men's formal shoes
round off an outfit and create a polished look. The top eight formal shoes for men feature superior construction, materials, and craftsmanship. These shoes are designed with style and durability in mind, allowing wearers to don them in the office, at formal functions, or on evenings out. Buyers should have their foot measurements to hand while shopping in order to ensure the perfect fit. They can find men's formal footwear at shoe shops, department stores, and online marketplaces such as eBay.
| | |
| --- | --- |
| 1 | Jeffery-West Jimmy Modernist Chukka Boot |
Jeffery-West shoes are manufactured in Northampton and feature cutting-edge styles, elegant and flamboyant designs, and a variety of leathers. The Jimmy Modernist Chukka Boot comes in several colour variations, including green, and features contrasting red stitching. These suede boots have cut-outs on the caps. They are ideal for men that appreciate unusual and rebellious designs.
---
| | |
| --- | --- |
| 2 | Mr. Hare Miller Brown Classic Oxfords |
The Miller from Mr. Hare is a classic five-hole, toecap Oxford shoe. It comes in black, brown, and limited edition blue. The brown Oxford provides a stylish alternative to traditional black formal shoes. The Miller features Italian high-shine calf leather uppers and pigment dyed natural leather linings. These shoes have 100 per cent leather midsoles and heels, and rubber outsoles.
---
| | |
| --- | --- |
| 3 | Church's Consul Oxfords |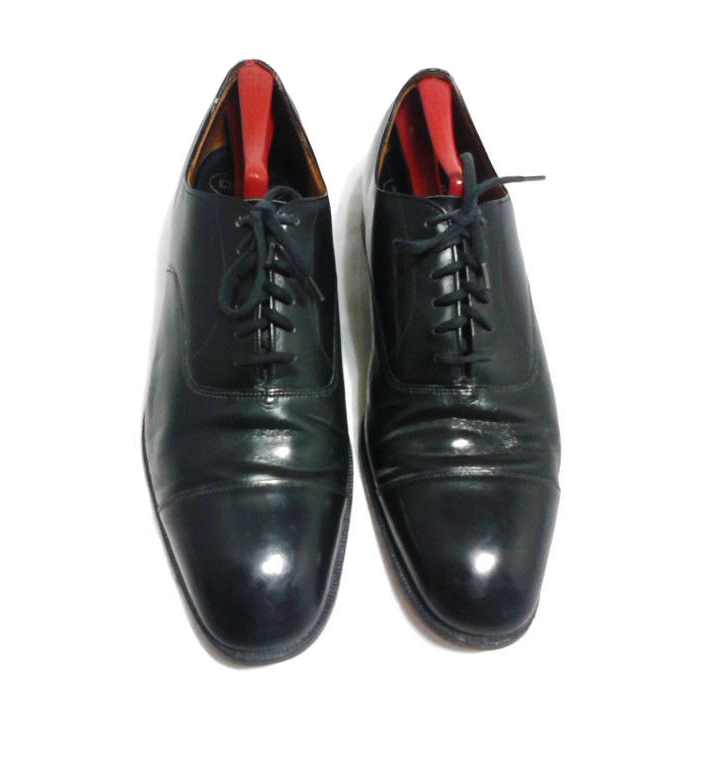 Church's Consul Oxfords are ideal for men looking for quality materials and construction. The Consul shoe has a closed front and is vamp stitched over the quarters. Each hide used for the shoes absorbs polish in a slightly different way, providing a natural variation in appearance, giving the footwear a distinctive and unique look. The shoes are manufactured in Northampton and come with leather soles and Goodyear Welted construction, which allows for the replacement of the sole.
---
| | |
| --- | --- |
| 4 | Ben Sherman Plectrum Remus Brogue |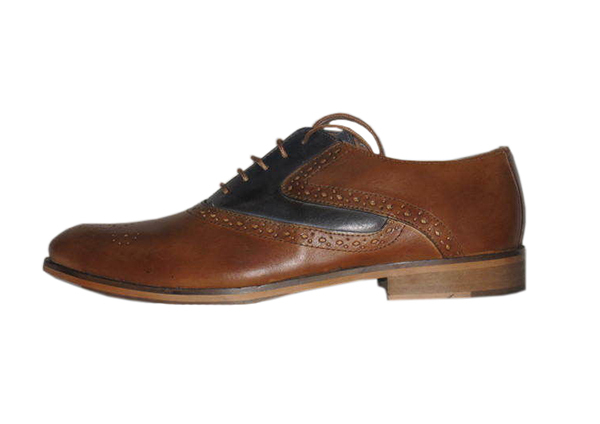 The Ben Sherman Plectrum Remus brogue is an updated version of the classic outdoor shoe. It is handmade in Italy from premium leather and features bi-colour uppers for a modern effect. It has perforated details on the side panels and toe box. It has a real leather sole, closed-lace construction, and Ben Sherman branding on the insole.
---
| | |
| --- | --- |
| 5 | Loake Cannon Monk Strap Shoe |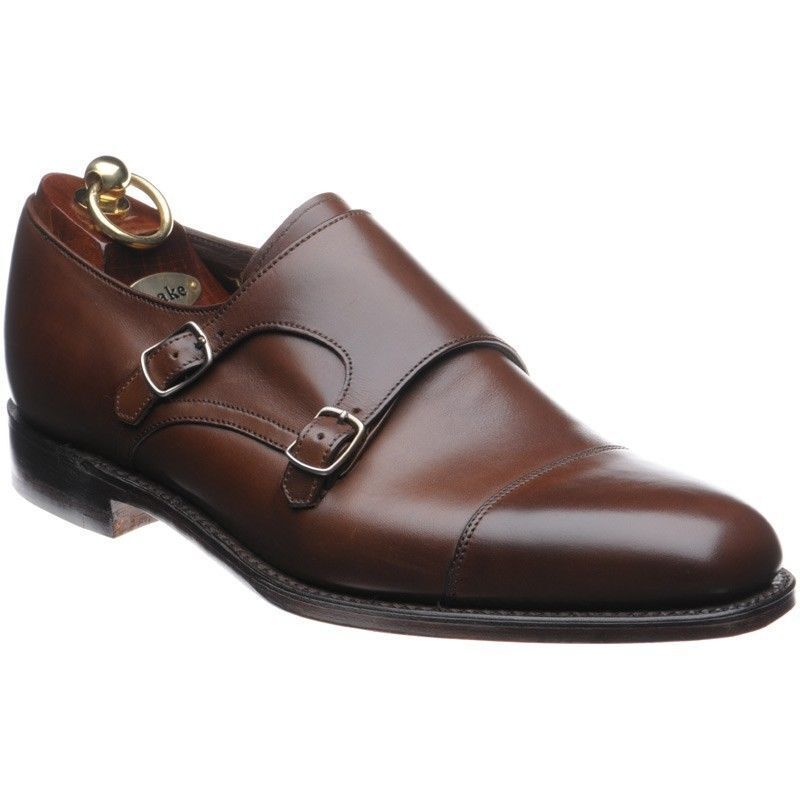 The Loake Cannon monk men's strap shoe is a sleek and stylish double monk style manufactured in England. It is part of the Loake Premium Collection and is made of premium calf leather. It has a leather insole and lining, and Goodyear Welted leather soles.
---
| | |
| --- | --- |
| 6 | Church's Chetwynd Brogue |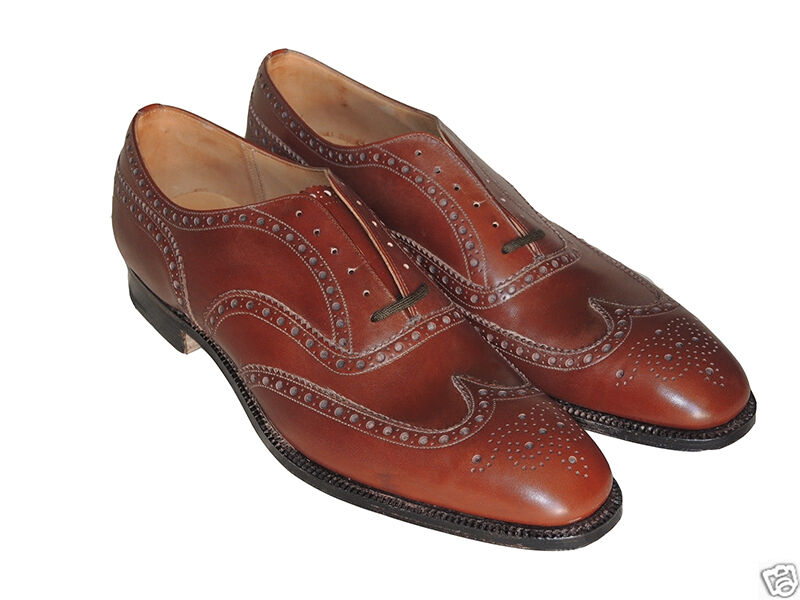 Church's Chetwynd brogue-style ankle boot features perforated patterns on the toecap, a quarter stiffener, and a quarter lining. It has a leather sole, with a hand-stitched welt and Goodyear construction. The shoes feature hand-wax leather. The manufacturer checks the quality of the leather and chooses only the best parts of the hides for the cutting area. The shoe also comes with special foam inserted between the leather sock and insole to make it more comfortable. Each shoe is identifiable and unique, and bears the size, fit, last, quality control number, date, and style name handwritten on the inside of the upper in Church's calligraphy style.
---
| | |
| --- | --- |
| 7 | New & Lingwood Full Saddle Loafer |
New & Lingwood formal shoes are made in England and are fully leather-lined, with leather insoles. Each hand-stitched shoe has a welted construction. This makes these loafers an excellent investment, as repairs are relatively simple, so the wearer can have the sole replaced if required. The Full Saddle Loafer, made of calf leather, is part of the Classic range.
---
The Grenson Tom shoe is a soft and unlined semi brogue suitable for formal and smart casual to casual wear. It forms part of the G-TWO range. The specifications of this range are not as high as the G-ZERO and G-ONE ranges. Like all Grenson shoes, the Tom features Goodyear Welted construction. It is handmade in India according to British specifications and designs without compromising on quality. The Grenson Tom is more affordable than similar products.
---
How to Buy Formal Shoes for Men on eBay
eBay sellers offer a variety of formal shoes for men. To find what you need, simply type keywords, for example, " leather men's formal shoes", into the search field found on every page. If you enjoy browsing, then read through the listings available. Alternatively, refine your results by choosing the most suitable category filters. Good quality formal shoes for men are elegant and finish off an outfit. Buyers should look for Goodyear Welted construction to extend the life of the shoes. This construction allows for easy repairs as the need arises.