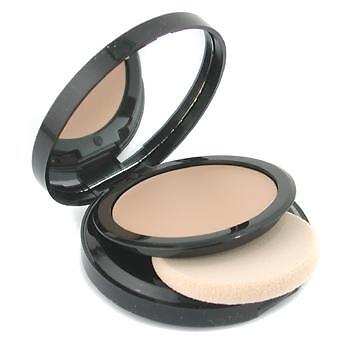 Once women enter their 30s and 40s, they begin to lose moisture in their skin as the aging process sets in. It is best to use a foundation that is specifically meant for women over 40 in order to get all of the features to keep aging skin looking tight, beautiful, and moisturised. Women should also look for foundations that offer things such as sun protection and anti-wrinkle ingredients to erase and eliminate fine lines and wrinkles.
There are some popular brands of foundations which are perfect for women of this age group who are concerned with finding age-defying foundations, as well as foundations which offer the moisture and protection that over-40 skin needs. Foundation needs to offer coverage, lift, and plenty of hydration along with sun and aging protection. Select the best foundation to fit these needs from a wide array of noteworthy brands that are found on eBay to fit every woman's foundation desires.
Foundation 1: Elizabeth Arden Intervene
Elizabeth Arden makes a foundation specifically for women who have concerns about aging skin, called Intervene. This foundation offers a sun protection factor (SPF) of 15, and the formula helps delay the signs of aging, such as fine lines. Elizabeth Arden Intervene foundation also offers a light but flawless coverage as well as a soft finish which does not look too heavy.
Full coverage goes on easily and smoothly, and there are many colours available to choose from, so buyers can match their exact skin tone perfectly. Intervene foundation has been highly rated as one of the best foundations for sensitive and aging skin, and it also includes vitamin C and E for moisture and antioxidants, which make skin less susceptible to environmental hazards. It is also good for women with allergies and sensitive skin, as it offers a non-comedogenic formula.
Foundation 2: Avon Anew Age-Transforming Foundation
One of Avon Anew's best selling products is Age-Transforming Foundation. It contains a formula that is meant to minimise lines as well as dark aging spots, tighten pores, and even improve the skin's overall texture and look. For women who have uneven skin tones, this is a good option. It also provides the wearers with full coverage makeup which leaves a glowing, radiant, and smooth finish.
This foundation comes in many shades within four shade groups which include light, light/medium, medium, and deep, to encompass all types of skin tones. It is also affordable, and keeps skin looking firm and youthful. Its sheer formula works to ensure consumers do not get that heavy makeup feeling, but provides a full coverage foundation that feels extremely light on the face.
Foundation 3: Cover Girl Simply Ageless Foundation + Anti-Aging Serum
This combination formula provides the wearers with a foundation that has a light texture and is easy to apply smoothly. This formula keeps the skin looking vibrant, and keeps it moisturised to prevent wrinkles, as well as makes the skin feel more elastic. This product is a combination of Cover Girl foundation and Olay Regenerist Serum to give the wearers the best of both worlds.
Full coverage Cover Girl Simply Ageless Foundation smoothes over fine lines instead of settling into them and making them look deeper. Studies have shown it improves the overall tightness and clarity of skin after only four weeks of use.
Foundation 4: Revlon Age Defying Foundation
Women can fight all of the signs of aging with Revlon Age Defying Foundation. This foundation includes a sun protection factor of 20 and special, soothing ingredients that combine to hydrate and moisturise skin while reducing the appearance of lines and wrinkles. Studies show that users have seen a significant improvement in skin's texture within two weeks of use.
The creamy, full coverage foundation creates a flawless and youthful canvas for other makeup to go over easily. This is an award-winning "DNA Advantage" formula which uses ingredients such as collagen and elastin to keep skin firm and to keep repairing itself, even after being exposed to harmful UV rays.
Foundation 5: Maybelline Instant Age Rewind Foundation
Maybelline Instant Age Rewind comes in two formats: a cream compact foundation and a pump liquid foundation. Maybelline offers consumers many wearable shades to ensure a flawless match. The formula includes goji berry and caffeine to firm and tighten skin and improve skin's texture and tone. It also has an SPF of 18 to prevent UV rays from damaging the skin.
Anti-age protection includes micro technology which helps fill in lines and wrinkles, and essentially erase wrinkles around the eyes and nose and reduce the look of age spots on the skin. It has been clinically proven, and it is a great anti-aging foundation for an affordable price.
Foundation 6: Almay Smart Shade Anti-Aging Makeup
Women with sensitive skin may want to give Almay foundation a try. Its non-comedogenic formulas are perfect for women with allergies or dry skin, too. Almay Smart Shade Anti-Aging Makeup provides the wearers with instant diminishing of wrinkles and fine lines, as well as the amazing technology that allows the foundation to custom blend to the skin of the wearers upon application.
This foundation provides the perfect colour match along with age-defying ingredients which create vibrant, radiant skin. It also includes sun protection and does not go on too thick or cakey. The finish is natural, and it is easy to blend to cover any problem areas that women have such as age spots or other blemishes and imperfections. It is also long lasting, has a matte finish, and is non-oily which helps with keeping pores unclogged.
Foundation 7: Boots No.7 Lifting and Firming Foundation
Boots No.7 Lifting and Firming Foundation uses another common anti-aging ingredient, peptides, to keep skin looking younger and firmer. It offers a sun protection factor of 15, and it includes a lot of natural vitamins as well as algae and seaweed extract to create a young looking face. This foundation was created specifically for mature and aging skin, and targets the issues that women over 40 are concerned about, such as age lines and wrinkles.
It is a light formula that goes on smooth and sheer. It also offers maximum coverage without the weight of a full foundation, and offers a range to match every skin tone, including women who have a hard time finding matching foundations.
Foundation 8: L'Oreal Visible Lift Foundation
Coverage coupled with a strong anti-aging formula is what L'Oreal Visible Lift offers consumers. This foundation actually reverses the first signs of the aging process, and creates more youthful looking skin in a matter of weeks. This foundation is also good for women with dryer skin, because it includes a built-in moisturising serum to hydrate skin. The sun protection factor is 17, and it repairs sun damage too.
Visible Lift Foundation is also appropriate for women with sensitive skin. It includes a medium coverage makeup with vitamins which help the tone of an uneven complexion look smoother. It also injects the skin with ingredients that continue to fight aging signs even after the foundation is removed.
How to Buy Foundation for Women Over 40 on eBay
There are many types of foundation available on eBay, and when it comes to buying foundation for mature skin, it helps to know which brand you are looking for. If you are looking for a certain foundation, find the user-friendly search bar on the home page or any internal page, and key in the search you desire. A good example is "Revlon Age Defying Foundation", or you can navigate to "foundations" and simply browse what is available until you find something that catches your eye.
Read the seller's description of the foundation carefully to make sure it what you want, and see what else comes with the foundation, if anything. Some sellers include foundation brushes or sponges for a reduced shipping rate. Contact the seller directly to ask specific questions about the foundation by clicking the "Ask A Question" button on the seller's page. Ensure you are getting the best experience available on eBay when you shop with merchants who are Top-rated sellers and who have excellent feedback from previous buyers who have been satisfied by past transactions.
Conclusion
As women age, concerns about wrinkles, crow's feet, smile lines, and age spots begin to appear along with the actual signs of aging itself. Diminish these concerns with the right foundation that is specifically created for older skin, giving it the nourishment, moisture, and protection it needs to stay youthful looking and vibrant over time. Some foundations work to reverse the signs of aging while tightening pores and creating a smooth, flawless complexion which is free of blemishes and deep wrinkles.
Anti-aging foundations contain ingredients such as collagen and peptides that have been shown to reduce lines and wrinkles, as well as give skin a more even texture and vibrancy over the course of a few weeks with continued use. Extra vitamins and moisturisers along with oil-free formulas for women with sensitive skin combine to create an amazing experience for women looking for an anti-aging makeup which suits their every need. Consumers should select the right foundation based on budget, skin tone and type, specific needs, and which features they are most interested in, along with moisturising and sun protection.