Wedding gowns
come in all shades, shapes, and sizes. Some of the most popular silhouettes include the mermaid or trumpet dress, which skims the body and ends in a flare at the bottom, and the ball gown, which includes a large, oversized skirt full of tulle. There are many well-known wedding gown brands, including Alfred Angelo and Mori Lee. Each type of gown has its own distinctive and elegant details, like hand-sewn beads, sequins, lace, and a train. Choosing a wedding gown is overwhelming, so buyers should sort through some of the top eight gowns before deciding on their dream dress.
| | |
| --- | --- |
| 1 | Alfred Angelo Strapless A-Line Wedding Dress |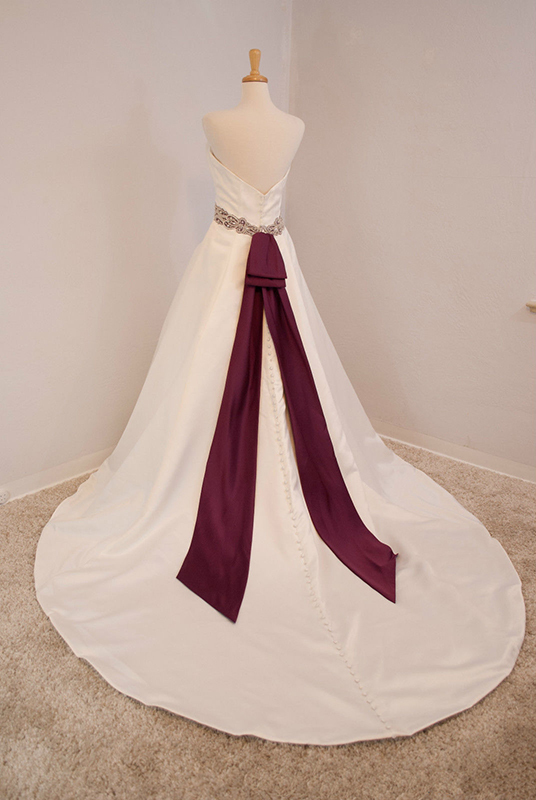 Beloved brand Alfred Angelo brings brides a simple and timeless design: the Alfred Angelo strapless A-Line wedding dress. Made of premium materials such as genuine silk, taffeta, satin, and tulle, Alfred Angelo gowns come in a variety of styles. The A-line style is flattering for every body type. It cinches at the waist and flares out into a dramatic skirt to create an hourglass look. Alfred Angelo strapless dresses come in floor-length styles, and there are dresses with sweetheart or traditional necklines. Added beads, ruching, and lace provide sophistication to the dresses.
---
| | |
| --- | --- |
| 2 | Maggie Sottero Mermaid Gown |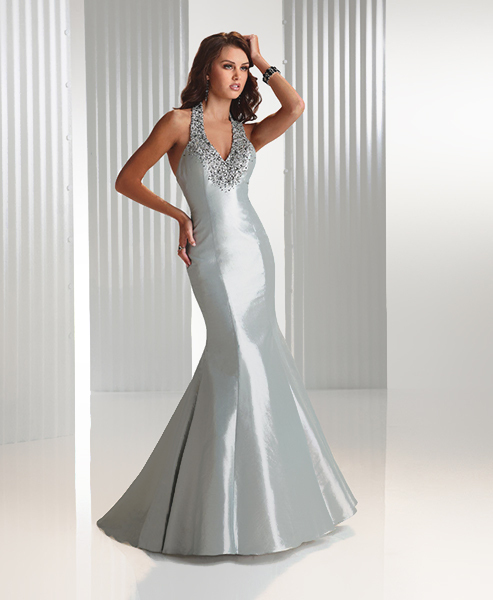 A gown that creates a curve hugging shape, the Maggie Sottero mermaid gown highlights and flatters a woman's natural curves. Available in halter, one shoulder, and strapless styles, the trumpet-style gown features a slim fitting bodice and a flared skirt. With sophisticated details like jewelled waist embellishments, tulle skirts, or lace overlays, Maggie Sottero gowns are glamourous and elegant. There are also trumpet style gowns with tiered skirts for added beauty at the bottom of the dresses, along with extended trains.
---
| | |
| --- | --- |
| 3 | Amanda Wyatt Sheath Dress |
Dresses by Amanda Wyatt offer a classic look and feminine elegance. The column dress, also called a sheath dress, is a body-skimming gown which offers a streamlined look. Some sheath dresses have lace-up backs, while others have button or zipper closures. Column dresses come in many materials such as soft chiffon or shiny satin. Sheath dresses fit tight but offer a bit of give around the legs for flattering, flared-skirt bottoms. Sheath dresses offer strapless designs with sweetheart necklines, or romantic halter necklines. Boning in the bodice creates a shapely fit.
---
| | |
| --- | --- |
| 4 | Benjamin Roberts Ivory Wedding Dress |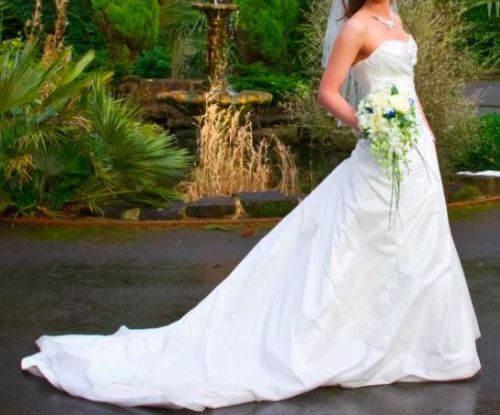 Made in a variety of designs and styles, the Benjamin Roberts wedding dress line contains popular ivory-coloured wedding dresses. Benjamin Roberts dresses come in a multitude of stylish options, such as A-line gowns, full ball gowns, and mermaid styles. Trendy styles and classic designs combine to make detailed dresses, such as sophisticated tiered ball gowns and crystal embellished gowns. Simple styles like sleek column dresses or full tulle gowns offer consumers many ivory options for the big day. Made with premium materials such as organza and tulle, Benjamin Roberts gowns fit perfectly.
---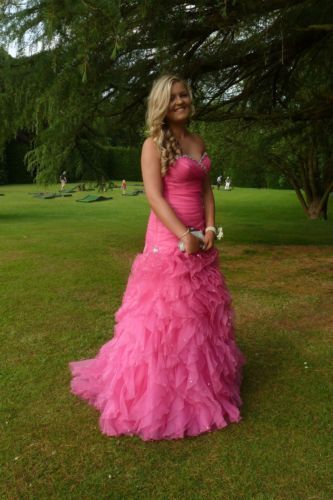 Designer Mori Lee offers wedding gowns which are not simply traditional dresses; Mori Lee ball gowns offer deluxe drama and unique designs for brides who want something a little different for their wedding day. From fully beaded bodices to shimmering crystal belts, Mori Lee dresses include small accents that make them stand out. Ball gowns include one-of-a-kind styles such as flowing lace skirts with bows and pearls, or stand-out tiered princess skirts for a true fairytale look. Ball gowns with corsets offer a figure flattering fit, and ribbon belts accentuate the waist and add a pop of colour, such as pink.
---
| | |
| --- | --- |
| 6 | Nicholas Millington Tiered Wedding Dress |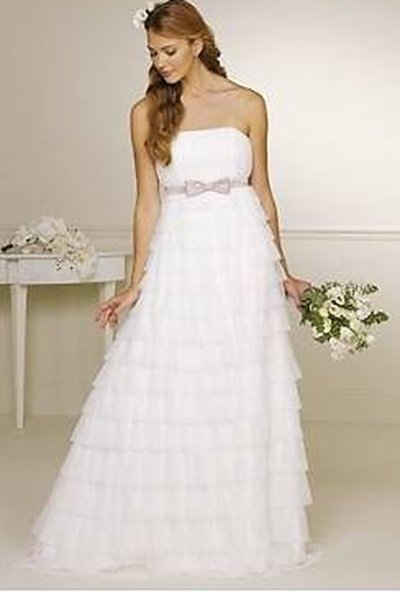 Beautiful and charming, the Nicholas Millington tiered wedding dress is enchanting. Nicholas Millington creates dreamlike wedding dresses using superior lace, tulle, and satin. Sweet details like lace-up backs and ribbon belts add eye-catching embellishments to gowns. Tiered wedding dresses come in a few designs, such as ball gowns, column dresses, and short, tea-length dresses for the less formal brides. Some strapless designs include removable straps, and Nicholas Millington gowns offer affordable glamour for budget-minded brides.
---
| | |
| --- | --- |
| 7 | Pronovias Strapless A-Line Gown |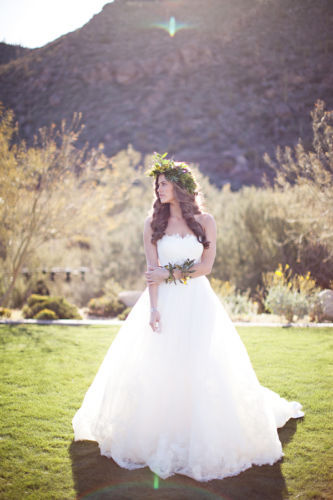 Made with luxury in mind, Pronovias gowns offer elegance and high quality along with many styles. One of the most popular designs is the strapless A-line dress, which combines the traditional design of an A-line gown with the elegance of Pronovias detailing, such as waist ruching for a slimmer silhouette, lace-up corset back designs, and dramatic layers for a full-skirted look. Made of satin, lace, and tulle, Pronovias A-line gowns offer additional touches like full-length trains, crystal embellishments, and matching veils.
---
| | |
| --- | --- |
| 8 | Justin Alexander Strapless Ball Gown |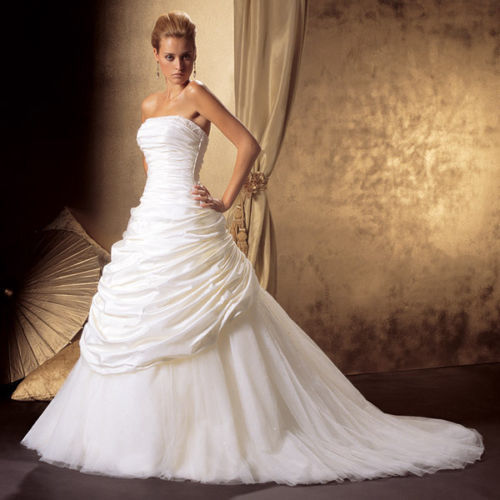 Lavish and dramatic, Justin Alexander gowns exude movie-star elegance. Made with various fabrics such as satin and silk, the Justin Alexander ball gown comes in many colours and styles, including pale pink and ivory. Ball gowns offer tight fitting bodices and full, flared skirts made of soft tulle. The princess style ball gowns offer brides boned bodices for the perfect, flattering fit, and some dresses include rhinestone crystals along the bodices and necklines, and adjustable, extendable trains. Flattering sweetheart necklines and lace-up backs make the ball gowns even more striking.
---
How to Buy Wedding Gowns on eBay
Skip pricy bridal boutiques and opt for a stylish and gorgeous wedding dress from
eBay
. Find the dress of your dreams by searching brands you love, such as "Pronovias", and then filter the results by style, such as A-line gown or ball gown. If you decide to purchase a used wedding gown, contact the seller to discuss the condition of the dress, especially if the original owner altered the dress. You may only wear your wedding dress one time, but it is one of the most pivotal and important moments of your life. You should fall in love with your dress, and it should complement your curves and your colouring. Once you find your dress, purchase
accessories
to finish the look.