A jumper adds warmth and style to outfits for boys. Jumpers come in many different forms including
hoodies
, pullovers, and
cardigans
and finding the right one is not always easy. Made from many different materials and with various designs, it is important to find a jumper that is not only fashionable, but comfortable as well. By learning about some of the top jumpers available, selecting the one that works best is less of a hassle. When it comes to choosing the perfect jumper, buyers can shop at traditional retail clothing shops or they can shop online at eBay to find a large selection at affordable prices.
| | |
| --- | --- |
| 1 | Bluezoo Boy's Striped Knitted Jumper |
The Bluezoo striped knitted jumper gives any ensemble a funky touch. The jumper features horizontal stripes in different colours along with ribbed trims for an added touch of style. Made from 100 per cent cotton, the jumper offers durability while providing a comfortable fit. It pairs well with both jeans and trousers, making it ideal for both casual and school wear.
---
| | |
| --- | --- |
| 2 | Febress Blue Peruvian Wool Jumper |
The Febress Blue Peruvian wool jumper easily spruces up any wardrobe. Constructed from quality wool, the jumper provides superior comfort, warmth, and style. It is available for purchase in pre-made or custom sizes. Along with blue, the jumper also comes in beige for those looking for additional colours.
---
| | |
| --- | --- |
| 3 | Ralph Lauren Classic Cable-Knit Crewneck |
Made from 100 per cent cotton, the Ralph Lauren classic cable-knit crewneck provides exceptional comfort and warmth. The jumper has long sleeves complete with turn-back cuffs and a ribbed hem for added style. Along with two buttons that adorn the left shoulder, the jumper has the signature Ralph Lauren logo on the chest.
---
| | |
| --- | --- |
| 4 | Nike Boys Swoosh Performance Pullover Hoodie |
The Nike Boys Swoosh performance pullover hoodie offers a sporty look and pairs well with both jeans and trousers. Constructed from 100 per cent polyester, the hoodie offers lasting comfort and durability. Available in many different colours, such as black and red, the hoodie also features the popular Nike Swoosh logo on the front. A wide array of sizes starting with six to eight years is also available.
---
| | |
| --- | --- |
| 5 | Ralph Lauren V-Neck Pony Jumper |
Made from 100 per cent merino wool, the Ralph Lauren V-Neck Pony jumper gives any outfit an added touch of style. Constructed with quality and comfort in mind, the jumper has a deep V-neckline and ribbed cuffs for an excellent fit. Available in various colours, such as red and navy, the jumper features a coordinating pony accent on the left side of the chest.
---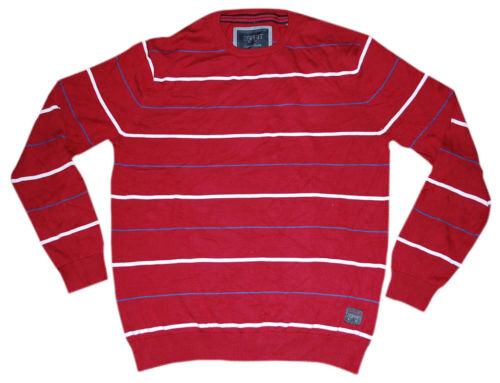 The Esprit cotton jumper offers a casual style while allowing the wearer to remain comfortable. Made from 100 per cent cotton, the round neck jumper is ideal for both work and play. The grey jumper features blue and black stripes on the neck, bottom, and sleeves for an added touch of colour. Available in both toddler and older boy sizes, the jumper easily complements both jeans and trousers.
---
| | |
| --- | --- |
| 7 | DC Kids Star Zip-Up Hoodie (Big Kids) |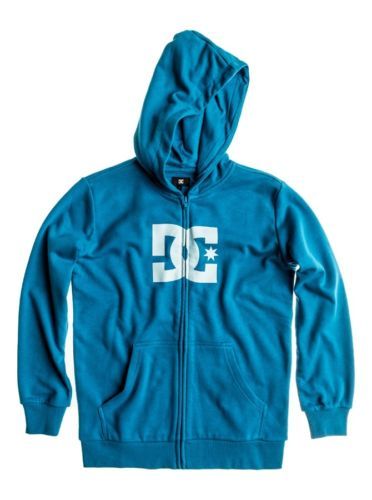 The DC Kids Star zip-up hoodie features a classic over-sized design that adds style to any outfit. The full zip-up closure allows for easy on and off and the pocket in front adds functionality. With elasticated cuffs, the hoodie provides a superior fit. Made from cotton and polyester materials, the hoodie offers both warmth and comfort while allowing the wearer to remain fashionable. A fun graphic also adorns the hoodie.
---
| | |
| --- | --- |
| 8 | Tommy Hilfiger Zip Cardigan |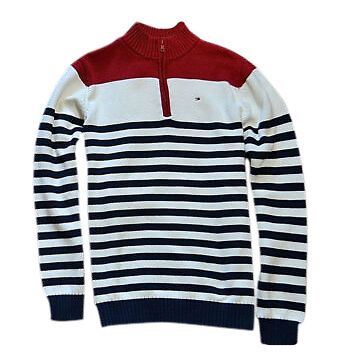 The Tommy Hilfiger zip cardigan is an excellent choice for pairing with jeans or trousers. Made from quality wool and nylon materials, the cardigan offers not only lasting comfort, but durability as well. The cardigan is navy in colour and features a unique design for added style. With a full zipper for easy on and off, the cardigan is ideal for chilly or cold days and wears well over a variety of different tops. Sizes start at eight years and go up to 16 years.
---
How to Buy Jumpers for Boys on eBay
Finding a boy's jumper that offers comfort and style does not have to be challenging. By shopping online at eBay, the selection process is simple. With the ability to narrow down your search results by size, condition, and brand, choosing the right one is hassle-free. When you find the product that you want to buy, make sure it is from a top-rated seller, as this improves the buying experience. By learning about some of the top jumpers available, you can decide which is right for the boy in your life. From hoodies to cardigans, there are many jumpers that make versatile additions to any wardrobe.