When it comes to home décor and interior design, finding furniture that matches the existing setup is important. In addition, with the vintage look fad coming and going, even modern designs have picked up elements of the vintage look.
Bar stools
are no exceptions to this rule, as modern bar stools have retained vintage elements, such as
leather seats
. However, these vintage elements are not the only defining trait of a modern bar stool; clean colours and a minimalist design are also play a large part in making a modern bar stool what it is. With a bit of research and perceptive shopping, anyone can find the right modern bar stool for his or her home.
The Felix White barstool is a great example of a top-quality modern bar stool. It features a very simplistic and minimal design, with a simple colour scheme and chrome legs, making it versatile in that it works well with many other home décor pieces. Because of the chrome leg design, it also gives off a slight 1950s feel to it, perfectly showcasing the modern bar stool's characteristics of retaining a retro, vintage look.
---
| | |
| --- | --- |
| 2 | Baxter Studio Modern Aries |
The Baxter Studio Modern Aries is a modern barstool with a classic feel. Featuring a stainless steel footrest, wooden frame, nail head trim, and faux leather seat, the Baxter Studio Modern Aries bar stool blends both modern and vintage design to create a unique, and highly attractive bar stool.
---
| | |
| --- | --- |
| 3 | Lumi Source Swizzle Barstool |
The Lumi Source Swizzle barstool definitely has the characteristics of a modern bar stool. It features a chrome base, stainless steel footrest, and a hydraulic lever that allows the user to adjust the height of the stool. In addition, it also features a low-riding backrest, a feature not typically common in bar stools.
---
| | |
| --- | --- |
| 4 | Zuo Fly White Chrome Stool |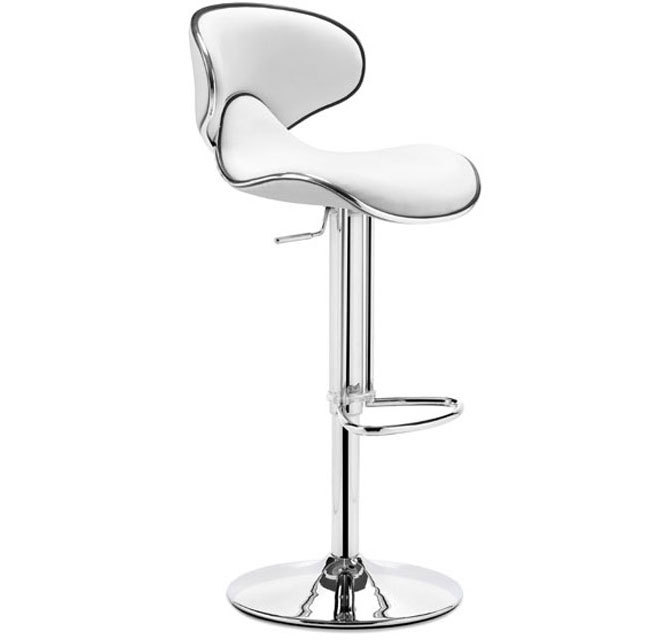 Perhaps one of the most advanced and comfortable bar stools available, the Zuo Fly White Chrome stool is as modern as it gets. It features a comfortable, cushioned, high-back seat, a hydraulic lever for adjusting the height of the stool, and a chrome base with footrest.
---
| | |
| --- | --- |
| 5 | Calligaris Jam Counter Stool |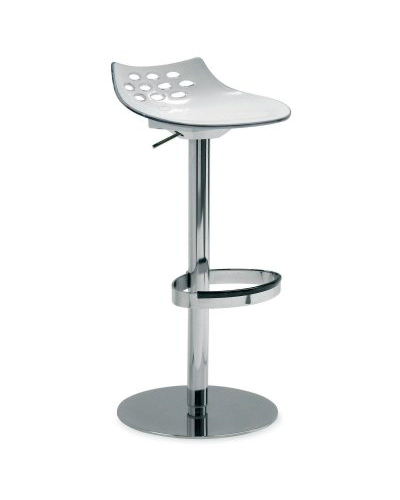 The Calligaris Jam Counter Stool is another highly modern, fashionable, and functional bar stool. It features a chrome frame and seat, a footrest that does not go all the way around the frame of the stool, and is optimal for use both indoors and outdoors.
---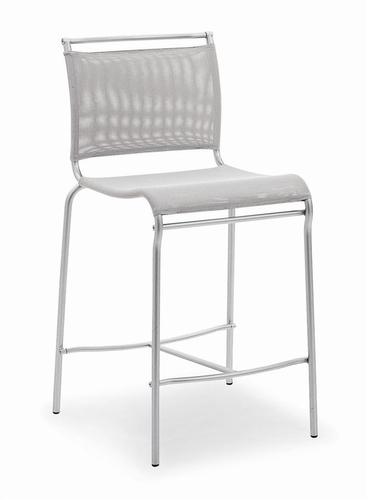 The Calligaris Air Stool is a highly functional modern bar stool that works great in an outdoor environment, as well as an indoor one. It features a hollow steel frame, making it both easy to move and is highly durable. It has an armless design, and yet also provides support, as it sports a full, metal back.
---
| | |
| --- | --- |
| 7 | Sunpan Modern Rockwell Faux Leather Modern Barstool |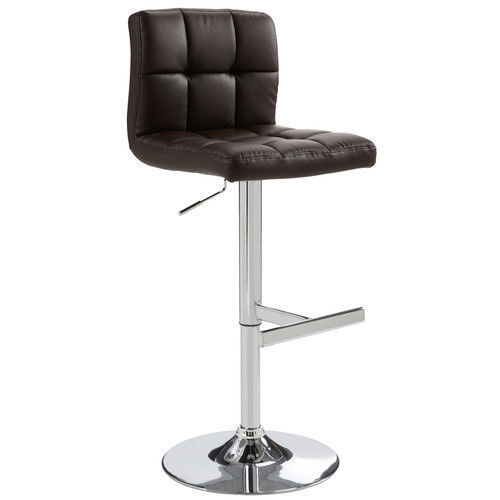 The Sunpan Modern Rockwell Faux Leather modern barstool is a highly attractive and desirable stool that does a great job at blending modern and vintage design elements. It features a faux leather seat, with full back, and also features a stainless steel base, metal footrest, and hydraulic lever for adjusting the height of the seat.
---
| | |
| --- | --- |
| 8 | Christopher Knight Home Milano Ivory Quilted Bonded Leather Bar Stool |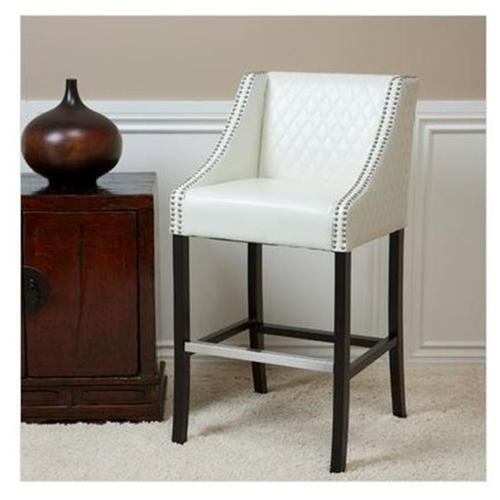 One of the most classy and elegant modern bar stools available, the Christopher Knight Home Milano Ivory Quilted Bonded Leather barstool features an ivory backrest, with a sewn in diamond pattern in the ivory, as well as a wooden frame with an elegant, espresso wood finish.
---
Compare Features Before Purchasing a Barstool
When deciding on which modern bar stool is the right bar stool, it is important to compare the key features of each stool. Be sure to note the material of the frame, as well as the type of frame the bar stool utilises. For some people, a bar stool with a back rest is the optimal choice, while others may seek a bar stool that has the ability to adjust to varying heights; these are all important features that the consumer should take into consideration.

How to Buy Modern Bar Stools on eBay
When it comes to buying bar stools, a great place to find great deals and a large variety is eBay. You can simply enter the keywords "bar stool" into the search bar for a list of available items on the website. You may also further refine your search results by entering specific keywords, or by browsing through the website's different categories. There is a wide selection of different types of bar stools available. Amongst the modern bar stools, the best typically feature vintage design elements, as well as other features that add to overall functionality. With a bit of shopping, anyone can find the perfect stool to compliment his or her decor.