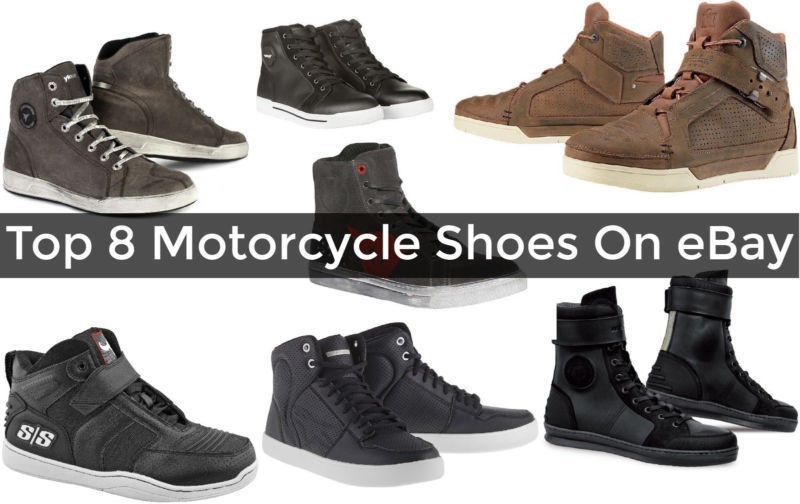 Motorcycle shoes are designed to offer a combination of protection and everyday wear-ability - anyone who's tried walking a significant distance in a pair of proper motorcycle boots will know how hard it is, and you often end up hobbling along on your heels.
Although motorcycle shoes don't offer the same excellent levels of protection as full armoured boots - they do typically offer polycarbonate toe and ankle protection, along with increased levels of impact and abrasion protection.
Standard shoes offer none of these additional elements, and people often seriously underestimate how valuable protection is even for low speed urban commuters. Although you'd be well advised to make sure you have a proper pair of armoured boots for high speed or track riding, these shoes offer an excellent compromise between urban usability and safety.
The added benefit of all of these designs is that non-riders will never know they're actually designed for motorcyclists. The shoes have all been designed to blend in and look like modern street wear - so you won't be left wandering around the city in bright neon Power Ranger boots.
ICON 1000 Truant Boot
These hi-tops by Icon are a great example of motorcycle footwear that look like modern street wear. They're comfortable even for days when you're walking more than riding and they have a full grain leather upper, an axialmetric steel shank, internal ankle protection, a low-profile lacing system, and a reinforced toe box.
Click here
to see the eBay listings.
Dainese Street Biker Air Shoes
These shoes by Italian brand Dainese have been proving very popular, they're available in a number of different colour palettes and offer nylon inserts on ankles, high tenacity fabric inserts, reflective inserts, and a cowhide suede upper.
Click here
to see the eBay listings.
Alpinestars Anaheim Shoes
These Alpinestars shoes offer classic '90s basketball styling with an upper construction of lightweight microfibre material, with TPU dual density MX ankle protectors built in, internal reinforcement at the toe box and heel counter, and a rubber sole.
Click here
to see the eBay listings.
Fly M16 Waterproof Riding Shoes
This understated pair of shoes by Fly offers some of the best weather protection in this list; they have a leather upper with a breathable waterproof membrane, a crush resistant sole, a composite shank that isolates your foot from engine vibrations, dual density ankle protectors, and toe and heel box reinforcements.
Click here
to see the eBay listings.
SIDI Insider Riding Shoes
The SIDI Insider Riding Shoes have an upper leather that's been distressed to give it a vintage look, it also has reinforced toe and malleolus regions, a moulded removable insole, and a rubber sole.
Click here
to see the eBay listings.
Stylmartin Marshall Shoes
Stylmartin is an Italian company that specialise in making classically styled motorcycle footwear and gear. These shoes are their most modern offering, they have a water repellent leather upper with a waterproof lining, internal ankle protection on both sides, a leather gear shift protector, and a removable anatomic foot bed.
Click here
to see the eBay listings.
REV'IT! Fairfax Shoes
The Fairfax is probably the most stylish of all the shoes here, they look exactly like the kind of thing you'd find on the feet of designers at NY Fashion Week but they have a thermoformed heel cup, a thermoformed toe cap, a reinforced heel, a reinforced toe, a gusseted tongue, and importantly - a closure strap to ensure they don't come off unless you want them to.
Click here
to see the eBay listings.
Speed and Strength Run With The Bulls 2.0 Shoes
These shoes by Speed and Strength have classic styling that combines the best of both basketball and skate shoes, with a perforated leather and textile upper, engineered external PU protectors, an anti-slip rubber outsole, toe and ankle reinforcements, and moulded ankle protectors.
Click here
to see the eBay listings.