Toys can keep a baby amused in a
pram
, which leads to a content baby and a more enjoyable time away from home. When choosing pram toys, it is important to consider toys that baby can play with independently, as that allows the parent or caretaker to push the pram and take care of other business without fussing about the product. These toys should also help a baby explore and learn; therefore, it is important to take into account a baby's developmental age when choosing a
baby toy
. Buyers would do well to consider these top 8 products when looking for a toy to keep baby amused in a pram.
| | |
| --- | --- |
| 1 | Lamaze Play and Grow Logan the Lion |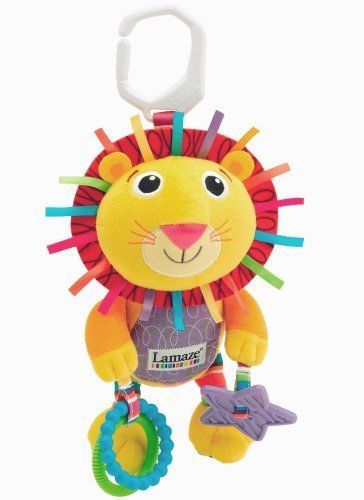 The Lamaze Play and Grow Logan the Lion features bright solid colours and bright patterns to stimulate a baby's eye development. This Lamaze toy also contains a host of different textures to stimulate development of baby's sense of touch and the crinkling fabric helps to stimulate the baby's sense of hearing.
---
| | |
| --- | --- |
| 2 | Bright Starts Start Your Senses Shake, Rattle, and Swim |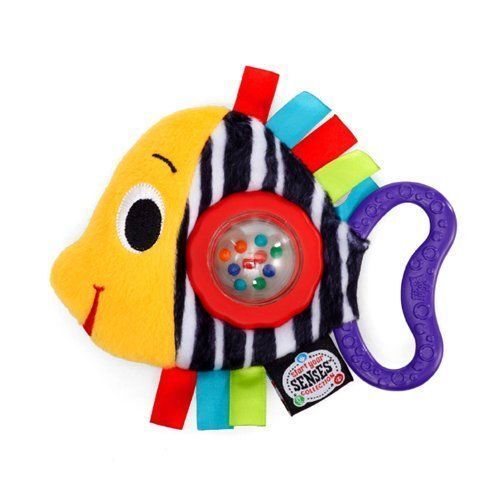 The Bright Starts Start Your Senses Shake, Rattle, and Swim toy is a brightly coloured, plush fish rattle with many different textures for baby to experience. The fish has a round enclosure with balls in the middle for baby to listen to as he or she shakes the rattle fish by the tail handle with multiple textures.
---
| | |
| --- | --- |
| 3 | Baby Einstein Take Along Tunes |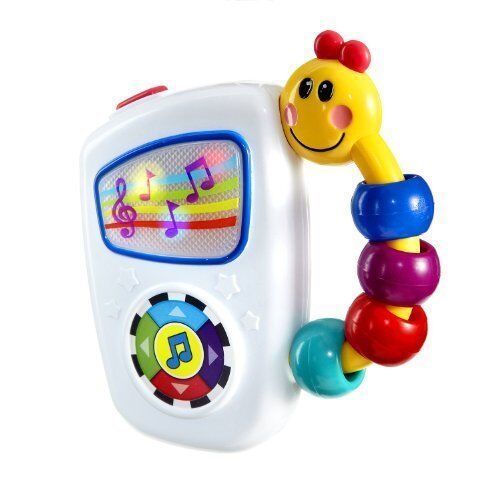 Baby Einstein Take Along Tunes has seven classical melodies in store for baby to listen to. The white, rectangular player has a large easy-to-grip caterpillar handle with four large beads that baby can move up and down. This Baby Einstein toy features a small screen with colourful musical notes that light up in sync to the music.
---
| | |
| --- | --- |
| 4 | Tiny Love Clip and Go Musical Mobile |
The Clip and Go Musical Mobile from Tiny Love has a large crocodile clip, so it easily attaches to the pram. This Tiny Love mobile spin features a brightly coloured monkey, lion, and crocodile rotate in a circle that baby can watch while listening to five different tunes.
---
| | |
| --- | --- |
| 5 | Taf Toys Clip-On Pram Book |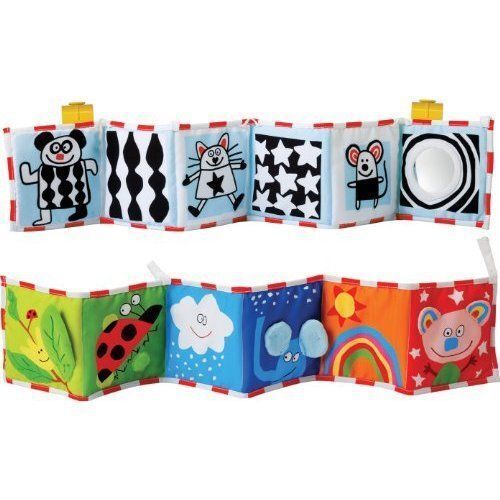 The Taf Toys Clip-On Pram Book has a monochrome blue background with mostly black and white designs on one side and brightly coloured backgrounds and designs on the other side, so babies can enjoy it from birth when they see everything in black and white to when they can distinguish colours. The cloth book has many different textures with some that crinkle to excite baby's senses of touch and hearing. Parents can attach the clip-on pram book with its large Velcro straps.
---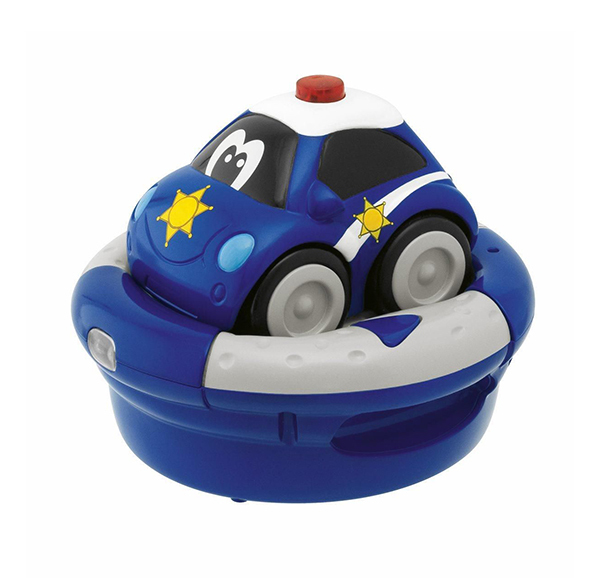 The Chico Baby Driver allows baby to grasp a soft cloth covered steering wheel and pretend to drive their pram. The baby can turn a key and hear the sound of an engine starting. Turning the pages of the book located on the steering wheel activates sound effects of police cars and fire engines as well as flashing lights. When baby turns the steering wheel toy, different tunes play.
---
| | |
| --- | --- |
| 7 | Rainbow Designs Very Hungry Caterpillar Developmental Toy |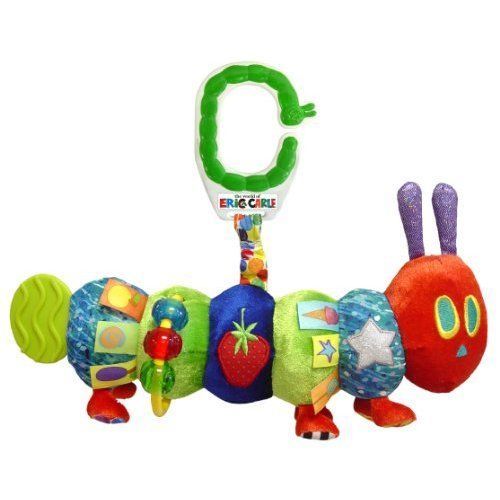 Babies can enjoy hearing Eric Carle's Very Hungry Caterpillar story and playing with Rainbow Design's Very Hungry Caterpillar toy. The 30-cm long caterpillar toy has a purple antenna made of crinkly, sparkly fabric, a squeaking strawberry on the body, and a bell on the head to thrill baby's senses of touch and hearing. Moreover, the caterpillar has a green plastic tail that is a teething aide.
---
| | |
| --- | --- |
| 8 | Fun Time Buggy Activity Centre |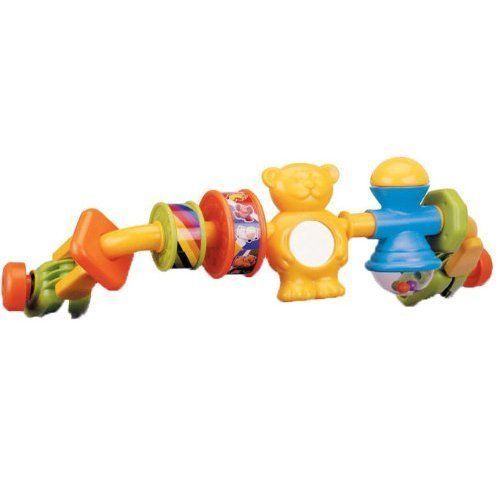 The Fun Time Buggy Activity Centre keeps a baby amused with the vast variety of activities it offers. With this versatile activity toy, baby can spin the teddy and catch a glimpse of themselves in the mirror on the teddy's stomach. He or she can also spin the wheels and watch as different animals spin by or squeeze the activity centre's squeaker to hear different sounds.
---
How to Buy Products to Keep Your Baby Amused in the Pram
Shoppers can find many pram toys to amuse baby and keep them distracted on
eBay
. A general search can begin with "
baby toy
" or "
baby pram toy
", and you can filter the results by price, brand, location, and other preferences. Or if you know exactly what you want, then type the product, such as "
Logan the Lion
", into the search bar. Also, be sure to check out who you are buying from and take into account the feedback score of the seller in question. As many people already know, eBay is a great place to find these top 8 products to keep baby entertained in the prams.