A belt buckle is a clasp on a belt, the main function of which is to fasten one end of the belt to the other. A belt buckle typically contains a curved or rectangular rim and one or more movable tongues. A belt buckle is not only a practical part, but can also convey the wearer's style and help to make a fashion statement.
Vintage belt buckles
add a touch of old school to any outfit and are especially suitable for costume parties. Such buckles come either with the original belt or separately. If the belt is too worn, it is also possible to remove the buckle and replace the belt. Such buckles are available from secondhand stores or on sites including eBay.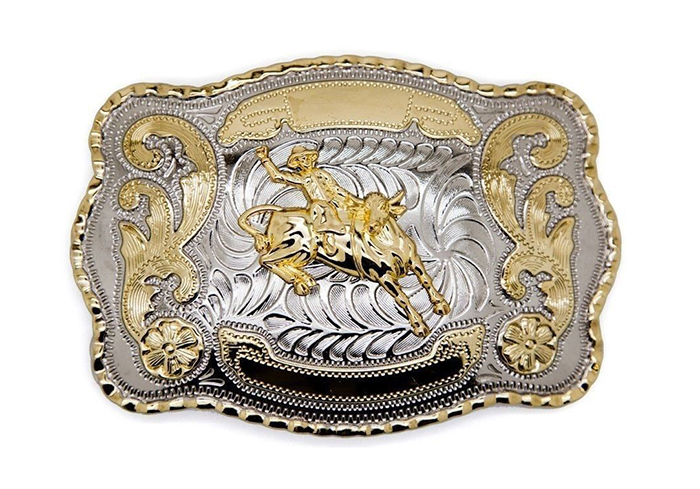 Western belt buckles tend to be quite large, and bear western symbols familiar from cowboy films and stories. Popular buckle images include the Confederate flag, buffalos, revolvers, cowboy hats, skulls, longhorns, steerheads, and sheriff stars. Basically, there are several options when it comes to creating a western style: dressing as one of the bad boys or girls, or dressing up like a lawman, namely, the sheriff. Silver and gold are the main colours on these metal belt buckles. Western belt buckles are relatively sturdy and durable.
---

Military belt buckles are practical in terms of the mechanism, the slider, that allows wearers to fasten and unfasten them quickly. However, other kinds of military belt buckles are also available. In any case, these buckles have the kind of shape that fits into tactical trousers. They have to be very secure to prevent them from accidentally unfastening. The main feature of such buckles is the special design on the metal plate. Often the buckle depicts some kind of military symbol or has engravings in the style of a dog tag. Fashion military belt buckles may feature names and images of famous battles.
---
| | |
| --- | --- |
| 3 | Collegiate Belt Buckles |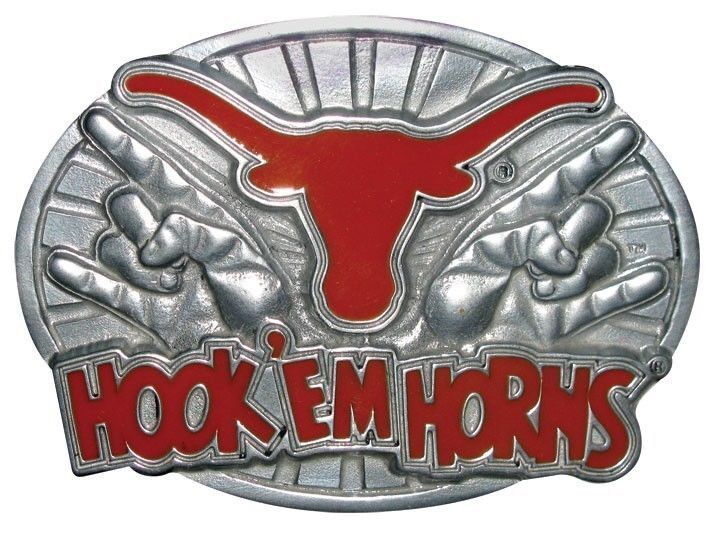 A collegiate belt buckles allows its wearer to show other people that he or she belongs to a certain college or school. Not all educational institutions have their own designs, but the biggest and most notable ones typically do. A vintage collegiate belt buckle is a good way to show support for a college, even for one that no longer exists.
---
| | |
| --- | --- |
| 4 | Music Industry Belt Buckles |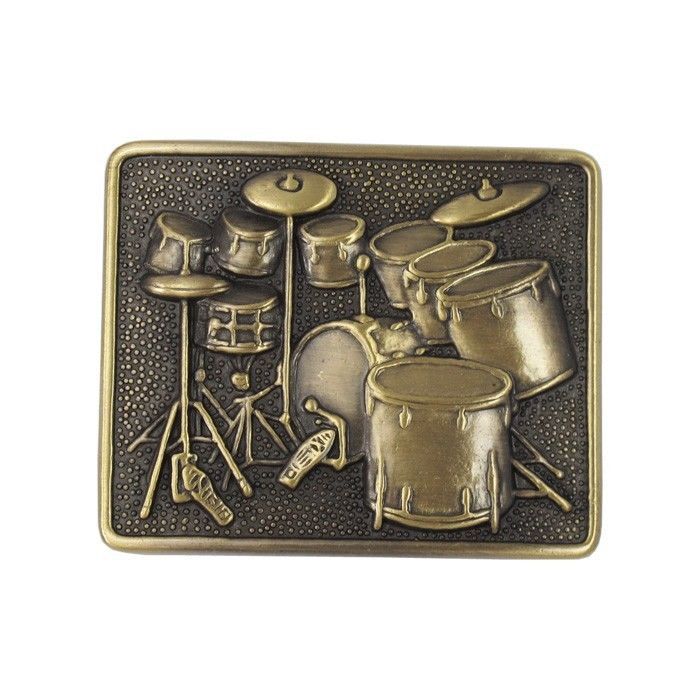 A music industry belt buckle allows the wearer to express interest in one or another musician or band. Available buckles in this category often feature famous names, such as Elvis, Jimi Hendrix, or the Beatles, but may also represent certain radio stations or record companies, as well as musical instruments or slogans ("Rock star", for example). All in all, music industry buckles show off the wearer's musical taste and dedication to a certain style.
---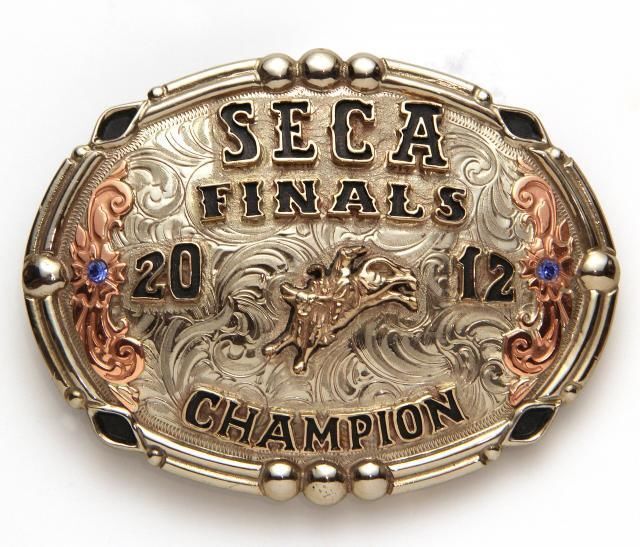 Rodeo belt buckles feature images of rodeo-related activities. Usually, they depict a person riding a bull or horse, as in a rodeo. Therefore, they are a means of indicating interest in things related to cowboys and their skills, such as calf roping or bronco riding. Rodeo belt buckles are made of metal and can be quite massive, in order to convey a certain sense of power. In rodeo, a special belt buckle also serves as the highest trophy one can win, and a vintage rodeo trophy buckle can be a real find for a collector.
---
| | |
| --- | --- |
| 6 | Motorcycle Insignia Belt Buckles |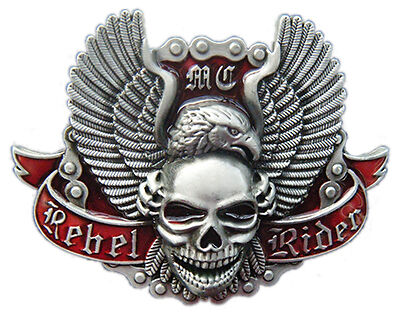 Motorcycle insignia belt buckles are one way to show enthusiasm about a certain brand of motorcycle, but not all such buckles carry the logo of a company. Some are also general and look rather macho. Typical symbols on motorcycle belt buckles include skulls, bikes, bold statements, flames, and crosses. These buckles are durable, as their main material is metal.
---
| | |
| --- | --- |
| 7 | Alcohol Label Belt Buckles |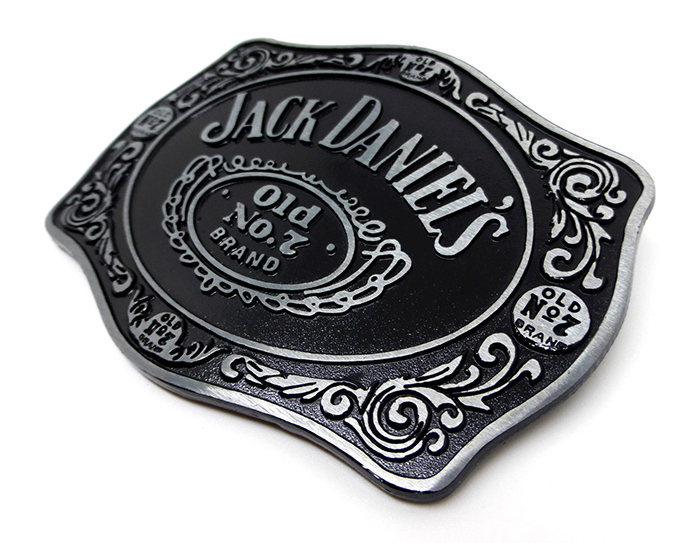 An alcohol label belt buckles announces to the world its wearer's favourite drink. These buckles traditionally bear famous brand names, such as Jack Daniels, Budweiser, or Jim Beam.
---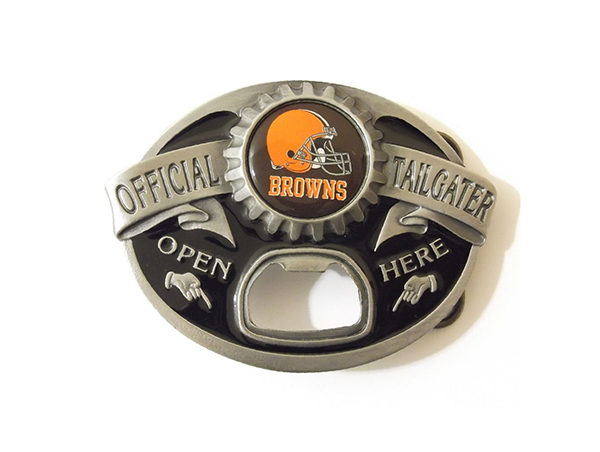 Sports belt buckles bear the names of sports teams. NFL, NBA, NASCAR, baseball, and many other sports and their teams are represented . These belts are fan favourites that allow their wearers to express allegiance to a certain team. Vintage sports buckles bear the names of past teams.
---
How to Buy a Top 8 Vintage Belt Buckle on eBay
On eBay, type the name of the specific type of belt buckle that you are looking for into the search box and then sort the results either by price, year, or other feature. If you are just browsing through different kinds of belt buckles, you can use more general keywords instead of more refined ones. Vintage belt buckles may be listed under "used" buckles, so try using this filter as well. The range of vintage belt buckles includes buckles that feature alcohol brands, sports teams, music industry names, motorcycle insignia, western themes, and rodeo buckles. A belt buckle is not only a practical addition to a belt, but also has a certain style that allows for self-expression on the part of its wearer.