Flatware is essential to every home, whether informal flatware for regular, everyday dining, or formal pieces only brought out on special occasions. The huge choice is daunting when shopping for flatware, so narrowing the search to some of the top pieces available in the UK makes the choice much easier and ensures shoppers buy high quality, durable flatware that meets their needs, whether casual, formal, or for children. Choose from popular offerings including the Taylors Coloured Knife Set, the Kirstie Allsopp Cake Stand, or Button Corner Ceramic Baby Set. eBay sellers offer all types of ceramic flatware at very competitive prices, catering to every taste and budget.
Featuring a ceramic blade that is as hard as diamonds, the Kyocera Nakiri knife is ideal for those who are serious about cooking. While this ceramic knife is heavy duty, it is lightweight. Alongside the blade that is 10 times sharper than steel, this makes the Kyocera Nakiri Knife ideal for anybody who needs to cut thick meat. By using the ceramic blade, cooks and chefs can ensure the food they prep does not oxidise, which can cloud the taste.
---
| | |
| --- | --- |
| 2 | Button Corner Ceramic Baby Set |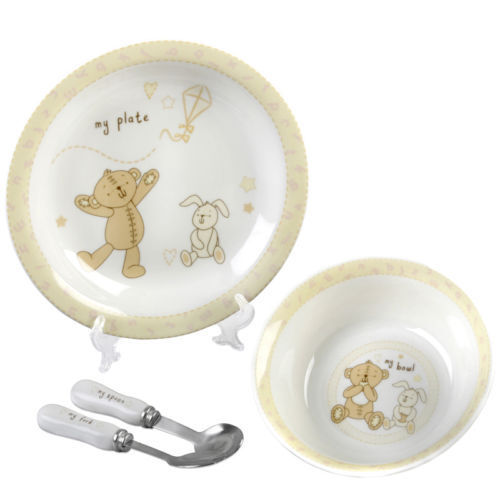 Featuring a bowl, plate, and spoon, this Button Corner Ceramic Baby Set is a great first-time feeding collection for infants. With a cute bunny and teddy design, parents and babies alike should find this set delightful. The small ceramic spoon is just the right size for little mouths. This set would make an ideal gift for babies six months and older.
---
| | |
| --- | --- |
| 3 | Kirstie Allsopp Ceramic Cake Stand from Marks and Spencer |
Serving cupcakes in style is easy with a Kirstie Allsopp Ceramic Cake Stand from Marks and Spencer. While the design is simple, being able to customise it using ribbons should delight those who like to sit down for afternoon tea. As a compact cake stand, it is ideal for intimate affairs with just a few treats.
---
| | |
| --- | --- |
| 4 | Taylors Coloured Knife Set |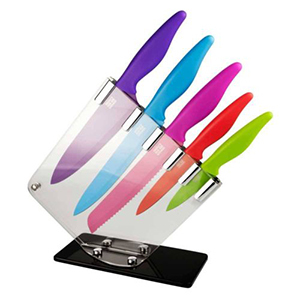 Ceramic flatware fans can brighten up their kitchens effortlessly with a Taylors Coloured Knife Set. Available in the form of cheese knives, steak knives, and more, this bright set from Taylors have a PETE covering that makes it easier to slice through difficult to cut food. There is also extra corrosion resistance, which means the knifes last longer than non-ceramic versions.
---
| | |
| --- | --- |
| 5 | Apollo Rubber Wood Lazy Susan With Ceramic Serving Dishes |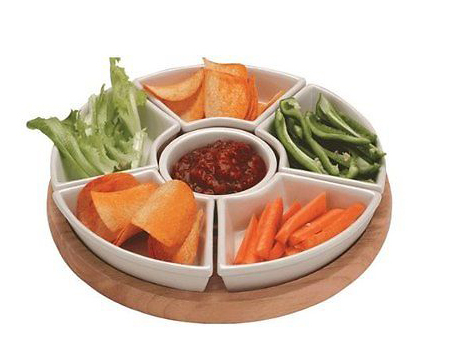 With five neat ceramic dishes that revolve around a ceramic dipping area, this Lazy Susan from Apollo Rubber Wood is great for parties. It is 35 cm in diameter, and has fantastic potential for serving crudités and crisps. As the ceramic element is easy to clean, inventive hosts can experiment with messier dishes if they wish.
---
| | |
| --- | --- |
| 6 | Emile Henry White Round Serving Platter |
This ceramic serving platter from Emile Henry is elegant and charming. As well as being dishwasher safe, it is safe for freezing. This is great news for those who like to prepare dishes in advance. By using high resistance ceramic, the manufacturers ensure that this platter can stay scratch free. As a result, it is possible to look forward to aesthetically pleasing results with every use.
---
| | |
| --- | --- |
| 7 | Kitchencraft Ceramic Handled Cake Slice |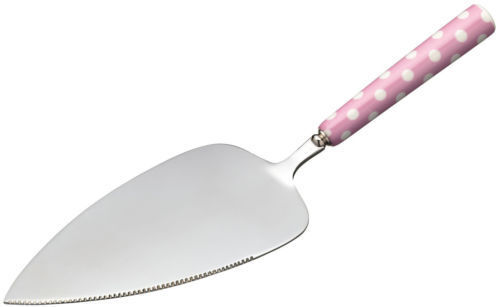 Featuring an elegant polka dot handle, this Kitchen Craft Ceramic Handled Cake Slice brings a little country charm to serving cake. By using stainless steel for the head, the manufacturers ensure that the slice has a gleaming look. Further to this, it makes it easier to clean. Both ceramic and stainless steel combined act as a great way to provide longevity, which means users can enjoy this cake slice for years to come.
---
| | |
| --- | --- |
| 8 | Disney Minnie Mouse "Shopping" Ceramic Breakfast Set - Bowl, Plate, Mug |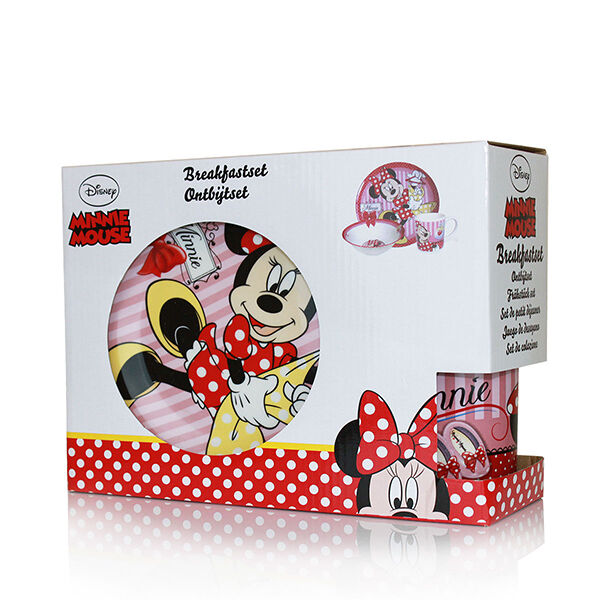 Disney fans around the world should love this Minnie Mouse Ceramic Breakfast Set,, featuring Minnie shopping. This set is dishwasher safe and perfectly sized for children. It is a great starter set to give to little ones getting to grips with feeding themselves for the first time. As well as being dishwasher safe, it is microwave safe. This makes it ideal for re-heating food.
---
| | |
| --- | --- |
| 9 | Naturally Med Ceramic Olive Dish |
This terracotta olive serving dish can bring an instant Mediterranean vibe to any kitchen. Featuring two small pots for olives and stones, this ceramic olive dish makes eating olives feel authentic. As a hand painted item, it instantly looks charming. This dish is just the right size for sharing olives at a party serving table.
---
How to Shop for Ceramic Flatware and Storage on eBay
Choose from a huge range of ceramic flatware and storage listed by reputable eBay sellers, in new or used condition, at great prices. After searching and identifying those perfect flatware items, be sure to check seller feedback to ensure you get great service and top quality flatware. Liven up dinner parties, special occasions, or regular, everyday dinner with some of the top flatware pieces available. Choose from high quality knives, cake stands, flatware for youngsters, serving platters, and other ceramic flatware items and keep these items safe with suitable storage products, such as knife blocks or storage racks.