Using a
USB drive
makes data storage easy and in many cases, fun. Flash drives plug into USB ports on any computer and allow users to transfer and store data and take them with them on the go. Drives come in a range of storage options, with 4 GB and 8 GB being the most common. Character flash drives add whimsy to work and come in a variety of beloved characters, and some clip or hook onto key rings for easy access. Data transfer becomes interesting with character drives which are fun for kids and grown-ups alike, and they are functional too. Buyers should take a look at the top nine options.
| | |
| --- | --- |
| 1 | Looney Tunes Bugs Bunny 8 GB Flash Drive |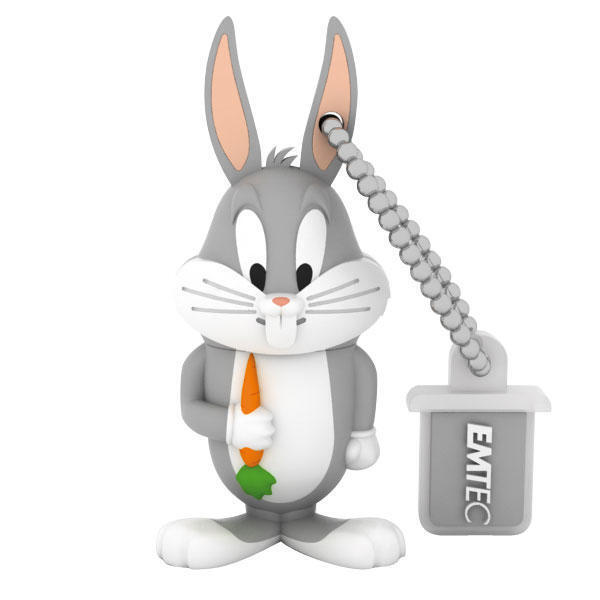 Everyone's favourite bunny is back in the form of an 8 GB USB drive. The Looney Toons Bugs Bunny 8 GB flash drive offers a Bugs Bunny figure holding a carrot, and includes 8 GB of storage on the small, portable drive. Made of rubber, the flash drive includes a small key ring and is PC and Mac compatible.
---
| | |
| --- | --- |
| 2 | Super Mario Bros. 8 GB 3D Cartoon Figure |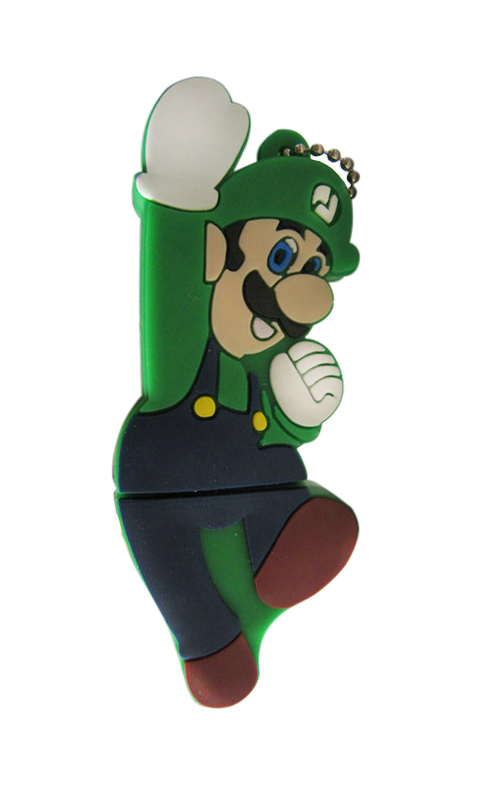 Mario Bros. thrills gamers with antics, and the popular plumber comes in the form of a cool Super Mario Bros. 8 GB 3D flash drive. The affordable drive works with 1.1 and 2.0 USB ports, and looks like a 3D Mario game character. The small drive comes with a key ring and is zip compatible.
---
| | |
| --- | --- |
| 3 | Hello Kitty Crystal Necklace with 8 GB USB Flash Drive |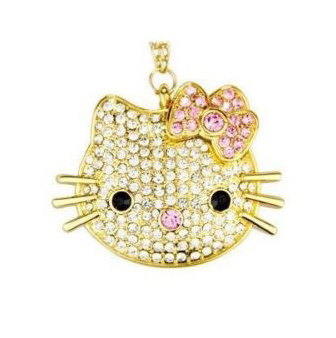 Data storage is wearable and beautiful with the sparkling Hello Kitty crystal necklace USB flash drive. The necklace, shaped like the iconic Hello Kitty face, shimmers with crystals and conceals a small 8 GB flash drive when users pull out Hello Kitty's bow. The drive is Mac and PC compatible, and the included necklace ensures the drive never gets lost.
---
| | |
| --- | --- |
| 4 | Marvel Avengers Iron Man 8 GB USB Flash Drive |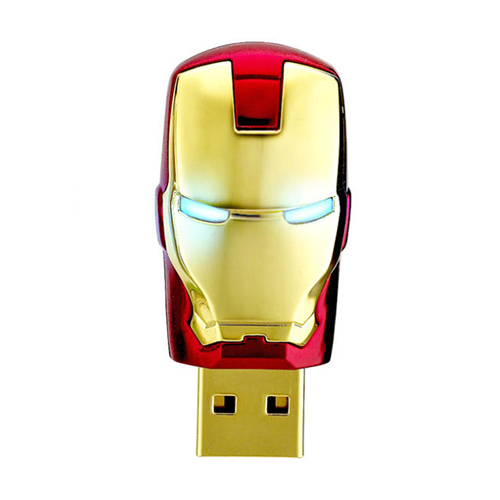 Iron Man's red and gold helmet becomes an 8 GB data storage drive when consumers purchase a Marvel Avengers Iron Man flash drive. The drive is licensed Marvel merchandise, and it is light and compact, making it easy to carry. Data transfer is fast, and it is compatible with Mac computers as well as PCs, and works with 1.1 and 2.0 USB drives. The drive is available in red and gold or Iron Man's silver war machine helmet style.
---
| | |
| --- | --- |
| 5 | Darth Vader Star Wars 8 GB USB Flash Drive |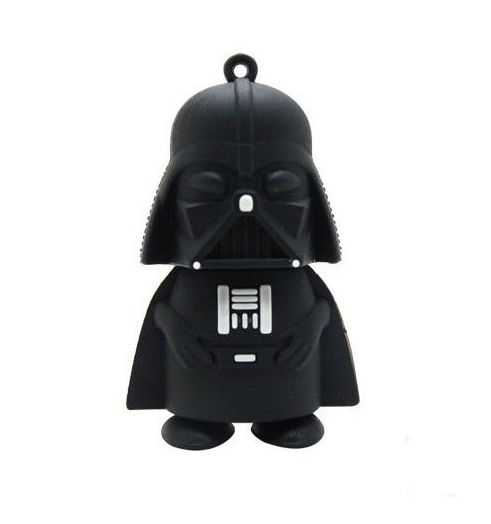 The unique Darth Vader 8 GB flash drive offers "Star Wars" fans the chance to store their data inside the sculpted flash drive created to look like the famous character. The high-quality drive is a licensed Lucas item, and the small, 3-inch drive is the perfect portable way to backup any type of data. The Darth Vader drive is durable and made of plastic, and compatible with Mac and PC systems.
---
| | |
| --- | --- |
| 6 | SpongeBob SquarePants 8 GB USB Flash Drive |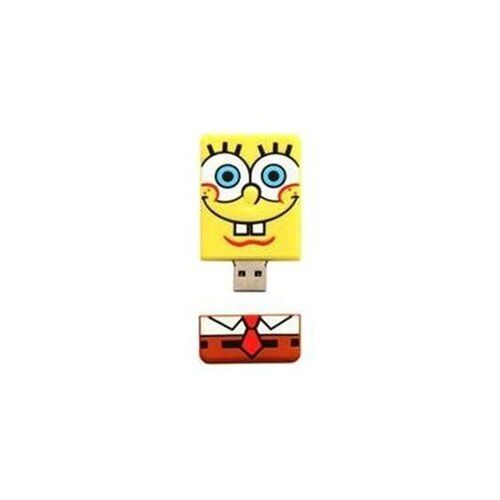 The SpongeBob SquarePants 8 GB flash drive offers 8 GB of storage in an adorable package. This Nickelodeon brand drive includes 8 GB of data storage attached to a convenient key ring. The drive is light and sturdy, and it is perfect for kids needing a flash drive for school. The compact plastic drive hooks onto any school bag for easy access when needed.
---
The Doctor Who TARDIS 4 GB flash drive looks like the famous TARDIS from the popular science fiction series, "Doctor Who". Users simply pull the top off the machine to locate the concealed 4 GB USB drive, attached to a key ring. The top of the TARDIS even lights up when the connection establishes, and it makes a cute key ring when it is not in use as a USB flash drive.
---
| | |
| --- | --- |
| 8 | Transformer USB Flash Drive 8 GB |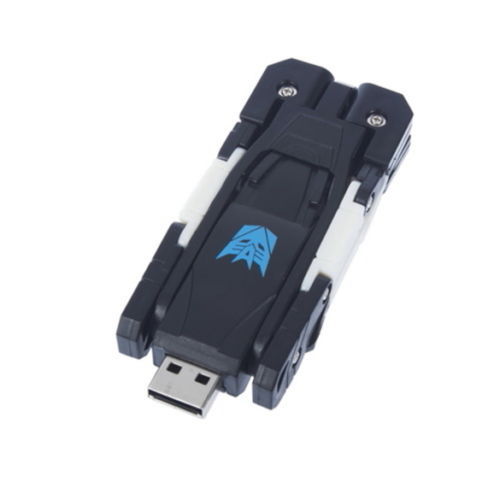 People of all ages love playing with Transformers, and this Transformer USB flash drive is no exception. The drive holds 8 GB of music, videos, photos, or documents, and it transforms into a robot car. The drive is compact and affordable, and offers reliable and safe transfer and protection for all types of data. Like the Transformer toys, the 8 GB flash drive offers more than meets the eye with a practical flash drive inside of a fun toy.
---
| | |
| --- | --- |
| 9 | MIMOBOT Batman Series 4 GB USB Flash Drives |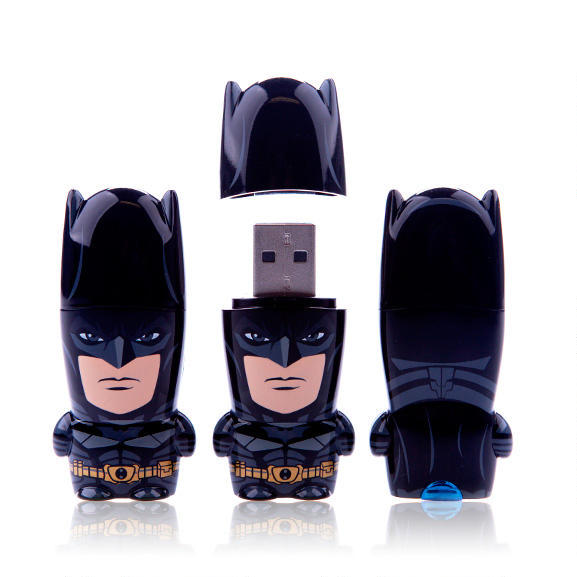 The Dark Knight saves the day, and the data, with the MIMOBOT Batman 4 GB flash drive. This high-quality USB drive is available in other characters, such as the Joker and Robin. The officially licensed drives offer digital memory storage and high-speed transfer. The drives are small, at 6.4 centimetres, and compatible with Mac and PC. The drives come equipped with extras for fans, such as Batman wallpapers and avatars.
---
How to Buy Character USB Drives on eBay
Make documents or schoolwork fun when you purchase an affordable, convenient character USB drive on eBay. Type your keywords into the user-friendly search bar on any page, such as " Iron Man 8 GB flash drive", and pick the right drive for you based on budget and the seller's ratings. Purchase flash drives and other computer items from sellers with excellent feedback. Character USB drives and other tech items such as character headphones and iPhone cases express your personality and make life just a little more fun. No matter how old you are, something about using a Batman or Darth Vader flash drive makes saving your documents a little more interesting than a plain USB stick.