There are many reasons why women need to own a
duffle bag
. Whether it is for travelling or to transport athletic gear, a duffle bag is the perfect accessory. Duffle bags come in a variety of styles, brands, and price points, so no matter what a consumer's needs are, they can find one that fits what they are looking for. Local shops, as well as eBay, sell a variety of duffle bags in various styles, colours, and brands.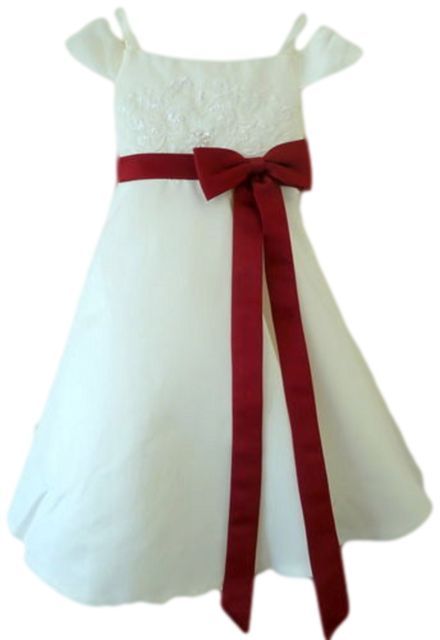 Victoria's Secret is a top retailer for women. While primarily known for their undergarments, they also sell clothes and accessories. The Weekender Canvas Duffle Bag is a great option for women looking for a duffle bag. This large canvas bag has double handles, zips closed, and is large in size. The inside is lined with waterproof vinyl. This bag is perfect for the woman who needs a bag for a weekend getaway.
---
| | |
| --- | --- |
| 2 | Louis Vuitton Monogram Keepall Duffle Bag |
A known retailer in the world of accessories, Louis Vuitton, also carries a duffle bag. This bag comes in three sizes, depending on what the consumers' needs are. The outside is brown leather, with gold hardware, and features the Louis Vuitton monogramme design. Brown cloth lines the inside of this bag. . This duffle also comes in three sizes, so the buyer can buy the size that best suits what she would need it for.
---
| | |
| --- | --- |
| 3 | Vera Bradley Duffle Bag |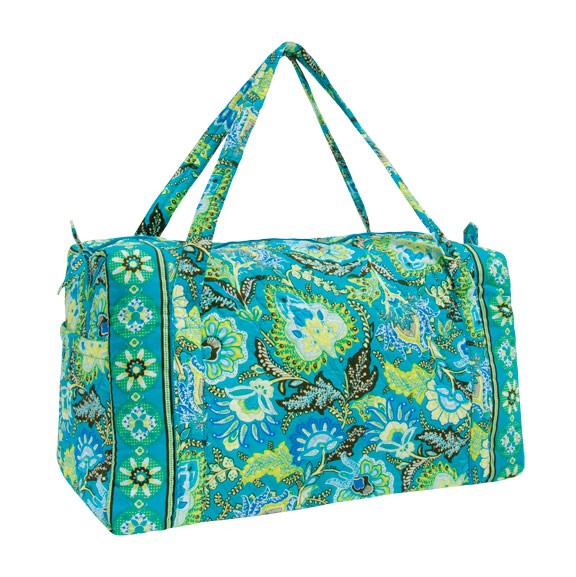 Another great option for the woman looking to purchase a duffle bag is Vera Bradley. This quilted cotton bag has two handles, one large interior pocket, and an exterior pocket as well. They can hold a substantial amount but yet are still able to be used as a carry-on. They also fold up for easy storage once empty. Vera Bradley makes duffle bags in two sizes; small and large. Both sizes come in a variety of patterns so a woman is bound to find one that suits both her needs and style.
---
| | |
| --- | --- |
| 4 | Thirty-One Pro Duffle Bag |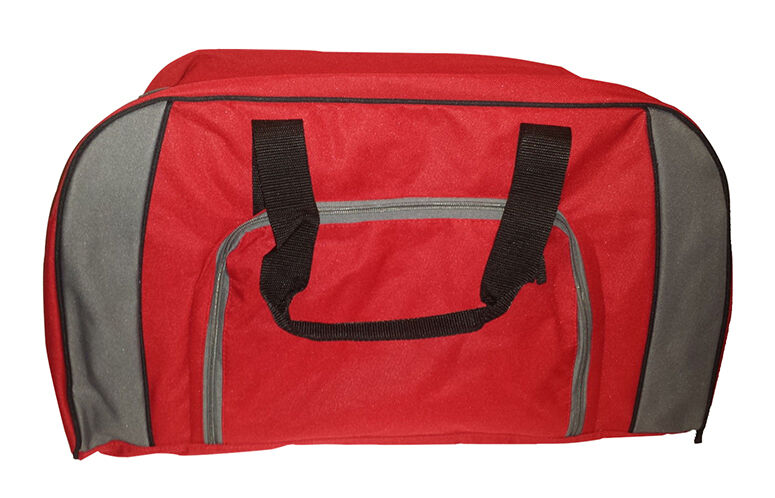 For the woman looking for a duffle bag to use for her active lifestyle, the Thirty-One Pro Duffle Bag is an awesome choice. This duffle bag has adjustable straps, two interior mesh pockets, one front pocket on the outside, and a separate compartment for shoes. It also comes in a variety of colours and can be monogrammed and personalised.
---
| | |
| --- | --- |
| 5 | Adidas Diablo Small Duffle Bag |
Adidas, a popular active wear brand, also makes a duffle bag that could be great for the active woman. This nylon bag has a large compartment to hold belongings and has both two handles for carrying or an adjustable shoulder strap. The bag comes in a variety of colour options, all containing the Adidas logo.
---
| | |
| --- | --- |
| 6 | Alexander Wang Rocco Bag |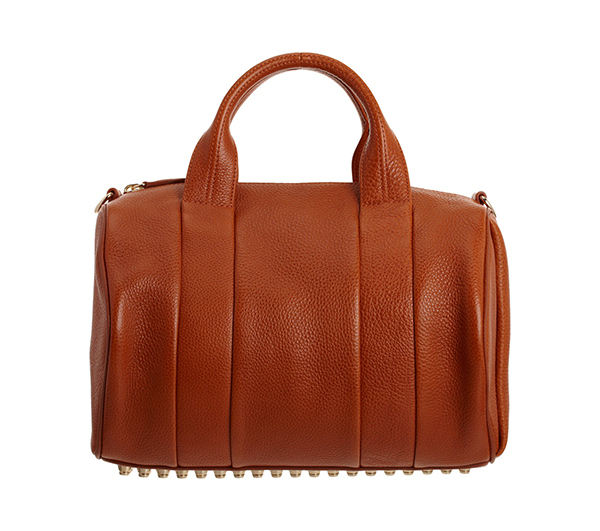 For the woman looking for a bag that is stylish yet functional, the Rocco Bag by designer Alexander Wang may be a great option. Made out of lambskin, the bag comes in many colours, all of which contain studs on the bottom of the bag. It comes a shoulder strap or can be carried by the two rolled handles. It also has a separate pocket on the inside and an additional pocket for a mobile phone.
---
| | |
| --- | --- |
| 7 | Tommy Hilfiger Logo Duffle Bag |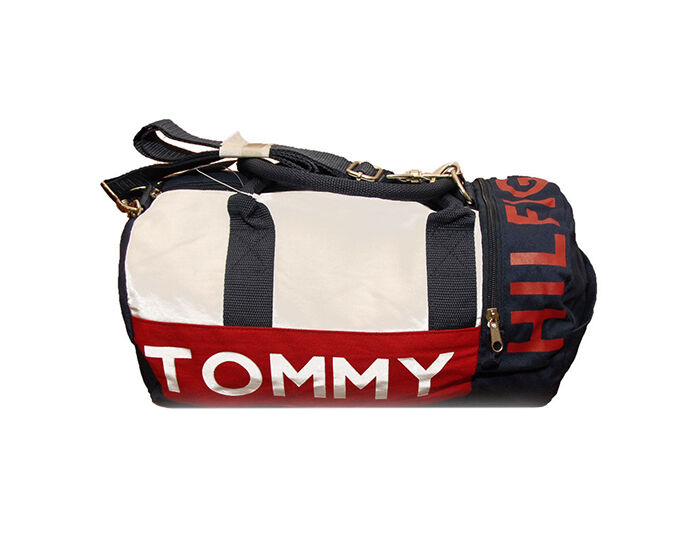 The Logo Duffle Bag by Tommy Hilfiger is a classic style duffle bag. This duffle bag is made out of canvas and lined with nylon. It comes with two handles or a detachable shoulder bag. It is also available in the "mini" size or a large size depending on what the buyer needs it for. It has the classic Tommy Hilfiger logo and can be purchased in different colours.
---
| | |
| --- | --- |
| 8 | Nike Varsity Girl Duffle Bag |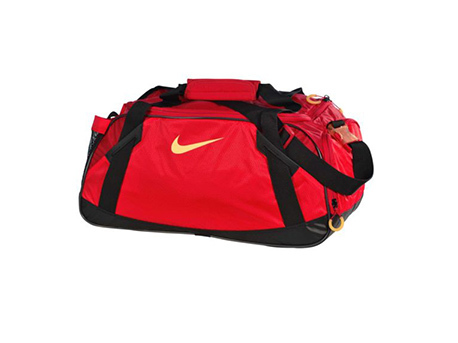 The Varsity Girl Duffle Bag from Nike is yet another option for the active woman. This bag, which comes in a variety of colours, features water resistant nylon. It also contains multiple interior compartments, mesh outside pockets, and includes a separate compartment for shoes. It zips closed and has an adjustable shoulder strap.
---
| | |
| --- | --- |
| 9 | Lesportsac Large Weekender Bag |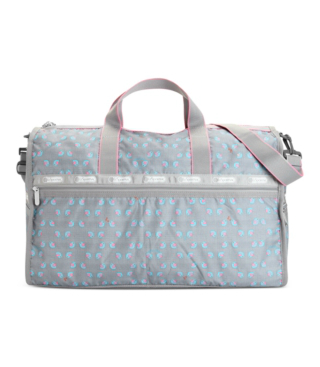 For the woman looking for a duffle bag for travel or overnight getaways, the Large Weekender Bag from Lesportsac could be a great choice. This bag contains both exterior and side pockets that zip close. It also comes with an adjustable shoulder strap and a matching small zippered pouch. Lesportsac makes this bag in a variety of patterns so the buyer is sure to find one in their style.
---
How to Buy Duffle Bags
Women can easily find a duffle bag that fits their needs and style by searching "
duffle bags
" on eBay. To narrow a search, one would simply be more specific and enter search terms like "
Weekender
" or search by size by entering a phrase such as "
large duffle bag
". This brings up a list of items that specifically fit that criteria. The buyer then can find out pricing information and colour or size options by clicking on the picture of the item they like. Women have many options for bags. There is a bag out there to suit every woman and her needs. Whether they need a bag for travel or to carry equipment to and from events, women can find duffle bags that are both stylish and functional using eBay.