Women do not always feel at their personal best when pregnant. Their changing bodies can make them feel uncomfortable and it may be emotionally hard to watch small bellies become large and favourite outfits no longer fit the way they did. However, the fashion industry does not leave pregnant women out in the cold. Instead, the situation is quite the contrary with maternity clothes and dresses made in trendy styles so pregnant woman can enjoy these months. Women can find some of the top
maternity dresses
at local stores and on eBay in a variety of styles to make them feel their best.
| | |
| --- | --- |
| 1 | The Tie-Front Dress by Hatch |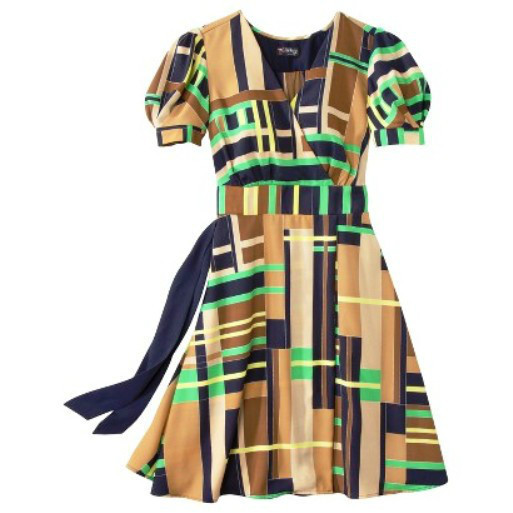 This soft and comfortable maternity dress offers a strapless evening look. The tie near the top of this dress by Hatch makes this ensemble fit and close with ease. A silk crepe material gives this dress an elegant look and feel, and a gathered elastic piece on the back gives it a tailored look for evenings out or special occasions.
---
| | |
| --- | --- |
| 2 | Mama Mia by Shabby Apple |
Shabby Apple creates retro looks with a wholly feminine flair. The Mama Mia maternity dress falls to a woman's ankles and features loose, flowing sleeves, an empire waist, and a loose tie by the neck. This dress comes in a shade of black and works as office and evening wear.
---
| | |
| --- | --- |
| 3 | Sleeveless Side-Tie Maxi Dress by A Pea in the Pod |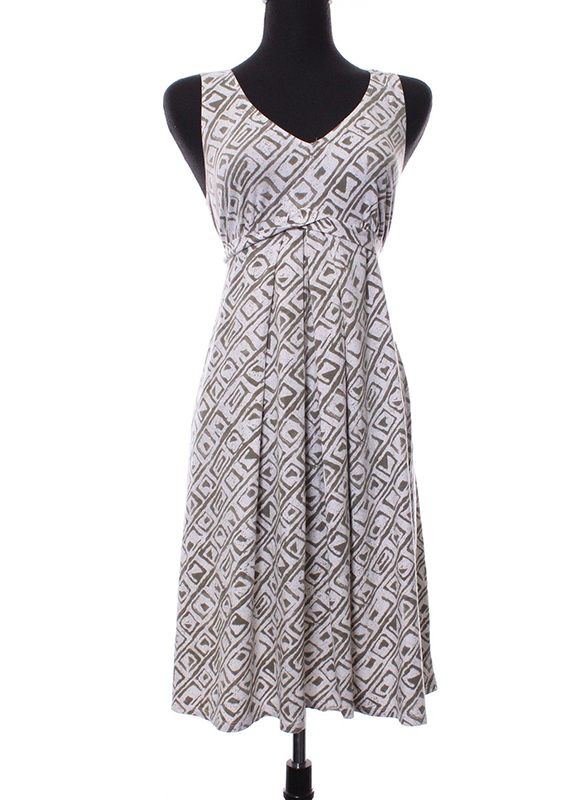 With an asymmetrical print and cut for warm summer months when pregnancy wears a woman down, the sleeveless side tie maxi dress by A Pea in the Pod offers a navy and white design. A side slit shows a little bit of leg, while the side tie offers comfort and ease of use.
---
| | |
| --- | --- |
| 4 | Jersey Dress by SimplyBe |
The maternity jersey dress by SimplyBe offers spaghetti strap ties, a purple shade, and a gathered ruched empire waist. This dress works well for special occasions like weddings and afternoon lunches and is ideal for a pregnant woman to take on holiday.
---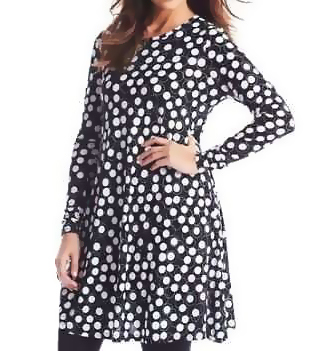 This trendy purple peplum dress by Seraphine does not look like typical maternity wear. However, it does offer the room and comfort that come with maternity wear, while still highlighting a woman's shape. A sleeveless V-neck top shows off a woman's neckline, while the skirt fits loose for a growing belly.
---
| | |
| --- | --- |
| 6 | Double-Layer Dress with Long Sleeves by Asos |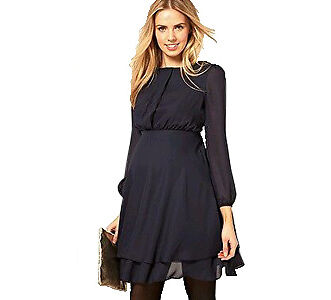 This double layer dress by Asos fits soft and loose, making it an ideal outfit for office wear while pregnant. The long sleeves gather with elastic at the bottom, while the bodice fits with an elastic empire waist. This dress comes in shades of both teal green and purple, offering versatility to women who want to purchase both colours.
---
| | |
| --- | --- |
| 7 | Tropical Print Roll-Sleeve Shirtdress by Gap |
The tropical print roll-sleeve shirtdress from Gap offers casual wear for the pregnant woman. The colourful floral print reminds one of the tropics, but it fits in such a way that it works for office wear, as well as holiday wear. Women can wear the sleeves either to the wrists or rolled up above the elbows for a choice of looks. This dress also features a low collar, an empire waist, and a tie at the front.
---
| | |
| --- | --- |
| 8 | Macrame Dress by Japanese Weekend |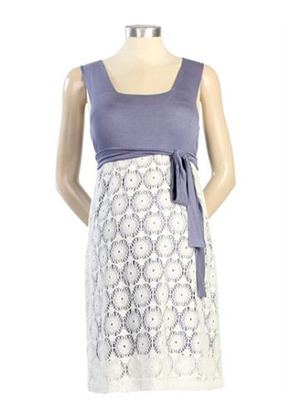 Perfect for a summer day at lunch, at the office, or on holiday, the macrame dress by Japanese Weekend features a periwinkle bodice with a white and periwinkle shirt. The skirt's white lace overlay reveals the periwinkle colour underneath, while a tie at the side of the waist shows off the silhouette of the baby bump.
---
| | |
| --- | --- |
| 9 | One-Shoulder Rosette Summer Dress by Merona |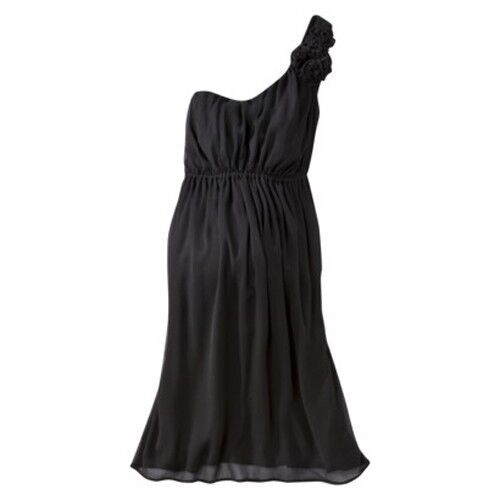 This one-shoulder Rosette summer dress by Target's Merona brand offers a feminine look with pink sheer overlays on top of a pink lining slip. A ruched bodice and one shoulder tank-sleeve with flower embellishments adds to the elegance and femininity of this dress. This dress falls just above the knee and is an outfit to wear to a luncheon or tea.