Planning for a wedding is a tall order of business that requires a good deal of attention to detail. One of the most important choices when putting together a wedding is selecting bridesmaid gowns. Bridesmaid gowns set the visual tone of a ceremony and are a critical aspect of this special day. For brides with summer ceremonies, bridesmaid gowns include many fun and flirty choices. Learning about some of the top choices for summertime helps brides find ideal dress selections. Brides may also want to explore the various retail options to find the best prices. This includes shopping online on sites like eBay and browsing the selections at traditional wedding vendors.
| | |
| --- | --- |
| 1 | BHLDN Out-of-Doors Dress |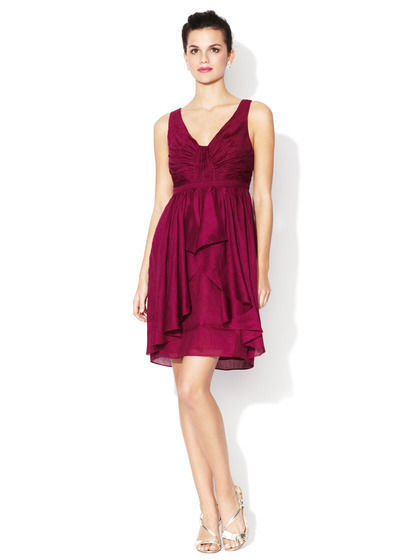 The BHLDN Out-of-Doors dress is a short and edgy floral dress that works well for casual summertime weddings. The fitted bodice and wide skirt make it a charming and youthful choice, and the bold floral print gives it a contemporary edge that works for the modern bride.
---
| | |
| --- | --- |
| 2 | David's Bridal Short Strapless Dress |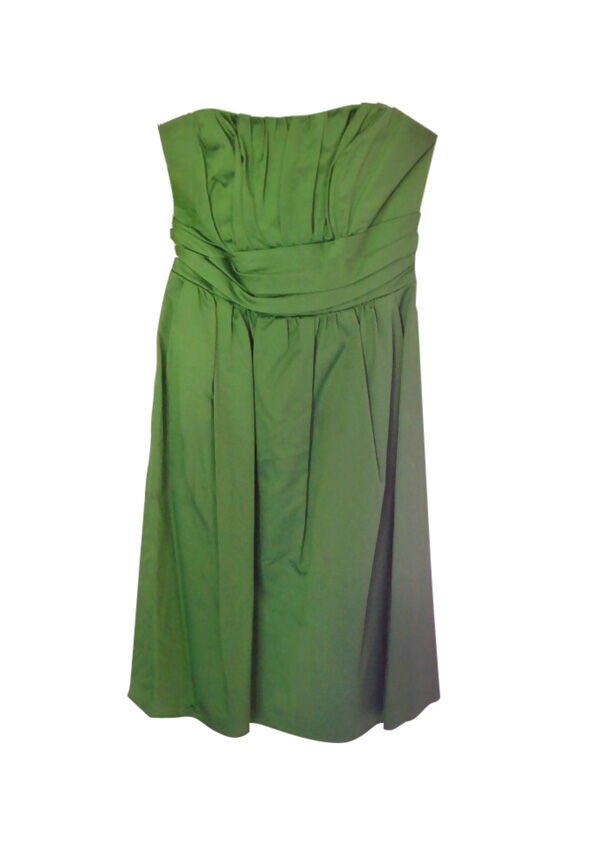 David's Bridal designs accessible and stylish dresses in a wide range of sizes and styles. For summer weddings, the brand's short strapless bridesmaid dress is a solid choice. The satin construction adds a bit of glamour, while the A-line skirt and belt at the natural waist make it an easy fit for almost any body type.
---
| | |
| --- | --- |
| 3 | Alfred Angelo 7180 Dress |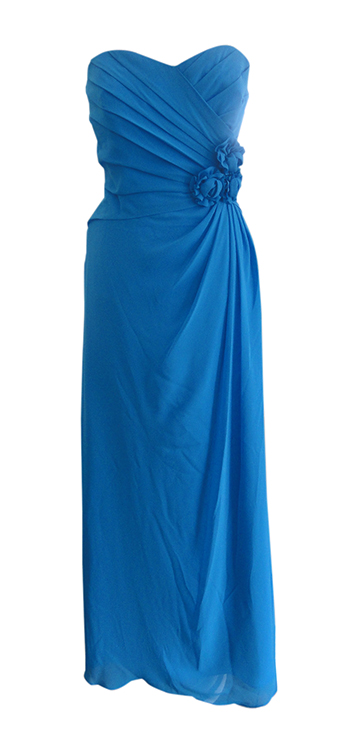 The Alfred Angelo 7180 dress for bridesmaids features a classic silhouette with a sweetheart bustline that flows down to a narrow A-line skirt at cocktail length, making it a great choice for more formal summer weddings. Ruching at the bodice and in the skirt give this dress a feminine elegance, and floral detail at the side of the bodice creates a subtle focal point for the garment.
---
For brides looking to amp up the glamour at a summer wedding, a bridesmaid dress from the Bill Levkoff brand works well. The Bill Levkoff 530 dress features a sexy, modified mermaid silhouette with a strapless bodice. The sheen of the material makes this dress an edgy choice that is ideal for evening weddings, and the asymmetrical gathers along the body of the dress are very trendy.
---
| | |
| --- | --- |
| 5 | Dessy/Alfred Sung Dress Collection |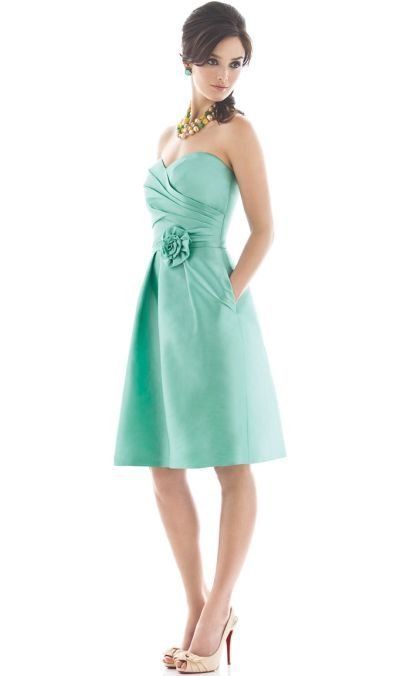 Classic, refined, and feminine are words to describe the Dessy/Alfred Sung dress collection for bridesmaids. These gowns add a touch of Audrey Hepburn to an affair and feature boat necklines,, tucked waists, and delicately voluminous skirt lines. A dynamic colour palette gives these classic silhouettes a contemporary update that works at any summer wedding.
---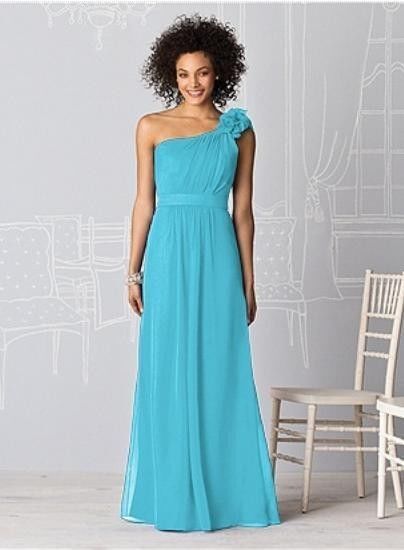 After Six''s 6611 dress for bridesmaids features a shirred bodice that gathers delicately at the natural waist, and a slender belt creates a subtle contrast to the dress' flowing chiffon lines. The one-shoulder design makes the 6611 a trendy style, and the floral detail on the shoulder piece adds the right touch for a summer ceremony.
---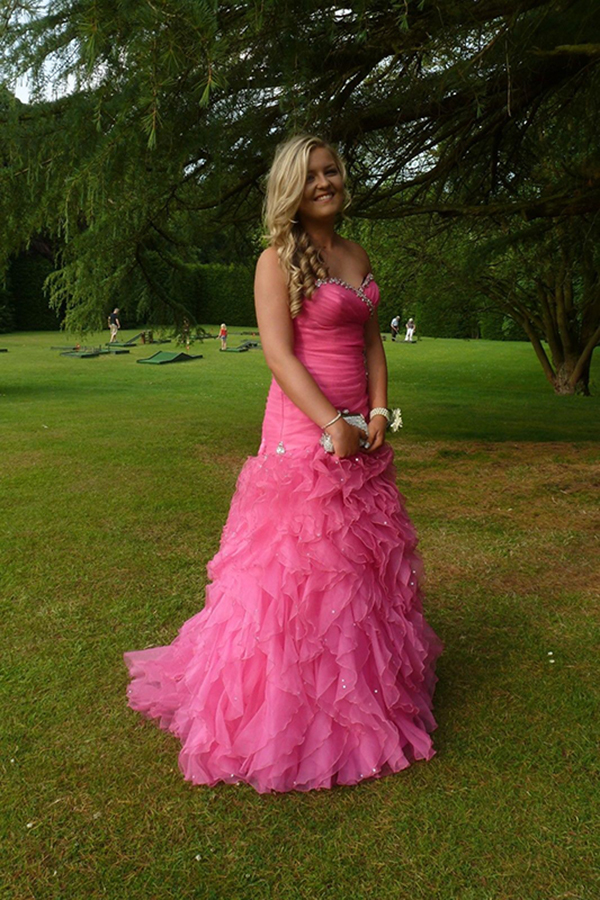 A summer bride does not need to give up sparkle at her wedding. Mori Lee's line of bridesmaid dresses adds a much needed dose of pizzazz to a wedding. Featuring sequin designs, dramatic lines, and satin materials, these bridesmaid dresses are a great choice for the bride who loves a dramatic and bold look.
---
| | |
| --- | --- |
| 8 | Monique Lhuillier Strapless Dress |
A bride looking for an edgy and urban look may enjoy dressing her bridesmaids in Monique Lhuillier's strapless dress. This mini dress features an elegant, straight bodice, a slender belt at the natural waist, and ruching all along the fitted silhouette. Cationic chiffon gives this dress sheen, and a reinforced bodice ensures any woman is comfortable wearing this strapless dress.
---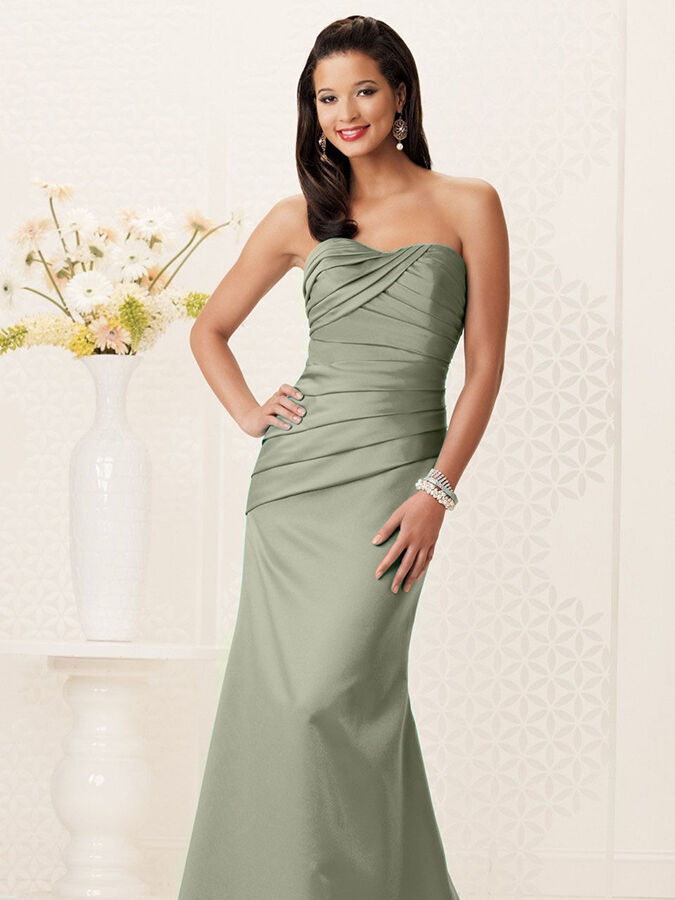 Jordan makes bridesmaid gowns with classic, formal silhouettes that utilise chiffons and satins appropriate for more formal weddings. The Jordan 954 features a structured bodice and a mermaid silhouette. The sweetheart neckline and fitted waist also feature unique pleating details that give this dress a complementary silhouette on any body type. Brides can look for the Jordan 954 or any Jordan bridesmaid dress in a range of lengths, including cocktail, knee, and short.
---
How to Buy Summertime Bridesmaid Gowns on eBay
These styles and many others are usually available for purchase on eBay. Finding the right dress is easy with the right process. Look for the search bar on any page and enter a keyword term describing the dress you want. Using a general term gives you a broader look at the options available. Click on the title of any item to review the specific details. Remember to click on a seller's name to review the seller's feedback and past listings. With the wide-ranging selection and consumer-friendly features, eBay helps brides find the ideal summertime bridesmaid dresses for the weddings of their dreams.